Backup iOS Data Now
Backup and restore iPhone/iPad/iPod without data loss.
iPhone Photo Backup – Best Ways to Backup iPhone Photos
Every Mobile phone user would like to use camera to take photos of precious life, such as a beautiful flower, lovely daughter, nice neighbor, etc.
Therefore,
Thousands of photos will be stored on your phone.
You might encounter a problem with your iPhone that iOS kept notifying you of low storage space no matter you are using which kind of phone.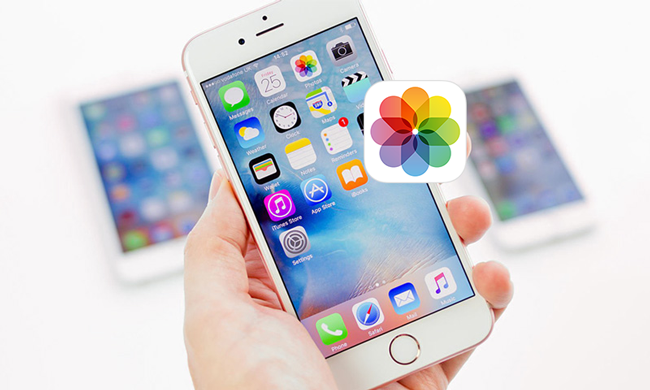 As you know, Apple has improved its camera and photo quality, the format of them can be HEIC, JPG, PNG and more.
HEIC is a format can improve the image quality but invisible on Windows. You can use HEIC converter to convert the format to JPG or PNG easily.
Therefore, the iPhone space will be eaten up soon if you don't know how to deal with it.
If you are looking for something workable to solve these problems, below are 4 ways will be helpful for you to save your iPhone photos before deleting them.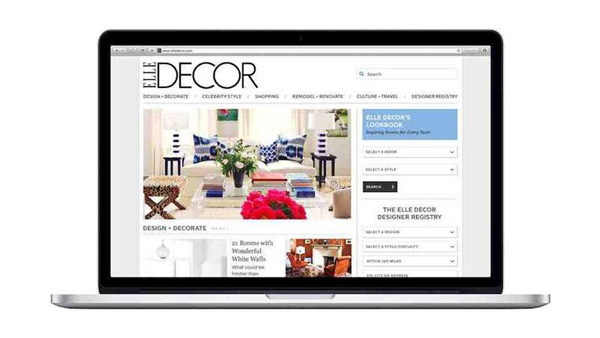 1. How to Backup iPhone Photos to PC Using FoneLab
FoneLab iOS Data Backup & Restore is a convenient and effective tool, which helps you to backup and restore your iOS Data selectively.
Therefore, you can choose which certain items to be saved on your PC, as well as which items to be restored to your device.
You might be worry about its operating process, it is quite easy to use without any professional knowledge or skill for iPhone.
It supports and iOS 11 and earlier versions of iOS, and it is available for iPhone, iPad and iPod touch.
Below is its step-by-step demonstration.
Step 1Download and install the software on your computer, and then double-click to open it if it doesn't launch automatically.
Step 2Choose iOS Data Backup & Restore in the interface, then click iOS Data Backup when it appear.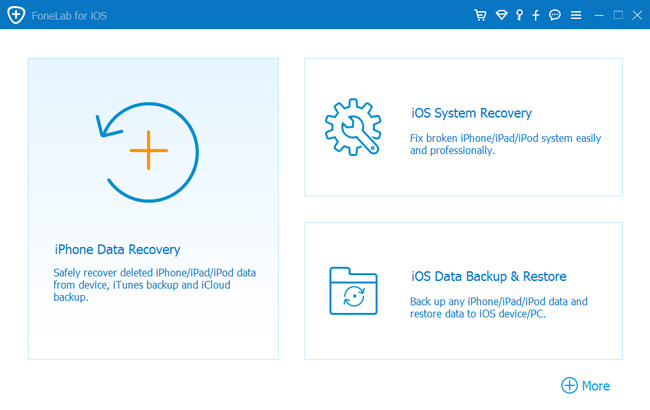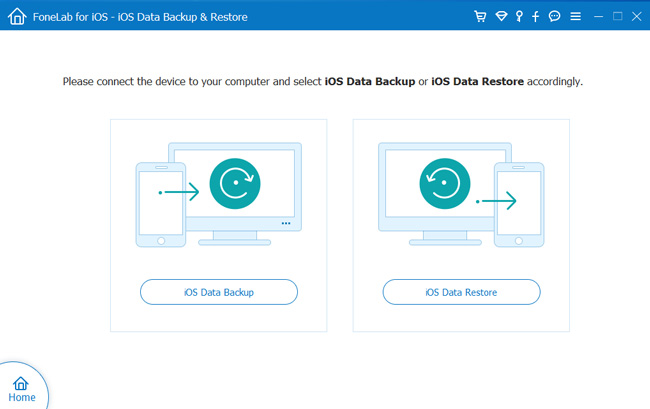 Step 3Choose if you need to encrypt the backup file, then click Start.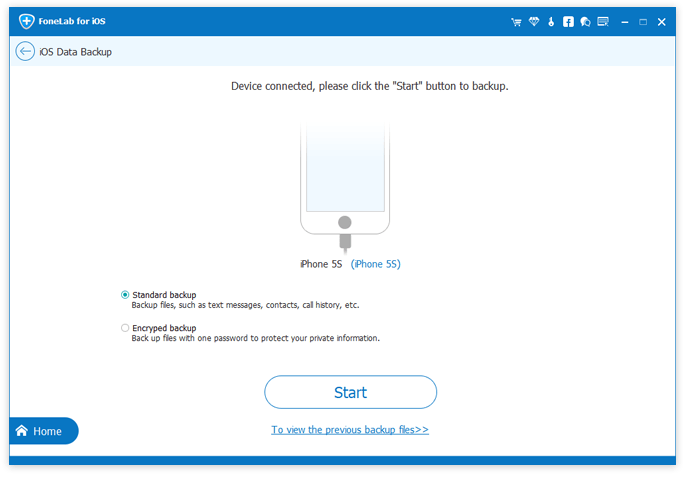 Step 4Check the box next to the Photos, then click Next to begin.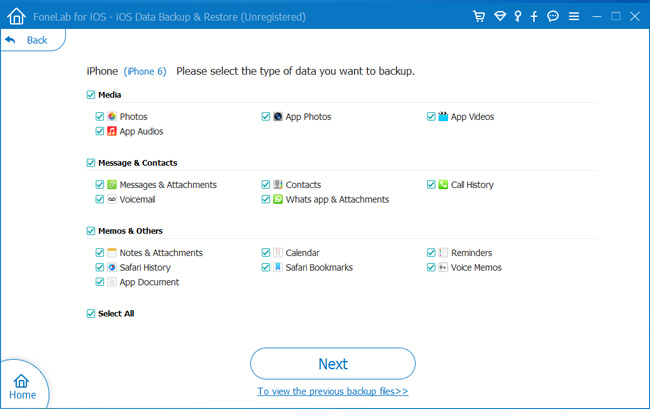 In addition, you can backup safari bookmark on iPhone with FoneLab easily and effectively.
As you can see in above-mentioned steps, there are different functions you can choose from the interface of the program. FoneLab for iOS can easily helps you recover iMessages, restore calendar on iPhone.
Some of iPhone users like Apple ways because both of them are offers by Apple Inc. itself.
Both iTunes and iCloud are not difficult to use if you are familiar with them.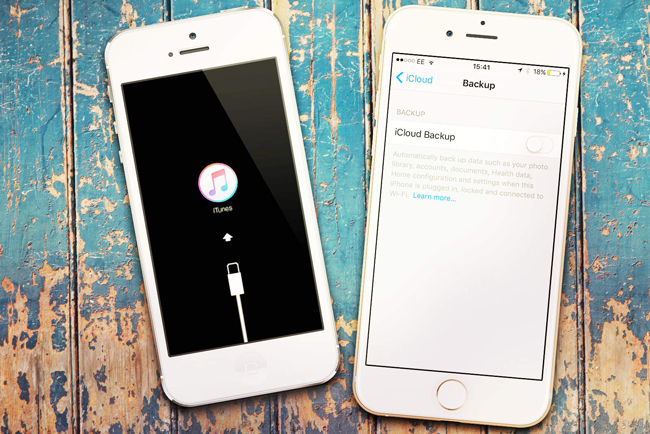 2. How to Backup iPhone Photos to iCloud
iCloud is one of the Apple ways which is top convenient choice for iPhone users. You don't need extra tools like computer or USB cable, then you can manage your iPhone data no matter where and when you are.
To backup iPhone photos, there are two different ways using iCloud.
Option 1: Apple's iCloud Photo Library
One is backup your iPhone photos only. These backed up photos will be automatically synced to your computer and iCloud, but it has limitation of about 1000 photos.
Step 1Go to Settings app.
Step 2Tap on Photos.
Step 3Turn on iCloud Photo Library.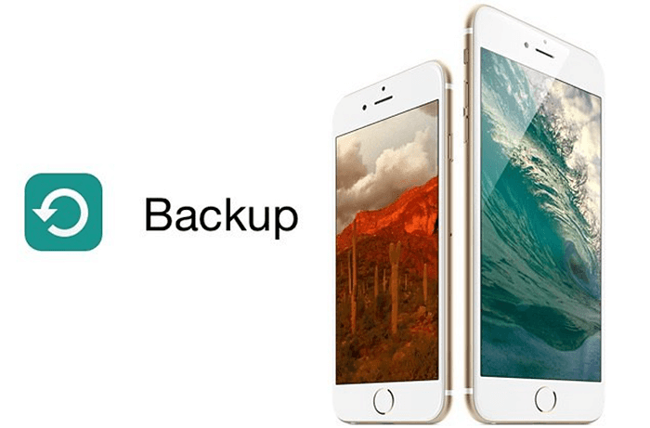 Option 2: Backup All iPhone Data with iCloud
Another one is backup all your iPhone data including iPhone photos, contacts, WhatsApp and others at once.
You don't have options to choose which items to be saved, but the backup files will be stored on your iCloud account forever if you don't delete them.
In addition, please make sure that you have enough storage for it because its limited storage. If not, you are allowed to purchase more space for your iCloud storage.
Step 1Go to Settings > [Your name] > iCloud > iCloud Backup. If you are using iOS 10.2 or earlier, go to Settings > iCloud > Backup.
Step 2Turn on iCloud Backup via toggle the button.
Step 3Tap the Back Up Now.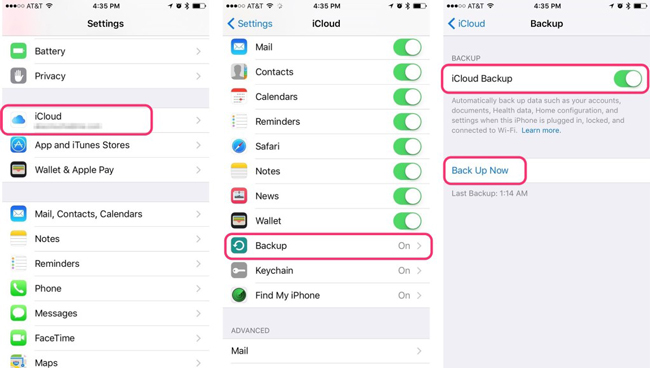 After backing data to iCloud, you can easily access iCloud photos.
You can't wait to know that how to backup iPhone photos with iTunes if you don't like iCloud because of its data security.
3. How to Backup iPhone Photos to PC with iTunes
iTunes is a common program which iPhone users installed on computer to manage iPhone data when they connect iPhone to computer with USB cable. (What to do if iPhone not showing up on PC.)
It won't store iPhone data on iCloud service but the computer local folder.
Let us walk through the process of backing up iPhone photos with iTunes.
Step 1Download and install iTunes on your computer.
Step 2Launch iTunes and connect iPhone to computer with USB cable. Tap Trust on iPhone screen if it is the first connection with computer.
Step 3Click device icon and then Summary in the left pane.
Step 4Click Back Up Now in the Backups section.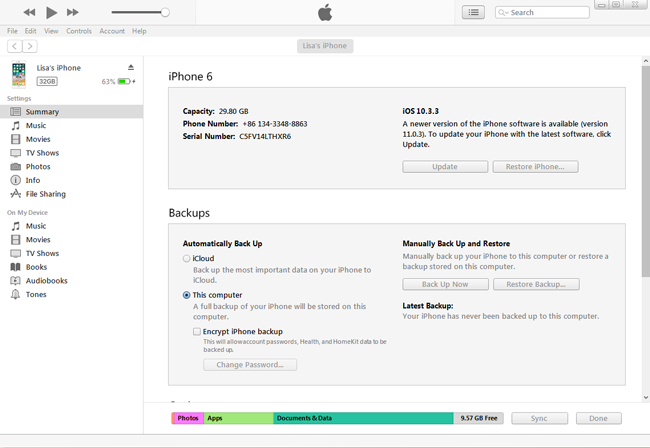 Cloud service is everywhere today, it will be the most convenient options to save and manage data whenever you want them with or without a computer.
If you don't have neither iCloud nor iTunes backup files, you can also recover deleted photos on iPhone.
4. How to Backup Photos from iPhone to PC via Dropbox
Dropbox is a tool you can download and install on your computer or iPhone to manage your data conveniently. It is no doubt that you can upload your iPhone photos to Dropbox so that you can check these photos whenever you are.
Let's go how.
Step 1Launch Dropbox on your iPhone. If you don't have this app on your device, go to App Store and search it, then install it on your device.
Step 2Log in your account.
Step 3Tap Photos on the bottom, and then tap Choose Photos.
Step 4Choose the items and tap Next. If you want to select all items, tap the button Select All on the top right corner.
Step 5Tap Upload or choose a folder to backup your iPhone photos.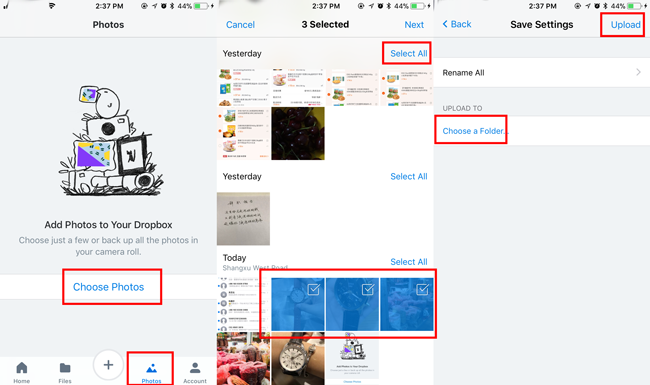 Another cloud service option we will introduce here is Google Photo Library.
5. How to Backup Pictures from iPhone with Google Photo Library
Google Photo Library is a powerful tool, which make all your photos are backed up safely, organized and labeled automatically, so you can find them fast, and share them how you like. It has free unlimited storage for you. so you don't need to worry about that the storage space is running out.
Keep reading if you want to know how to backup iPhone photos with Google Photo Library.
Step 1Open the Google Photo app on your iPhone.
Step 2Tap the menu icon on the top left side of your screen.
Step 3Tap the Settings icon.
Step 4Tap Back up & Sync.
Step 5Turn on the button next to Back up & Sync.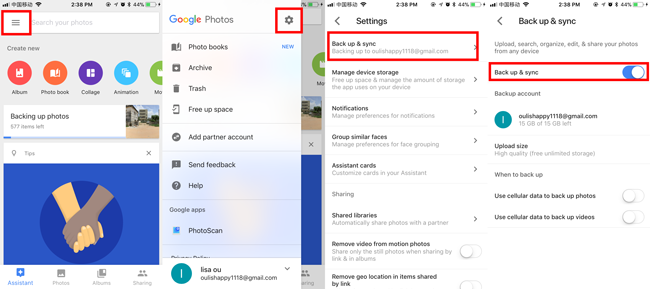 That is all. So easy, right?
It is important for every mobile phone user to backup data regularly, and then they can recover data from backup files without data loss. You can choose different methods according to your needs. Why not backup your iPhone data now!