Backup iOS Data Now
Backup and restore iPhone/iPad/iPod without data loss.
[2022 Updated] How to Backup iPhone Safari Bookmarks
I like safari on iPhone, I can save many favorite website addresses to bookmark and use it to visit the website and play games conveniently. One of my friends told me that he lost his bookmarks and don't know how to get them back. So he asked me that it is a safe way to backup safari bookmark or save iPhone data to iCloud or iTunes so that I can restore data from backup afterward. Thanks in advanced.
Safari is the default and convenient browser Apple users get used to surfing on the internet. It allows you to choose Google, Sogou, Yahoo, Bing, etc, as the default search engine and add bookmarks or favorites according to your needs so that you can visit the same website easily and quickly.

Accident happens all the time, you should think out that how can you always keep iPhone safari bookmark data.
It is no doubt that iTunes and iCloud will be the top 2 options to manage your iPhone data with ease. Both of them can solve the backup and restore problems after familiar and simple operation.
Here we will talk through the demonstration to export bookmarks on iPhone safari app.
1. Save Safari Bookmarks to Browser with iTunes
iTunes is an app, which installed on your computer, to manage your iPhone, iPad, iPod touch data without obstacles. It also can be a backup and restore data tool if you need.

As you know, iTunes requires connection between device and computer with USB cable, below is the step-by-step tutorial.
Step 1Launch iTunes on your computer, if you don't have it, download one from Apple official site.
Step 2Plug your iPhone to computer with USB cable. Then tap Trust on your iPhone screen if it is the first time to connect your device to this computer.
Step 3Click device icon and then click Info from the left panel.
Step 4Scroll down to find Other section, turn off iCloud's Safari sync on your phone if you see Your Bookmarks are being synced with your iPhone over the air from iCloud.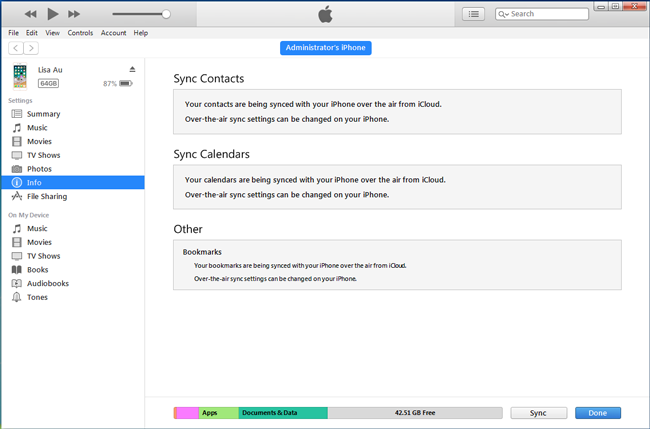 Step 5Check the box Sync bookmarks with and select a web browser from the drop-down menu.
Step 6Keep the box near Bookmarks in the Advanced section unchecked.
Step 7Click Apply at the bottom of the window.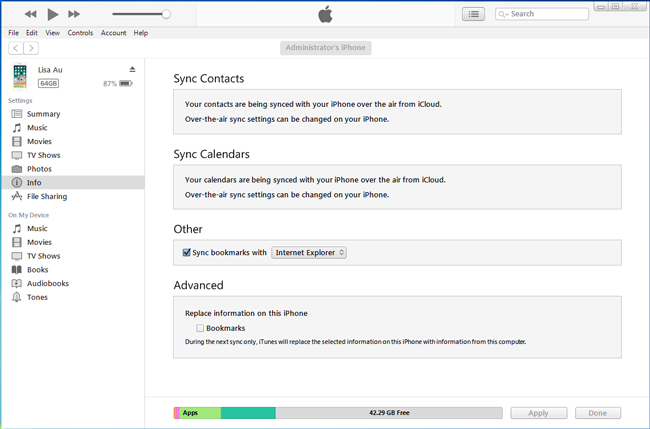 After the process is complete, you can see the bookmarks under favorite list of Internet Explorer.
If you don't like to use USB and computer, you can choose iCloud as an alternative to save bookmarks on iPhone.
2. Export Bookmarks on iPhone Safari to Mac or PC via iCloud
iCloud is a cloud service which allows you to upload data and then access iCloud data whenever you want. So that you can get your data with device and network connection.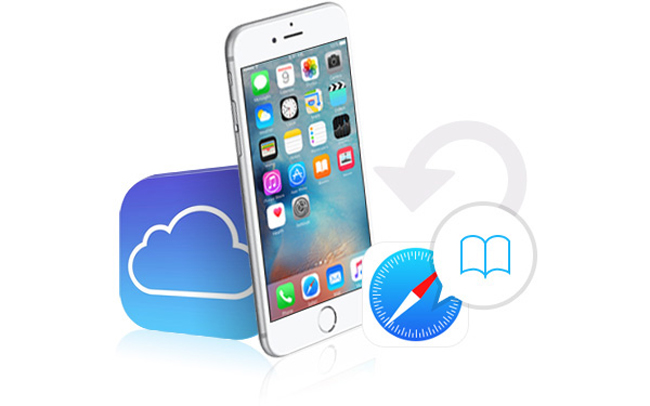 Option 1. Backup iPhone Safari History with iCloud Sync Feature
Below we will take about how to backup iPhone safari bookmarks with clear instruction.
Step 1First of all, you should enable the automatic backup iPhone safari through below steps.
Step 2Open Settings app on iPhone home screen.
Step 3Tap [Your name] > iCloud. Scroll down to find iCloud if you are using iOS 10.2 and earlier.
Step 4Toggle on the Safari to enable it. And then it will begin being uploaded to iCloud.
After that, the safari bookmarks will be backed up to iCloud automatically when your iPhone is locking, charging and connecting with network.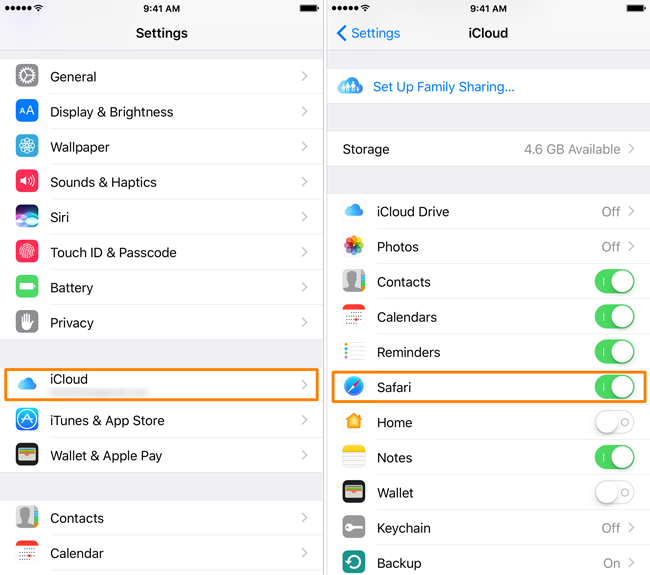 Option 2. Backup iPhone Safari History with iCloud Settings
We all know that iCloud allows you to backup iPhone data manually through Settings > iCloud > iCloud Backup > Back Up Now.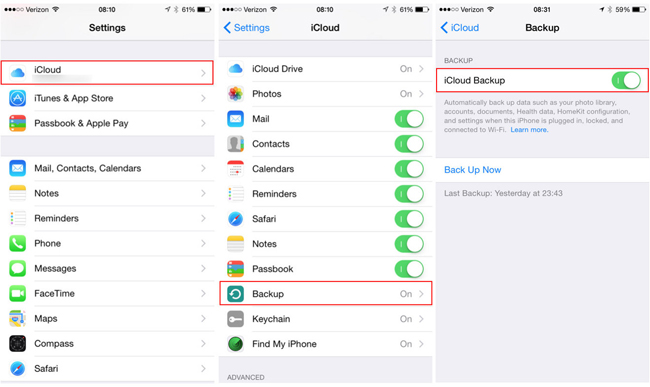 But it will upload all data to iCloud which waste a long time and large space to save.
Don't worry, we will show you another way to backup safari bookmark only.
Option 3. Backup iPhone Safari History with iCloud Program
So that you can begin to export bookmark of iPhone safari to Mac or PC as below.
To Mac:
Step 1Confirm if you check the box of Safari through System Preferences > iCloud.
Step 2Launch Safari and open File > Export Bookmarks.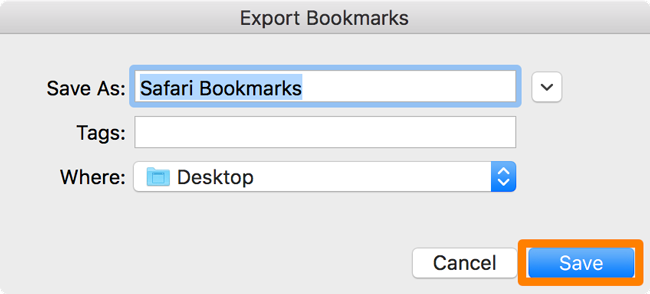 Step 3Select a folder to save these bookmarks and click Save. The Safari bookmarks will be saved as HTML format.
To PC:
Step 1Download and install iCloud program on computer and then log in your iCloud account.
Step 2Check the box near Bookmarks. You can see which browser under the Bookmarks word, and you can change the settings via Options button.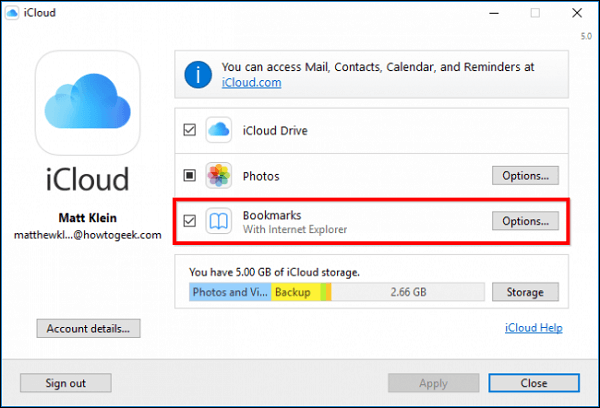 Step 3Click Apply to sync the safari bookmarks to computer.
You might already know iCloud has storage limitation of 5GB storage, so you need to upgrade the space if you have amount of data to backup.
So, FoneLab iOS Data Backup & Restore will be strongly recommended to you.
3. Sync Bookmark on iPhone Safari with FoneLab iOS Data Backup & Restore
Make a backup file of iPhone is one of the best bet to keep data safe. There are various ways to backup data, so how can you choose a suitable method from them?
FoneLab iOS Data Backup & Restore is a professional but simple third-party software to help you backup and restore selectively. You don't need to save iPhone data at once because it enables you to select certain items, such as galley, videos, audios, files, etc.
It supports types of devices, so you can backup iOS data from iPhone/iPad/iPod Touch. It is so easy that you can finish the process in 4 steps.
Step 1Download and install FoneLab iOS Data Backup & Restore on your computer. Please confirm if the version of iTunes on your computer is the latest one, and you cannot start iTunes while program is running to avoid data overwriting by iTunes synchronization.
Step 2Choose iOS Data Backup & Restore in the interface, and then click iOS Data Backup.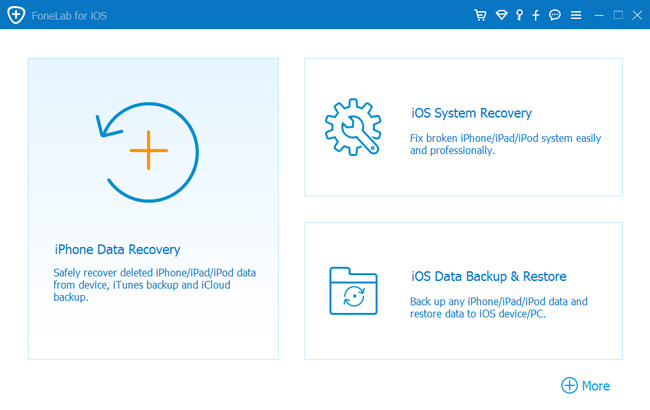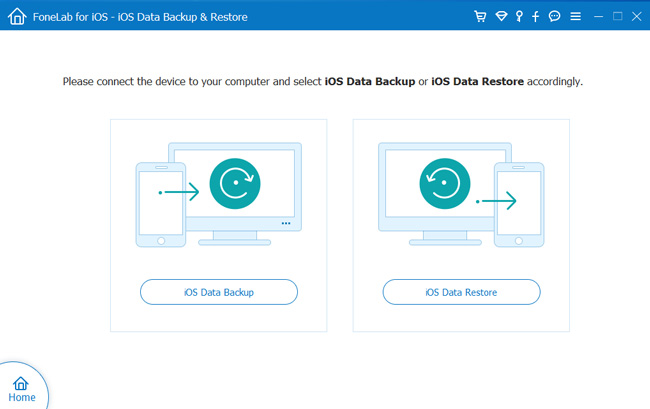 Step 3Select Encrypted backup if you want to add a password to your data, and then click Start.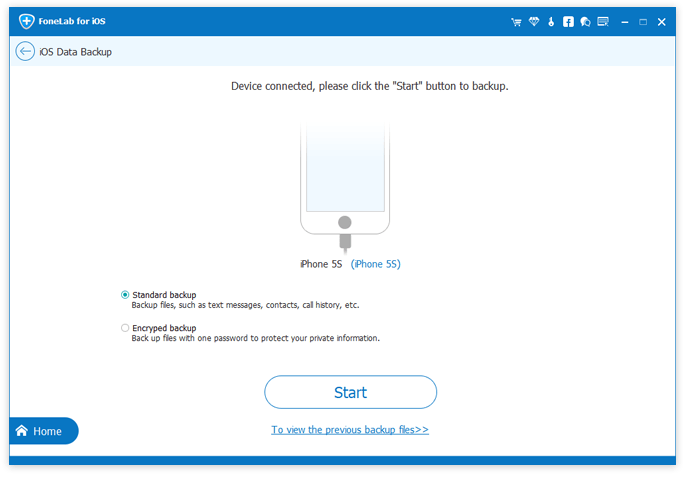 Step 4Tick the Safari Bookmarks under the Memos & Others section, click Next.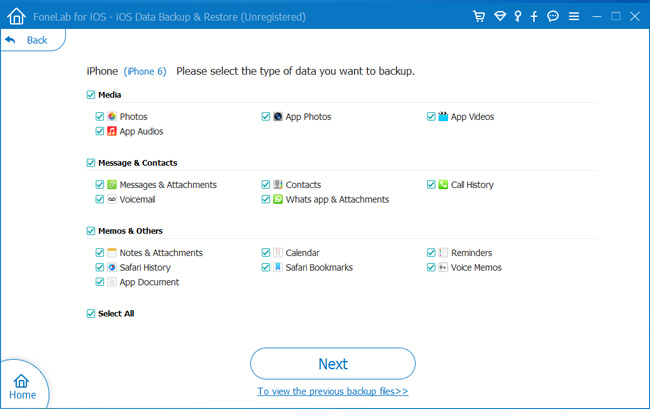 Some iPhone users don't like using Safari but Chrome, Google or other browsers.
There are different hot topics on the internet, so we will talk about one of that how to backup Chrome bookmarks here.
4. Backup Chrome Bookmarks
According to the federal government's Digital Analytics Program, Chrome dominates US web browser used with 44.5%. So, it gets used to being the most important tool to save the website you visit all the time, the page you need to go next time, etc.
So how can you export bookmarks on Chrome?
Option 1 : Backup Chrome Bookmarks with Chrome Bookmark Manager
Step 1Open Chrome on your computer, and then click menu icon on the upper-right corner > Bookmarks.
Step 2Press CTRL + Shift + O on your keyboard or click Bookmarks manager to manage your bookmarks.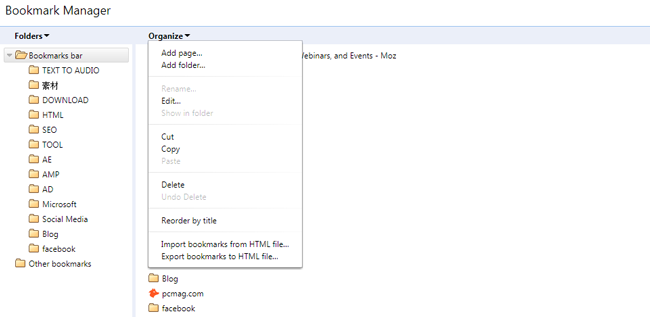 Step 3Click Organize on the top, and then select Export bookmarks to HTML file.
Step 4Select the folder you want to bookmarks save to, click Save.
Option 2: Backup Chrome Bookmarks with Google Account
You might have found out that you can export bookmarks of Chrome using Google account.
Step 1Open Chrome on your computer, and then click menu icon > Settings.
Step 2Click Sync, and then you can enable the items you want.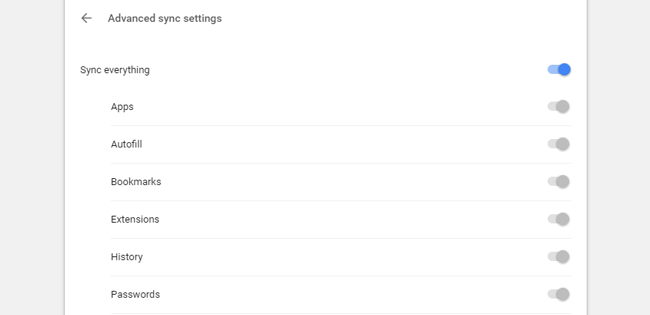 That's all.
Backing up iPhone Contact, photos, videos, etc, is a good custom to prevent data loss if you don't want to face this situation. Get a simple way and have a try now!