Backup iOS Data Now
Backup and restore iPhone/iPad/iPod without data loss.
iPhone App Data Backup Tool – 4 Simple Ways to Backup iPhone App Data

Posted by
Lisa Ou
/ Jan 20, 2021 16:00
I have bought a new iPhone 8, and I want to backup and restore apps data. I have no idea about how to do because I have found some methods on the internet that I can do it using iTunes, but they were not workable anymore. Now, how do I backup my iPhone app? Can anyone help?
Each Smartphone comes with many applications and allows user to download various different apps to use your phone more conveniently. It helps you solve some problem without computer and enjoy music, watch movie and more.
iPhone users add different apps on the device, but most of them don't have a custom to backup iPhone data.
So,
People like that will need to face the terrible situation that lost data and try hard to get iPhone data back.
Of course, Restore iPhone from backup is not difficult.
But,
It is not an easy case if you have neither an iCloud nor an iTunes backup file.
In addition, it can also help you copy iPhone contacts, photos, videos, audios, etc.
As we all know, iTunes and iCloud allow iOS users to save data to computer or iCloud service and then you can restore from them easily.
1. How to Backup iPhone App Data with iTunes
iTunes 12.6.0 and earlier versions is a media player and media library, which allows users to backup iPhone via iTunes. Therefore, you can use it to manage iPhone, iPad and iPod touch music, movies, TV shows, apps, audiobooks, etc., to computer or iCloud.
It is also a convenient data manager to backup, transfer and restore data between mobile device and computer.
Well,
How to use iTunes to backup app data?
Below is the operating process:
Step 1Launch the earlier version of iTunes on your computer.
Step 2Connect your iPhone to computer with USB cable. Please don't disconnect the device during the process.
Step 3The program will detect your iPhone automatically, you should tap the Trust on your home screen if it is the first time connection between your device and computer.
Step 4Click File at the top of the window.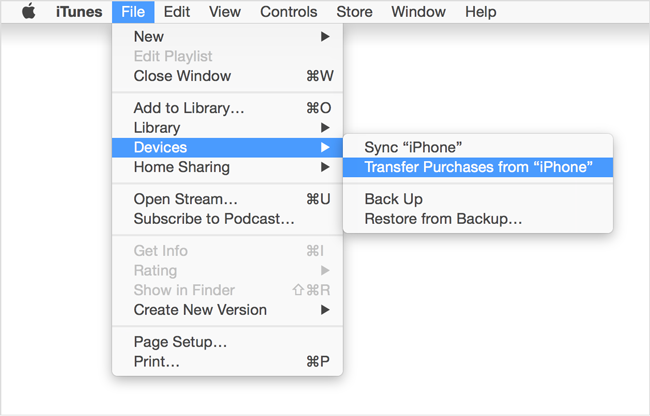 Step 5Then you can see Device in the pop-up window, click on it.
Step 6Click Transfer Purchases afterward.
Step 7It will begin the sync the purchased items to iTunes and you can check them by clicking the device icon > File Sharing on the left panel.
Step 8Choose the app which you want to save the data from, select the data from the right side, click Save to on the bottom of the box.
Please note that,
If you don't like to use USB and computer, you can choose iCloud as an alternative to save bookmarks on iPhone.
Apple rolls out iTunes 12.7 on Sep 12, 2017 without built-in App Store so that it no longer contains any options for syncing apps to your device.
While,
iCloud might be a good alternative for you to backup iPhone to iCloud.
2. How to Backup iPhone App Data with iCloud
iCloud backs up almost everything on your device, which including your app data, photos, videos, audios, etc. But there are still some items can not be stored in backup files, such as apps, the data already stored in iCloud, call history and more.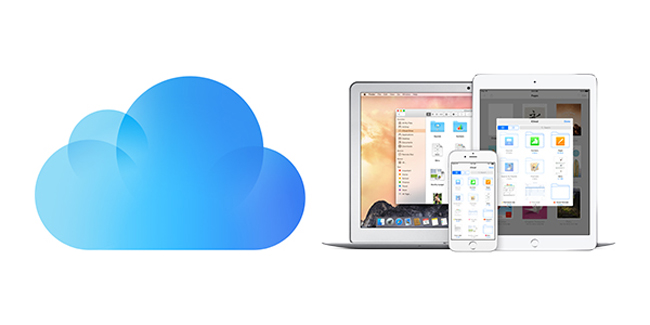 Want to know how to backup apps data to iCloud?
Keep moving…
Step 1Open Settings, Go to [Your name] > iCloud. If you are using iOS 10.2 and earlier, you should go to Settings > iCloud.
Step 2Turn on the buttons of the apps you want to backup.
Step 3Tap iCloud Backup, and then turn on the iCloud Backup button
Step 4Back Up Now will appear after that, tap on it and wait for a while.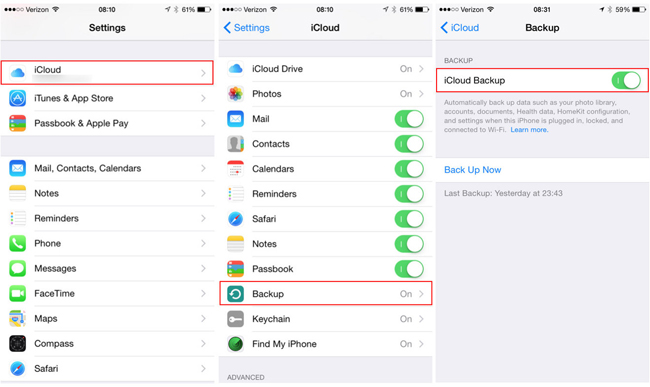 If you have used iCloud Drive already, you can also save apps data with it.
3. How to Backup iPhone App Data with iCloud Drive
The difference of iCloud backup and iCloud drive is that iCloud drive allows you to access file in any other way while you can use your iCloud backup when you restore it to your device only.
You can easily backup apps data with iCloud drive following below demonstration.
Step 1Open Settings, Go to [Your name] > iCloud. If you are using iOS 10.2 and earlier, you should go to Settings, and then scroll down to get iCloud.
Step 2Scroll down to find iCloud Drive and turn it on.
Step 3And then the apps will be displayed under the iCloud Drive, toggle on the apps you want to back up their data.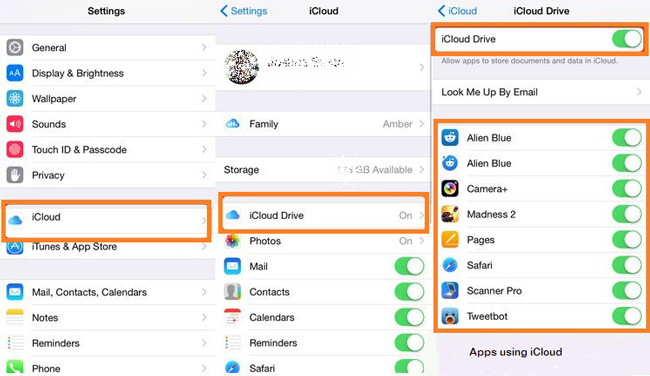 If you can't slide to operate the iPhone, please check how to unlock disabled iPhone.
4. How to Backup iPhone App Data with FoneLab
You might be noticed that you have no enough iCloud storage to make a backup via iCloud if you need to backup large data on your device.
You can do something to solve this problem.
Option 1. Turn off the iCloud automatic backup through Settings > iCloud > iCloud Backup.
Option 2. Delete some photos or videos to reduce the backup data.
Option 3. Upgrade iCloud storage to save more data to it.
Option 4. Find another alternative to backup iPhone apps data.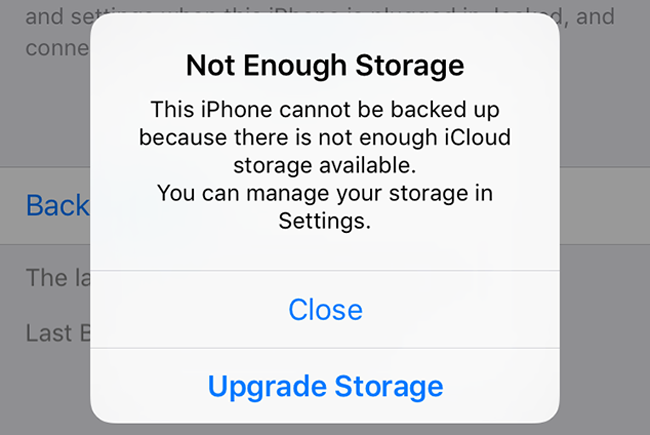 FoneLab iOS Data Backup & Restore will be highly recommended to you if you want to save apps data simply.
FoneLab allows you to backup iPhone Photos, videos, contacts, messages, etc., to computer with ease.
It won't require that you complete the complicated operation on device or computer first, and then wait for a long time. Most of the methods are a waste of time and energy because the backup process can be finished within few steps in minutes.
And it fully supports iPhone, iPad and iPod touch with iOS 11, so you can backup data easily even you are using the latest iPhone X or iPhone 8.
How?
Below is a tutorial with clear instruction.

Backup and restore iOS data to your PC/Mac easily..
Preview data in detail before you restore data from backups.
Backup and restore iPhone, iPad and iPod touch data Selectively.
Step 1Download and install FoneLab on your computer, it will be automatically launched after the installation is finished.
Step 2Please confirm the version of iTunes on your computer is the latest one and close it when you are running FoneLab on your computer.
Step 3Connect iPhone to computer with USB cable, and then tap Trust on device home screen if it pops up.
Step 4Click iOS Data Backup & Restore in the interface after it detects your device.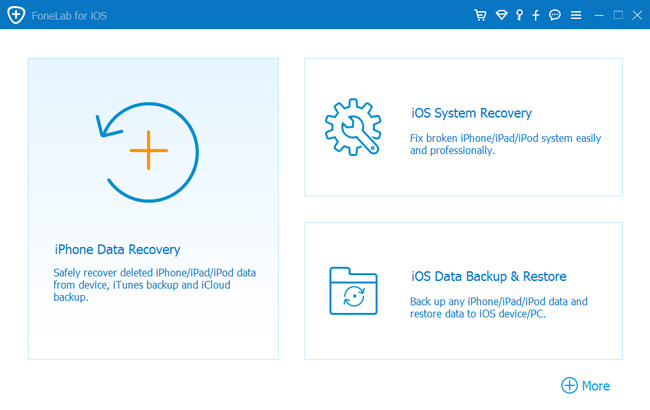 Step 5You can see two options here, choose iOS Data Backup if you want to backup iPhone data.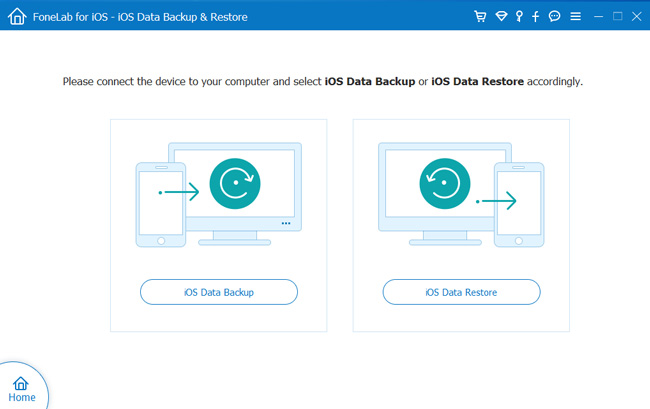 Step 6Confirm if you want to add a password to your backup file, if not, choose Standard backup and click Start.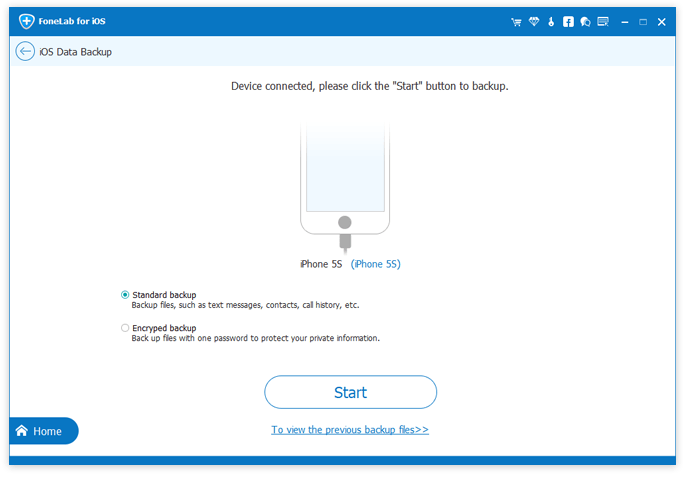 Step 7Uncheck Select All on the bottom, tick the App Document on the Memos & Others section.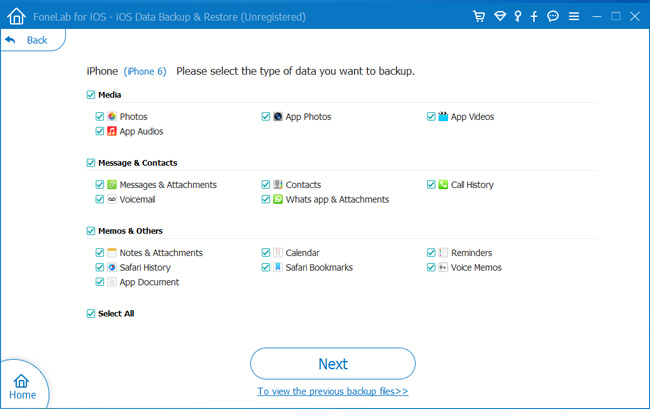 Step 8Click Next to begin the process.
In addition, you can backup safari bookmark on iPhone with FoneLab easily and effectively.
Both iTunes and iCloud can not backup apps on your device to backup file, so the apps can not be restored from iCloud backup.
5. How to Re-download Apps on iPhone
You should re-download the apps before restoring the apps data.
Step 1Open App Store on your iPhone.
Step 2Tap one of the first four items on the bottom, then you can see your profile image on the upper-right corner, tap on it.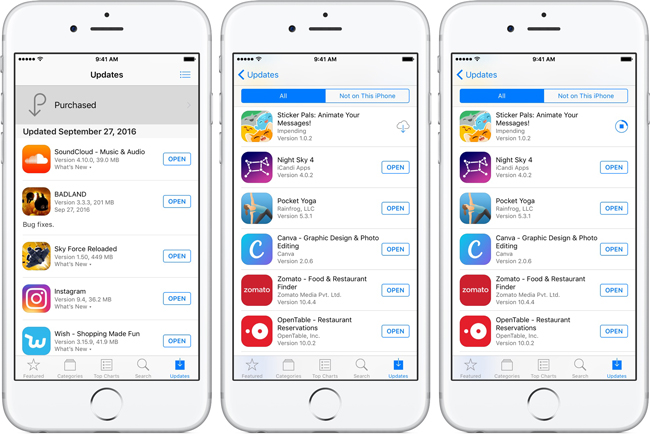 Step 3Tap Purchased > Not on this iPhone.
Step 4Find the apps you want to download on this iPhone, tap the download icon near the item.
Apps and data are a part of great importance for mobile phone users, you should backup iPhone data, including backup iPhone contacts, videos, messages, WhatsApp and more regularly to prevent data loss.