Chrome Audio Capture – 6 Best Software to Capture Streaming Audio and Microphone Files
How to record streaming audio online without extra program? Chrome has multiple methods to capture system audio and microphone voice. Whether you need to use the Chrome audio capture plugins, or take advantage of the Chrome audio recorders online, you can learn more about the 6 best methods to capture the desired audio files with ease.

1. 3 Best Chrome Audio Recorders Online to Capture Audio Files
Top 1: Online Voice Recorder
Online Video Recorder is an online Chrome audio capture to record your voice using a microphone and save it as an MP3 format. It enables you to cut the audio, convert the music file or join the files.
Automatically detect and delete the silence at the beginning and the end.
Enable hardware acceleration, decrease echo, control volume and more.
Trim and crop the section of the recorded audio with multiple segments.
Set up the microphone recording settings and preferences as desired.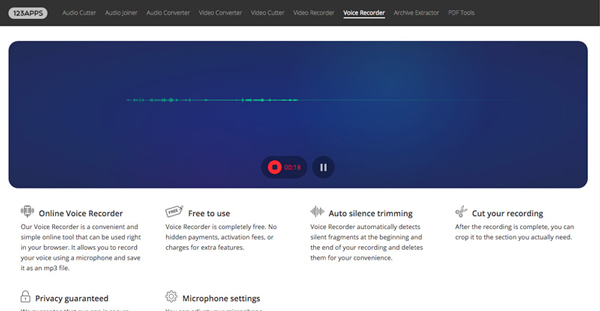 Top 2: SpeakPipe
SpeakPipe is a Chrome voice recorder online that allows you to create an audio recording directly from a browser by using your microphone. It enables you to save, share and get a URL link with ease.
It is a Chrome audio capture for iPhone, iPad, iPod, and Android devices.
Enable you to record the audio files with a microphone with desired quality.
The recording is produced locally on your computer without any limitation.
Save your audio recording on the voice recorder server and get a URL.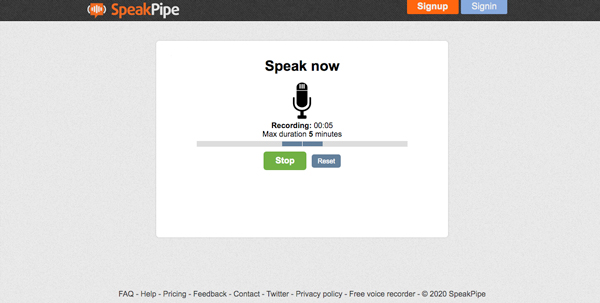 Top 3: Bear Record
Bear Record is a free online Chrome audio recorder that enables you to use the microphone to record your voice with the desired settings, cut, edit and save the file as MP3 and other audio formats.
Set the audio sample rate, number of channels for recording Chrome audio.
Complete the function of recording, editing and saving sounds at one time.
Support input, processing, and saving of audio directly in the browser.
Real-time display of recording time, waveform, data size and more other.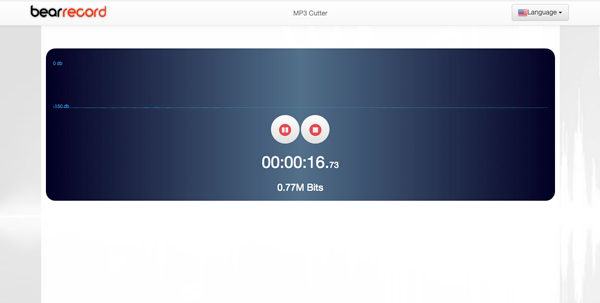 2. Top 3 Chrome Audio Capture Plugins to Record Audio Files
Top 4: Chrome Audio Capture
Chrome Audio Capture is one of the most popular audio recorder plugin for the Chrome browser. It enables you to capture audio on different tabs at the same time and save the files into MP3 or WAV output format.
Capture audio files from multiple tabs simultaneously with a simple click.
Save the captured audio on Chrome tabs either in MP3 or WAV format.
Provide advanced option to mute tabs that are currently being captured.
Record Chrome browser streaming audio files manually or with hotkeys.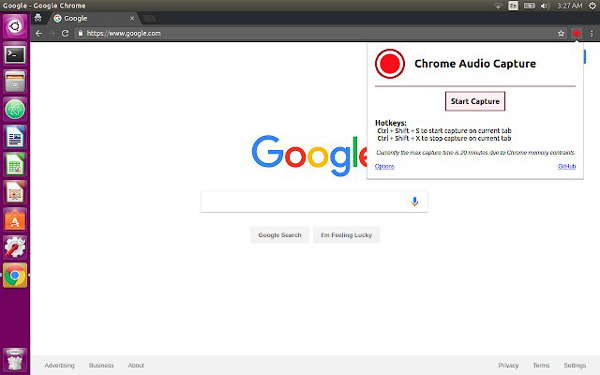 Top 5: Cloud Audio Recorder
Cloud Audio Recorder is another Chrome audio recorder plugin that records both system audio and voice file on your browser. It enables you to save the audio files as MP3, WMA and M4A files in a funny way.
Record any audio files, including the system sound and the microphone.
Save the captured audio from Chrome to Google Drive or a computer.
Support real-time MP3 encoding, HTML5 codec and even Flash recorder.
The captured audio files can be saved as MP3, WMA and M4A files.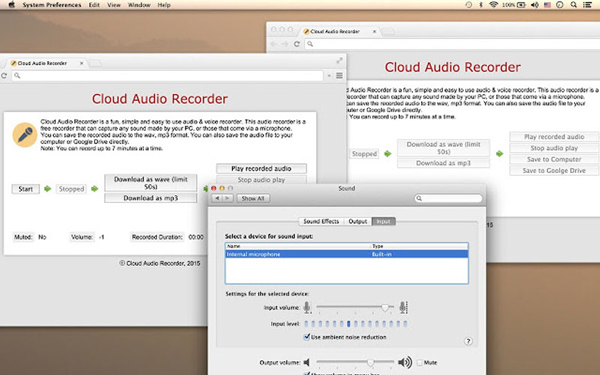 Top 6: Screencastify
Screencastify is more than a Chrome audio capture that record microphone voice and system audio as MP3 format, but also capture the screen videos and webcam footage with the original quality.
Capture desktop video, browser tab, as well as the webcam footage.
Edit the recorded video, draw on the tab and trim the videos with ease.
Automatically save the recorded videos to Google Drive and computer.
Screencasts are captured as WebM/VP8 file with OGG vorbis audio.
3. Best Chrome Audio Recorder to Capture Onscreen Activities
What is the best Chrome audio recorder alternative to capture audio files, or other onscreen activities? FoneLab Screen Recorder is a versatile screen recorder to capture screen video, system audio, microphone video, and webcam footage. So you can use it as your Chrome screen recorder or audio recorder. Moreover, you can tweak the video and audio settings, add annotation/shapes/watermark, trim and edit the recorded video, or even manage the recorded video.
Capture chrome audio, microphone voice, screen video and webcam file.
Tweak the audio format, audio quality, audio volume and more settings.
Edit and trim the start and the end points to get the desired audio files.
Manage the recorded audio files, such as play, delete, share with others.
4. FAQs about Chrome Audio Capture
1. How to Install Chrome Audio Capture Plugins?
Just take Chrome Audio Capture for example. When you search for the plugin within the Chrome Web Store, you can click on the Add To Chrome button to add the plugin for Chrome. There will be an icon for the app on the left corner of the Chrome browser. You can click the icon to record the desired audio file according to your requirements.
2. Is There Any Limitation for Chrome Audio Recorders?
As for the Chrome Audio Capture plugin, the recorded audio segment is limited within 20 minutes. If you have captured the audio files more than 20 minutes, the extra parts might be muted. The online Chrome audio recorders might not have a special restriction for the duration, but it might not as stable as the professional audio recorders.
3. Can You Record More Than 20 Minutes via Chrome Audio Capture?
Some Chrome Audio Capture plugins might enable you to capture more than 20 minutes. But when you capture a long audio file, the audio file will be compressed and some parts might be blurry. Just divide the audio recording to different parts, or even use a professional audio recorder into capture a satisfied recording.
Conclusion
When you need to record audio from Chrome browse, you can learn more about the 6 best Chrome Audio Capture programs from the article. In order to capture one clip of audio files, you can simply use the online audio recorders for Chrome. As for capturing the audio files frequently, you can use the Chrome plugins instead.
Related Articles:

Leave your comment and join our discussion