How to Turn Off Message Preview on iPhone - 98.5% Success Rate
"I have bought a new iPhone 7 in store, and the received messages will be displayed on the locked screen even though I don't like this feature. Can I hide my text messages? How to hide messages on locked screen?"
The locked iPhone defaults to showing you both senders' name and content of their received messages. According to the introduction, showing message preview on iPhone is convenient that iPhone users can see what they receive without unlocking their device.
However, most of iPhone users don't like this setting as anyone glancing at your screen can see the first few words of a text message on the front of your screen whether it is locked or not.
There are different reasons why you should turn off message preview on iPhone.
It is a visible breach of privacy.
It might take you in trouble with people who read the messages.
Prevent criminal to get the received code on your iPhone without passwords.
What's more,
Apple Inc. has upgraded that iPhone X is set to hide previews of notifications on the locked screen by default, only revealing them when Face ID. has authenticated the user.
So, how can you hide text messages on iPhone locked screen to protect hidden messages?
1. How to Turn Off All iPhone Screen Notification Preview
If you are using different apps to send and receive messages, there is a convenient way to hide text on iPhone locked screen.

Below is the simple demonstration.
Open Settings app on iPhone home screen.
Tap Notifications.
Tap Show Preview, and then select Never.
2. How to Disable Message Locked Screen Alerts on iPhone
If you don't want to disable other iPhone locked screen notifications, you can also make messages private on iPhone.
Well,
As you know, the message preview will be showed if you have enabled the Show Preview feature on iPhone Settings app.
In the same way, you can disable the notification for message to hide locked screen messages on iPhone.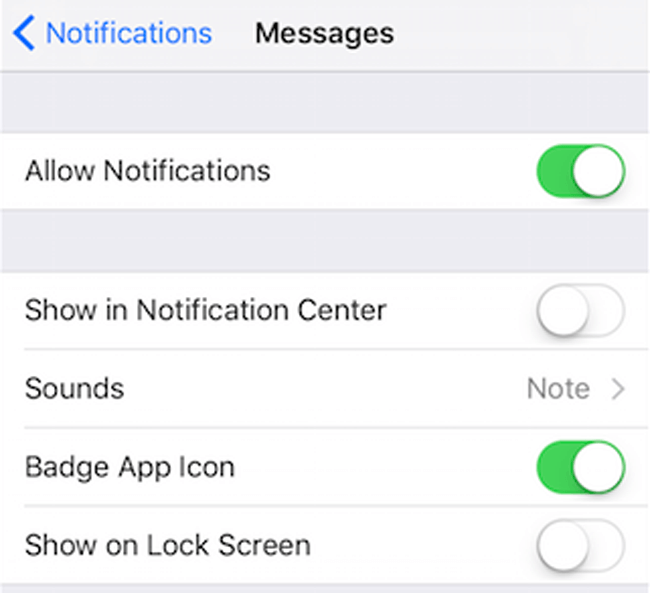 Go to Settings > Notifications.
Scroll down to find Messages, and tap on it.
Turn off the button next to Allow Notifications.
3. How to Hide Messages on iPhone Notification Preview
Sometimes, you will need the notification alters for messages but without worrying about creepers glancing over your shoulder.
How should you do to hide texts contents on iPhone but keep the notification alerts?
You have 2 options, one is to turn off app preview feature, another one is to disable it on the locked screen.
Option 1
Each app will have its own notification settings, you can customize according to the habit you used to be. You can disable the preview feature directly.
Go to Settings > Notifications.
Scroll down to find Messages, and tap on it.
Tap Show Preview on the bottom under OPTIONS section.
Choose Never.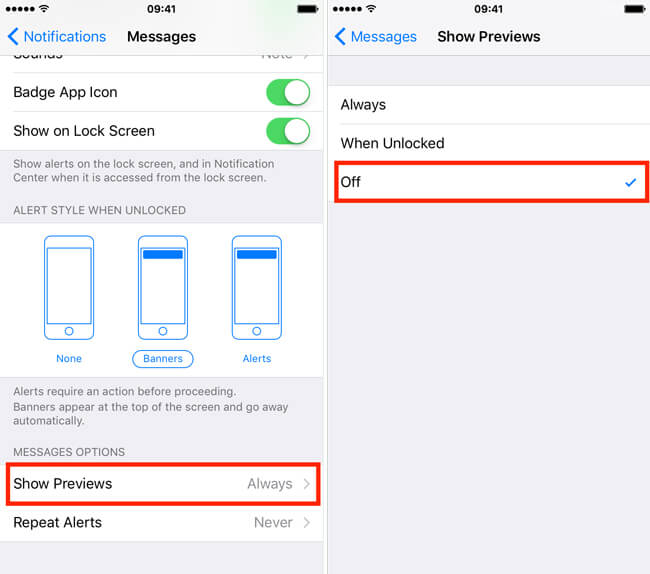 Option 2
You can see different options in the Messages section, actually you can turn off the alert on locked screen as below.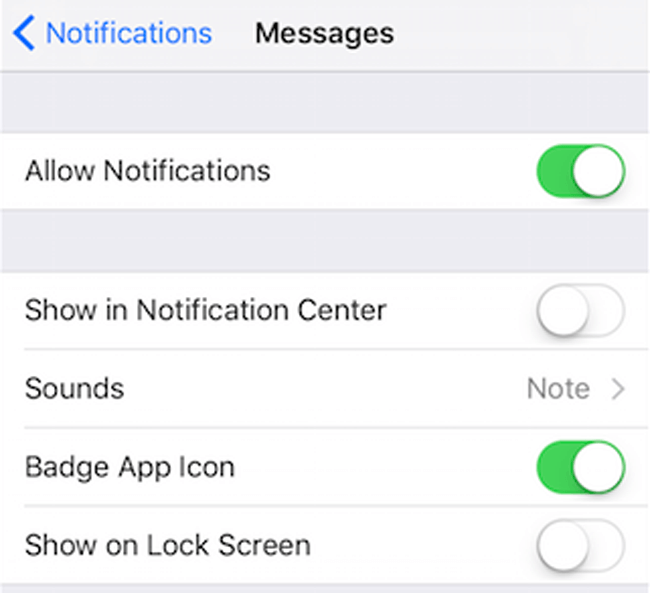 Go to Settings > Notifications.
Tap Messages.
Disable Show on Lock Screen.
You can use above-mentioned ways to turn off iPhone message preview of other apps like WhatsApp, Instagram direct messages, Kik message, etc.
Well,
Instant chatting apps are convenient to send and receive messages between family, friends, colleague, client and more.
Backing up iPhone data regularly is the best bet to prevent data loss as you can restore iPhone from backup afterward.
Keep reading if you have question about how you backup your iPhone.
4. How to Backup iPhone
There are different ways to make an apple backup easily.
Method 1. Backup iPhone to iCloud
iCloud is a cloud service which enables you to save and access the data you want. Therefore, you need neither a computer nor a USB cable to transfer data.
Go to Settings > Apple ID > iCloud.
Scroll down to find iCloud Backup.
Turn it on.
Tap Back Up Now.
Method 2. Backup iPhone to iTunes
iTunes is another option for people who don't trust in cloud service to save data on computer with USB cable.
It is no doubt that it is the safest method to save data to where hackers can not access without internet connection.
Launch iTunes on computer, and plug iPhone to it.
Click device icon when the program detects it.
Click Summary in the left pane, and then Back Up Now in the Backups section.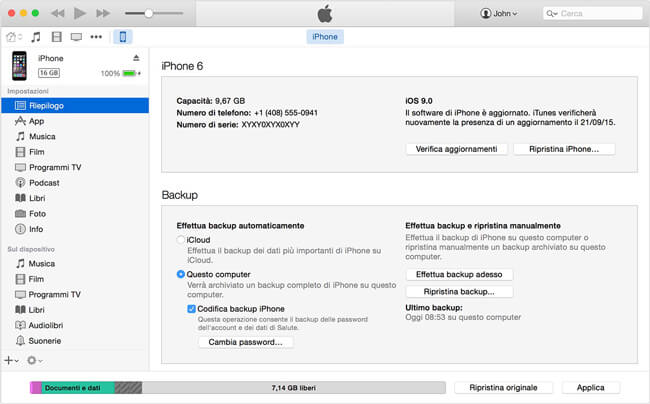 Method 3. Backup iPhone to Computer with FoneLab
As you probably know, both iCloud and iTunes don't allow users manage data selectively. So you need a third-party tool, which is called FoneLab iOS Data Backup & Restore to help you backup iPhone data.
Download and install the software on computer, and connect iPhone to computer.
Select iOS Data Backup & Restore > iOS Data Backup in the window.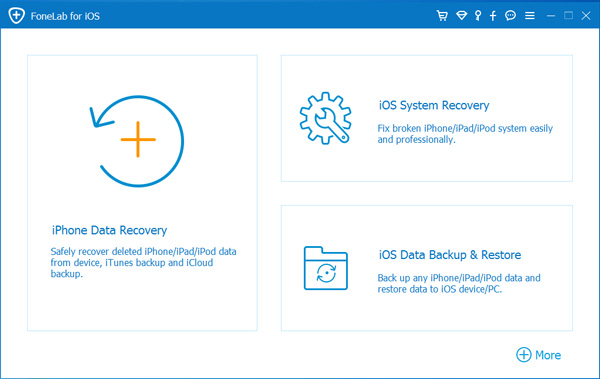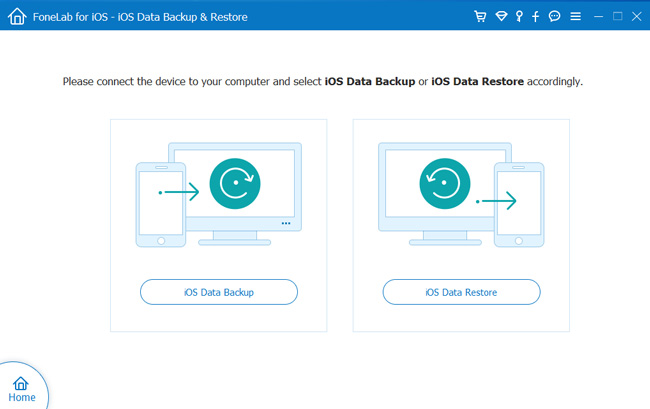 Select which backup mode you want to save as and data type.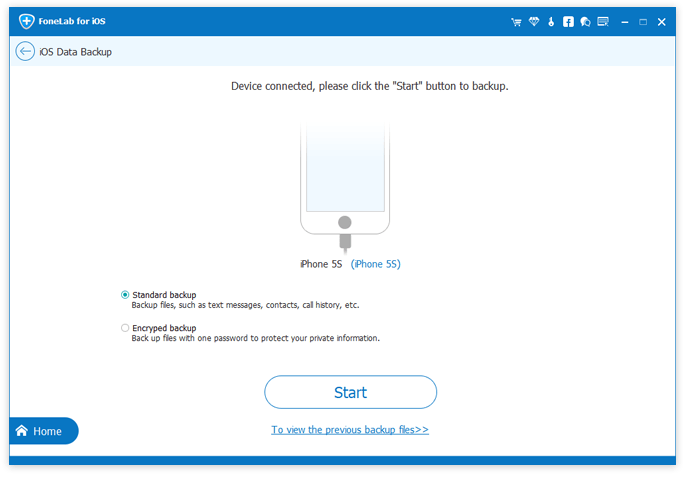 Click Next.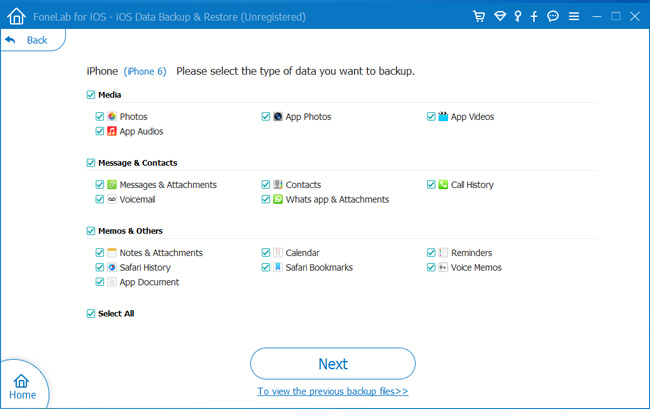 It also can be used to restore iPhone contacts and notes selectively from backup file to device.
That's all.
Related Articles: