Snagit Scrolling Capture Best Tutorial - 2022 Quick Guide
Snagit is a screenshot and video recording program, which can help you can capture scrolling webpage, window or documents originally on Windows computer only, but later versions have been available for macOS with limited fesatures. However, Snagit's wide-range and powerful tools that enable you to capture scrolling window, take a panoramic capture and more.

If you want to know more about Snagit scrolling capture, please move on.
1. Snagit Scrolling Capture
You should know that Snagit is one of the most famous TechSmith products, which also has screenshotting, screencasting, video editing software like Camtasia. While Snagit is one of them which is popular for its incredible recording and screenshotting features.
Scrolling capturing is an essential feature as people always need to capture screenshots of webpages, pdf, window and others to provide something that is able to prove or show something clearly without text.
In this case, Snagit capture scrolling can help a lot. It is easy to use even for a novice, so you can try it no matter you have learneds how to use it or not.
Snagit Capture Scrolling Window (Windows)
Step 1Choose Image on the main interface, then click the drop-down menu beside Selection to choose Window.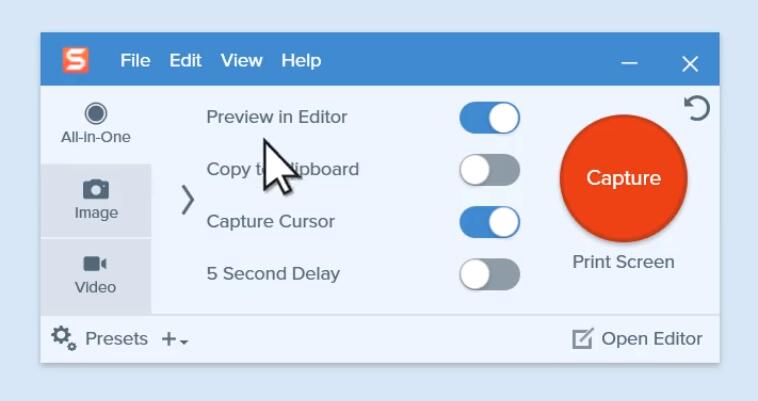 Step 2Click Capture and choose capture region. Click Start button on the pop-up menu bar and scroll the page.
Step 3Click stop button and save the image.
Take A Panoramic with Snagit (Windows)
Step 1Click All-in-one tab > Capture button and select the recording area. You can drag to choose a custom area accordingly. Then select panoramic button.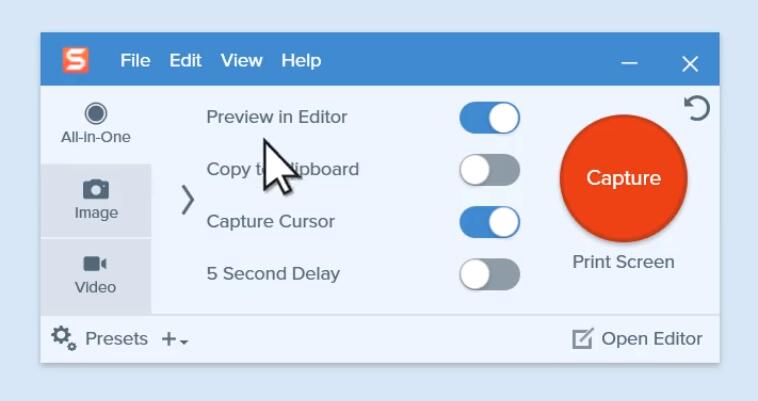 You can also click Image > Panoramic under the Selection section. Then click Capture button and select the region.

Step 2Click Start on the menu bar and scroll the page or document you want to capture.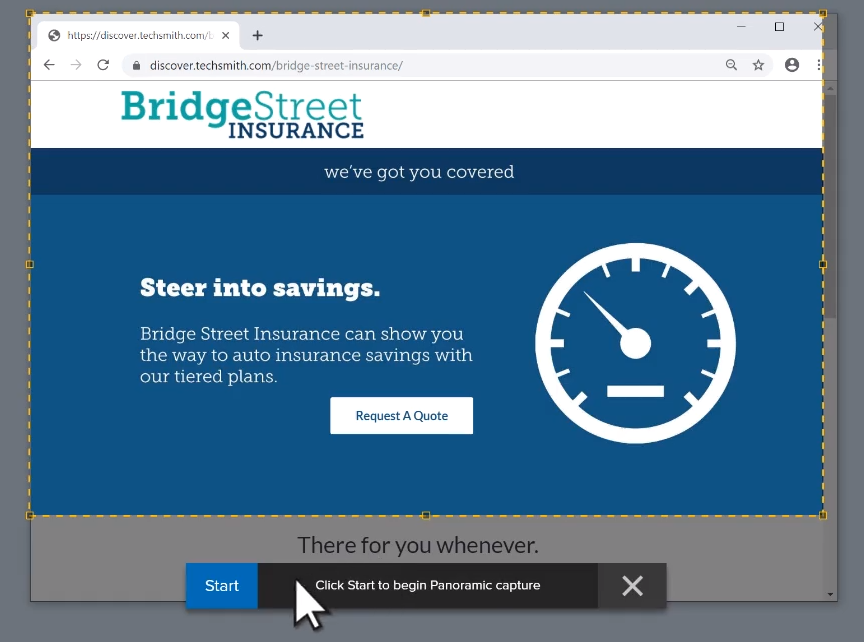 Step 3Click the stop button whenever you want to save the panoramic image.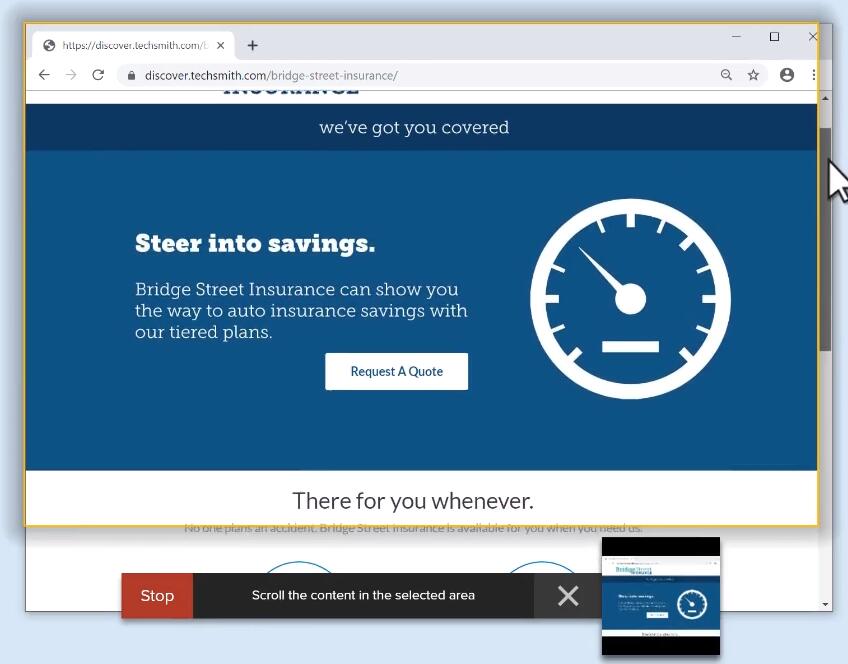 Snagit Scrolling Capture( Mac)
Step 1Enable Snagit scrolling capture on Mac. Open Snagit on Mac, click Snagit > Preferences > Capture > Scrolling Capture > Enable. Then choose Enable Scrolling Capture > Open System Preferences > Security & Privacy on pop-up window.
Step 2Click padlock icon and enter credentials. Finally, find Allow the apps below to control your computer, check the right version of Snagit and SnagitHelper on your computer.
Step 3Select Image > Selection > Window/Panoramic. Then click Capture and choose capture region.
Step 4Click Start button and scroll the file or webpage, then click Stop icon when it is done.
2. Snagit Scrolling Capture Not Working
After Snagit 12 scrolling capture released, some users report that Snagit scrolling capture fails, including appears error message, incomplete capture, poor quality, etc. It is really frustrating if you have no idea about how to fix this issue.
In this part, we will show you some tips about how to fix Snagit 12 scrolling capture not working.
Snagit Scrolling Window Not Working
Sometimes, users encounter certain issues while using Snagit to capture scrolling image on computer. Such as error message, not responding, screenshots are unable to be saved, etc. However, here are some recommended methods you can have a try to fix these problems.
Method 1. Restart or reinstall Snagit. Restarting can always solve 99% of problems for technological problems. If it didn't, just uninstall it from your computer, then reinstall it again.
Method 2. Reboot your computer. It is another general way to remove unknown errors on computer. You can try it to make your Snagit normal.
Method 3. Open the webpage or file with another browser or program. Maybe there is something wrong on your current browser or document viewing program. Just leave it and try another one.
After talking about Snagit scrolling window not working, you can dive into the answer to "Is there free tool like Snagit which can capture scrolling window" below.
3. Alternative to Snagit Scrolling Capture
Actually, there is always a default browser screenshot tool you can screenshot a scrolling page on browser if you want. For example, if you are a Chrome user, you can use Chrome screenshot tool inspect it to save the screenshot of full page as below.
Step 1Open the page you want to capture, right-click to choose Inspect.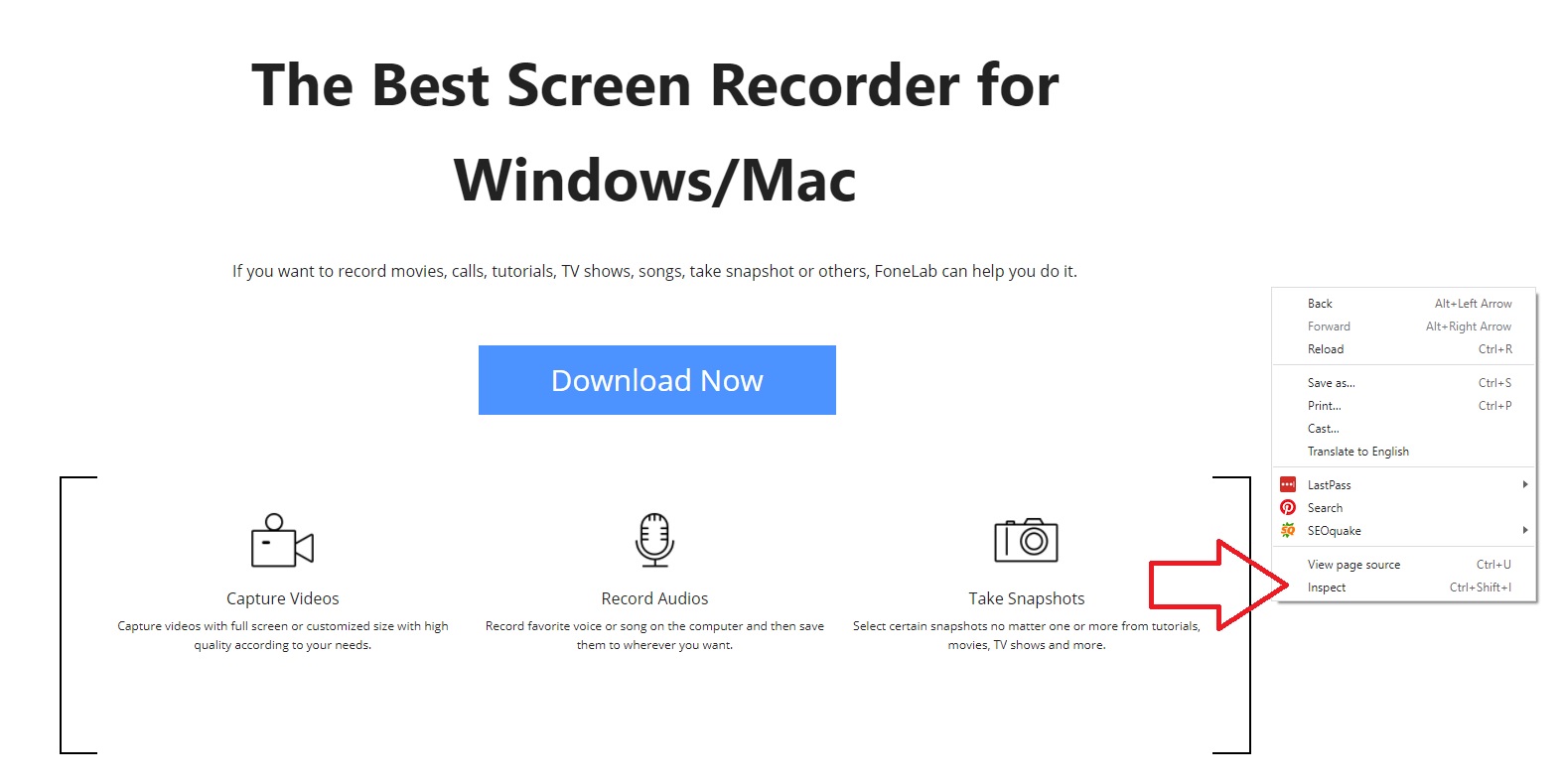 Step 2Press Ctrl - Shift + P buttons at the same time, then you can see the menu pops up on the right side.

Step 3Type Capture full size screenshot in the box and select it from the results. The screenshot of full page will be automatically downloaded on your computer folder.
If you don't have to capture scrolling image, regular screen recorder is also helpful to take screenshots or record videos of what you want with high-quality images and videos.
4. Best Screenshot and Video Recording Tool - FoneLab Screen Recorder
The one you should not miss is FoneLab Screen Recorder. It is one of the most effective yet easy-to-use screenshot programs on both Windows and Mac. No matter that you want to get the easiest solution to take screenshots on fullpages, documents, etc, FoneLab Screen Recorder helps you capture whatever on desktop.
Features of FoneLab Screen Recorder
It is available on both Windows and Mac.
If you want to record screen video with audio, microphone or webcam, it is able to help you with ease.
You can record around mouse.
You are able to record screen excludes unwanted windows according to your needs.
Video editor, video trimmer are available.
Save recording files to the folder you want.
One-click to share video or audio file to various social media platforms.
How to Take A Screenshot with FoneLab Screen Recorder
If you can't wait to know how to use it, please jump into the following demonstration.
Step 1Download and install FoneLab Screen Recorder on computer, then run it.

Step 2Select Screen Capture on the main interface, drag to choose an area to take a screenshot. You can also edit the screenshot with its editing tool if you need.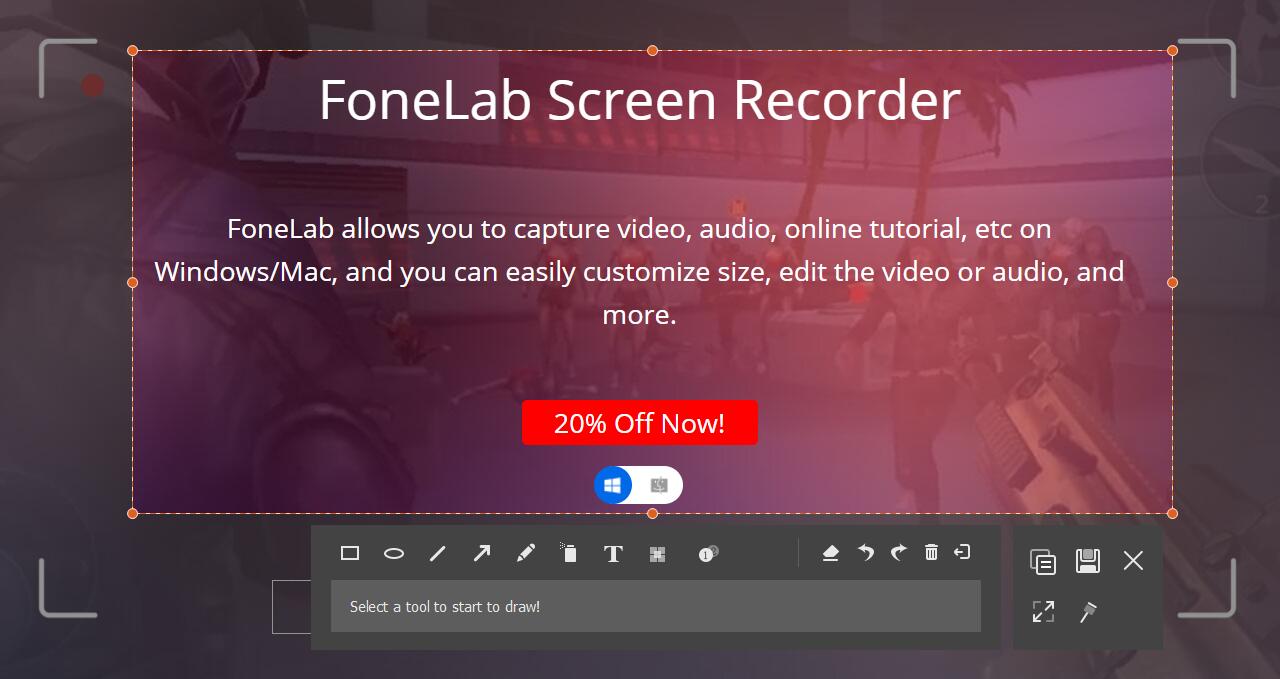 Step 3Click the file-like icon to save the screenshot to computer folder.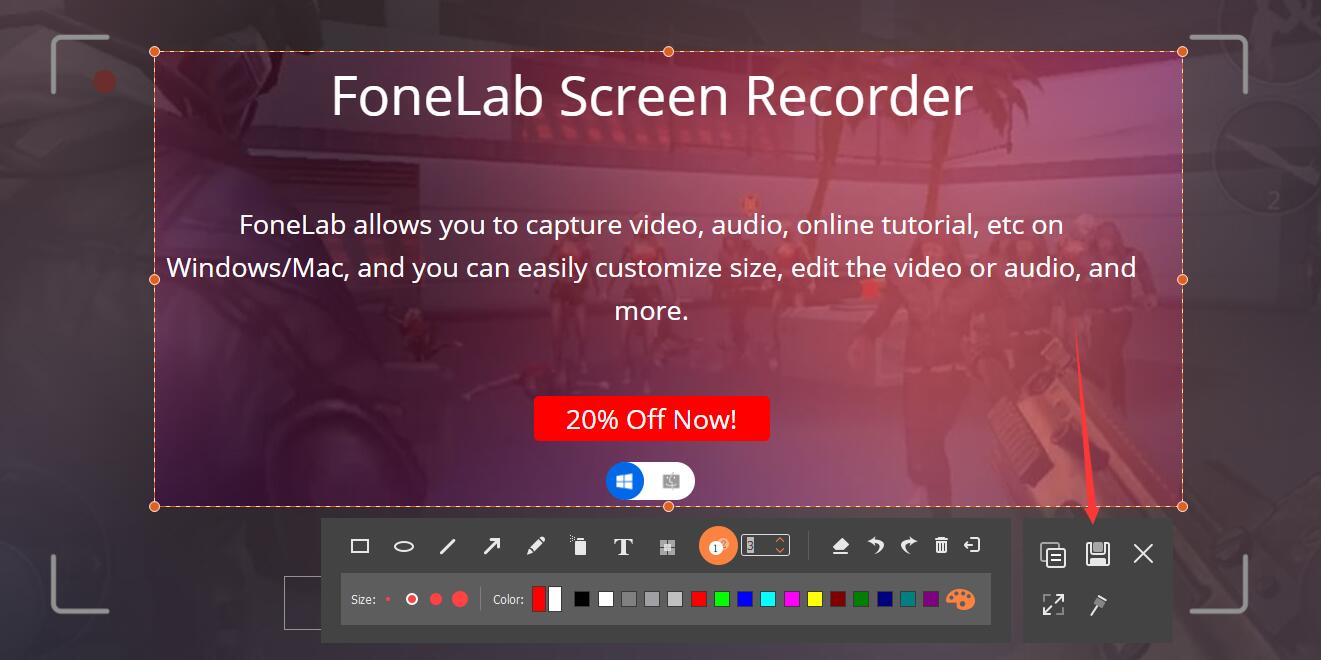 In addition, it is also helpful to record screen video with audio, webcam or microphone together or individually. If you are not sure whether FoneLab Screen Recorder suits you or not, you can download it and have a try now. It is free to take screenshots and you are able to record a video within 3 minutes without paying a penny.
If you have more questions about it, please leave comments below.