Erase iOS Data Now
Easily erase all contents and settings on iPhone, iPad or iPod completely and permanently.
How to Delete Apps on iPad Permanently in 2022
According to a recent survey, an iPad user average downloads at least 30 apps per month. They cannot accumulate all apps to their iPad due to the limited memory storage. That is why every iPad user has to master the way of app deletion. In this post, we will show you 3 methods to remove an app or apps from iPad Pro/mini/Air and earlier.

Part 1. Standard Way to Remove Apps from iPad
Of course, Apple has developed the method to delete apps from iPad home screen. This is the fastest and easiest method by default.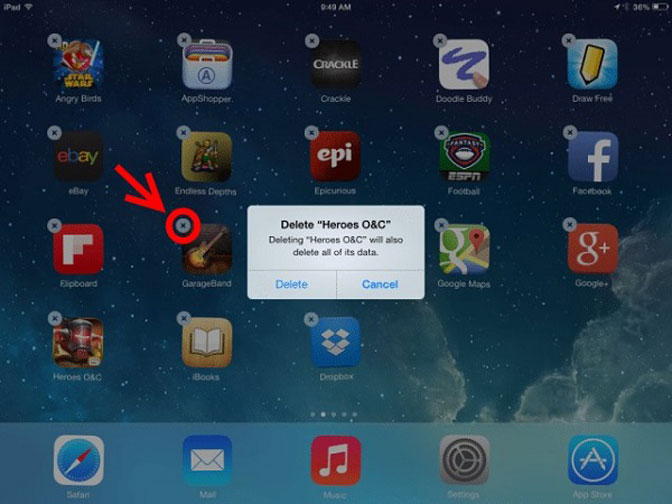 Step 1Turn on your iPad, and go to the screen that contains the unwanted app.
Step 2Deeply press any app until the apps start shaking. Also, each app that you can delete gets a Delete icon on its top left corner. Tap it and hit Delete button on the warning dialog.
Step 3 Then repeat it to the other apps to remove from iPad.
Note: This way is able to remove third-party apps from iPad, but the pre-installed app, such as Photos, cannot be uninstalled. Recently, Apple has introduced some new features into the latest versions of iOS. Now, you can use this way to remove a part of pre-installed apps, like Calendar, Contacts, FaceTime, and more, from iPad home screen running iOS 10 and later.
Part 2. Delete Apps in Settings App
Some people reported that they cannot delete apps from iPad home screen by tapping, partly because it is failed during app installation. In such case, you have to achieve it in the Settings app.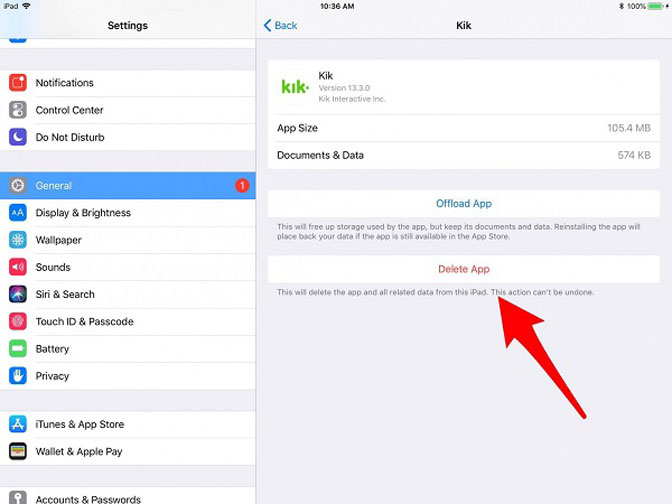 Step 1Run the Settings app from your iPad home screen, tap on your name and go to General > iPad Storage, and then you will see a list of apps.
Step 2 Select an app you intend to delete. Then you can see the information about it, like app size. Scroll down and tap Delete App.
Step 3 If prompted, tap Delete again.
Note: After deletion, the app will be removed from iPad home screen. If you want to get the app again, go to App Store and you can find it in the Purchased tab.
Part 3. Easiest Way to Delete All Apps in Batch
Both the home screen and the Settings app only allow you to delete an app from iPad at one time. You may wonder if there is a tool that has the capacity to delete all apps at one time. From this point, we recommend FoneEraser for iOS.
Delete all apps from iPad with a single click.
Delete Large Files, junk files with ease.
Clean up photos.
Remove app data and cache along with apps.
Available to apps cannot be deleted from home screen.
Support iPad Pro/Air/mini and earlier.
All in all, it is the best option you can find on market to batch delete apps from iPad or get rid of crashed apps.
How to Delete Apps from iPad with FoneEraser for iOS
Step 1 Download and install program on computer, then connect iPad via USB cable.
Step 2 Choose Free up Space > Uninstall Applications.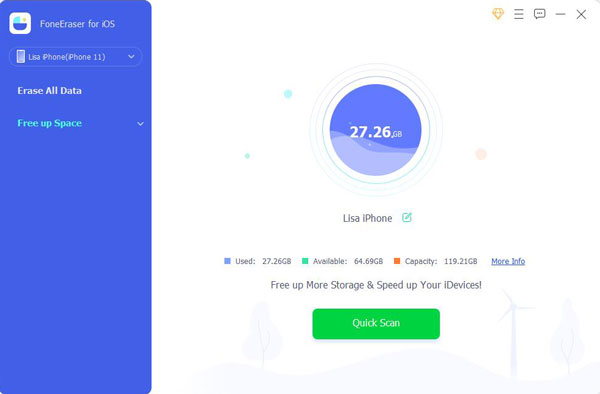 Step 3 The it will scan your device. All apps will be listed on the interface. You can click Uninstall button to remove the app.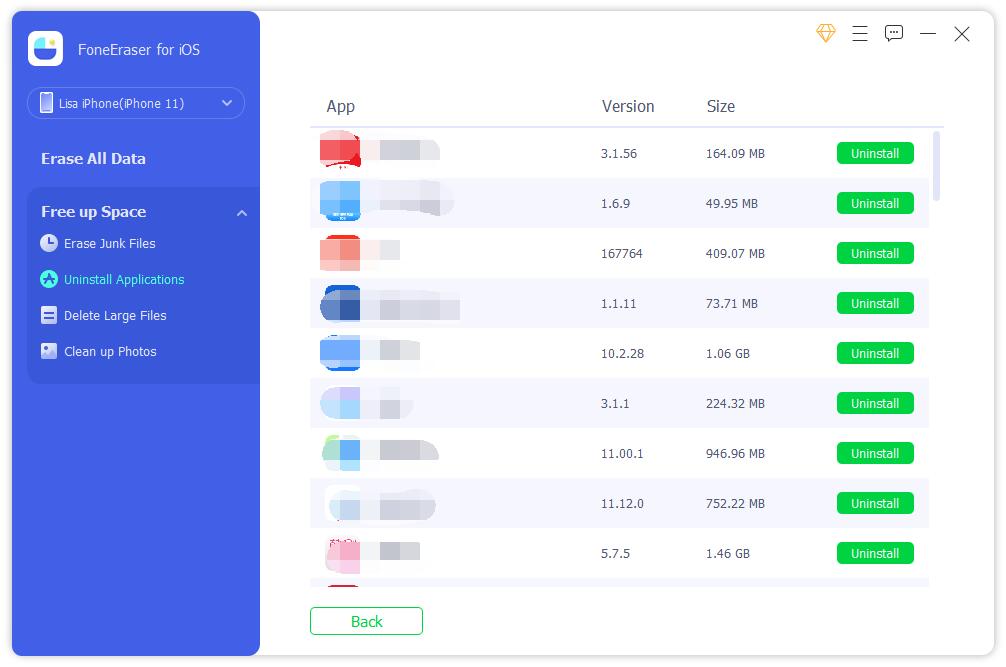 How to Remove All Data on iPhone Permanently
Step 1 Get the program from official site.
FoneEraser for iOS is a desktop program, so you need to download and install it on your computer.
Then connect your iPad to the computer with a Lightning cable when you want to erase your apps. Open the best app eraser for iPad and it will recognize your device. Click OK to continue.
Tip: For the first time to connect your PC and iPad, you need to unlock your iPad and tap Trust on the popup message.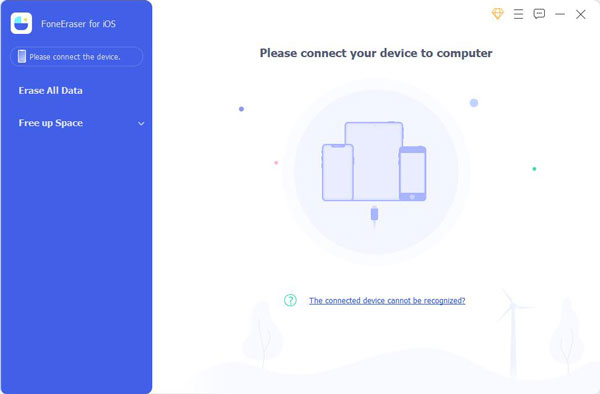 Step 2 Select a proper level.
There are three Erasing Level available:
Low: Overwrite and erase all data on your iPad for one time.
Medium: Perform data overwriting for twice to ensure no one can be recovered.
High: Erase all data on your iPad based on advanced security standard.
Pick up an erasing level according to your need and confirm it.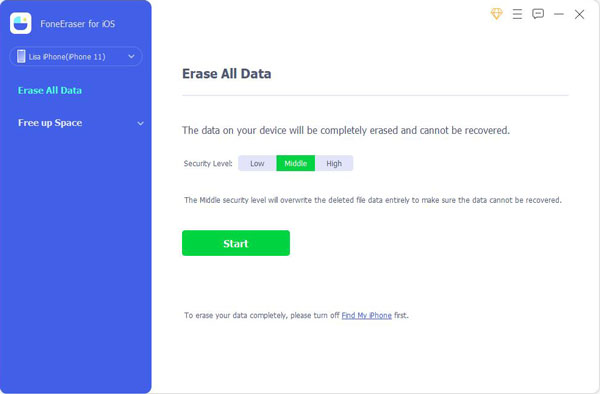 Step 3 Delete all data from iPad.
When go back to the home interface, click the big Start button. When prompted, read the warning carefully and click Yes to trigger the process. Then you can monitor it with the onscreen process bar. When it is complete, quit the eraser and disconnect your iPad. Now, all apps and app files should be removed from your iPad memory.
Note: The program utilizes hardware acceleration to speed up the process, so it only takes a few minutes to delete all apps from your iPad.
Part 4. Reset iPad to Erase All Data
If you don't mind that all data on your iPhone will be removed, you can try to reset iPhone. There are 3 options to do this, please check below demonstrations.
Option 1. Reset iPhone via Settings App
Open Settings app, tap General > Reset > Reset All Contents and Settings.
Option 2. Reset iPhone througth iTunes
Connect iPhone to computer, then run iTunes and choose device icon after detection. Click Summary > Restore iPhone.
Option 3. Reset iPhone by iCloud
Open icloud.com and log into your iCloud account. Click Find My and choose your device. Click Erase This Device.
Conclusion
There are many reasons that you want to delete apps from your iPad, such as free up space. We have shared three methods to achieve it from your home screen, Settings app, and more.
As you can see, it is not difficult if you use the right method. Home screen and Settings are suitable to delete one app or several apps. To remove all apps from iPad, FoneEraser for iOS is a good choice.
Welcome to leave your comment if you have other suggestions.