Erase iOS Data Now
Easily erase all contents and settings on iPhone, iPad or iPod completely and permanently.
Professional Methods on How to Delete Apps from iPad
iPad has many uses in a person's everyday life, especially when you install different apps with a larger screen. It adds to the many purposes of the device. For instance, you can only take photos with your iPad's camera. But if you install a photo editing app, you will be able to edit the images you take as well. And it makes the editing more efficient because of the device's large screen. Several apps on the App Store are available to install. Because of this, you may tend to get various apps, causing your iPad to have insufficient storage.

Having insufficient storage affects the performance of the device. It often causes lagging or slow progress, which disrupts the usage of the iPad. And one of the data types that take up the most storage space is the apps. Not only because of the apps' sizes but also because of their caches, login credentials, and data that keep adding up as you use them daily. To prevent this from happening, you should delete the apps you no longer use. This won't only clean your device but will also improve its performance. Luckily, we found the perfect tools to help you remove apps from your iPad. Check them out below.
Part 1. How to Clear Apps on iPad with FoneEraser for iOS
FoneEraser for iOS is an efficient data cleaner for iOS devices, including iPad. This third-party tool allows you to delete almost anything on your iPad permanently. Hence, if you wish to delete some or all of your apps, you can do so with only a single click. And when it erases apps, it deletes its caches and data completely. Aside from iPad, FoneEraser for iOS works on iPhone and iPod Touch. It can erase various data types, like apps, photos, and other large files, and more on your device. Meanwhile, you can operate this program easily because of its intuitive interface. There is no need for advanced technical knowledge, as it only demands basic knowledge even at your first use. You can learn more about its features after installation.
Go along with the straightforward directions below to pick up knowledge on how to clear apps on iPad Pro and other models with FoneEraser for iOS:
Step 1Find your way to the FoneEraser for iOS website. When you see the Free Download button on the left, click it to get a copy of the software file. Next, open it and grant permission for the program window to appear. Hit the Install tab and stand by until the installation process finishes. It will only last around a minute before you can finally start and run the erasing program on your computer.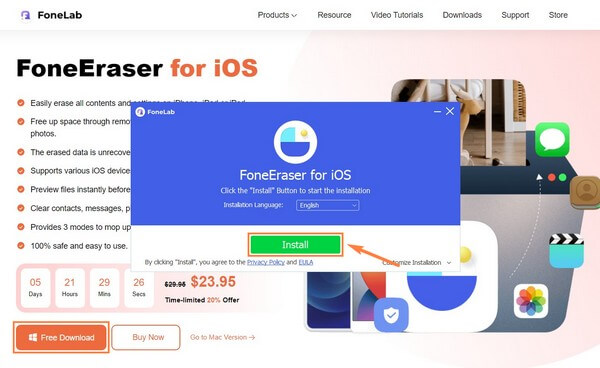 Step 2On the tool's primary interface, you will see the requirement to connect your iPad with the use of a USB cable to the computer. Kindly do so to give the program access to read your device data. You must follow the directions correctly for the connection to be successful.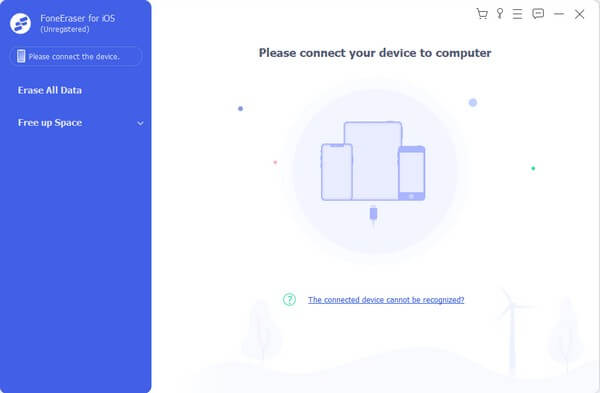 Step 3Once your device is connected, run the Quick Scan for the program to browse your iPad data. On the left area of the interface, click the Free up Space tab. The delete option will then show up below. Choose the Uninstall Applications option.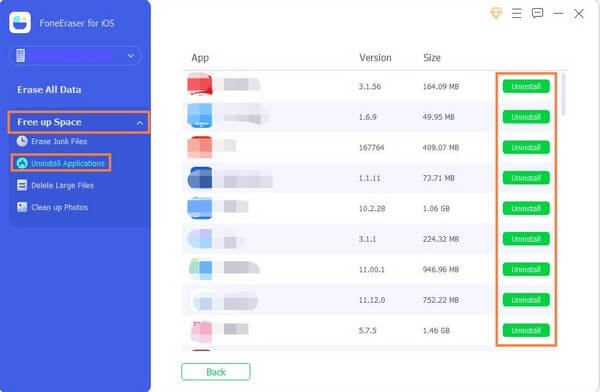 Step 4You will see the Uninstall buttons corresponding to each application when they show up. Click the ones you wish to delete to uninstall them from your iPad. This will delete the apps completely along with their junk and data.
As you can see, you can use it to clear junk files, repeated photos, large files, etc., if you think that you have no more apps to be removed.
However, you can also use the traditional ways to do this.
Part 2. How to Clear Apps on iPad Settings
The Settings app is the most common place to make adjustments on iPad. Thus, you can also access it to delete apps. But compared to other methods, this one takes longer to perform, especially if you have multiple apps to delete. That is because it only allows the deletion of one app at a time by repeating the steps over and over until you successfully uninstall all the apps you want to remove.
Go along with the straightforward directions below for removing apps from iPad mini and other models on the iPad Settings:
Step 1Find the Settings app on your iPad and open it. From the list of options, tap General, then proceed to iPad Storage.
Step 2On the list of apps, scroll, then select the app you want to erase. Once you see the app information, tap the Delete App button on the lower part of the screen to erase the app.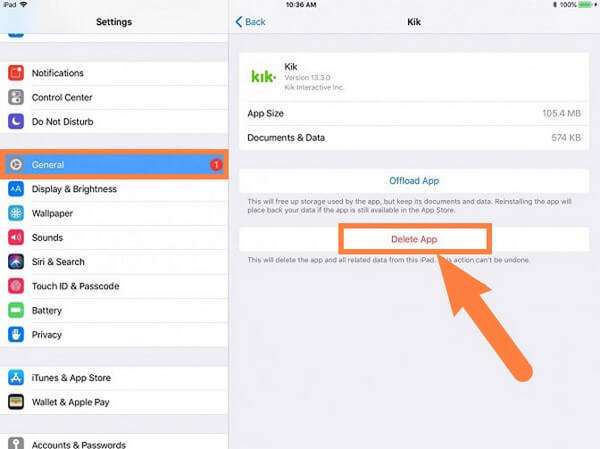 Step 3When you're done deleting one app, find the other apps and repeat the procedure on each until you erase everything.
Part 3. How to Clear Apps on iPad Home Screen
If you prefer the most convenient way to delete apps, uninstall them on your iPad's Home screen. It only requires a few taps, and they will be deleted successfully. However, this is not the guaranteed method to erase all apps and their data. Some of its caches may remain since deleting apps from the Home screen is not the most proper method to remove them.
Go along with the straightforward directions below to pick up knowledge on how to delete apps from iPad mini and other models on the iPad Home screen:
Step 1Unlock your iPad and find the app you intend to delete on your Home screen.
Step 2Tap the app for a few seconds until the "x" icon shows up on the top left corner of each app. Tap it, then select the Delete tab on the dialog box.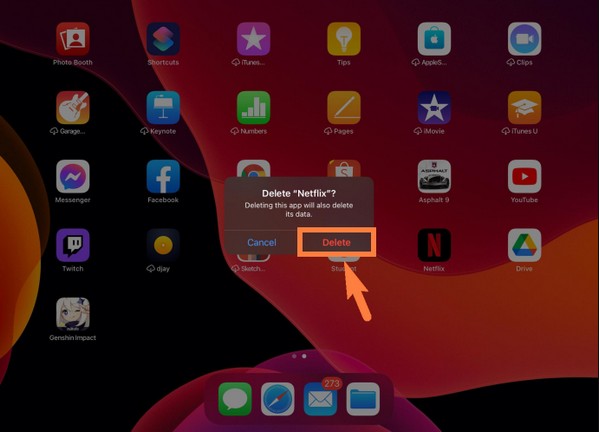 Step 3Do the same for the other apps you wish to remove from the iPad.
Part 4. FAQs about How to Clear Apps on iPad
That is all for removing apps from iPad mini and other iPad models. You may find several tools and methods for this matter, but the above-mentioned methods remain unbeatable. Give them a try now.