Recover iOS Data Now
Recover your data from iPhone to computer easily.
iPhone Restoration Ways - Recover Voice Memos from iCloud
Is there a way to retrieve voice memo files from iCloud without actually restoring the whole backup? I had an iOS system issue that apparently corrupted some files on my iPhone. I guess there are some voice memo files that exist in the last backup. However, I cannot afford to restore the whole backup, as part of files seem fine now. Hope there's a solution. Thanks.
iPhone almost has all features of other digital products like voice recording, which lets us not need to carry around a physical recorder with us like before.
What is Voice Memos on iPhone?

Maybe you have missed a great iPhone built-in app called Voice Memos. It is capable of recording any kind of voice memos we like anytime and anywhere, such as sweet words from our loved ones, an exciting speech made by a famous celebrity. Furthermore, It is convenient to share and edit a recorded voice.
Still unfamiliar with it?
If you have made a backup via iCloud before these voice memos were deleted, luckily, you can restore deleted voice memos from iCloud easily.
Before trying to restore your iPhone with iCloud, you need to know that all your current data on the device will be replaced by the chose backup file. If you want to keep your current data intact, you can choose option 2 to selectively recover your deleted voice memos from iCloud backup.
In the following, I'm going to get into more detail.
1. Restore Voice Memos from iCloud Backup
An iPhone backup is a file that contains the entire contents of your iPhone. This makes it possible to recover any lost data.
Option 1. Restore Voice Memo on iPhone
Like I mentioned, Apple does not offer an approach to recover just one piece of data. For safety, you'd better back up the current data on iPhone first.
Step 1 Navigate to Settings > General > Reset > Erase All Content and Settings on your iPhone. Then your iPhone will restart automatically.
Step 2After finish restarting, follow the onscreen steps to set it up.
Step 3 On the Apps & Data interface, choose Restore from iCloud backup.
Step 4 Choose a backup file to start the restoration process.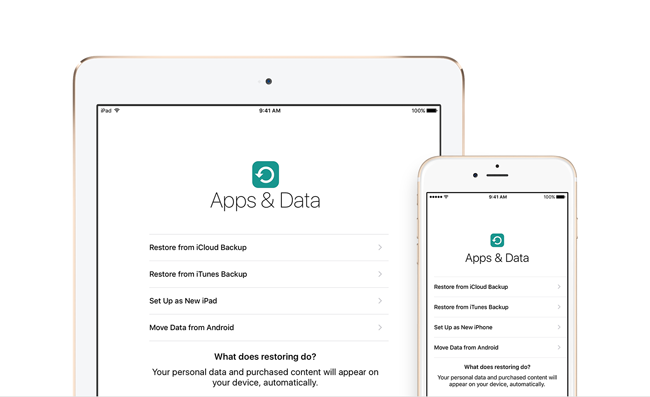 Option 2. Restore Voice Memo on iCloud.com
Furthermore,
You might recover recordings stored in iCloud Drive from iCloud.com. Just go to Settings > Restore Files under Advanced.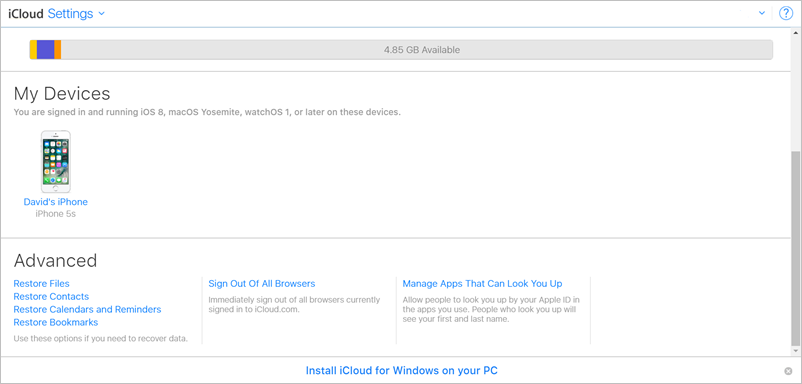 Learn about: How to restore notes from icloud
2. How to Get Reminders Back on iPhone from FoneLab
The ideal solution is to get into your iCloud backup file and retrieve only the required voice memos without affecting any current data on your device. It may seem like an impossible task unless you have the right iPhone data recovery tool. You can easily recover iPhone contacts, notes, SMS and more.
FoneLab – iPhone Data Recovery is a professional iPhone backup extractor. It allows you to preview the content before the recovery. It is able to recover various data from all iOS device, which make it a must-have utility tool for all the iOS users.
Here's a simple step by step instruction.
Step 1 Take a moment to free download and install the program on your computer. Tehe program will launch automatically.
Step 2 Select iPhone Data Recovery > Recover from iCloud Backup File on the interface.
Step 3 Log in your iCloud account. You will see the list of backup history.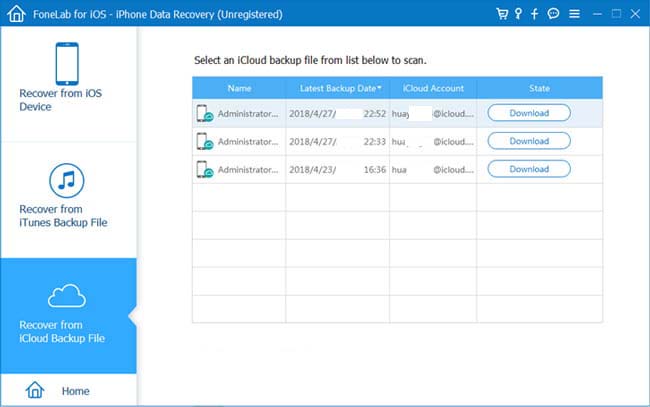 Step 4Depending on the date of each backup, choose one to download and click Start Scan.
Step 5 Click Voice Memos from the files list on the left to preview the content.
Step 6 Mark the items and click Recover.
Now, you can check your voice memos on your computer.
It is so easy to use, right?
Even better,
It gives you a 30-day trial. Download it to your computer and have a try!
Let's see how to take advantage of these functions.
Create a voice memo
Tap the red button to record the voice and tap again to finish recording.
Tap Done and name this voice memo.
Save this voice memo.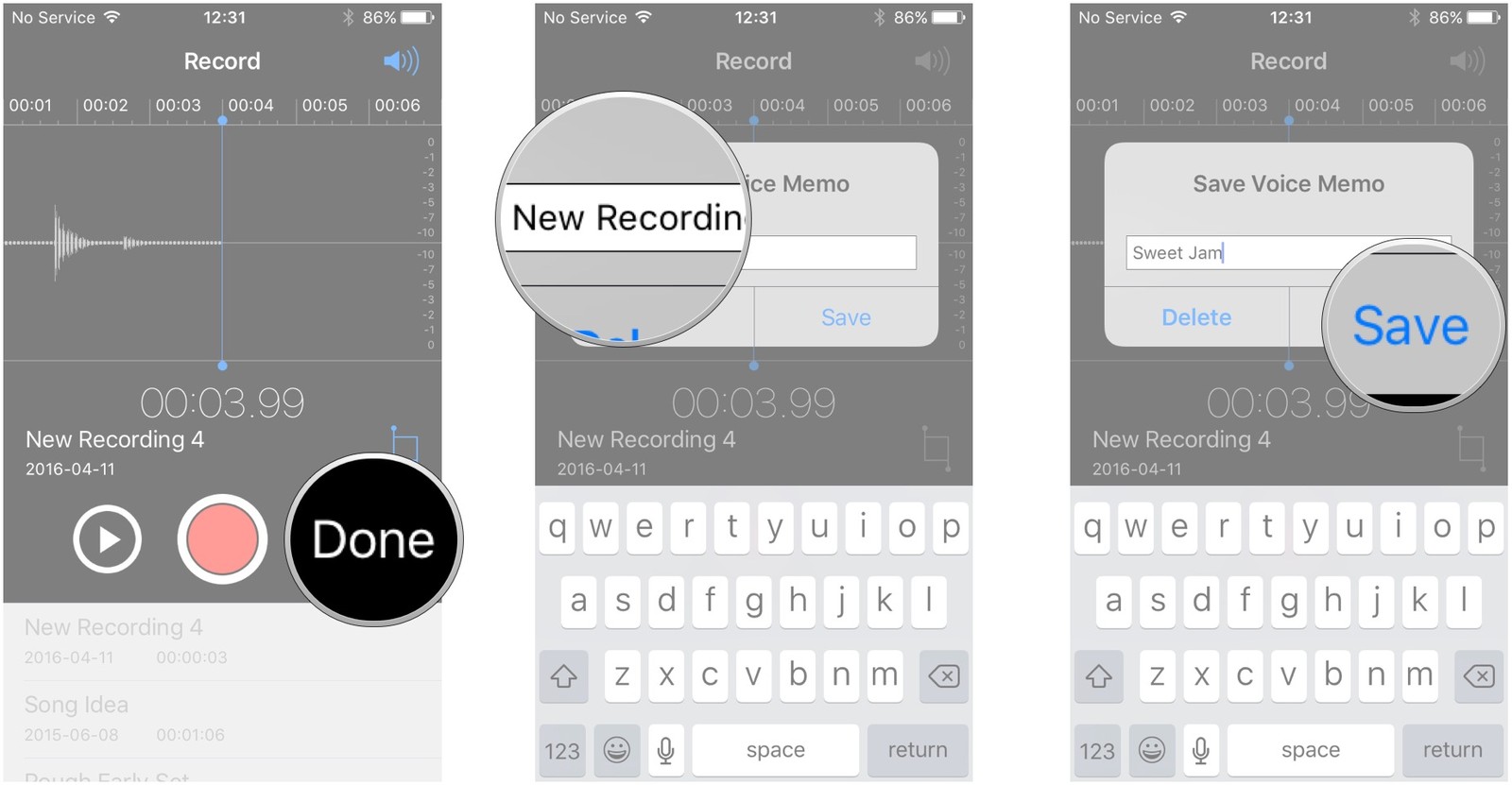 Share a voice memo
Open a recording in the app.
Tap the share button.
Select a way to share.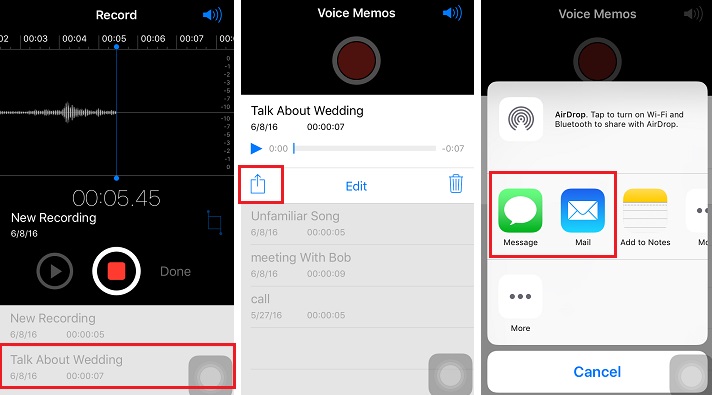 In addition, a lot of people ask how to save voice memos to iCloud drive. After step 2, you will see an option Save to Files, tap on it.
Then you can find this recording in the Files app of your iPhone and on the iCloud website. In this way, you can easily transfer voice memos from iPhone to pc.
Trim and lengthen a voice memo
Choose a recording in the app and tap Edit.
Slide the blue line and tap red button to lengthen the voice memo.
Tap the trim button like a blue square and slide the red line to trim the voice memo.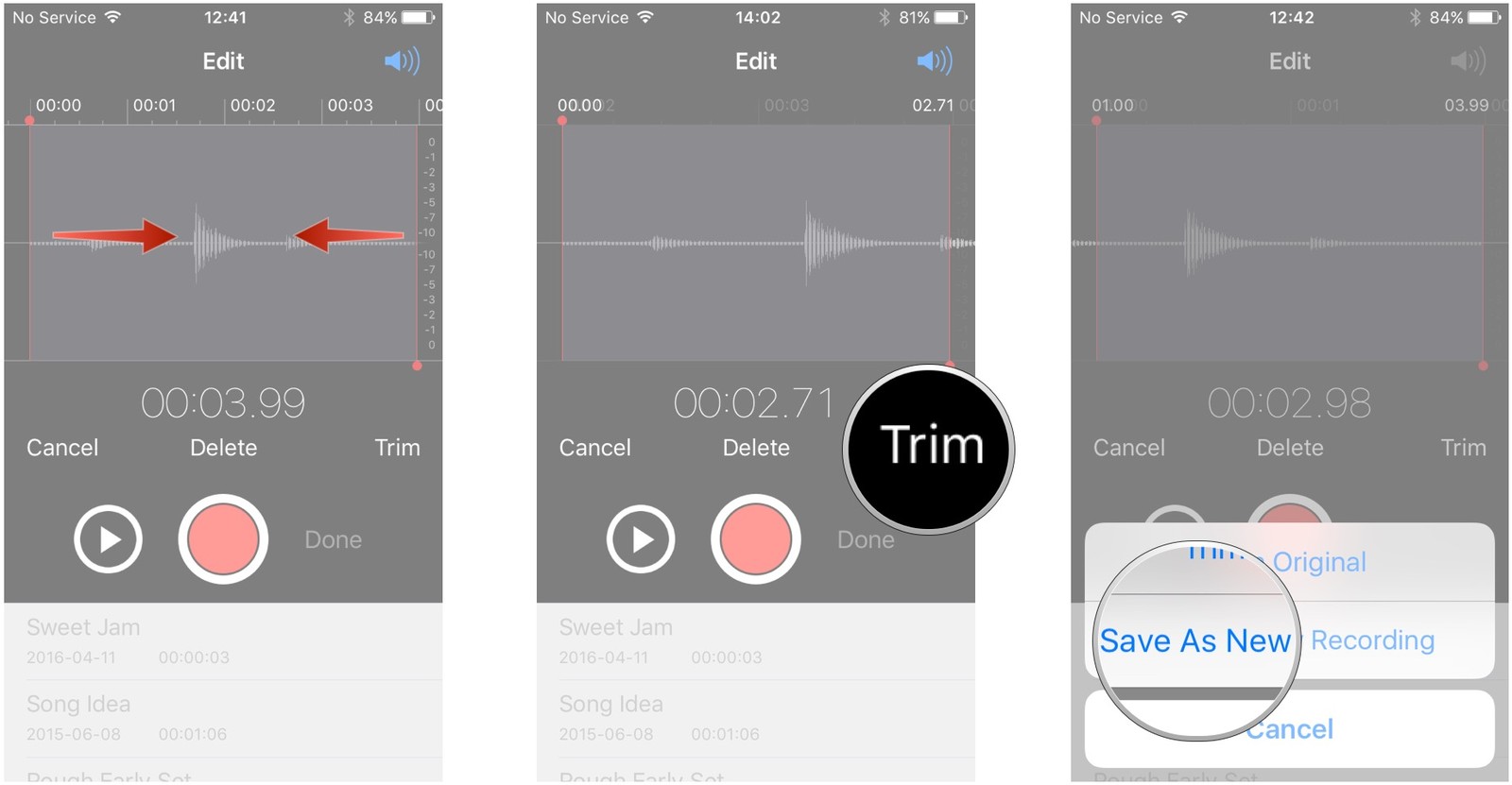 At the process, you can shake your iPhone to undo the edit.
These carefully edited recordings may be precious for you, but it is conmen to lose them for various reasons. When you face such a situation, you want to try your best to recover trimmed voice memo on iPhone.
That's all. If you have more questions about it, please leave comments below.