How to Recover Deleted Call History on iPhone from iCloud
"My friend called me with his new number and I forgot to take it on contact. But the call history was cleared. How do I restore deleted call log so that get my friend's number?"
How to check call history on iPhone?

iPhone has 100 calls in recent tab including all incoming calls, outgoing calls and missed calls.

Go into Phone > Recents.
Click on the Info icon next to the person you want. A list of recent calls is near the top.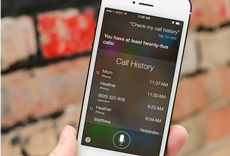 You think iPhone can save only 100 phone calls in the call history but no.
Actually, iPhone keeps over thousands of phone numbers in its call history. But, what is visible to you is only the last 100.
Sometimes, people would like to find older call history.
As long as you delete some phone numbers from history you don't want, the older numbers are going to join the list. You can keep deleting until you find the number you are looking for.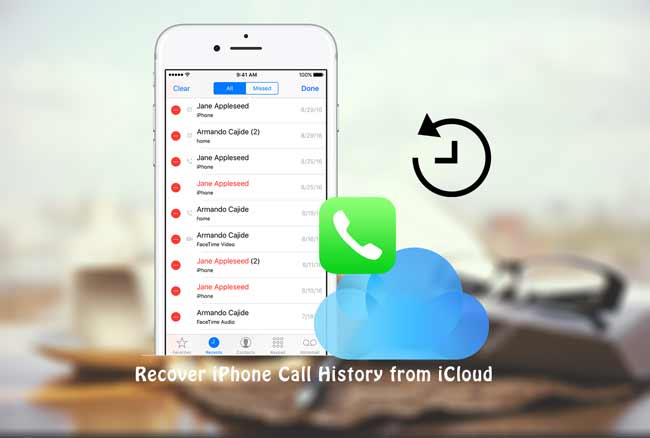 Maybe you still haven't found the phone number you want, even worse, you may have deleted some important items by mistake in the process.
Such desperate situation can drive you crazy, you must be wondering: How to recover deleted call log?
When searching the internet for answers, you can get the result: To restore your iPhone from iCloud.
Obviously, it is quite significant to have a backup before you delete these phone numbers. If you are sure the deleted numbers have been stored in an iCloud backup, you can restore them through option 2; If not, please choose option 3 to view the content of the backup file and recover deleted call log.
Here are 3 options to retrieve deleted call log.
1. Check Someone's Call History Online
Sometimes, it is required to trace out the details of a specific phone number. This is especially necessary for parents of teenagers.
To view an individual's call records, you have two different options.
The first is to simply look through the phone's saved Resents list, which I've already talked about.
If you don't have access to the phone, your only other option is to log into the individual's account on the service provider's website and look at the history. You do need permission from this person to view the content, as hacking into someone's account is illegal.
Tip: The actual operation may differ slightly, depending on your service provider.
Open your internet browser and navigate to your service provider's website.
Register formally and you will get the password to the iPhone for the confirmation. Then type in your phone number and the password.
Select Billing and Payment > Call History and you can check the call history.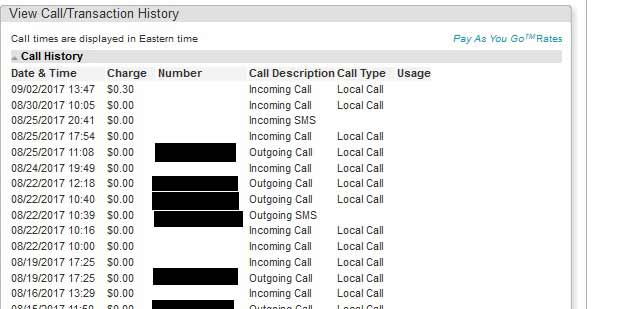 2. Get Deleted Call Logs from iCloud on iPhone
iCloud backup is a file that contains all content on your iPhone so that you can recover the mistakenly lost or deleted call history from it.
However, this is an All or Nothing operation. That means you have to restore all data from iCloud backup rather than only the deleted call history. And you also need to reset your iPhone before the restoration. This puts you at another risk that you might lose the current data on your iPhone.
As a result, you'd better back up the current data on your iPhone.
Let's get started.
Go into the Settings on your iPhone, tap General > Reset > Erase All Content and Settings.
Tap Erase again to confirm, then your iPhone will restart automatically.
Set up the language, location, date and time as you just buy it.
On the Apps & Data interface, select Restore from iCloud Backup.
Look at the listed backup files and choose one to recover.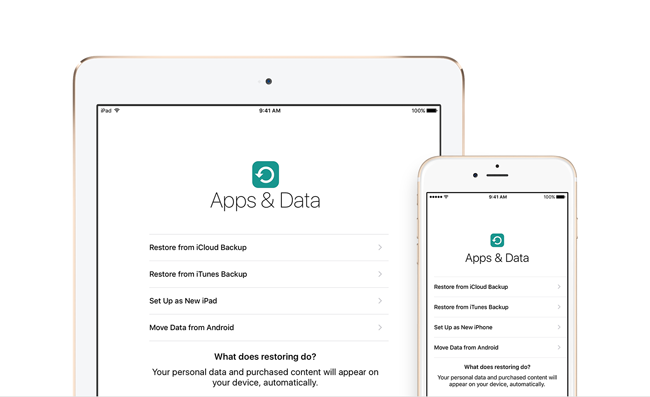 You can also learn how to check iCloud backup online.
3.Retrieve Deleted Call Log with FoneLab
FoneLab – iPhone Data Recovery enables you to preview the details of the data stored in your iCloud backup and extract only your desired call history from iCloud. In this way, you can easily get the deleted data without affecting the current data on your iPhone.
At the first, you need to download and install this software. Once the installation is done, the software will launch automatically.
Click iPhone Data Recovery > Recover from iCloud Backup File.
Enter your iCloud account and password. Maybe you neeed to turn off Two Factor Authentication, if it is open on your iPhone.
Check the backup files listed in the table, download one and start the scanning process.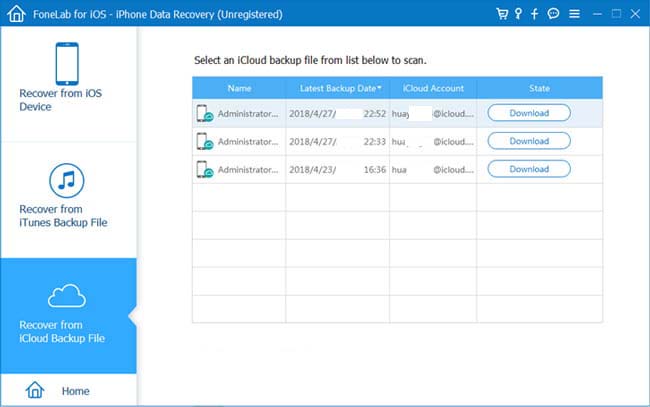 The software will list the data types. Click Call History from the directory on the left sidebar, then the details will be displayed on the right.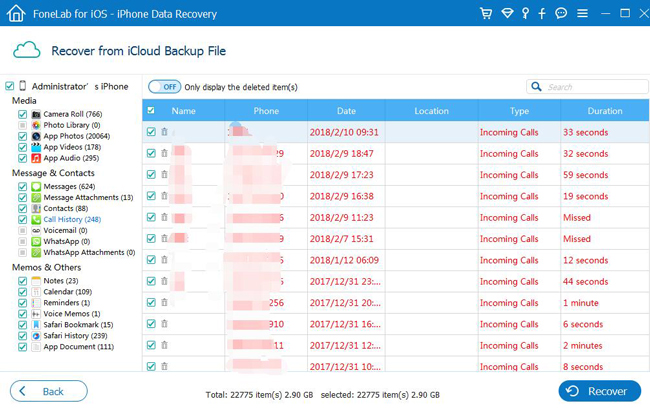 Mark the items you want or choose Only Display the Deleted Items, then click Recover.
This is amazing,
Even if you forget backup encrypted password, you can also restore iPhone without backup password.
It provides users with a 30-day trial. So you can free download it onto your computer and see if your data stand a chance to retrieve.
Related Articles: