Recover iOS Data Now
Recover your data from iPhone to computer easily.
Restore Photos from iCloud on iPad in Different Ways
I unfortunately deleted my parents' picnic trip photos from iPad. I don't know if the deleted photos have been backed up to iCloud. I'm afraid that I can't find my lost photos even if I restore the iPad. Can anyone tell me how to restore deleted photos from iPad?
It is convenient to use iPad built-in camera app to take photos, especially when you don't have your camera with you. iPad camera can capture the most memorable moments such as fun times with friends, the landscape on the journey.
Losing these precious pictures can drive people crazy. That's why we need to create a backup with iCloud for these important data on iPad.
For safety sake, Apple provides users iCloud service to back up and restore data on iPad. If you make backup on your iPad frequently, you will recover your deleted photos very likely.

In general, you can recover photos from Recently Deleted Album if the deletion is carried out no longer 30 days, or retrieve deleted photos on iCloud website as long as you've enabled iCloud Photo Library, or restore the iCloud backup that contains the deleted photos.
Read about how to recover photos from dead iPhone.
Here, let me show you the detailed steps of these methods respectively.
1. How to Recover Deleted Photos from Recently Deleted Album
It's a piece of cake to get recently deleted photos back.
There is a Recently Deleted Album in the Photos app on iPad, all the photos deleted within the last 30 days are stored here. So this is the first trick worth a try when you need to access your deleted photos.
Step 1 Go to the Photos app on your iPad.
Step 2 Tap Albums on the right bottom corner.
Step 3 Find and tap to enter the Recently Deleted Album.
Step 4 Tap Select on the right top corner
Step 5 Choose the photos you want to keep and tap Recover. Or choose Recover All.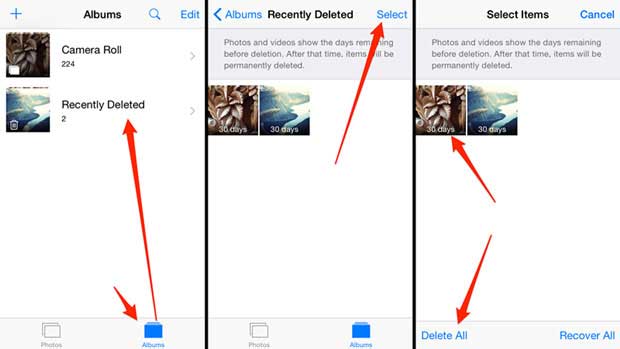 If the lost pictures are longer than 30 days, they will be removed permanently.
Maybe you are looking for ways to recover the permanently deleted photos.
Next, let's try the second trick.
2. How to Retrieve Pictures from iCloud Online
Actually, because of the auto sync feature, when you deleted the photos from iPad with iCloud Photo Library on, these photos will also be removed from iCloud website.
But, in the offline state or with iCloud Photo Library off, deleting the photos on iPad will not update to iCloud website.
This makes it possible to recover photos from iCloud online.
Step 1Go to icloud.com and sign in with your iCloud ID.
Step 2 Click Photos icon on the main menu.
Step 3 View these photos and see if your deleted photos are still kept here.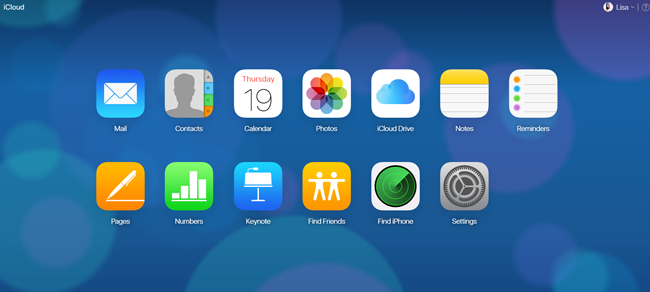 3. How to Recover Deleted Photos from iCloud on iPad
It is useful to manually make iCloud backup often, which gives you a chance to recover any kind of data on your iPad.
Step 1Tap Settings on your iPad, then choose General > Reset > Erase All Content and Settings.
Step 2 Tap Erase again to confirm, then your iPad will restart automatically.
Step 3 Follow the setup steps to set the language, location, date and time.
Step 4 On the Apps & Data interface, tap Restore from iCloud backup.
Step 5 From the listed backup files, choose one to recover.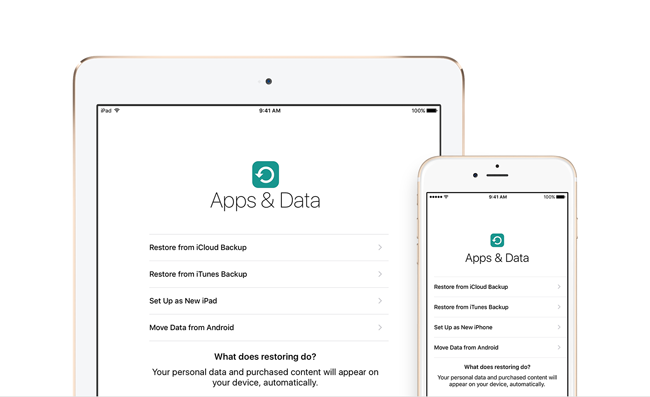 You must have realized that you have to factory reset your iPad in the process. And you can not view iCloud backup photos before restoration. If you don't want to take the risk that you might lose some current data on your iPad, please turn to the next method.
4. How to Retrieve Photos from iCloud Backup with FoneLab
FoneLab – iPhone Data Recovery enables you to recover the deleted photos without changing any current data on your iPad.
With FoneLab, you can preview the details of your iCloud backup files and extract only your desired photos from iCloud.
Step 1 Download and install this software on your PC or Mac. Once the process of installation complete, the software will launch automatically.
Step 2 Click iPhone Data Recovery on the homepage and choose Recover from iCloud Backup File.
Step 3 Enter your iCloud account and password and the software will list all your backup files.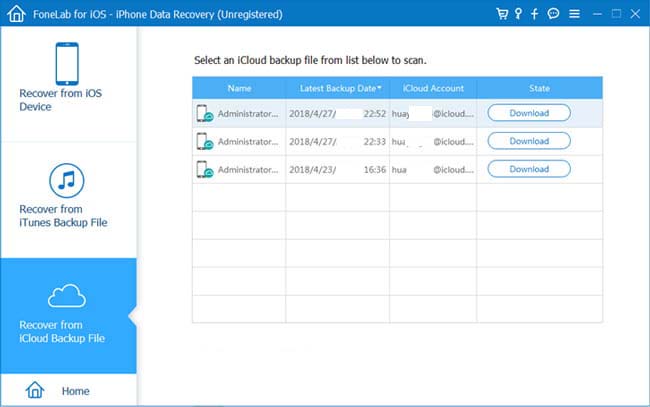 Step 4 Download one and click Scan.
Step 5 Look at the data directory on the left sidebar and click Camera Roll to preview the content..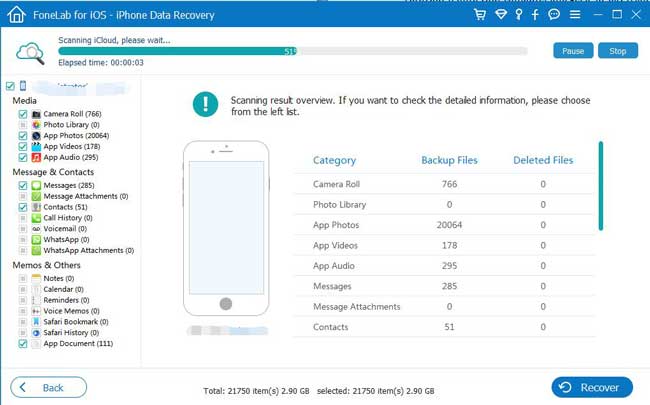 Step 6 Mark the pictures you want to recover or choose Only Display the Deleted Items, then click Recover.
It is so easy to use this software to your various data.
More than that,
Even if your deleted photos are not stored in any backup files, this software can recover iPad photos by scanning your device directly.
In addition to restoring iPad data, it can also restore iPhone data and other iOS data.
Now, put it onto your computer and get a 30-day trial.