Convert Video Now
convert MPG/MPEG to MP4 with fast speed and high output image/sound quality.
Best FLV Editor in 2022 - 4 Proven Simple Ways to Edit FLV Files
My classmate sent me an FLV video file today, and I want to edit this video. I search how to edit FLV files on the internet, it shows me that Some video editors can help easily. So which one should I choose?

In this post, we will talk about editing FLV files in 4 ways. Many ways can contribute to solving this problem, but the following ones may be most effective.
1. How to Edit FLV Files with FoneLab Video Converter Ultimate
FoneLab Video Converter Ultimate is more than an ultimate video editor on computer, you can use it to do what you want to do with ease.
You might have questions about why should you select FoneLab Video Converter Ultimate, generally, the advantages can be listed as follows.
It helps you crop video, trim audio file, merge videos, etc.
Add video subtitles, remove subtitles.
Improve video or audio quality.
It is easy to use.
You can convert video and audio formats if you want.
It supports various formats.
It is available for both Windows and Mac.
Now, you can move on to learn how to edit FLV files with FoneLab Video Converter Ultimate.
Step 1Download and install the program on computer, then it will be launched automatically.
Step 2Select one feature on the top. There are Enhance, Trim, 3D, Edit for options.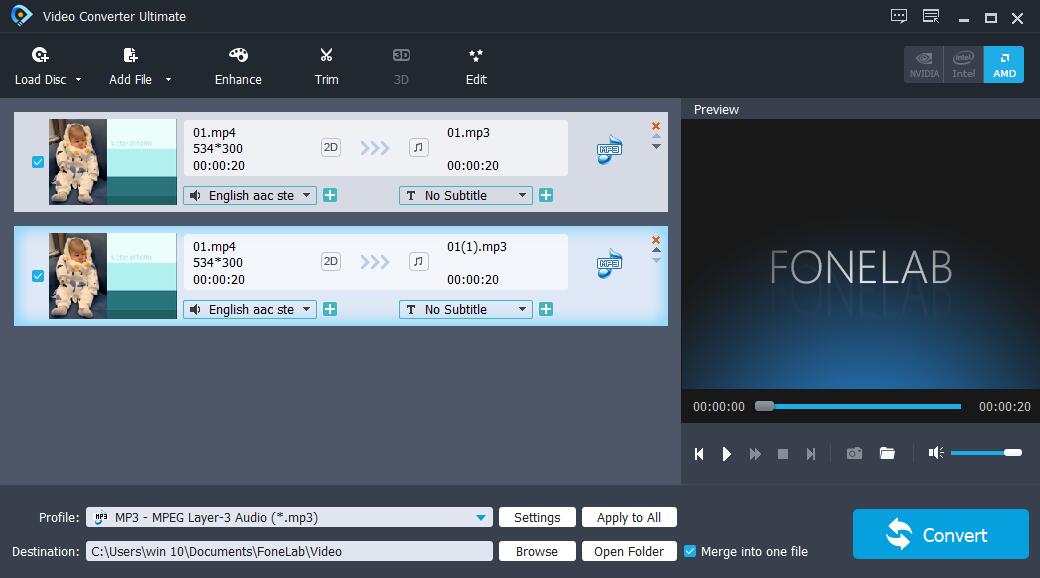 Enhance helps you improve video and audio quality with simple clicks. You can check the box next to Upscale resolution, Optimize brightness and contrast, Remove video noise and Reduce video shaking according to your needs.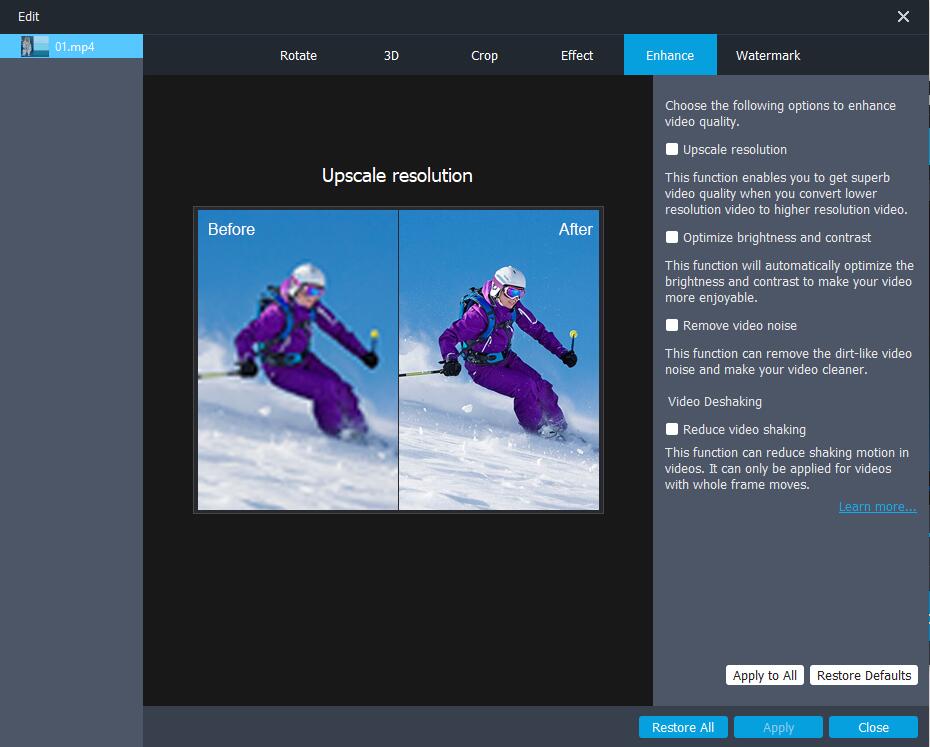 Trim is tool to enables you remove the unwanted parts from the video and audio files.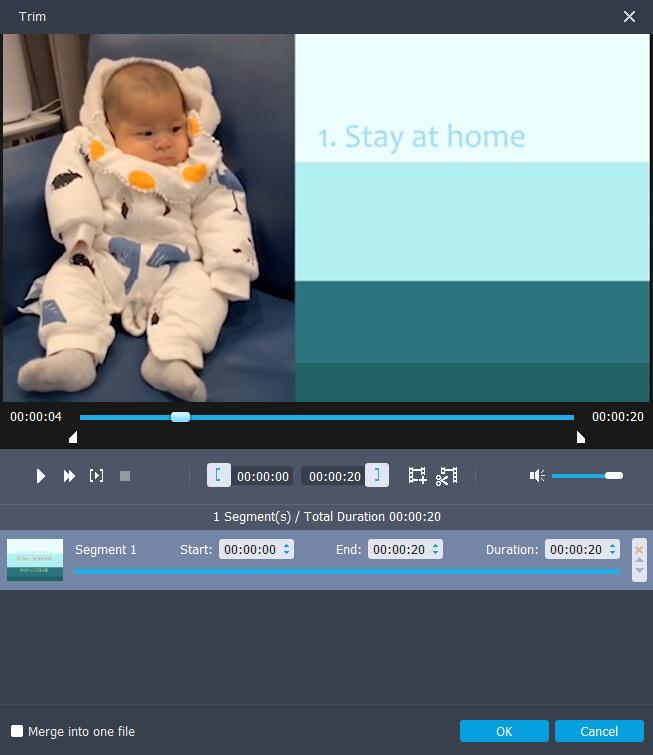 3D section allows you to enable 3D settings through turning on the button.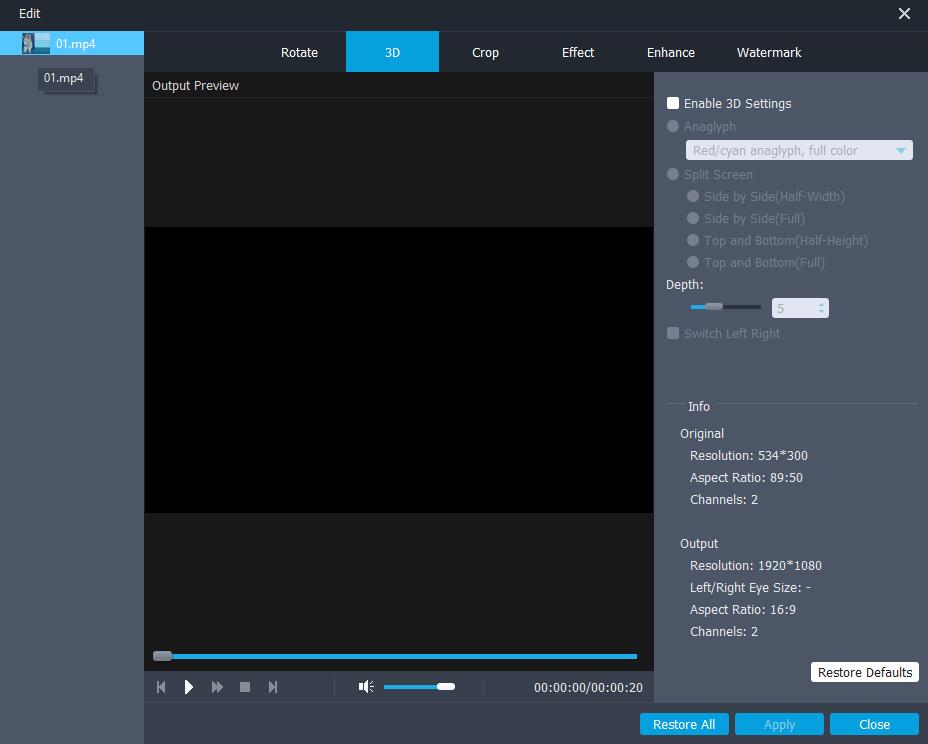 The last Edit button has a series of editing tools in it, you should rotate, crop, enhance video, add watermark, and adjust effect and enable 3D settings.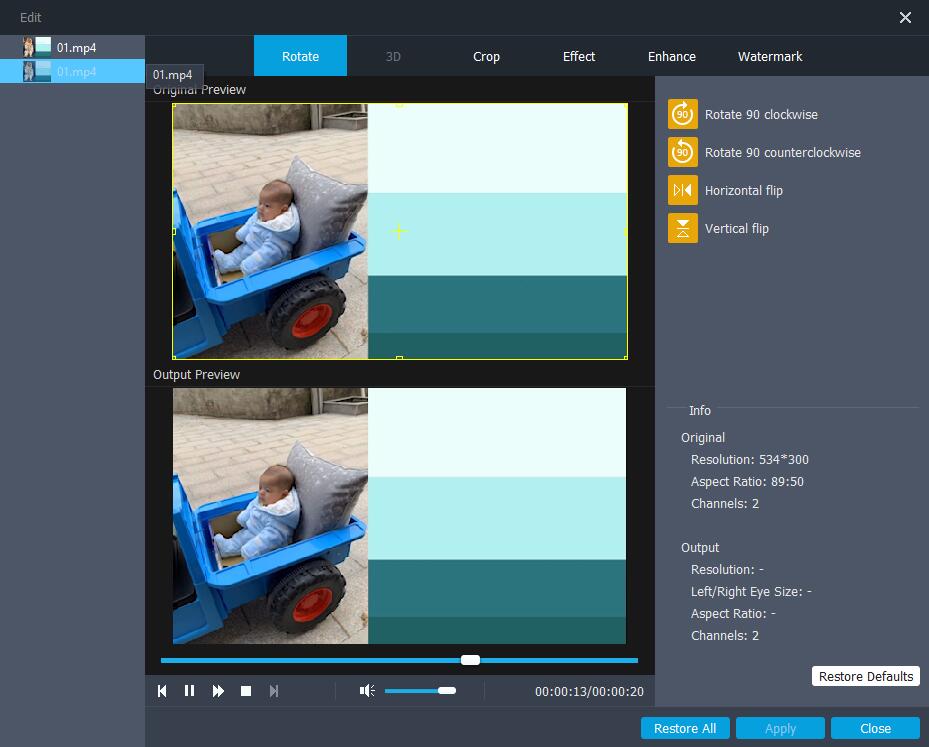 Step 3Click Apply button when it is done.
Step 4Click Convert button.
As has been mentioned above, FoneLab Video Converter Ultimate is a professional and effective tool to help you make an FLV video in your way.
In the following part, Adobe Premiere Pro, a famous video editor will be recommended to you.
2. How to Edit FLV File with Adobe Premiere Pro
For years, Adobe has been seen as the top powerful and professional video editor among competitors, as its operations are a little bit complicated for most people, so things are quite different now. Let's take trimming a video file with it to illustrate it.
Step 1Launch Adobe Premiere Pro ob computer, then import FLV file.
Step 2Choose video file on the track, select Trim tool from the left panel.
Step 3Click on the exact position you want to trim the video.
Step 4Save the video and export it to PC.
As you can see, it is too difficult to edit a video if you are not familiar with Adobe tools. In addition, you will be required to pay to unlock more features.
However, we have to look at the other side of the coin, that is the free program will be always popular among most the people. So we will also introduce some free tools below.
3. Edit FLV with Any Video Converter Free
Any Video Converter is a free FLV editor, which can provide some basic editing features, like trim, crop, rotate, flip, etc, and video properties adjustments including color, contrast, add image, brightness and more. You should pay attention that it also can be a DVD converter to help you burn video to CD or DVD.
It is also available in a paid version, so you can maintain the free version to use the basic features or upgrade to the paid version to unlock more new functions if you want.
4. Online .FLV Editor
Solutions are always more than a problem. If you won't like to download and install program on computer, you can get some online FLV editors on the internet.
Well, below are the 2 recommendations for you.
Top 1. Clideo
Clideo is a functional web page tool with simple design. You can easily find its button to upload video files. Then it will automatically load your video file, you can move the sliders to cut the videos. It also has other tools, like Audio Joiner, Audio Converter, video converter, file converter and more.
It is important that it secures your files with high level of security, so only you can access your uploaded files. And it supports any video format, so you can crop FLV, add subtitles to FLV or others with ease.
Top 2. EZGIF.COM
This is a page can satisfy all requests you have. If you want to edit FLV files, you can choose one feature on the top list, then import the file and begin to edit it. What're more, it helps you make GIF, convert video to GIF, resize images, crop video, etc.
It is a pity that it allows you to upload a file within 100MB.
For what has been discussed above, we may reasonably arrive at the conclusion that the convenience and efficiency gave FoneLab FoneLab Video Converter Ultimate a competitive over other competitors. Why not download and have a try now!