Convert Video Now
convert MPG/MPEG to MP4 with fast speed and high output image/sound quality.
How to Fix a Blurry Video - Best Blurry Video Clearer in 2022
I recorded a video on my computer yesterday and uploaded it to my YouTube channel. But I found something is wrong, the video looks unclear. Why is my YouTube video blurry? Any way to fix it?

As stated in the previous paragraph, recording screen has become a common task in daily life. As well as taking videos with iPhone or camera, etc. And you might notice that it is not rare that people get a blurry video finally without proper methods to fix it.
Before talking about the solutions, it has to be noticed that people should prepare before you hit the record button. There are several factors for it, but in general, they come down to two major ones, where is your video going to live and what resolution is your screen?
Like above-mentioned situation, you should know well about YouTube and its resolution. What is resolution? It means the dimensions in pixels of your screen. It is recommended that you can set a 1080p screen dimension as it enables you to zoom and scale the video after that.
Now, you can save the blurry video in a local folder on computer, and move to how to fix them.
1. Fix Blurry Videos with FoneLab Video Enhancer
FoneLab Video Converter Ultimate is a powerful tool to help you edit video files on computer within a few clicks. If you want to crop video file, merge videos, add subtitles to video, etc, you can use it to finish all tasks easily and effectively.
It has both Windows and Mac versions.
It is easy to use.
You can use it to convert video or audio files.
It helps you add watermark, add subtitles.
You can use it to split MP4, add background audio, etc.
Below is the demonstration of how to use FoneLab Video Converter Ultimate to make videos clearer.
Step 1Download and install FoneLab Video Converter Ultimate on computer, then launch it.
Step 2Drag and drop video files to import files to it,or click Add File to select files.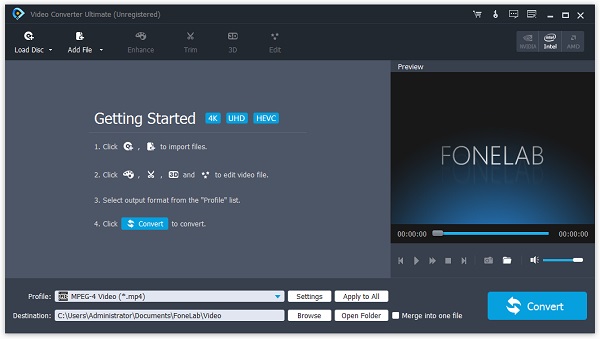 Step 3Select Edit > Enhance or Enhance button on the top of the window, then you can see 4 options on the right. Check Optimize brightness and contrast and Reduce video shaking. And you can also choose Upscale resolution or Remove video noise to enhance audio if you want. Finally, click Apply.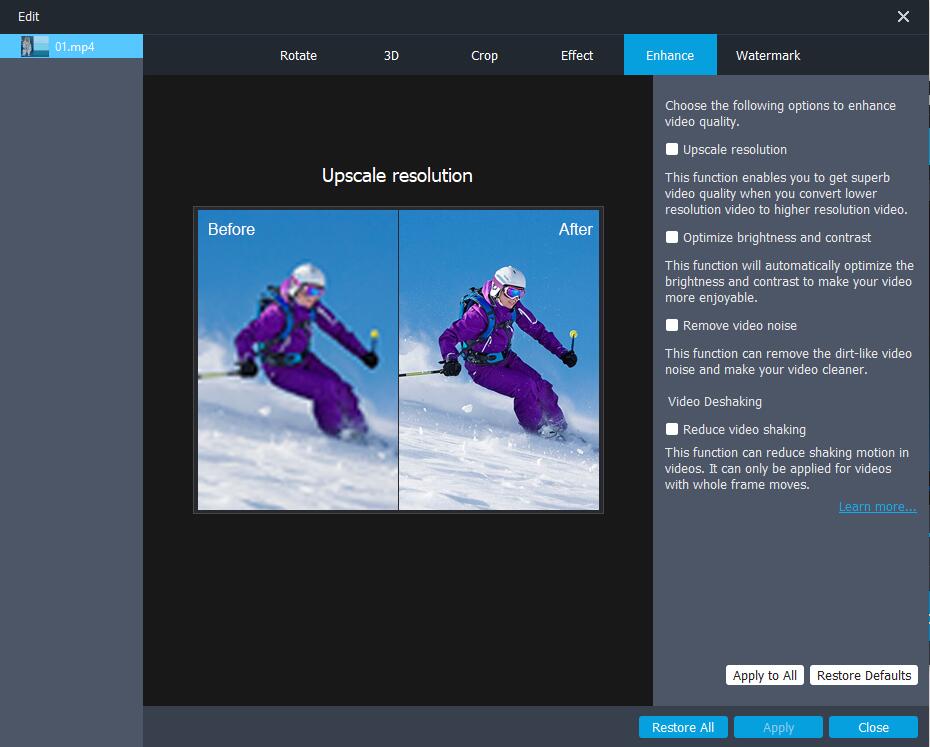 Step 4Click Convert button.
Solutions always more than a problem. If you know Adobe well, you can find that it has some tools to help you sharpen blurry video files well.
2. Sharpen Blurry Video with Adobe Premiere Pro
As a famous image and video editing brand, Adobe has various programs to edit image, audio, video and more professionally. You might try its products, which is called Premiere before. It is famous for its powerful editor features for both video and audio. Here we will introduce how to make a video clear with it.
Step 1Run Adobe Premiere Pro on computer, then import the file.
Step 2Locate Lumetri Color Effect, then drop it to your video.
Step 3Select Effect Control on the top, click Lumeri effect and add masking to the video.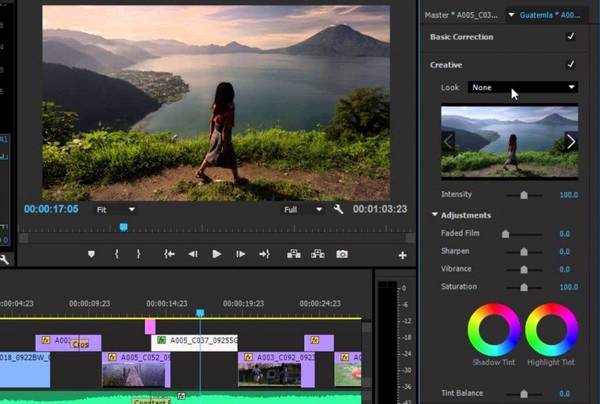 Step 4Click Adjustments and move the slider to adjust the sharpening level.
It is difficult to say whether Adobe Premiere Pro is good or not in general as it depends very much on the situation of the procedure when using this program. However, from a personal point of view find that you can try other tools if these operations are too complicated for you.
3. How to Make a Video Less Blurry with YouTube Video Editor Online
As a YouTube user, you should know something about its video editor. You are allowed to use its editor features to add subtitles, edit video cards, fix blurry videos, etc.
What's more, you won't be asked to download and install any program on computer. Just go to the web page directly and upload your video, then you can use the video editor as below.
Step 1Go to your YouTube Studio page, select Videos on the left panel.
Step 2Choose the video, hover it and click the pencil edit icon. Click Editor on the left panel.
Step 3Choose Enhancements, then you can adjust Fill Light, Stabilize and more according to your needs.
Step 4Save your changes.
4. How to Fix Blurry Videos with iMovie
The final option to make a video less blurry is using iMovie on Mac. It is a program specialized in video editor on iPhone, iPad and Mac. It is a pity that Windows version is not supported at this moment.
Below is the tutorial.
Step 1Import the video to iMovie, click to video footage.
Step 2Click Shaky Video > Stabilization > Fix Rolling Shutter.
Step 3The video will be done when a checkmark displays on the Fix Rolling Shutter.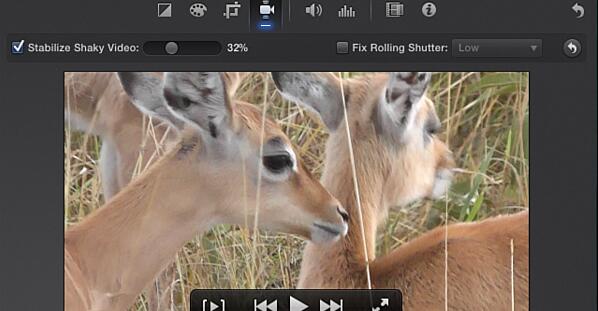 Step 4You can preview the video to check its quality and save it.
From what has been discussed above, we may reasonably arrive at the conclusion that FoneLab Video Converter Ultimate is the best choice for you because of its convenience and efficiency. Why now download and have a try now!