How to Remove In-app Contents on iPhone
There are different apps on your iPhone and some of them take much of your phone storage space. You will find that your iPhone runs much slower than before as time goes on, then you will need to clear them to free up your iPhone storage.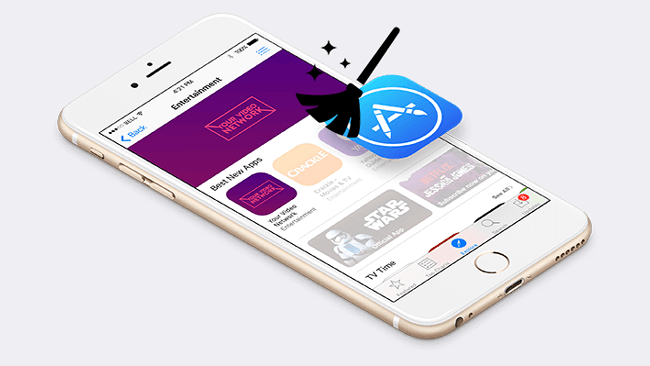 Your favorite apps like Garageband, iTunes U, iBook, Newsstand and more can flood your internal storage with the contents you buy or create within them. How to gain more room on your iPhone by removing these in-app content on your phone.
1. Delete In-App Content on Garageband
GarageBand is a line of digital audio workstations for macOS and iOS that allows users to create music or podcasts. iPhone user makes it as a convenient tool to download and create new works, then save them on iPhone. So how to remove them from your iPhone if you think they take too much of your iPhone storage.
Open GarageBand App.
Find My Songs from the menu, then press and hold on a song till all icons begin to jiggle.
Choose the items you want to delete on your iPhone.
Tap the Trashcan icon on the top.
Tap Delete Song to confirm again.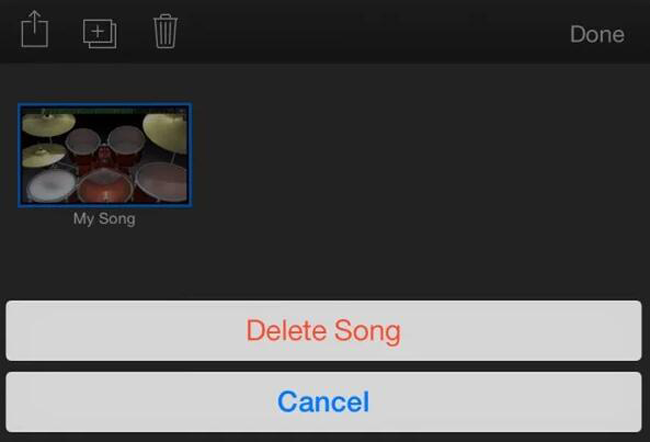 2. Remove In-App Content from iTunes U
iTunes U is a dedicated section of Apple's iTunes Music Store that features educational audio and video files from universities, museums and public media organizations for free download to PCs and mobile devices. You can learn different languages, different kinds of knowledge about business, health, exercise, read all types of books and more with this app. So how can you remove these downloaded items after learning them?
Launch iTunes U app on your iPhone.
Tap My Courses on the bottom left corner.
Find Material in the bottom right corner and tap it.
Then choose the menu which contains the items you want to remove from your app.
Tap Edit in the top right corner.
Check the box next to the items you want to delete. Tap Select All at the first if you want to remove all items.
Tap Remove in the top left corner.
Tap Done in the top right corner.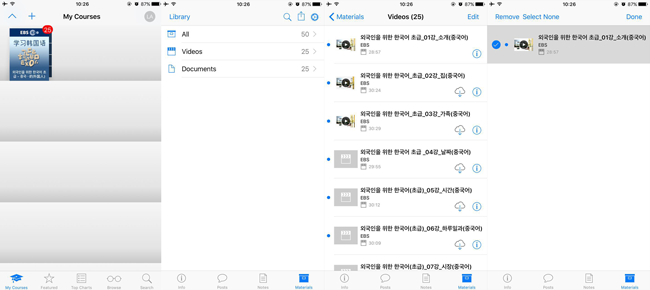 3. Wipe In-App Content on iBook
The iBooks Store is an ePub content sales and delivery system that delivers eBooks to any iOS device such as the iPad, iPhone, and iPod Touch. There are lots of options for you to enjoy the reading time and its convenience. But how to remove these in-app contents if you have read them and want to wipe them to free up your iPhone space.
Open iBooks from your Home screen.
Tap on My Books in the bottom left corner.
Tap Select and then tap on the book which you want to delete.
Tap Delete.
Tap on Remove Download.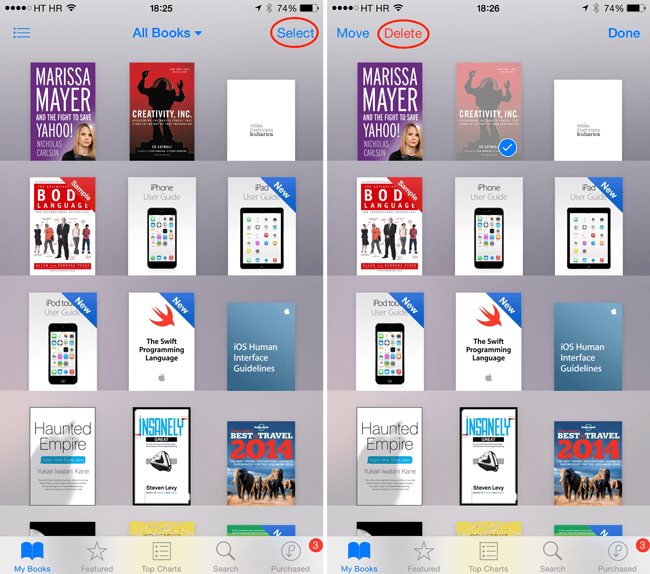 4. Clear All Content on iPhone
After above-mentioned ways remover in-app content from iPhone, do you think it is too complicated if you want to clear all app data on iPhone? So you can use an iPhone data eraser to help you. Here we will introduce FoneEraser for iOS, which is a professional third-party tool to delete all iPhone data thoroughly. It enables you to clean personal settings and junk files on iPhone, as well as photos, contacts, videos and other text and media files on iPhone. By the way, it fully supports iPhone, iPad and iPod touch, so you can clear apps from iPhone or remove photos on iPad easily. Steps below are how to clear all data on iPhone.
Download and install the software on your computer, and then it will be launched automatically. If not, please double click it on the computer to run it.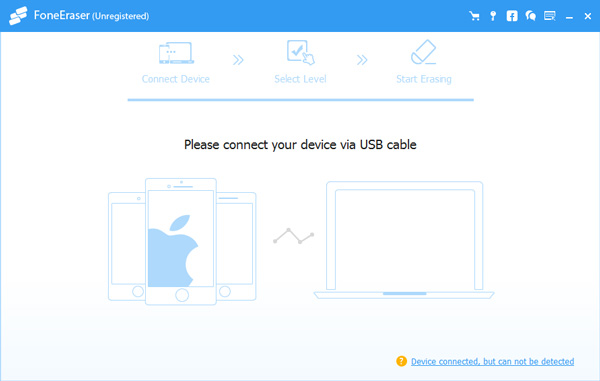 Connect your iPhone or iPad to computer with USB cable and then tap Trust on your iOS device screen if it pops up.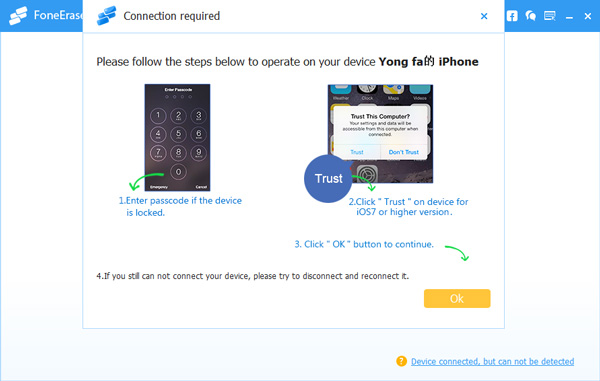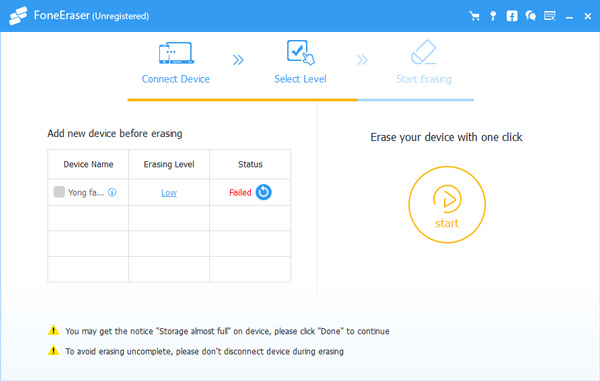 There are three erasing levels for options, including High Level, Medium Level and Low Level. You can choose one from them according to your needs. High Level is recommended to you here for its highest security standard.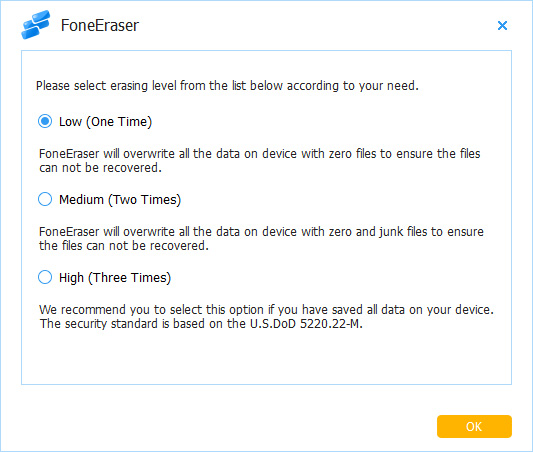 Click Start after the connection is successful.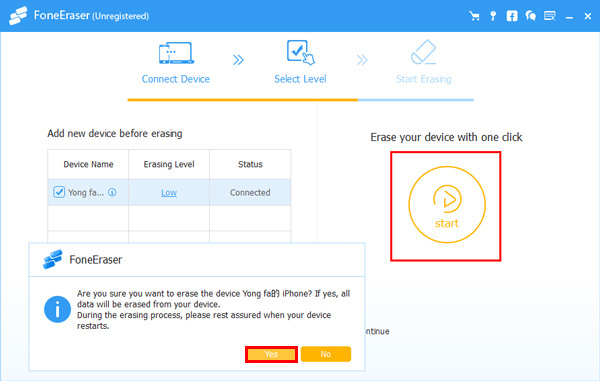 Click Yes to confirm again.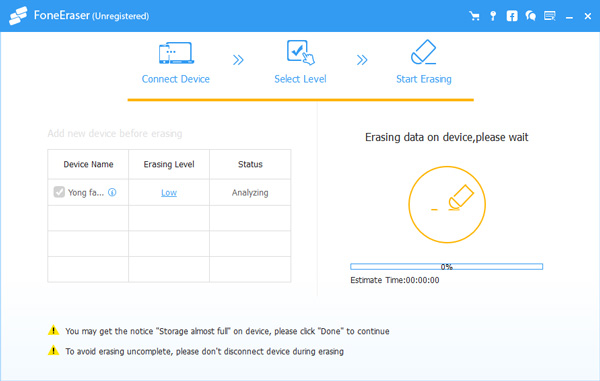 As you see, using FoneEraser for iOS is easy to use and it helps you to wipe unwanted data on iPhone. If you want to delete photos, apps, settings, cache data or others, you can download FoneEraser for iOS and have a try without hesitation.
Related Articles: