Convert Video Now
convert MPG/MPEG to MP4 with fast speed and high output image/sound quality.
Hassle-free Ways on How to Compress Video on Android
Are you having trouble with how to compress a video for email on Android? This is the difficulty most people struggle with when sending videos through email or other social media platforms. In order to send them out, especially a large file, the need to compress doesn't go away. It's not as easy as sending photos and documents since videos are usually not as light. Sometimes, people prefer to upload videos on YouTube and send the link instead. But most of the time, you must send the video directly for formality. This is mostly for work, school, and other careers. Hence, a compressor is what will save you from this.

However, where will you find a compressing tool that decently does the work? As many people know, not every program you see on the internet is trustworthy. It's hard to risk your device by installing various tools that are not guaranteed reliable. If you're not cautious, you might end up letting malware or virus enter your phone or computer.
Fortunately, this article has prepared a list of trustworthy compressors for you. You don't need to download or install different programs to try them out. You can go straight to the most effective tool, which will be introduced below. Other options are also available, so choose the most appropriate for you.
Part 1. How to Compress Android Video on Computer with FoneLab Video Converter Ultimate
When comparing the top tools for compressing videos, FoneLab Video Converter Ultimate usually leads the competition. It is known for its high success rate and fast compressing process. It can shrink the size of your video in only a few moments without losing its quality. Aside from that, as the program's name indicates, it can convert your MP4 and other formats to almost any format you want. Or convert nearly any format to MP4. Several video, audio, and device formats are supported, so video compatibility will be the least of your concerns. If you think these features are incredible, wait until you install the tool and see its other bonus functions.
Abide by the undemanding instructions below to learn navigating the best video compressor on Android, FoneLab Video Converter Ultimate:
Step 1Acquire the free installer file of FoneLab Video Converter Ultimate by pressing the Free Download tab. Once it is saved on your computer, begin the installation procedure. Grant all the program permissions needed to install successfully. Then click the Start Now button when it shows up afterward.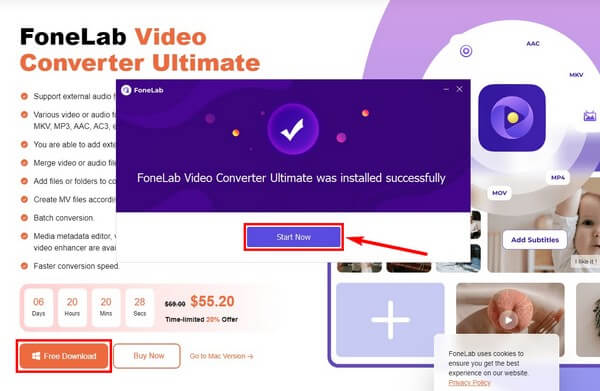 Step 2Move the video from your Android phone to the computer with a USB cable. At your first use of the program, the converting feature will be on the primary interface. You can switch it by heading to the Toolbox section, where you'll see the tool's other functions.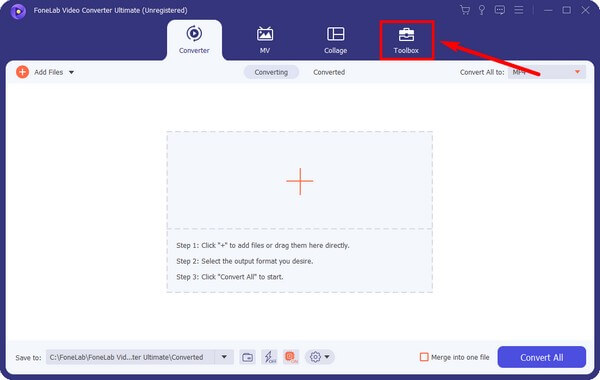 Step 3The Toolbox section contains several functions you can use on your video. This includes the Video Compressor. Click its box, then the plus symbol on the following interface. Select the video you want to compress to import it into the program.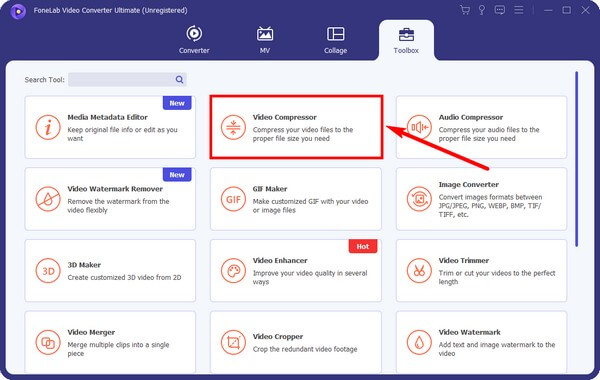 Step 4Next will be the video compressor's interface. It will display the file details you can modify to lessen the size of your video. You may rename it, move the slider based on your preferred size, change the format, and more. Once finalized, you can hit the Compress tab and move back to the compressed video on your Android phone afterward.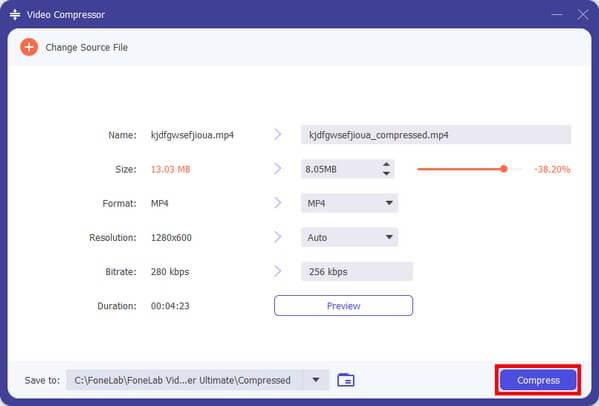 Part 2. How to Compress Video on Android with A Third-party App
If you don't want to use a computer, a third-party app on your Android phone could also work. You can find several options on the Play Store, one of which is Video Compress. This app allows you to choose your desired quality, whether high, normal, or low. It also allows you to remove the video's sound to make its size even smaller. The only problem is you may only find some ads annoying every now and then since the free version contains ads.
Abide by the instructions below to learn navigating the third-party Android video compressor, Video Compress:
Step 1Access the Google Play Store on your Android phone and search for Video Compress. Install it for a few seconds, and launch the application.
Step 2When you get to the app's primary interface, tap the Video Compress feature. Choose the video from your files, which you will see on the following screen. Next, you can pick your video's high, low, or customized quality.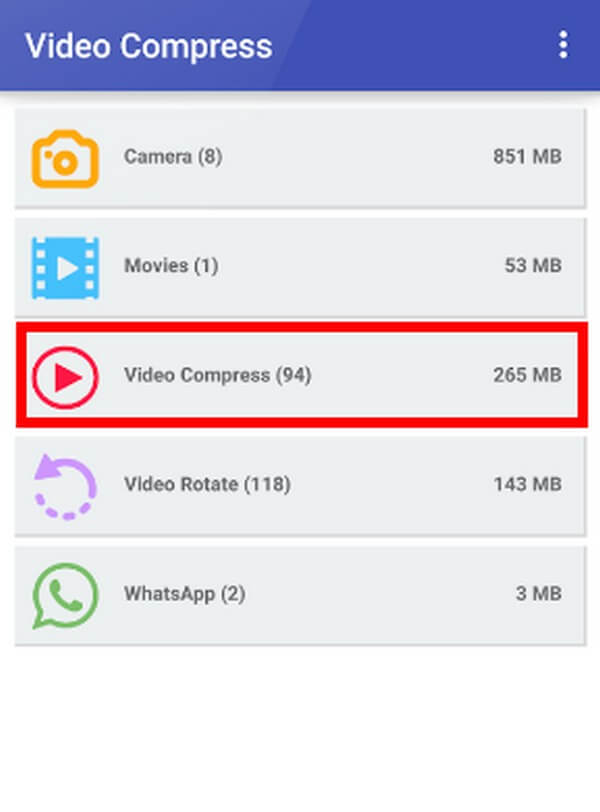 Step 3Once satisfied with your preferences, you can finally tap on the Compress Video tab to make your large video file smaller. The compressing speed depends on the largeness of the file.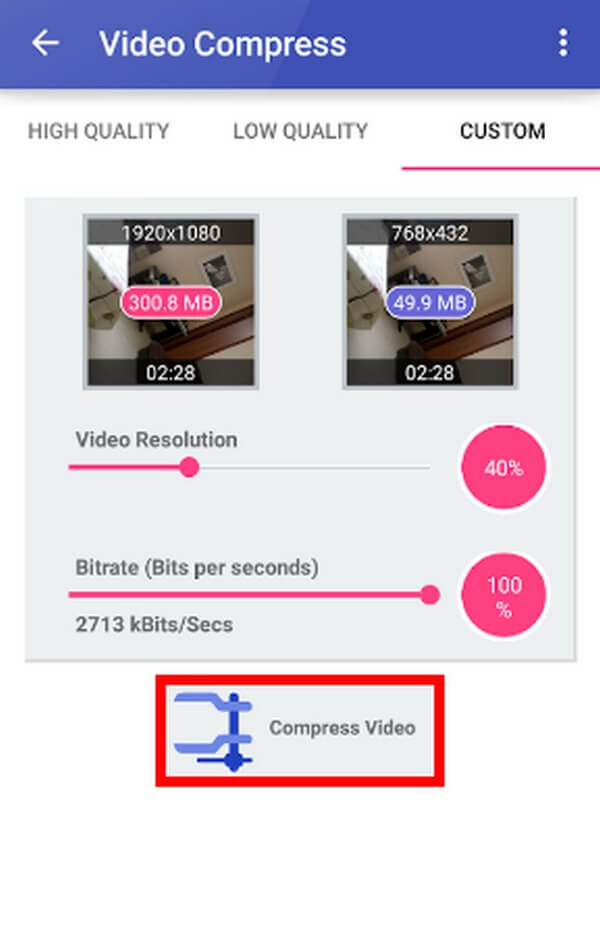 Part 3. Right-click to Compress Android Video on PC
Sometimes, you may not want to install anything on your Android phone or computer. If you find downloading and installing an inconvenience, the only option you have is to zip your video file into a folder on your computer. This method compresses the file immediately to lessen its size. But since it seems too convenient, note that it also has drawbacks. One of them is that you must extract the video before you can play it again after the process. And you are unable to compress your video files according to your detailed requests. Hence, the viewing process will take up your time afterward.
Abide by the instructions below for Android video compression by right-clicking on PC:
Step 1Open File Explorer and move the video file from your Android phone to the computer with a USB cable. When moved, right-click it to see the options.
Step 2Press the Send to option and click the Compressed (zipped) folder tab. This will automatically create a zipped folder containing your compressed video file. After that, move the file back to your phone with a smaller file size.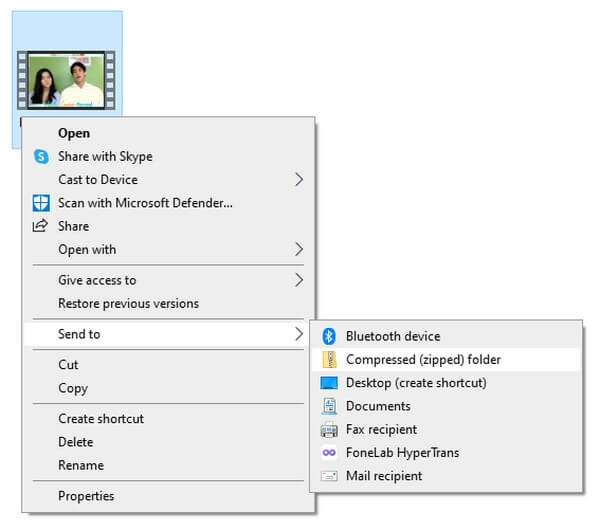 Part 4. FAQs about How to Compress Android Video
If you have more queries about video compressors, don't hesitate to rely on the FoneLab Video Converter Ultimate website. It offers various solutions for many devices, including video files, audio, etc.