Unlock iPhone Now
Unlock Apple ID, remove screen password, bypass screem time.
Change iPhone Passcode – Here are 4 Workable Ways You Should Know

Updated by
Lisa Ou
/ March 30, 2021 16:30
Your iPhone or iPad might contain some sensitive information, such as your emails, private photos, credit card detail, and more. Protecting your handset with a passcode can stop unauthorized people from accessing the data on it. By default, the passcode is a six-digit code, but you can change the iPhone passcode at any time if you prefer. In this article, you will learn how to change your iOS device lock screen passcode in various situations, even if you have forgotten the old passcode.

Guide List
1. 4 Efficient Ways to Change iPhone Passcode
Way 1: Change iPhone Passcode When You Forgot It
If you want to change the passcode for an old iPhone, especially when you forgot your old lock screen password, FoneLab iOS Unlocker is a powerful way to get into the locked iPhone. It not only wipes the passcode for your iPhone, but also removes the Apple ID without a passcode. You can always get into the locked iPhone without any limitation.
Wipe the old passcode from iPhone, iPad, and iPod within one click.
Unlock Touch ID, Face ID, or other limitations on iOS device.
Protect your data and privacy on your iPhone.
Compatible with the latest iPhone models, like iPhone 14.

FoneLab iOS Unlocker
FoneLab Helps you unlock iPhone screen, Removes Apple ID or its password, Remove screen time or restriction passcode in seconds.
Helps you unlock iPhone screen.
Removes Apple ID or its password.
Remove screen time or restriction passcode in seconds.
Step 1Launch FoneLab iOS Unlocker after you install it on your computer. Then connect your iPhone to the same machine with a USB cable. Choose Wipe Passcode in the home interface to move on.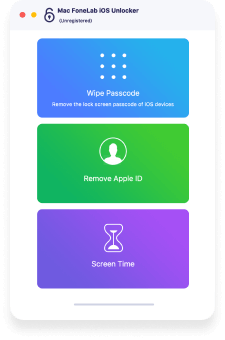 Step 2It will scan your iPhone and display the information, such as the device category, type, model, and more. Check the information and click on the Start button to begin downloading the necessary firmware.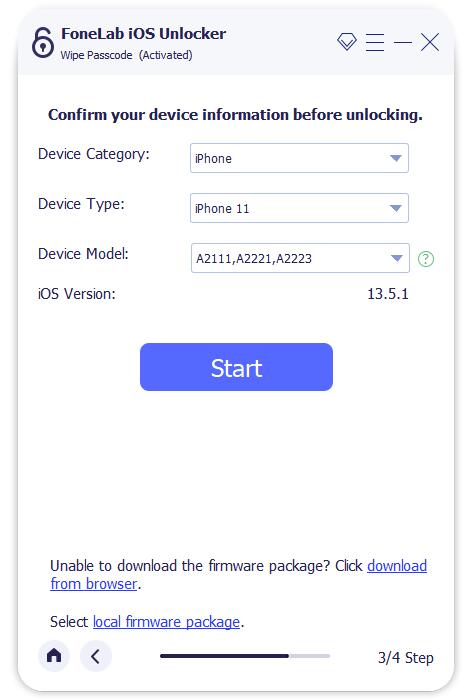 Step 3After downloading, you will be taken to the iPhone passcode change screen. Click on the Unlock button to begin removing the old passcode on your iPhone. You can set new passcode on your iPhone easily.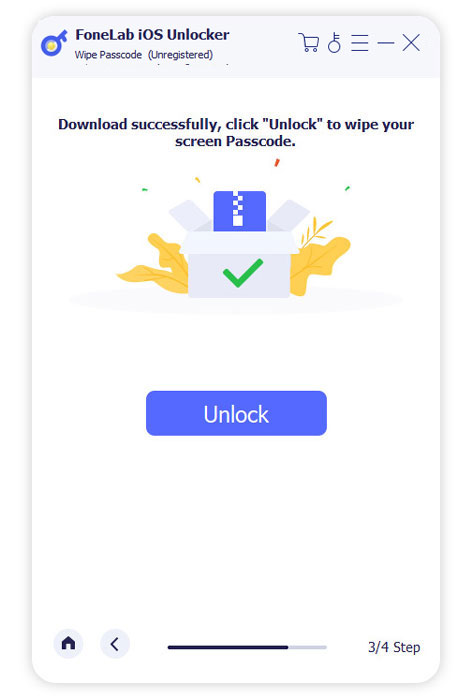 Way 2: Change iPhone Passcode in Settings App
If you just want to change your iPhone passcode but not have forgotten the old one. In such a case, the Settings app is the easiest place to accomplish the job. You even do not need a computer. It is the default way to change the passcode with the following process.
Step 1Open the Settings app from your home screen, and go to Touch ID & Passcode. If prompted, enter your old passcode to enter the password settings screen.
Step 2Next, tap the Change Passcode option, and follow the prompts to enter your old passcode again. It will verify that you are the owner of the device.(What to do when Apple verification failed?)
Step 3Now, type in your new passcode and confirm it. Of course, you can also change the options by tapping the Passcode Options icon. Now, Apple lets you set six-digit PIN passcode for the lock screen.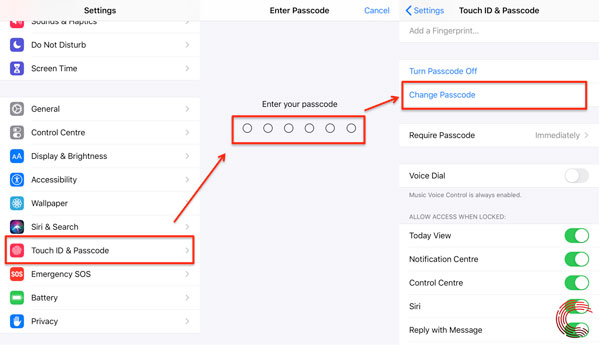 Way 3: Change iPhone Passcode with iTunes
When you need to change the iPhone passcode due to forgot the old one, iTunes is another choice. The restore feature will bring your iPhone to factory status. You need to make a backup for your iOS device and then perform the procedure as below.
Step 1Press and hold the Side button and one of your volume buttons until you see the power-off screen. Shut down your iPhone and then connect it to your computer while keep pressing the Side button.
Tip: On iPhone 7, press the Side button to trigger the shutdown screen. Power off iPhone, and connect to a computer while pressing the Volume Down button until entering the recovery mode.
On iPhone 6s or earlier, after powering off, connect iPhone to computer while holding the Home button until you see the recovery mode.
Step 2Open iTunes on your computer and a popup dialog will appear with three options after your iPhone is detected. Choose the Restore option to begin downloading firmware.
Step 3Then iTunes will remove all your trace on iPhone including the passcode. You can turn on your iPhone and set it up as a new device and change the iPhone passcode accordingly.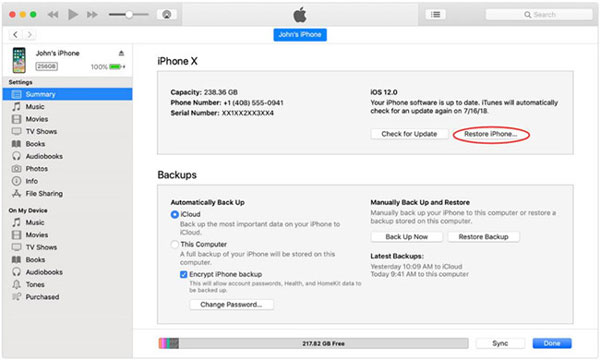 Way 4: Change iPhone Password Using Find My iPhone
Another way to change iPhone passcode is the Find My iPhone feature of iCloud. Once you set it up on your iOS device, you can change the lock screen password remotely. It can protect your data when your iOS device is not in your hand.
Step 1Make sure that your iPhone has enabled the Find My iPhone feature and been online. Open a web browser on any device and go to the iCloud account to change the iPhone passcode.
Step 2Input your Apple ID credentials to sign in to the account associated with your iPhone. Then select the Find My iPhone option. Hit the drop-down arrow next to the All Devices option and select your iOS device.
Step 3Click the Erase iPhone option on the small popup dialog. Follow the onscreen instructions and erase data as well as the old passcode on iPhone. Then change the iPhone passcode as you wish.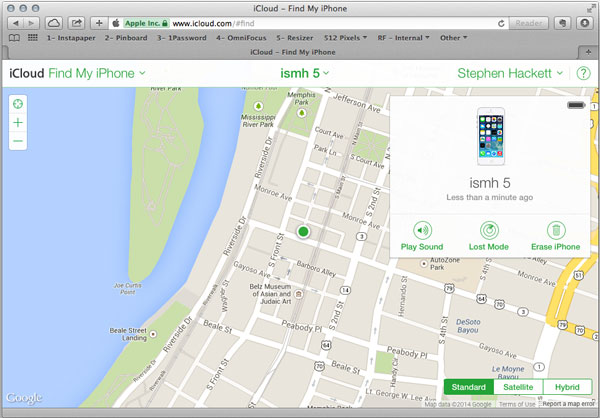 2. FAQs about Changing iPhone Passcode
What Happens When Your Forgot iPhone Passcode?
When you forgot your lock screen password, your iPhone will become disabled and you cannot access any apps on your device. Moreover, entering the wrong sequence of numbers too many times will lock your iPhone for a while or forever.
Why Won't My iPhone Let Me Unlock It?
One of the reasons why your iPhone won't unlock it because you aren't swiping up from low enough on the display. Of course, you should also check whether the iPhone is locked by iCloud activation lock, or even ask Apple Support for some professional advice.
How can You Break an iPhone Passcode?
Officially, you can break an iPhone passcode by restoring it with iTunes or iCloud. If they are not available to your, you have to hijack your iPhone or use a third-party tool to hack into the iOS device and change the iPhone passcode accordingly.
Conclusion
You should understand how to change the iPhone passcode no matter you remember the old one or not. FoneLab iOS Unlocker, for example, is a great tool to help you do the job when you forgot the old passcode. It is not only easy to use, but also able to protect your privacy.

FoneLab iOS Unlocker
FoneLab Helps you unlock iPhone screen, Removes Apple ID or its password, Remove screen time or restriction passcode in seconds.
Helps you unlock iPhone screen.
Removes Apple ID or its password.
Remove screen time or restriction passcode in seconds.