How to Back Up Your Device Using iTunes or iCloud
You've never know the importance of backing up iPhone data until you encounter data loss. Especially losing some important data, for instant, your kid's first step video, family gathering photos, valuable contacts, critical documents, etc that saved on your iOS device. Some of the users even don't know how to back up iPhone with iTunes or iCloud. Please pay high attention that if you don't backup your device, once your lost data being overwritten by new generated data, there is no way to recover the lost data due to no backup files available.
To avoid data loss of iPhone, iPad or iPod, users should back up their data using iTunes or iCloud regularly. Here I will introduce how to backup your iPhone to computer or iCloud and how to use FoneLab for iOS, an iPhone data recovery software to restore iPhone from backup.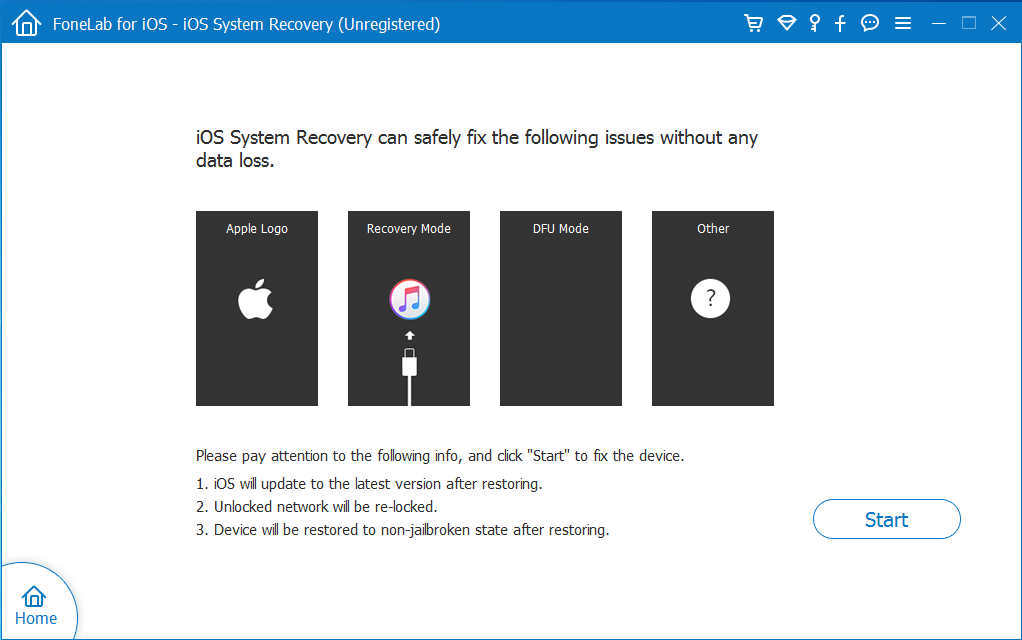 iPhone Data Recovery
FoneLab - iPhone Data Recovery - recover and download the lost/deleted iPhone data from your iCloud or iTunes backup or device.
How to Backup iPhone to iTunes
iTunes creates backups of your iPhone, iPad or iPod right on your computer. Therefore you will have plenty of free storage space to save your iOS data. Check below steps to back up data to computer.
Step 1: Connect your iPhone to the computer and iTunes should run automatically, if not, open it by double-click on iTunes.
Step 2: iTunes will recognize your device for a few seconds.
Step 3: Save contents that you downloaded from iTunes Store or App Store by clicking File – Devices – Transfer Purchases.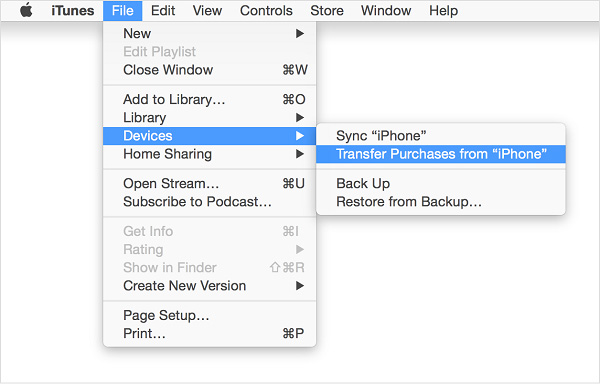 Step 4: Then click File – Devices – Back Up to save data on computer.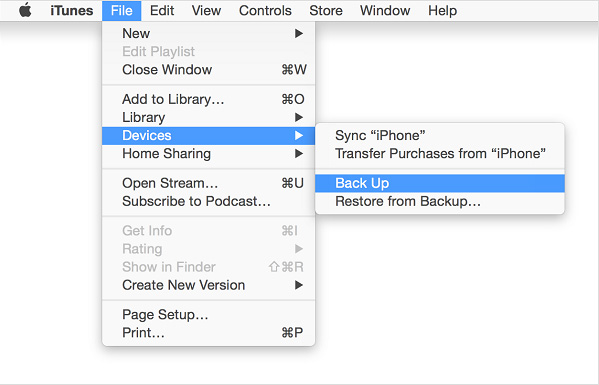 Where does iTunes store iPhone backups after the backup process is finished? It differs from what system you're using.
For Mac users: The iTunes backup will be saved on below directories. ~/Library/Application Support/MobileSync/Backup/
For Windows XP users: The backup files will be stored on C:\Documents and Settings\(username)\Application Data\Apple Computer\MobileSync\Backup\
For Windows Vista, 7, 8, and 10 users, you can find iTunes backups as following directory path: C:\Users\(username)\AppData\Roaming\Apple Computer\MobileSync\Backup\
How to Restore from iTunes Backup
Well you've now successfully backed up data of your iPhone in iTunes. How to recover from iTunes backup files if you found data loss.
Step 1: Download FoneLab for iOS and install it.
Step 2: Run the software right after the installation. Don't connect your device in this part to avoid iTunes automatic sync.
Step 3: Choose Recover from iTunes Backup File to start the scanning process.
Step 4: The program will list all available iTunes backup files on a table. Select one of them and click Start Scan.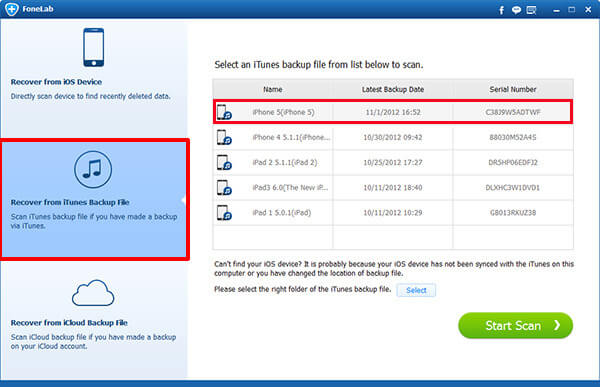 Step 5: Then you will get the whole data of this backup file. You can preview them in details and choose what you want to recover.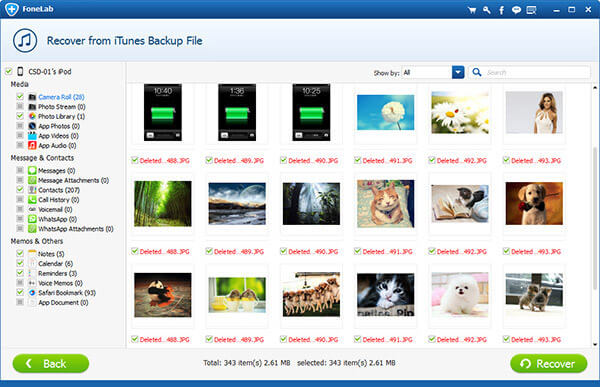 How to Backup iPhone to iCloud
As long as below conditions are satisfied and iCloud Backup is enabled on your iPhone, iCloud will create backup automatically once a day. To enable iCloud Backup, go to Settings – iCloud – Backup – Turn on the iCloud Backup switch.
1. Your device is connected Wi-Fi.
2. Your device is plugged to a power source.
3. Your device is screen locked.
4. Your device has enough iCloud storage space to save the data.
However, you can manually backup iPhone to iCloud as well. On your iPhone, go to Settings – iCloud – Backup – Tap on Back Up Now. Please make sure that your iPhone is continually connected to a Wi-Fi network during the process.

Check whether the backup is complete or not by tapping Settings – iCloud – Storage – Manage Storage (iCloud – Storage & Backup – Manage Storage for earlier version of iOS), and then select your device. The backup you just created should appear in the details with time and size of the backup.
How to Restore from iCloud Backup
Step 1: Choose the mode of Recover from iCloud Backup File and sign in your iCloud account with Apple ID and password.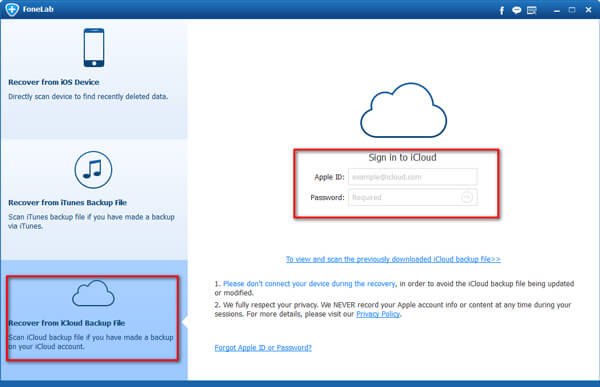 Step 2: You will get all iCloud backup files that you've previously made. Download one of the iCloud backup files then.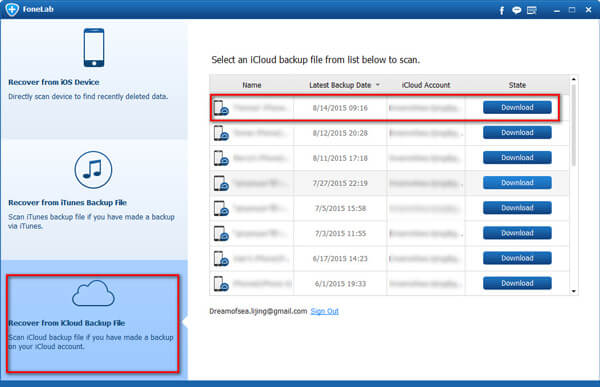 Step 3: You can preview the contents one by one and select the items you need to save on the computer.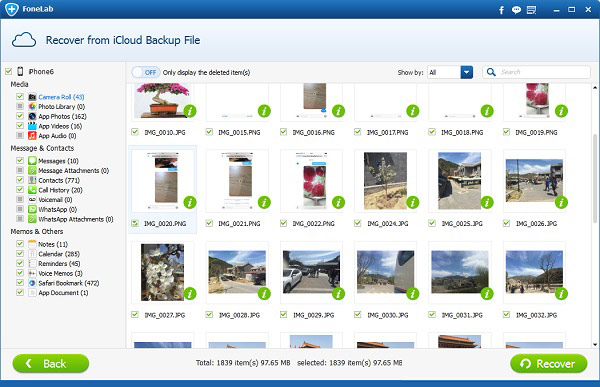 Related Articles: