Where to Find OBS Recordings and How to Change Output Location
As a broadcasting application, StreamLabs OBS is popular among vloggers, e-teachers, and gamers. Some small businesses even use it for training and creativity. More importantly, OBS is an open-source project, so everyone can access the full version without paying a penny.
However, it is a bit complex for beginners. That is why so many people asked where to find OBS recordings on forums. This concrete guide will focus on clarify the output location of OBS.

1. Where Do OBS Recordings Go
OBS won't save recordings automatically. You have to click the Stop recording button at the bottom right side of the main interface to save it manually. However, where do OBS recordings go? By default, they will be saved to the folder where you installed OBS on your computer. Generally speaking, the folder is located in your system drive.
The quick way to access your recordings is to go to the File menu in OBS main interface and choose Show Recordings. Then the destination folder will pop up and show you all recordings.
2. How to Set OBS Recording Location
It is well-known that recordings are very large since they are saved as video files. Therefore, it is not proper to save OBS recordings in your system drive. It may impact the performance of your computer and even lead to OBS crashing or OBS window capture black. Fortunately, you can easily change where does StreamLabs OBS saves recordings following steps below.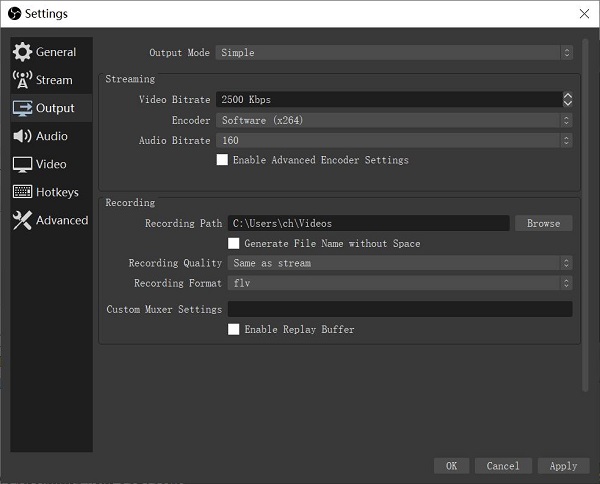 Open your OBS, go to the File menu at the top menu bar, and choose Settings to open the Settings dialog. Then head to the Output tab from the left sidebar, and locate the Recording section on the right panel.
Click the Browse button and find a proper output folder on your hard drive.
You can also set Recording Format, Recording Quality and other options on the popup dialog. Click the OK button to confirm the changes. Now, you can go to the new location to find OBS recordings.
3. Best Alternative to OBS
Users need some technical skills to set up OBS correctly; otherwise, your recordings will become poor or OBS may work abnormally. Therefore, it is not a good choice to use OBS if you are beginners. Fonelab Screen Recorder, on the other hand, is more flexible and available to both advanced users and beginners. It can meet all your needs for screen recording.
Basic Features of the Best Alternative to OBS
Record everything and your activities on your screen.
Save your screen recordings to hard drive automatically.
Preview recordings with the built-in media player.
Briefly speaking, it is the best choice if you cannot find where OBS you're your recordings.
How to Record Screen with the Best Alternative to OBS
Install OBS alternative
There are two versions of the best alternative to OBS, one for Windows 10/8/7 and the other for Mac OS X. Get the right version installed on your computer and then launch it. Pick Video Recorder to open the main interface. If you just want to capture audio, select Audio Recorder instead. Advanced users can set options related to output, hotkeys and more on the Preferences dialog. It can be opened by hitting the Gear icon in the main interface.

Record screen in one click
You will get four sections in the main interface:
Display: Capture full screen, a window or custom region based on your need.
Webcam: Record your face and surroundings through the webcam recording on your computer, or add your reactions to the screen recording.
System Sound: Capture any sound from your computer.
Microphone: Overlay your voice or any sound to screen recording via internal and external microphone.
You can turn on or off each section according to your situation. If you only want to record screen, for example, enable Display and System Sound while disabling Webcam and Microphone.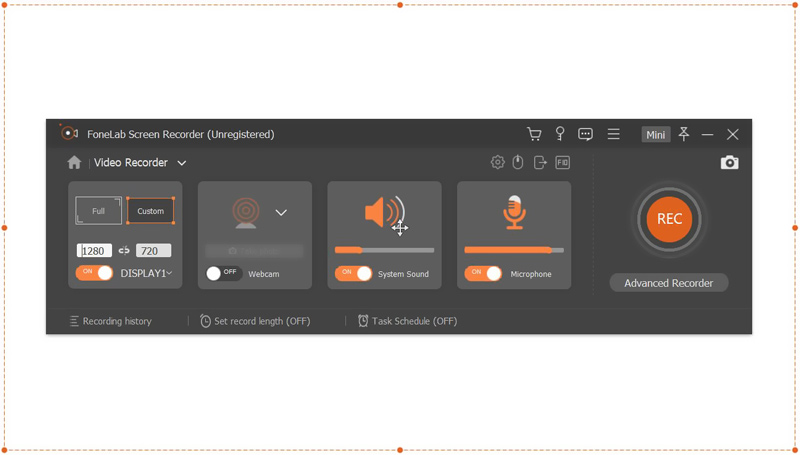 Once you are ready, click the REC button to begin screen recording without setting OBS location.
Preview and save screen recording
When you want to stop screen recording, click the Stop button. Then the preview window will show up with the recording. Here you can check the video file with the media player. If it contains redundant frames, cut them using the Clip tool. Finally, hit the Save button and follow the on-screen instructions to save the recording without OBS. The Select path to save your recording file dialog allows you to confirm or change the output location when saving recordings.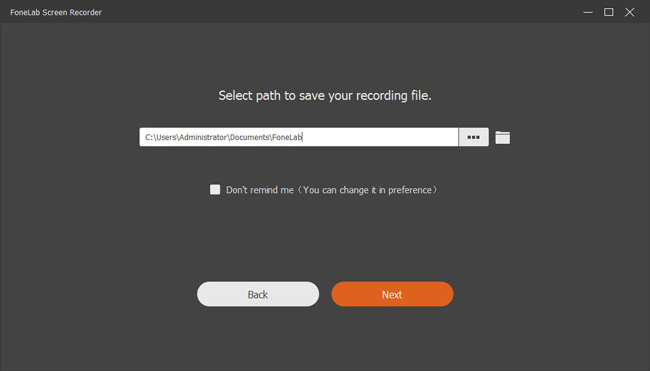 4. FAQs of OBS Location
How do I watch my OBS recordings?
By default, OBS will save your recordings in FLV format, but you can switch to MP4. Find you're the recording in your output path and watch it with your media player, such as Windows Media Player.
How do I restore my OBS recordings?
Sometimes, OBS will freeze or crash when rendering screen recordings. In such cases, you cannot restore OBS recordings. Alternatively, you have to rerecord whatever you want to save. If you worry about OBS errors, you'd better use a more stable screen recorder application.
How to convert OBS recordings to MP4?
OBS will save recordings in FLV in order to produce smaller file sizes. However, you can change it to MP4 format in the Settings dialog. Click the Settings button at the bottom right corner and then go to the Output tab from the left side on the popup dialog. Then choose mp4 from the Recording Format under Recording section.
Conclusion
This article has told you where does StreamLabs OBS saves your screen recordings on PC and Mac. If you cannot find your recordings produced by OBS, you should resolve this issue based on our guide. Moreover, you can reset the output path based on your habit. Sometimes, OBS has bugs and fails to save your recordings. Fonelab Screen Recorder is the best alternative solution to record something on your desktop. If you have more questions, please write them to download in the comment area below this post.
Related Articles:

Leave your comment and join our discussion