3 Best Webinar Platforms for Your Business Presentations[2020 Updated]
Nowadays, lots of companies are looking for an effective way to make arrangements online and remote working due to the spread of the COVID 19 virus. So many of them turn to the webinar platforms and software. Fortunately, there are dozens of webinar platforms including free webinar platforms offered on the market. The question is, which one you should use?

Webinar platform provides a good place for employees to work remotely at home and still can directly communicate with others and collaborate on projects and documents. Here in this post, we will share 3 best webinar platforms for you to interact with the business presentation and presenters, communicate, share ideas and give feedback.
1. Best Livestorm Recorder to Record Livestorm Video in Higher Quality
Compared with video call software, webinar platform can offer a more interactive experience. Here in this part, we like to make a list of 3 great webinar platforms for you to choose from. All the five webinar solutions can help get people together for a business presentation, discussion or information exchange.
NO.1 Webinar Platform - Livestorm
Livestorm is a very popular webinar platform which offers three different flavours for conventional pre-organised, on-demand and automated seminars. This webinar platform provides users with several modules and tools like live event, product demo, customer training, online course and more for specific webinar styles.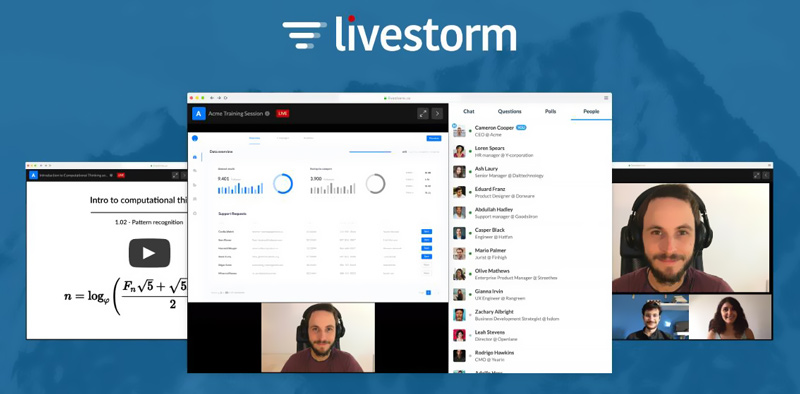 As an all-featured webinar platform, Livestorm allows you to co-host with another company. What's more, it enables you to export any of your webinar files to Excel or CSV. Livestorm carries the emailing tools feature to send automated reminders, status updates, and thank you letters. It also has a recording feature to record any activity and interaction in a webinar. Livestorm is not a free webinar platform. The free version limits the webinar to a single meeting, 4 participants, 10 registrants and 20 minutes. You need to pay $99 per month for the Premium version.
NO.2 Webinar Platform - GoToWebinar
GoToWebinar is a great webinar platform to host and manage a video, audio or web meeting on computer or mobile device. It enables you to quickly turn conference rooms into collaboration centers. What's more, GoToWebinar offers a higher-security service to roll out secure web conferencing with optional advanced security features.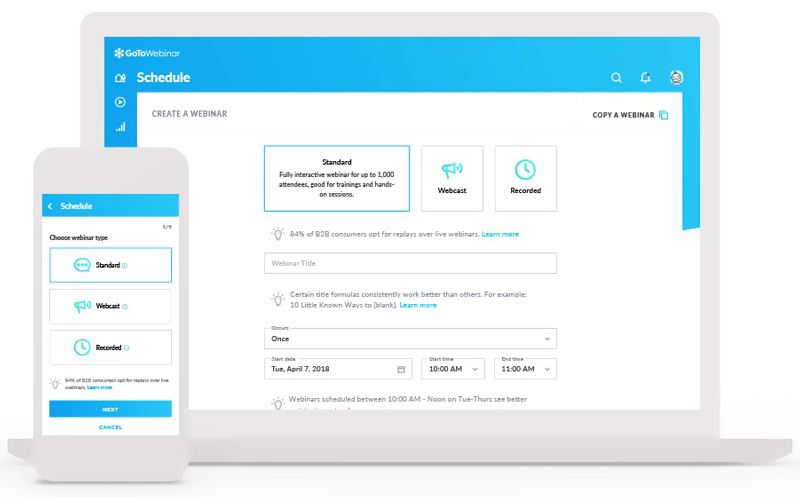 GoToWebinar allows you to share your computer or mobile device screen securely from anywhere. It provides you with the face-to-face HD video conferencing feature. What's more, you are allowed to record your webinar content in real-time, take notes, mark action items, and share it based on your need. GoToWebinar provides a free trial but it is not a totally free webinar platform. You need to pay $12, $16, $89, $199 or $499 per month to remove limits and get different features.
NO.3 Free Webinar Platform - Google Meet
Google Meet is a free webinar platform which allows you to make secure business meetings. It provides an enterprise-grade video conferencing service for everyone with a Google Account. This free webinar platform enables you to create an online meeting with up to 100 participants and meet for up to 60 minutes per meeting.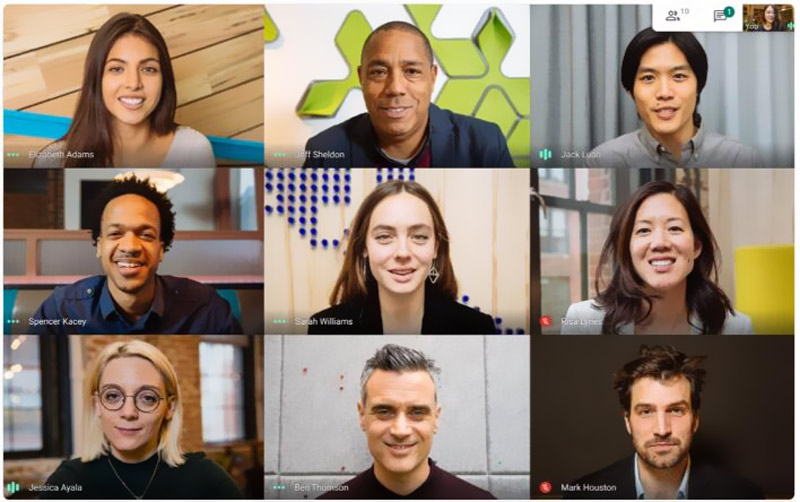 Google Meet offers a simple way to invite and join an online meeting. You can send a link or meeting code to other participants. The meeting length of free Google Meet limits to 1 hour. You need to pay $10 per active user/month to upgrade to 300 hours. The number of meetings is unlimited. Google Meet does many protections to guarantee the security and privacy. You don't need to worry about the meeting content leaks.
2. FAQs of Livestorm Recording PC
Question 1. What is webinar platform?
Webinar is one kind of presentation, lecture, workshop or seminar that is transmitted over the web using the video conferencing software. Webinar platform gives companies an effective way to conduct and distribute interactive live, share and discuss video presentations, directly interactive with others, and more. Participants can share documents, apps and audio in the webinar platform or software.
Question 2. How to create a webinar for free with Google+ Hangouts?
To create a webinar for free with Hangouts, you need to create a Hangout on Air on your Google+ page. Then start a new hangout on air to start creating your event. After that, you need to add some details of your webinar. Then you can choose to broadcast your webinar now or later. You can also choose to make your webinar public or exclusive to some people. Now you can click the Share button to create your webinar for free.
Question 3. Is Zoom free to use?
Zoom is a popular video conferencing platform which allows users to host meetings with remote or international colleagues and clients. It enables you to create multiple webinars while using the same link. But Zoom is not totally free. You can use basic features for free if your webinar is under forty minutes and participants under 100. You need to pay starting at $14.99/month to break these limits.
We have mainly talked about webinar platforms in this post. After reading this page, you can get 3 great webinar platforms including the free webinar software, Google Meet to host various online meetings. If you have any better webinar platform recommendations, especially the free ones, please share them in the comment with other readers.
Related Articles:

Leave your comment and join our discussion