Screenshot VLC Properly - 2021 Quick Start [Solved]
VLC is a powerful and cross-platform media player on Windows, Mac, Linux, etc. It supports almost all media file formats, so people always choose VLC as the default media player on computer or mobile phone.

1. VLC Snapshot
It is common that users would like to take a snapshot of VLC to convert the favorite movie scene to desktop background or video thumbnail. As some users don't know VLC has the default tools to help users play media files, capture screen, take screenshots, etc, at all, they might use Windows or Mac screenshot tools to get a screenshot in VLC. For instance, they might always get dissatisfying results.
Method 1. VLC Snapshot within A Few Clicks [Windows/Mac]
Actually, except for VLC screen recording feature, VLC has its own inbuilt snapshot tool, which is known by people who are familiar with VLC. In order to avoid users face issues in this regard on computers with different operating systems, different procedures will be mentioned for Windows and Mac users in this part.
Before we dive in, you can go to Tools > Preferences > Video > Format to select the format of the snapshot you want. In addition, if you want to save VLC snapshots in the folder you choose, click the Browse button next to Directory tab and select a location.
VLC Takes Snapshot on Windows:
First of all, play the video you want to take a screenshot with VLC. Then you have 3 options to take a screenshot of VLC.
Option 1. Click the camera-like icon on the bottom-left corner to take a screenshot.

Option 2. You can also right-click on the screen to select Video > Take Snapshot.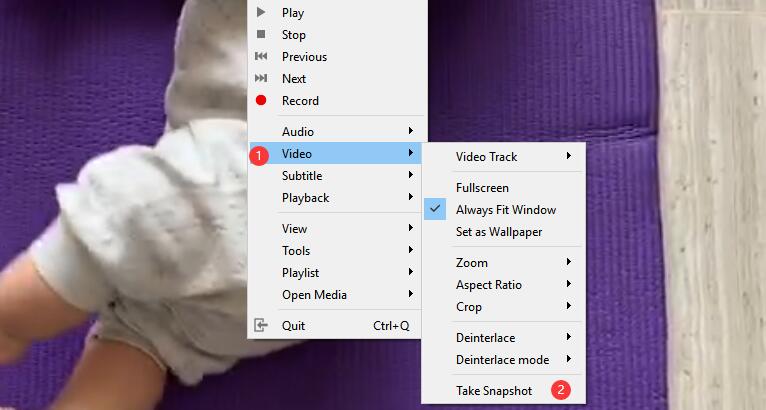 Option 3. Click Video on the top menu and then select Take Snapshot.

VLC Takes Snapshot on Mac:
Before you take a snapshot on Mac, open the video with VLC on computer. Then follow below steps.
Option 1. Click Video on the menu tab, then choose Snapshot.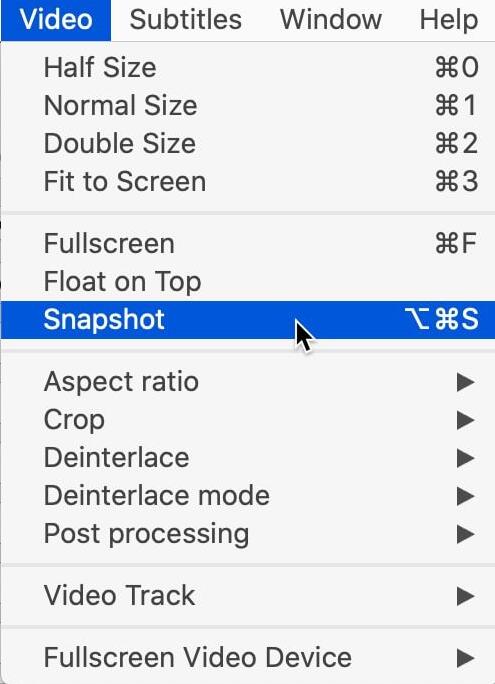 Option 2. Right-click on the VLC screen and select Snapshot.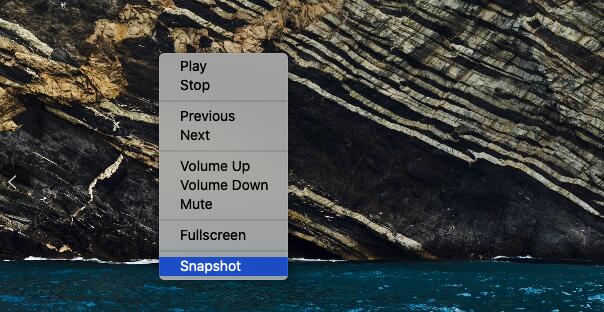 Method 2. VLC Snapshot Hotkey [Windows/Mac/Linux]
Shortcut is a convenient way to access what you want quickly. Here we will introduce VLC snapshot shortcuts.
Windows: Shift + S
macOS: Command + Alt + S
Linux: Ctrl + Alt + S
The above-mentioned VLC snapshot shortcuts are default settings. If you want to change them, go to Tools > Preferences > Hotkeys, find Show Settings on the bottom-left corner and choose All. Then click Take video snapshot and change it.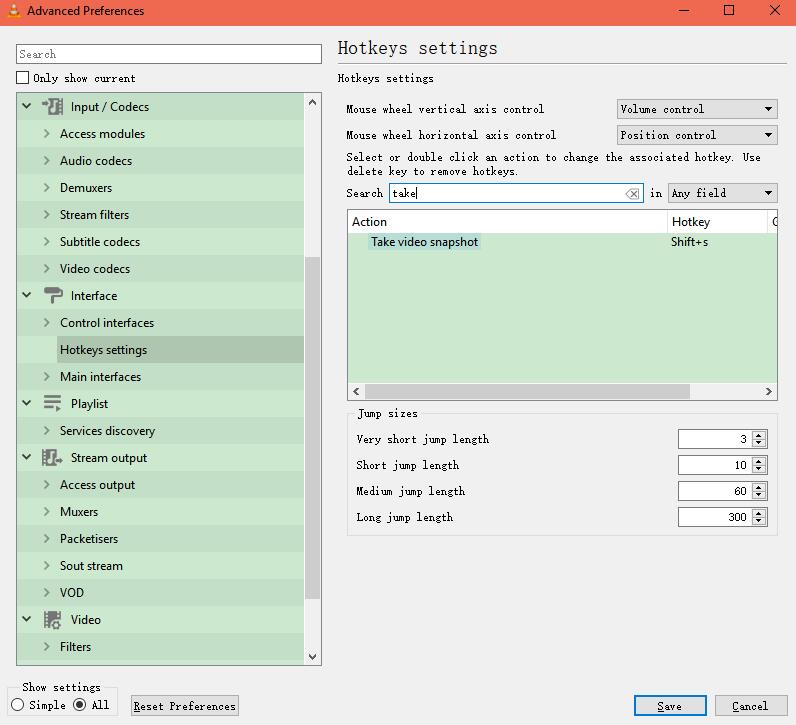 When VLC takes snapshots, they will be previewed as thumbnails with its filename and then faded away soon.
If you want to know where does VLC store snapshots, please move on.
2. VLC Screenshot Location
After taking VLC screenshots, you need to know where does VLC save snapshots to get them. Following are default VLC snapshot location on Windows or Mac if you have never change the directory before.
Windows XP: Enter "%HOMEPATH%\My Pictures\" in Windows search bar
Windows Vista, 7, 8, and 10: Input "%HOMEPATH%\Pictures\" in Windows search bar or go to \This PC\Pictures\
Linux / Unix: ~/Pictures
macOS: Desktop
Sometimes, things will go wrong with unknown reasons. While VLC snapshot not working, you can go to Tools > Preferences > Input / Codes. Choose Simple next to Show settings. Then you can see Hardware-accelerated decoding under Codecs tab. Click the options and choose Disable.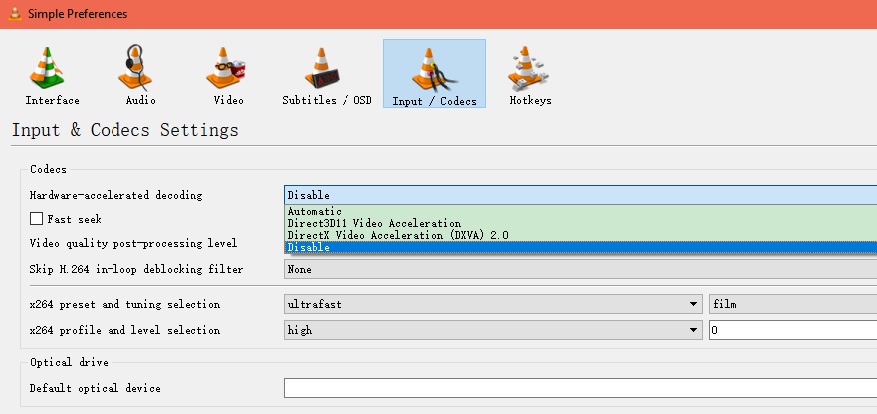 Then you can try again to take screenshots on VLC.
Well, what if it is still not working for you? It is better that you begin to check how to use VLC alternatives to get VLC screenshots.
3. Best VLC Snapshot Alternative - FoneLab Screen Recorder
There are many screenshot tools in the market, which perform perfect snapshot features in just a few clicks. However, FoneLab Screen Recorder is the first in our list of millions of other options.
It helps you take a screenshot on computer with high quality and efficiency. You are enabled to add annotations including text, shape, line, number, and many others to the screenshots without additional charge.
More importantly, it also can be a wonderful screen recorder for you. You can easily use it to capture screen with webcam and audio concurrently, and you can even add any annotation to the video while recording. Therefore, you can make a professional-like online course with it.
Get VLC snapshots with FoneLab Screen Recorder
Below is how to use FoneLab Screen Recorder to capture a screenshot on Windows and Mac.
Step 1Open FoneLab Screen Recorder official site and click Download button. Then an on-screen window pops up, just follow the instructions to finish installation. Launch the program after that.
Step 2You can see 4 tabs on the main interface. You should choose Snapshot button from them.

Step 3Then long-press your mouse to select the snapshot area of VLC video.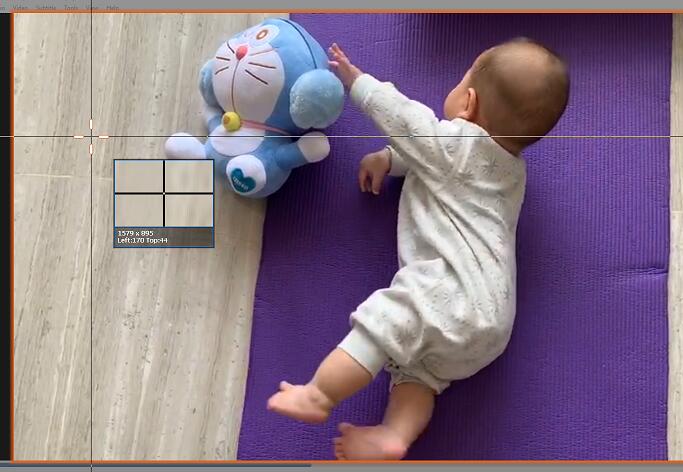 Step 4Editing tools will appear to add annotations to VLC screenshots after selecting, you can add something to your snapshot, then click the save button to save VLC snapshot.

As you can see, FoneLab Screen Recorder is working as a free snapshot tool to take VLC screenshots without loss quality. Enhanced with useful screen recording feature, it also allows you to record online meeting, record game screen, and others on computer without hassle.
4. VLC Snapshot Alternatives
There are various solutions to take screenshots on computer, you need to choose a suitable one from them. Below are recommendations for you.
Snipping Tool(Windows)
This is a built-in snapshot tool on Windows, you don't need to download or install it. Just search it in Windows search box, then you can see and select it from the results. Then choose an area to take a screenshot.
Shift, Command, and 5(Mac)
For Mac users, you can press Shift + Command + 5 together to enable the record or screen tool bar. Then choose the third screenshot icon and drag the crosshair to select the area. Finally, press space to take a screenshot.
Bottom Line
In conclusion, VLC is a wonderful media player with snapshot feature, so you can use its built-in tool to snapshot VLC with the above-mentioned correct operations. However, FoneLab Screen Recorder can be a helpful alternative to VLC as you need. You can compare both of them and select one suits you best.