Erase iOS Data Now
Easily erase all contents and settings on iPhone, iPad or iPod completely and permanently.
Top iPhone Cleaners to Remove Caches in 2022
In order to meet the needs of people who acquire more and more powerful phones and tablets, there are more and more iPhone apps have arisen as time went on. Some of iPhone users have found that their devices run slowly because they have downloaded a number of apps on their phones and their spaces are almost full. So they would like to know that whether iPhone need a trash cleaner app on iPhone to clear its own cache, cookies, etc. or not.
Actually, the clean master app will also occupy your device memory storage and make your device run slowly. It is better that you can choose a junk file cleaner for iPhone on your computer to remove junk files, iPhone temp files and more from your device.
Here we will introduce 5 user-friendly and efficient iPhone cleaners for you. Each of them can help you to clear different data on your iPhone, iPad or iPod touch, you can choose one of them according to your needs.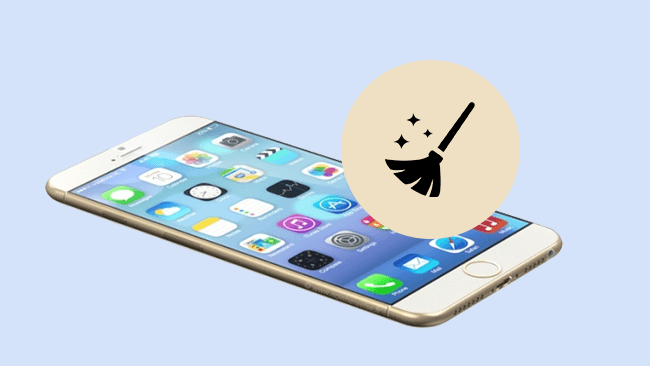 Part 1. Top 5 iPhone Clean Master
1. FoneEraser for iOS
FoneEraser for iOS is a convenient memory cleaner to remove the useless files and accelerate your device. Phone and tablet execute several tasks, so they store cookies, cache data, junk files, log files and more on device storage. Aims at clear your iPhone data more convenient, FoneEraser for iOS enables you to get all these data off your iPhone with simple clicks. You can choose one from the three erasing levels which ensures your data can not be recovered. Why not download and have a try now?
Features of FoneEraser for iOS
Erase text contents, media files, apps, documents and settings on your device.
Supports iPhone, iPad and iPod touch.
There are three erasing levels for options.
Its security standard ensures your deleted data cannot be recovered.
Erase junk files without data loss.
Clean up photos to save storage.
It is safe and easy to use.
2. PhoneClean
PhoneClean cleans junk files to optimize iOS performance, it supports up to 30 kinds of junk files and allows you to delete data from iPhone and iPad. You can fix your iOS disabled problems easily with this powerful tool. No matter that how many log files, cache data, junk files and more on your device, PhoneClean will always keep your device clean and run smoothly.
3. Cisdom iPhone Cleaner for Mac
Cisdom iPhone Cleaner for Mac is a safe and simple iPhone junk file cleaner for Mac and iOS device users. With the purpose of sweeping redundant files on various of the device, its extensive compatibility enables you to remove junk files and others from the simplest iPods, such as Shuffle. It will also create full backups prior to any cleaning action.
4. iFreeUp
iFreeUp sweeps your junk files, cache, log files, etc., from device or apps easily after installation and connection. It completely shreds deleted files so that you don't need to worry about the privacy leak. It is also a file transfer which enables you to import, export and delete photos, videos, audios, apps, podcasts, and more from your device. It is a multifunctional choice of cache cleaner for you to clear unwanted files on iPhone.
5. iMyfone
iMyfone is a third-party space cleaner you can use to clean more than 30 types of unnecessary files from iPhone or iPad. For your precious of photos, it can compress them and free up to 75% of memory space for your device. And it allows you to move junk files, temporary files, large files, apps and more. What's more, you can preview the files before you erase them. It is a humane and useful tool for iPhone users.
Part 2. How to Remove Cache with FoneEraser for iOS
1. Erase Junk Files
FoneEraser for iOS can help you erase iPhone cache without data lose. Below is how to use it.
Step 1Download and install the software on computer and wait for the automatically launch.
Step 2Connect your device and the computer, then the software will recognize your device after detection. If it notices that connect failed, please click the retry icon.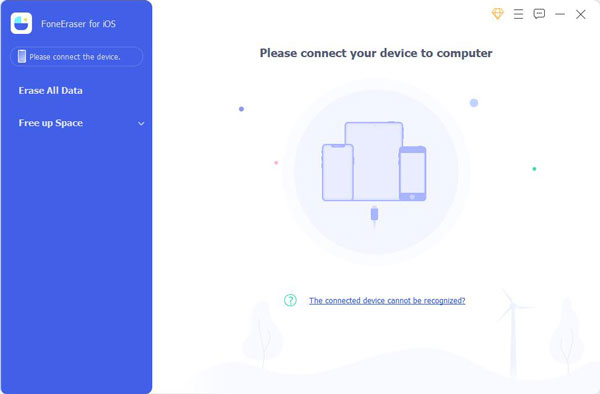 Step 3Choose Free up Space > Erase Junk Files. Then you can check the items you want to remove after a while, check the boxes and click Erase button.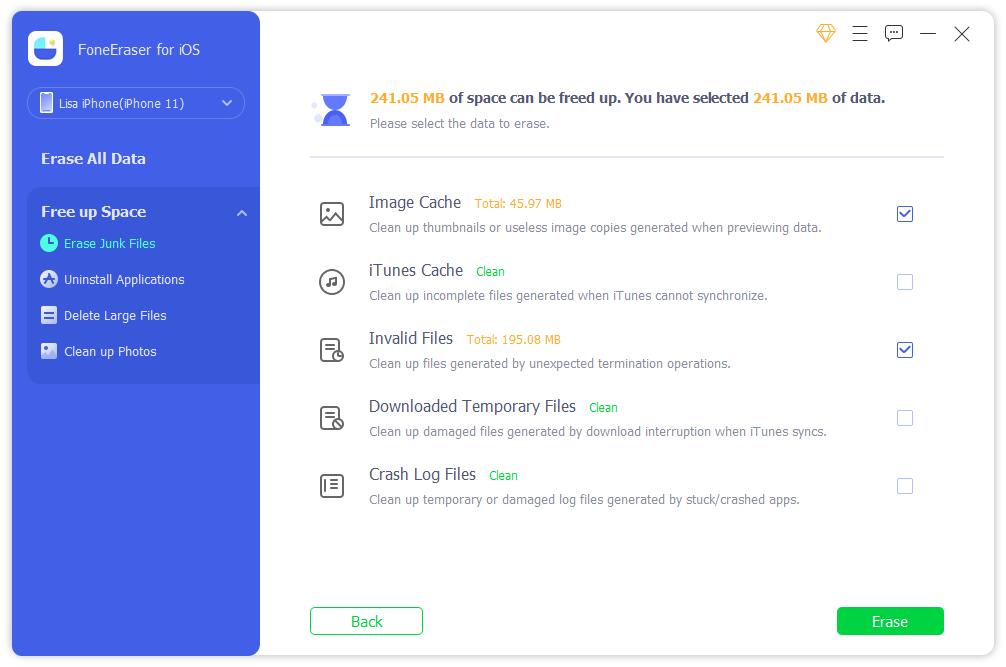 2. Erase All Data
It also enables you to delete data from device permenently. We would like to show you how to use FoneEraser for iOS step by step.
Step 1Click Erase All Data. There are three levels for option, including High Level, Medium Leve and Low Leve. Choose one erasing level from them. Select the High Level if you have backed up all data before.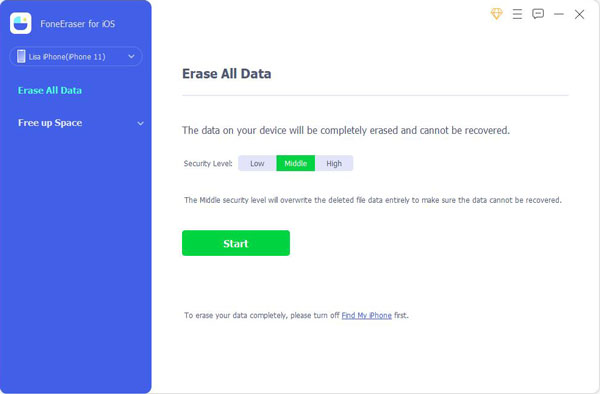 Step 2Click Start on the right to begin the erasing.
As you see, FoneEraser for iOS is a user-friendly and efficient tool to sweep needless storage from iPhone permanently and thoroughly. FoneEraser for iOS must be the best trash cleaner for you.