Recover iOS Data Now
Recover your data from iPhone to computer easily.
Snapchat Guide - How to Use Snapchat [2021 Updated]
Time goes on during the development of the world, the speed of communication have to follow the steps of moving straight. Instant chatting app has become an important part of interaction between people around the world.
In addition, Snapchat is one of the most significant ones.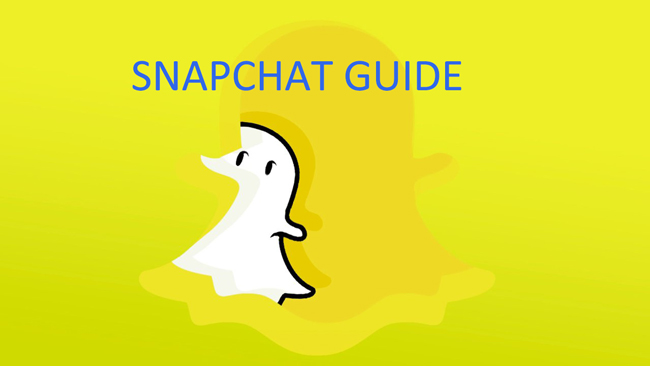 1. What is Snapchat
Snapchatis a popular instant chat app, which you can use to chat with friends, view live stories from all over the world, and share or explore news in Discover.
The total number of daily active snapchat users is 187 million. It means there are about 129,861 active snapchat users every minute.
Why Snapchat?
We will introduce more details about snapchat and show you the answer.
Keep moving…
2. How to Download Snapchat
Download the app on mobile phone device is the first thing you need to do, as snapchat doesn't provide a PC version except mobile versions. With the same steps with other applications, you can easily get snapchat from app store.
There are two options to download this app.
Option 1.
Step 1Open App Store if you are an iPhone user, or Play Store on an Android device.
Step 2Search snapchat, and download it on the mobile devices.
Option 2.
Step 1Visit Snapchat download page on your phone.
Step 2Enter your phone number and send the download link to your phone, and then tap the link you receive. Alternatively, tap the correct version of snapchat to download it.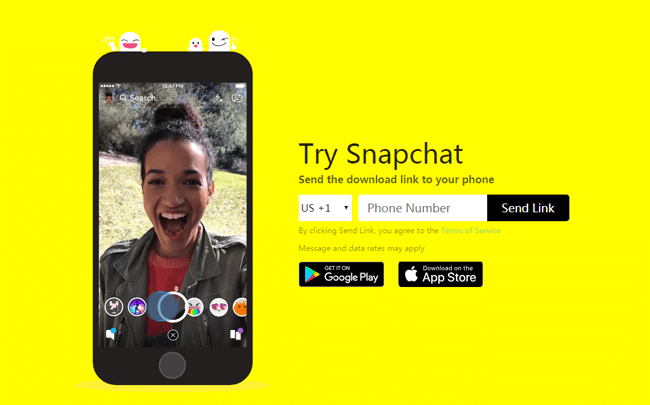 Then you might want to know how to upgrade Snapchat to get the new features.
3. How to Update Snapchat
Snapchat stuff keeps updating their app all the time, so users can get an upgraded and more functional snapchat with the newer version.
It is easy to get newest snapchat update with below steps.
iPhone/iPad:
Step 1Open App Store on iPhone screen.
Step 2Tap Updates on the bottom of the interface.
Step 3Tap UPDATE next to Snapchat and wait for it.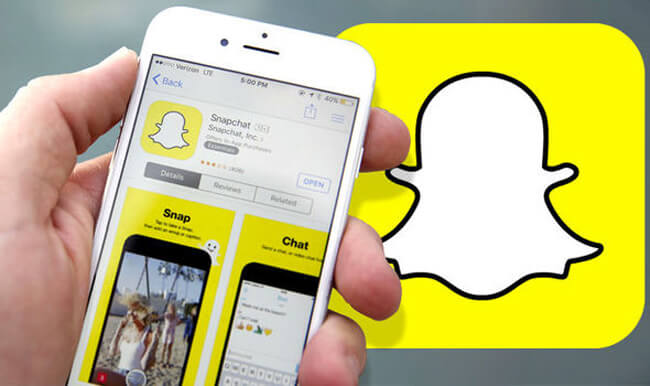 Android:
Step 1Launch Play Store and tap Menu icon.
Step 2Choose My apps & games > UPDATES > Snapchat.
Step 3Tap UPDATE if it is available.
4. Snapchat Account
Snapchat account acts like the ID for each user, you should have one to live in the Snapchat world.
Well,
Below are something about snapchat account you want to know.
1. How to Sign Up Snapchat
First of all,
You should register an account before you can use it. It is easy to sign up a Snapchat account as below.
You can choose to do it on your device or computer browser, both of them can be completed in a few simple steps.
iPhone/Android:
Step 1Open Snapchat on iPhone.
Step 2Tap Sign Up from the options.
Step 3Follow the instruction to fill name and tap Sign Up & Accept.
Step 4Continue to complete the box with your birthday, username, email, password, mobile phone number, and then enter the confirmation code when you receive it.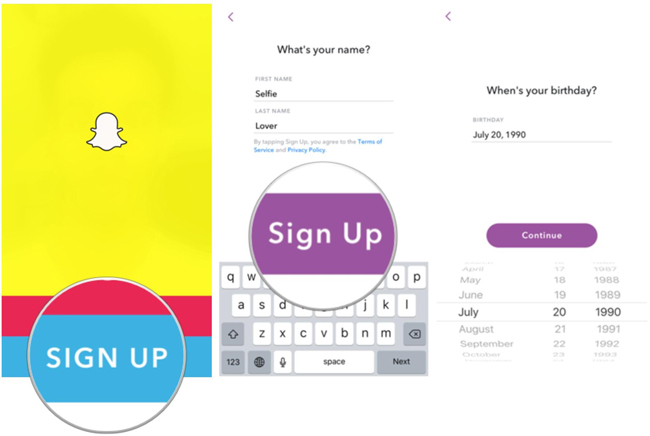 Computer:
Step 1Visit Snapchat account page on computer browser.
Step 2Tap CREATE ACCOUNT.
Step 3Complete the table and click Sign Up & Accept.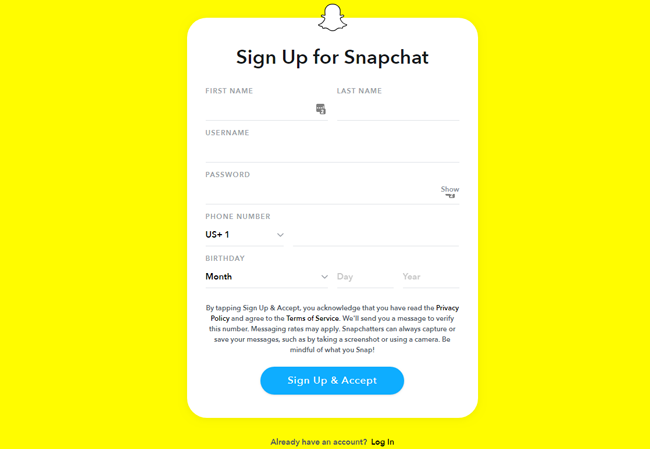 2. Snapchat Name Ideas
Snapchat name helps your friends recognize you, but it also can be what you want.
There are some snapchat name ideas for you.
Add your lucky number.
Your hobby.
Something you like, such as animal, color, sport and more.
It is possible to create a username, which is already taken, it is simple to add something special for yourself unique for your snapchat account username.
3. Snapchat name change
Some users might want to change snapchat name, while the username is customizable and visible for everyone and can't be changed.
Display name is how you appear on snapchat, which you can follow bellows instruction to change it.
Step 1Tap your profile icon on the left top corner.
Step 2Tap the display name, edit the name on the pop-up window and tap Save. Alternatively, tap the Settings icon on the top-right corner > Name, and then change it.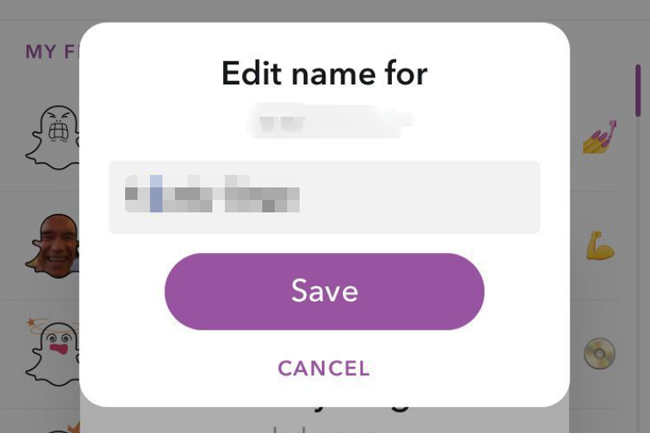 4. How to Delete Snapchat Account
When you don't want to use the snapchat account anymore, you can easily deactivate the account with simple steps.
Step 1Go to the accounts portal.
Step 2Log in your snapchat account, and then click Continue.
Step 3Wait for moments.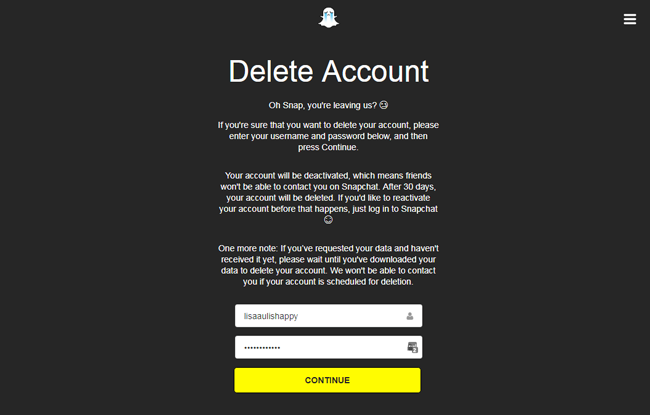 5. How to Reactivate Snapchat
Please keep in mind that,
After your account has been deactivated, your friends are not able to contact or interact with you on snapchat. Before being deleted after 30 days, you are allowed to reactive account if you are regret to do this.
Step 1Log in your snapchat account, which has been deactivated on mobile phone.
Step 2Then a pop-up window will ask you if you want to reactive your account, tap Yes here.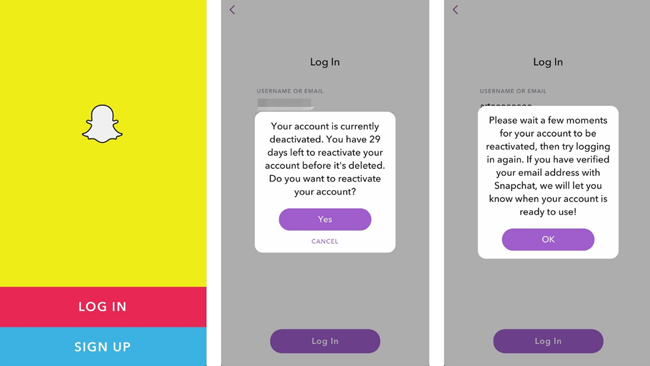 5. Snapcode
1. How to Create Your Own Snapcode
Each user has his or her own snapcode that links directly to your account. It is convenient for users to add contacts as easy as possible.
Well,
You should know that you can also you can also create a snapcode to let others users scan and go to your target website directly.
Below is a simple demonstration to create a snapcode of URL.
Step 1Tap profile icon and go to Settings.
Step 2Tap Snapcodes > Create Snapcode.
Step 3Enter a URL and tap Create.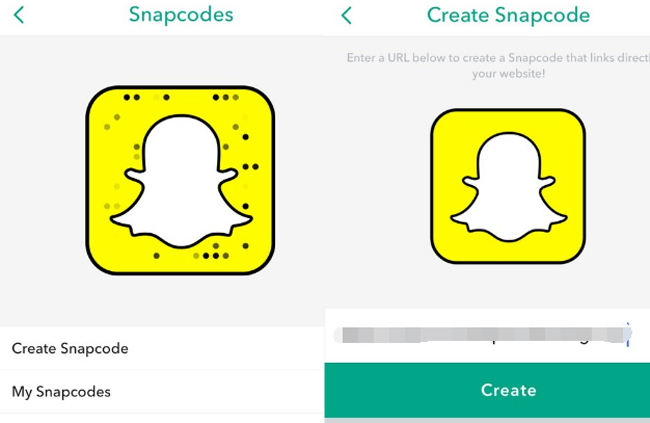 Then you can save and share it with your friends.
Moreover, it will be available once your snapcode has been scanned 100 times.
2. How to Use Snapcode to Add Contacts
Add friends is a necessary thing to begin the interesting interaction between your contacts. Here we will introduce how to add contacts on Snapchat.
How to Scan Snapcode with Camera?
Snapcode is a QR code to simplify the link or chatter, then you can scan the Snapcode to get what you want easily and correctly.
Step 1Open snapchat app and tap the camera icon on the bottom of the window.
Step 2Take a photo of the snapcode you want.
Step 3Then you can get the link or the contact.

How to Scan Saved Snapcode?
Step 1Open snapchat and tap Friends tab on the bottom-left corner.
Step 2There are 4 methods you can use to add contacts, choose snapcode here.
Step 3Choose one snapcode to add and wait.
Step 4Tap Subscribe or DIMMISS according to your needs.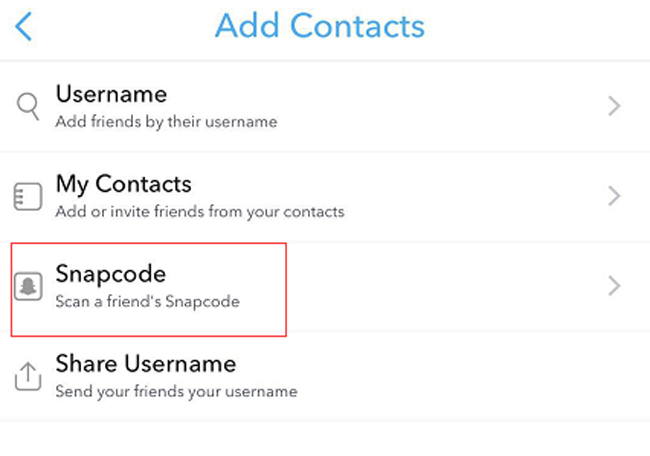 Expecting snapcode, you have other 3 options to add friends on snapchat.
6. How to Add Friends on Snapchat
1. Search Snapchat Username
As we mentioned before, snapchat name helps you recognize your friends and add them through it.
Option 1
Step 1Launch snapchat app, and tap Friends tab.
Step 2Type the username of the contact in the search box.
Step 3Select the right contact from the list, and tap Add or Subscribe.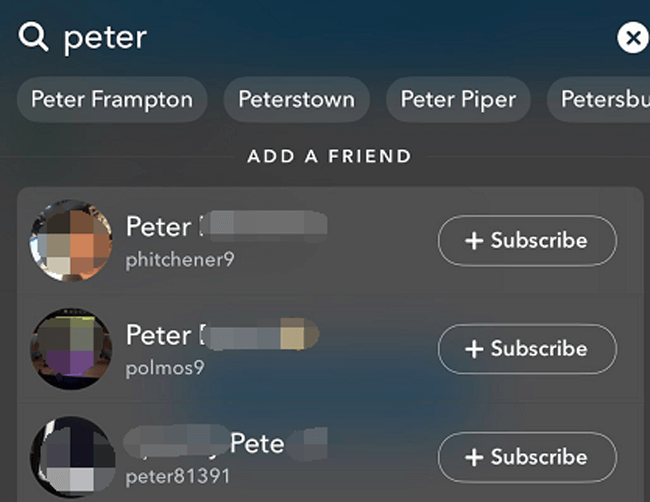 Option 2
Step 1Go to Friends tab on the snapchat app.
Step 2Tap Add Friends > Username.
Step 3Enter the username you want to add.
Step 4Tap Add or Subscribe.

2. Add or Invite Friends from Your Contacts
If you have save your friends' number on your phone's contact list, you can add or invite them with a few of taps.
Step 1Go to Snapchat > Friends > Add Friends > My Contacts.
Step 2You can type in the search box or scroll down to find who you want.
Step 3Tap Add.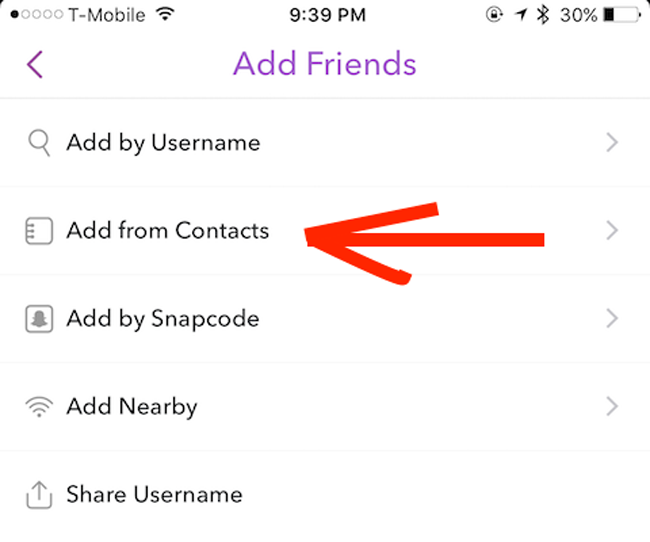 3. Add Snapchat by Sending Your Username
Step 1Go to Snapchat > Friends > Add Friends > Share Username.
Step 2Choose the way you want to use to send the username.
Step 3Select contacts and send.
Step 4Ask the receiver to check and tap the link you send and enter snapchat when it prompted, then he or she can add your snapchat easily.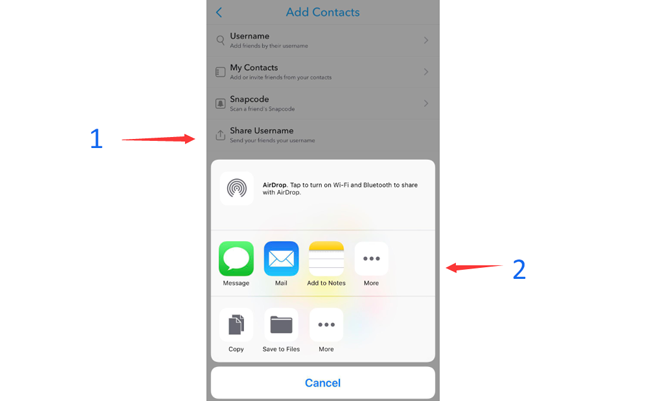 7. How to Unsubscribe from Snapchat
Are there too many subscribe on the Discover? Don't worry, you can follow below tutorial to unsubscribe them.
Step 1Tap the Discover tab or swipe left to get it.
Step 2Find the one you want to unsubscribe.
Step 3Tap Subscribed.

8. Snapchat Story
Snapchat story is one of the popular function for users as they can discover more funny or useful things. Enter the keywords in the search box and then the results will be listed.
Well,
You can continue to read more information about Snapchat story.
1. How to Make a Story on Snapchat
Option 1.
Step 1Open Snapchat app, and then take a photo, record a video or tap the image icon under the shutter button to choose a picture or video you want to share.
Step 2Tap the blue share button on the bottom right corner.
Step 3Type something in the box beside your picture or video.
Step 4Tap My Story.
Step 5Then you can see a blue bar which is under the interface, tap Send.
Option 2.
Step 1Go to Profile > Create New Story.
Step 2Choose Private Story, Custom Story or Geo Story according to your needs.
Step 3Fill the content and tap Create Story.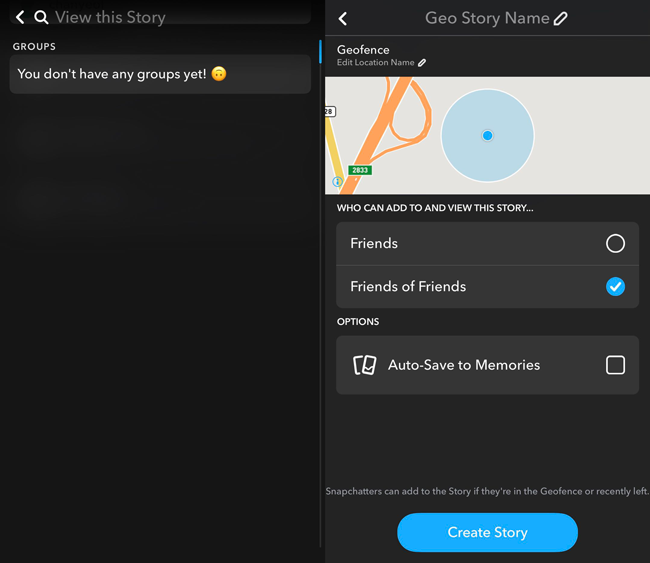 The post will be available for 24 hours, if you want to keep it, you can save it.
2. How to Save Snapchat Stories
Step 1Tap your profile on the Snapchat interface.
Step 2Tap My Story to show all stories in the list.
Step 3Tap the one you want to save, and then tap the Save icon on the bottom right corner.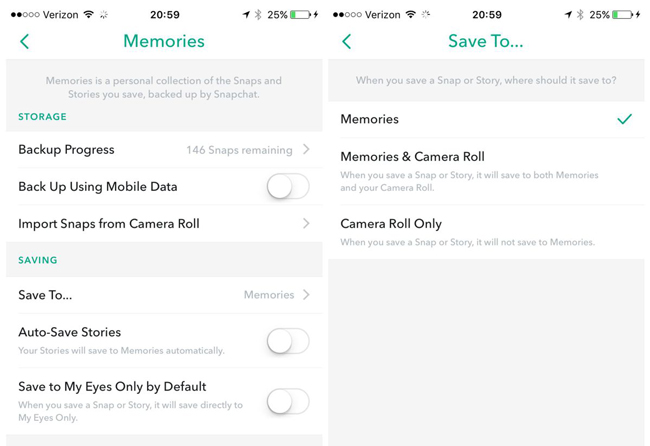 Sometimes, you would like to resend another story or just delete it permanently.
3. How to Delete a Snapchat Story
Step 1Go to Profile > My Story.
Step 2Select the story you want to delete.
Step 3Tap the delete icon on the bottom.
Step 4Tap Delete on the pop-up window.
9.Snapchat Pictures
1. How to Take Snapchat Pictures
Step 1Open Snapchat app on your device.
Step 2Hold the device and point on what you want to capture.
Step 3Tap to shoot a picture.
You might have found that there are some filters for options when you are taking photos. So how to use these tools to make your photos look funnier.
2. How to Use Snapchat Filter
Step 1Open the Snapchat camera, and then point on what you want.
Step 2Tap the anywhere on the screen rather than the shutter button, and swipe left or right to choose filter.
Step 3Shoot the picture.
Step 4Then you can save it to device, add to your story, edit the pictures, or send it to your friends.
3. How to Save Snapchat Pictures or Videos
Step 1Open the Snapchat and take a picture or video.
Step 2Tap the Save icon on the bottom left corner.
Step 3Select Memories or Memories & Camera Roll you want to save to.
Step 4Tap Save.
It is common that users don't have a custom to backup Snapchat photos, then you would feel annoying as you don't have an idea about how to recover them without backup. It is fortunate that you can use iPhone Data Recovery to get Snapchat Photos backup easily.
4. How to Recover Snapchat Pictures
Step 1Download and install FoneLab for iOS on computer, and then launch it.
Step 2Connect your device to this computer, choose iPhone Data Recovery > Recover from iOS Device, and click Start.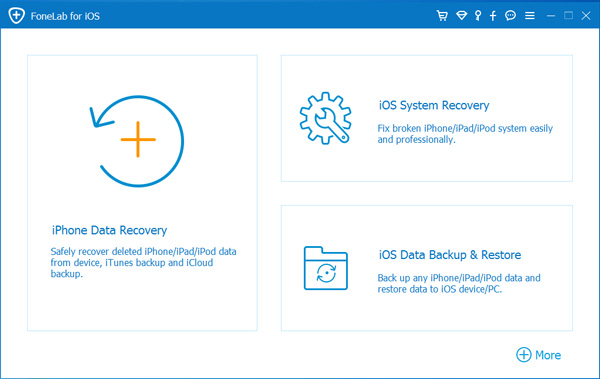 Step 3Uncheck Select All, and choose App Photos in the Media section.
Step 4Click Scan.
Step 5You can preview the pictures when the scanning is done.
Step 6Tick the items you want to get back and click Recover.
You can also use it to recover iPhone contacts, videos and more data easily.
10. Snapchat Messages
1. Send Messages with Snapchat
One main feature of Snapchat is chatting with friends, which allows you to send messages, emoji, pictures, videos, make phone call, video call and more.
Below is how to send messages with Snapchat.
Step 1Open Snapchat, tap the chat icon on the top right corner.
Step 2Choose the contact you want to chat with.
Step 3Type what you want and then tap Send.
2. How to Save Snapchat Messages
Step 1Open Snapchat and go to Friends tab.
Step 2Tap the contact, and press a message you want to save until a window pops up.
Step 3Choose Save in Chat. If you want to delete snapchat messages, you can choose Delete here.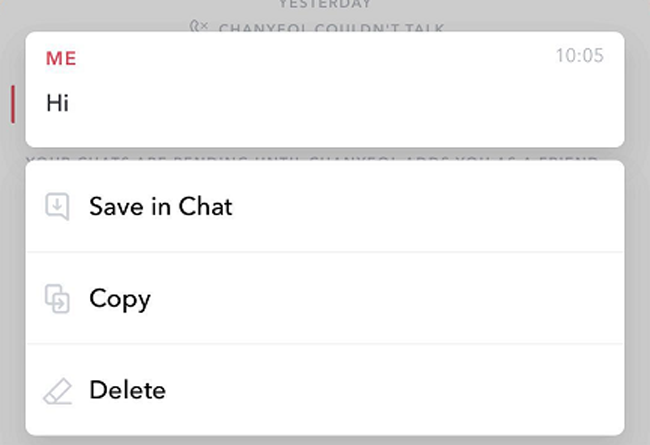 That's all. If you have more questions about it, please leave comments here.
You can also use the software to restore iPad from iCloud backup or extract iTunes backup for iOS device. The most advantage is that you have an option to recover only what you want, comparing with common recovery way via iTunes or iCloud. And you will not lose your existing data. Certainly, it is achievable to restore bookmarks in safari or other iOS data.