Top 8 Secret Screen Recorders for Windows, Mac, iPhone and Android

Posted by
Lisa Ou
/ Feb 05, 2021 16:00
Why you need a secret screen recorder?
If you want to know what your children or employees are doing on their phones or computer, using a hidden screen recorder is a good choice. You can monitor what they are messaging, chatting, calling, locating, watching and many other activities. Thus, when you monitor something threatening or disgusting, you can take measures immediately. So a secret screen recorder is also called a parenting app.

You can monitor a comprehensive control of call logs, sending and receiving messages, browsing history, social media apps, GPS tracking and other installed apps. Instead of guessing, a secret screen recorder can record what's going on into a long video. Later, the secret monitor app can send the recorded video to the target phone.
The problem is which is the best secret screen recorder that can record screen video secretly. Well, you can continue reading and get your answer here.
1. Top 8 Secret Screen Recorders for Desktop and Mobile Users
The followings are highly-recommended hidden recorders for iPhone, Android, Windows and Mac users. You can get record screen activities and receive secret video recording with ease. Just read and check.
Top 1: Hidden Screen Recorder
Hidden Screen Recorder can record everything that goes on your phone into digital videos. Even though the tracked phone is locked, you can still run Hidden Screen Recorder app as a background screen recorder. It can continue recording video and audio on Android for free.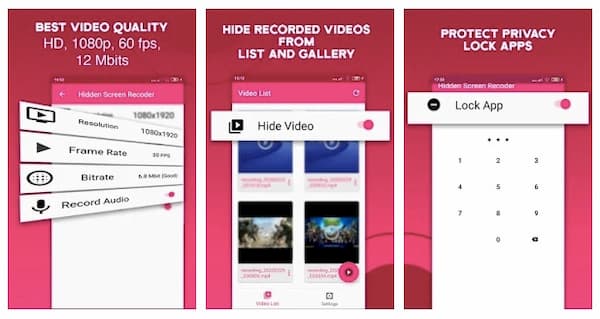 Top 2: Spy Monitor Screen Recorder
Spy Monitor Screen Recorder can monitor and record desktop activities. Once the user has logged in, the secret screen recorder software will start video and audio recording. Spy Monitor Screen Recorder is undetectable. So you can feel free to use this secret screen recorder for Windows software. The recorded secret file will be saved into WMA or AVI format.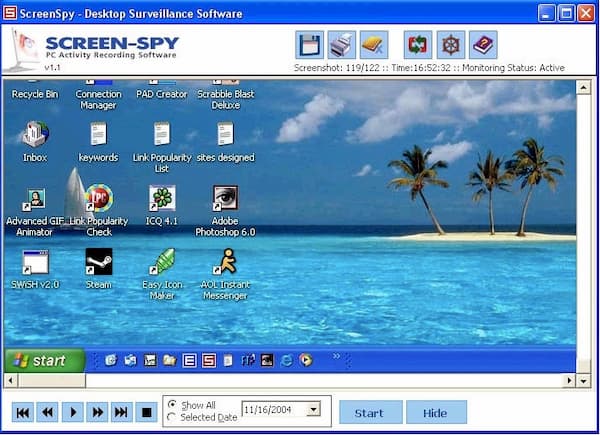 Top 3: Secret Screen Recorder
Secret Screen Recorder apk is compatible with Android 4.1 and up devices. You can record almost everything in the background secretly. The user will not notice any difference. No shutter sound or other strange reactions. You can use Secret Screen Recorder for Android app to keep tracking on this phone.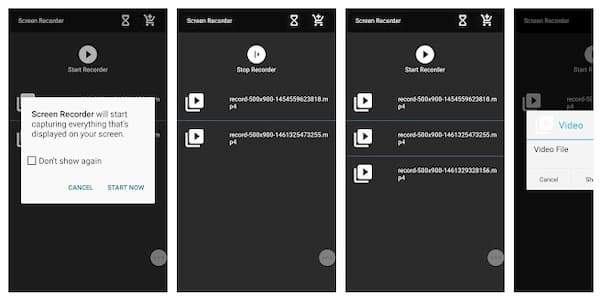 Top 4: iKeyMonitor
iKeyMonitor is a secret screen recorder app for both iPhone and Android users. As for iOS users, you need to jailbreak your iPhone or iPad before recording screen video remotely with iKeyMonitor. The hidden recorder takes screenshots of all mobile activities automatically. Not only the searching websites, but also videos, online calls and more.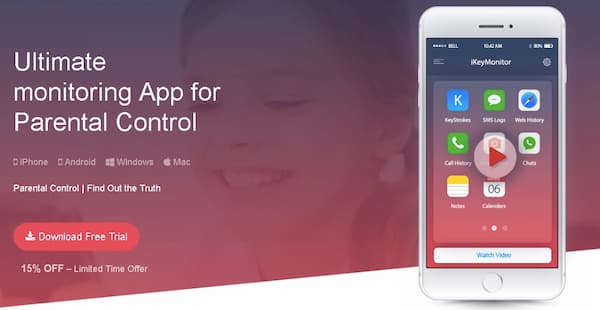 Top 5: BlurSPY
With the help of BlurSPY, you can track all activities on most Android phones without others knowing. BlurSPY can hide itself smartly. You cannot find it in the default application folder. So it is safe to use BlurSPY as your hidden screen recorder for WhatsApp, Twitter and other installed Android apps.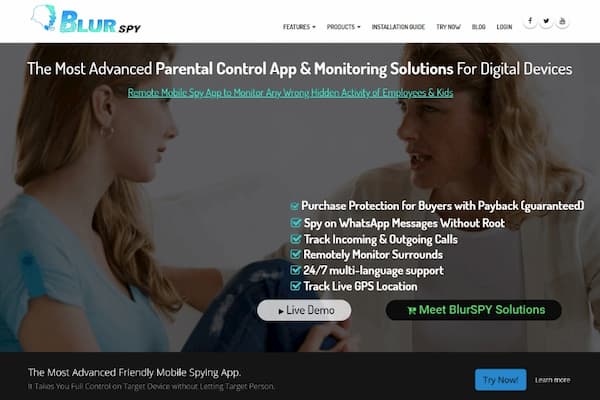 Top 6: TheOneSpy
TheOneSpy is a good secret screen recorder for Mac and Android users. You can record not only the inbound, but also outbound activities. To be more specific, when TheOneSpy record a conversion, it can record both the receiving and sending messages. Moreover, you can use the secret video recorder to block certain phone numbers.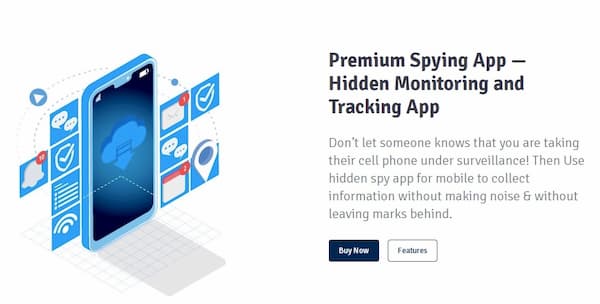 Top 7: SP Camera
SP Camera is a secret screen capture app for iPhone, iPad and Apple Watch users. There is no need to open the default Camera app. You can record videos and take pictures secretly. Your phone's interface just shows a fake background. Even though someone checks your phone, he or she cannot know. The recorded and captured files will be saved into your phone directly.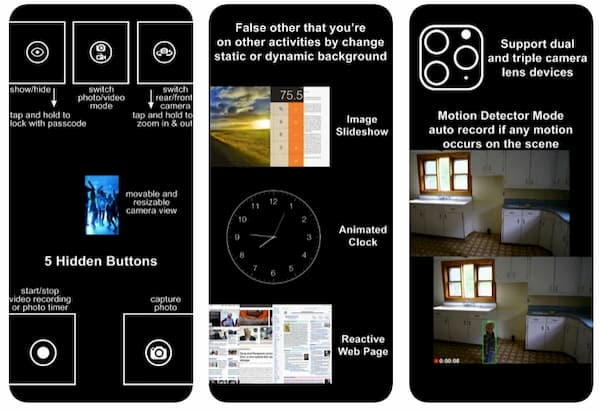 Top 8: TapeAcall Pro
This is a secret call recorder app for iPhone. You can record incoming and outgoing calls on iPhone without notice. TapeAcall Pro is a popular choice among parents. Because it is a good way to record calls of children secretly.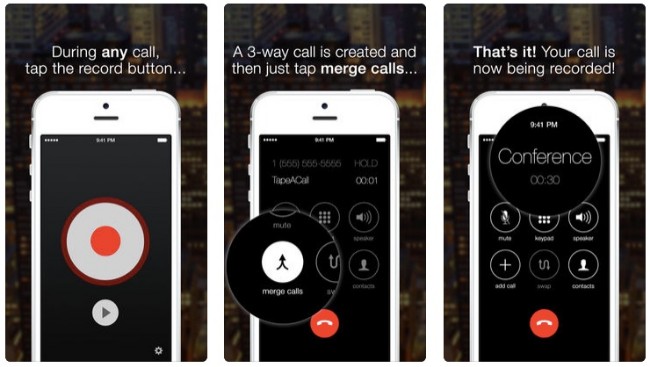 FoneLab Screen Recorder
FoneLab Screen Recorder allows you to capture video, audio, online tutorial, etc on Windows/Mac, and you can easily customize size, edit the video or audio, and more.
Record video, audio, webcam and take screenshots on Windows/Mac.
Preview data before saving.
It is safe and easy to use.
2. Recommended Screen Recorder for Windows and Mac
If you want to record screen video and audio on your computer, FoneLab Screen Recorder is a good choice. You can record online calls, videos, gameplay and all activities without losing quality.
There are also many on-screen drawing tools you can use. It will be much easier to make tutorial videos by adding annotations during recording directly.
Capture video, audio and webcam without lag or time limit.
Add annotation to make your video stand out.
Trim and delete the unwanted video or audio clip.
Take snapshot in one click or via hotkeys.
Customize the output settings and other preferences.
3. FAQs of Secret Screen Recorders
Is it legal to use secret screen recorder?
Actually, it is definitely legal to install a hidden video recorder on your phone. But it is not so good to monitor others' phone activities.
How to find a secret screen recorder?
There is no available way to know whether your phone is monitored or not. The truth is that many popular apps record your screen and voice secretly. Your personal information has been stealing all the time.
How to uninstall secret screen recorder without icon?
If you want to turn off and remove a hidden screen recorder, you can delete all the connected registry keys. Then remove it from the startup list. Meanwhile, unregister all corresponding DLLs. Delete personal settings and reset it to remove the installed hidden screen recorder.
These are all top-rated secret screen recorders for all platforms. You can choose anyone to keep an eye on someone's phone. FoneLab Screen Recorder should be one of the best choices to record screen on computer. Why not download and have a try now!

FoneLab Screen Recorder
FoneLab Screen Recorder allows you to capture video, audio, online tutorial, etc on Windows/Mac, and you can easily customize size, edit the video or audio, and more.
Record video, audio, webcam and take screenshots on Windows/Mac.
Preview data before saving.
It is safe and easy to use.