How to Remove Protection of iTunes Encrypted Backup
Many iPhone, iPad or iPod touch users prefer to do an encrypted iTunes backup since the encrypt backup feature in iTunes locks and encodes your information that the unencrypted iTunes backups don't have. For example, health data, website history, your saved passwords and Wi-Fi settings.
However, if you are going to use FoneEraser for iOS to erase your iOS device which has encrypted iTunes backups on your computer, you may get the popup information which reminds you "Encrypted backup files". And then the erasing process will stop afterwards.
To avoid this sudden shutoff, you need to change some settings of your iTunes on computer and try again. Please follow the below steps to solve the problem in a few seconds.
Run iTunes on your computer, and then plug your iPhone, iPad or iPod touch to the computer via USB cable.
iTunes will recognize your device automatically, click your device icon on the interface of iTunes as below:
Go to Summary tab, and uncheck the box before Encrypt iPhone backup under the Backups section on the right.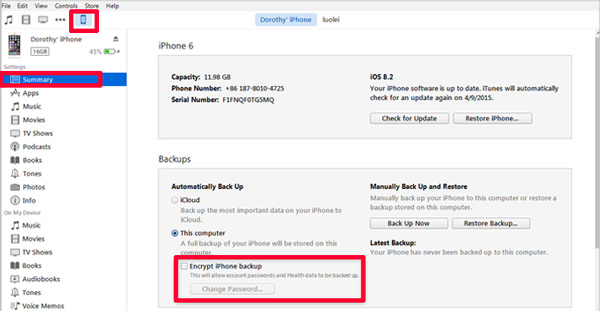 Enter the password to unlock your iPhone backup in the popup window.

After typing the correct password, the protection of encrypted iTunes backups will be removed. Then you can try again to erase your iOS device with FoneEraser for iOS.
If this doesn't help, please contact our support team for further help: support@fonelab.com.
Related Articles: