How to Download Contacts from iCloud on iPad – 3 Ways
"Somehow, all contacts suddenly disappeared from my iPad. I am in urgent need of them for a very important reason. I have an iCloud backup but I don't know whether the contacts are contained in it. Is there a software that can help me preview and download contacts from iCloud?"
Few of us can remember all phone numbers, email addresses, and related information in our heads. Thus, contacts are so integral to keeping in touch with others, especially if you tend to constantly make calls, send emails, or text friends and family.
You may have a long contact list on your iPad and it is hard to imagine not having the convenient, easy-to-reach contact list.
Are you stuck in the same situation as the above case? In fact, The reason for significant data loss may be the iCloud setup problem rather than you deleting it one by one.
Check the Setup of iCloud Contacts
On your iPad, go to Settings > [your name] > iCloud.
See if the switch next Contacts is open. If not, turn on it.
It is also a problem when a particular contact is accidentally deleted or multiple contacts lost during the sync process. But that unfortunate situation is easily rectified if you know how to recover lost contacts on an iPad. Thankfully, you only need to use iCloud to do so.
1. Recover Contacts from iCloud Website
This is a trusted method for retrieving lost contact from backup and it comes directly from Apple.
Apple archives a list of Contacts on your iPad regularly and automatically, which can be restored to the iPad at any time.
It should be noted that restoring contacts from archive will replace the contacts currently on your iPad, as opposed to just adding the ones that are missing. Thankfully, your current contacts list will be archived to ensure nothing is lost.
Follow the below steps.
Go to icloud.com

and sign in with your iCloud ID and password.
In the main iCloud menu, click the Settings icon.
Scroll down and click Restore Contacts under Advanced.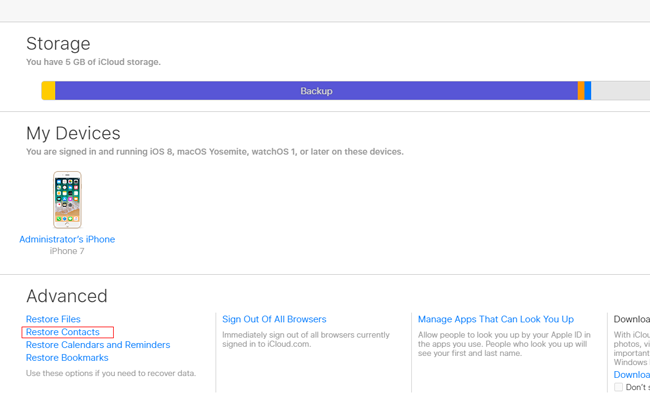 You will be shown a list of the archives previously made.
Check the date of each archive and pick one to restore.
Click Restore again to confirm and start the restoration process.
2. Restore Contacts from iCloud Backup on iPad
If you have backed up the data on your iPad via iCloud before deleting the contacts, you can easily restore the deleted contacts from iCloud.
Contacts can not be extracted alone using this way -- this is an all or nothing batch operation.
First of all, you need to erase all content and settings on your iPad: go into Settings > General > Reset > Erase All Content and Settings.
If a message asks for your password, go for it.
A prompt dialog box will appear, tap Erase again to confirm.
Then your device will get restarted and asks you to set it up.
Follow the setup steps until reaching the Apps & Data interface and choose Restore from iCloud Backup.
Log in your iCloud account.
Choose the most relevant backup file to recover.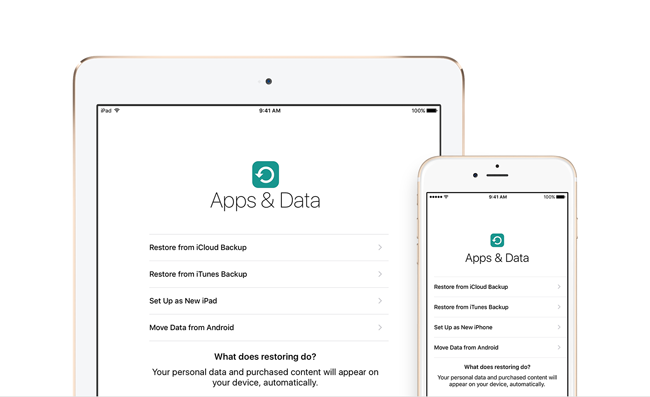 As you see, you need to erase the all data on you iPad before issuing the restoration. This will put you at another risk that you may lose data currently on your iPad.
So is there a way to recover the losing contacts without resetting your iPad?
The answer is yes.
Read on to know how to do.
3. Retrieve Contacts from iCloud with FoneLab
The most ideal way is to get access to iCloud and then extract the individual contact from iCloud.
That seems an impossible task, unless with the help of a third-party tool.
FoneLab – iPhone Data Recovery is the reliable one, which is able to let you preview the content of your backup files and choose your required data to recover.
All you need is a computer, your Apple ID and password, and a bit of time.
Let's see how it works.
Free download and install the software on your computer. Both Mac and PC versions are available for you.
The software will automatically run.
Select iPhone Data Recovery > Recover from iCloud Backup File, and sign in your iCloud account.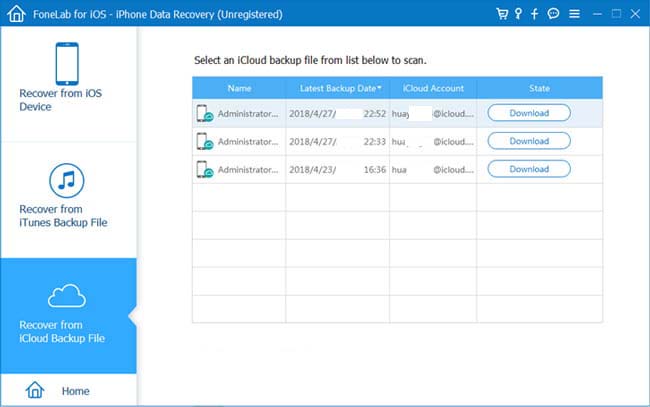 You will be shown a list of your backup history, download a backup file and click Scan.
Once the scanning process is finished, the software will list the different type of files on the left sidebar.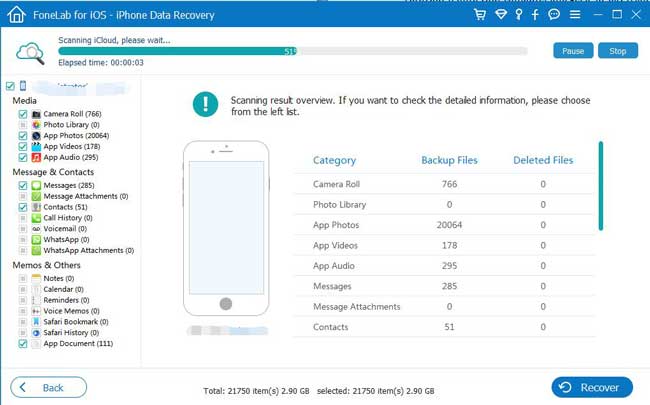 Click Contacts to preview the content. Both the deleted and the existing will be displayed on the right.
Mark your desired items and click Recover. The items you chose will be saved to your computer.
How easy it is to recover your deleted files on iPad with FoneLab. You can also use above-mentioned ways to recover iPhone contacts easily and safely.
You can also learn more about how to recover contacts after factory reset iPhone.
Related Articles: