2020 LoiLo Game Recorder Review | Best Alternative You Should Not Miss
Most gamers prefer to use a game screen recorder which takes less space on computer, so LoiLo is one of the frequently-seen options from the Internet. It is not easy to definite that if it is a not-bad choice for people who do not know well about all screen recorders. If you are the one who has the same question, you have come to the right place as that's what we will discuss clearly in this post.

Let's begin.
1. LoiLo Screen Recorder
Comes with the superb resolution, LoiLo game recorder helps you capture screen and reach the best balance between file size and image quality.
In addition to being your HD screen recorder, it is also useful to record your own voice with minimal performance loss. However, it just needs a few storage of your computer to run as usual.
Furthermore, it also has a video editor with different tools like auto-editing, video trimmer, transitions, scrolling text and more.
LoiLo Game Recorder Download
In order to ensure file security, it is recommended that you can choose LoiLo official site from various program downloading websites. Because the original program files will always protect users like you from the virus and others.
LoiLo Game Recorder Review
PRO
Record video and voice.
HD screen recording is supported.
Record videos in reasonable file size.
Share to YouTube easily.
Supports up to 18 games including League of Legends, Dota 2, Minecraft, Diablo3, Battlefield 3, and more.
No watermark.
Light-weight LoiLo recording software.
CON
LoiLo game recorder for Mac is not available.
LoiLo video editor is not free to use.
The video editor will be downloaded with the video recorder together.
LoiLo Game Recorder Tutorial
LoiLo game recorder is easy to use, you can even finish recording within 3 clicks. Below is how to use LoiLo Game Recorder.
Download LoiLo game recorder from official site, then follow the on-screen instructions to install it on computer.
Double-click the run the software, then click to choose a game to record. Click the red button to begin recording.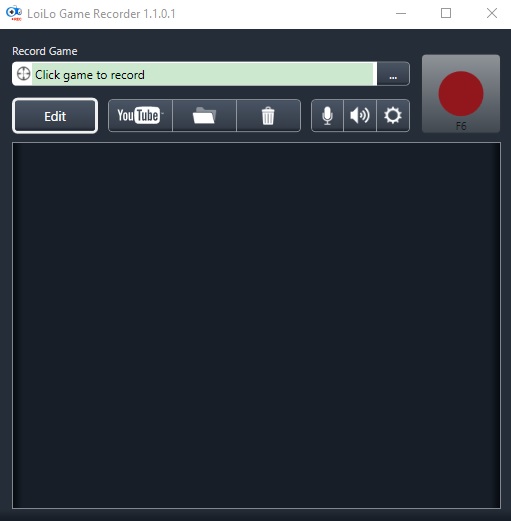 Stop recording when it is done. You can click the file icon to open the destination folder.
2. LoiLo Game Recorder Alternative PC
As can be seen, LoiLo game recording is not available on Mac. It can be an overkill for users who have a computer with macOS. What's more, it can not capture webcam to add commentaries to gameplay recording if you need.
To fix these problems, FoneLab Screen Recorder is highly recommended to you. As a screen recording program which runs on both Windows and Mac, it allows you to record video, audio, voice and webcam individually or concurrently. It can even record around mouse, or record excludes certain windows according to your needs.
Features of FoneLab Screen Recorder
Below are more features for your reference.
It is available for both Windows and Mac.
It is safe and easy to use.
Records video, system sound, microphone and webcam.
Add annotations when recording.
Record mouse activities.
Use hotkeys conveniently.
No watermark.
No ads.
Helps you record screen for all games your can play on computer.
Share to YouTube, Facebook, Twitter, Vimeo, Instagram and more.
One-click to access video editing tool.
Trim videos after recording.
Unlimited recording.
How to Record Screen with FoneLab Screen Recorder
Below is the demonstration with clear instructions.
Download and install FoneLab Screen Recorder from official site, then run it on computer.

Choose Video Recorder when you see the main interface. Then enable system sound, microphone or webcam accordingly. Click REC button.

Play game as usual on computer. You can also hide screen taskbar if you need though Preferences > Recording. Finally, click stop icon once done and save the recorded video on a folder you want to save them.
3. FAQs About LoiLo Recorder
However, users always have different questions about LoiLo Screen Recorder. In this part, you can find the answers to 2 frequently asked questions.
Is LoiLo Game Recorder Safe?
Some users might worry about LoiLo game recorder virus, actually, it is completely safe if you can download the program from official site.
Is LoiLo Game Recorder Good?
LoiLo Game Recorder is good enough as a free screen recording tool. But you'd better choose other non-free options like FoneLab Screen Recorder if you want more professional features.
Conclusion
In a nutshell, LoiLo game recorder is a great option for people who are looking for free tool to capture game screen with simple operations. For people who want to create online course, record online tutorial, or more professional and vivid videos, you still have other choices like FoneLab Screen Recorder as you can get other more powerful tools, which can help you record footage with webcam or add annotations for recording.
If you have better solutions or comments, please leave comments below.
Related Articles:

Leave your comment and join our discussion