How to Stop QuickTime Screen Recording and Save the Video to Mac
"I just used the QuickTime Player to record my screen, but I cannot find stop screen record from menu bar, how can I stop QuickTime Screen Recording?"

QuickTime Player is the pre-installed media player on Mac. In addition to watch MOV videos, you can also get some bonus features including screen recording. However, you may find it difficult to stop it. That is what this article wishes to tell you, how to stop QuickTime screen recording.
1. How to Stop QuickTime Screen Recording
Bear in mind that QuickTime screen recording will take up a significant amount of space. Make sure you have enough space and then follow the steps below to record screen with QuickTime and stop it.
Run your QuickTime Player, go to the File menu and choose New Screen Recording. Or press Control + Command + N keys on the keyboard to activate the window.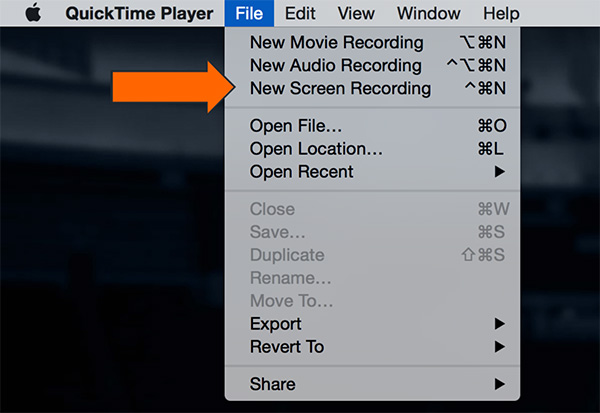 Set the options and click the circle button. Select recording region and click Start Recording to begin recording your screen.
Whenever you want to stop screen recording in QuickTime, click the stop icon in the menu bar. If you cannot find the stop icon, press Command + Control + Esc keys together to stop QuickTime screen recording.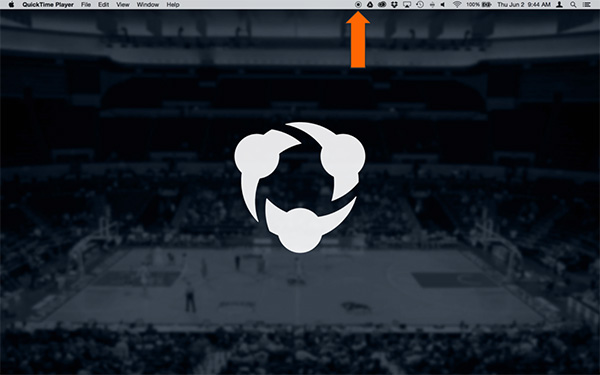 Now your recording will pop up for previewing. If you are satisfied with it, go to the File menu and choose Save. Enter a filename, select an output location and click Save.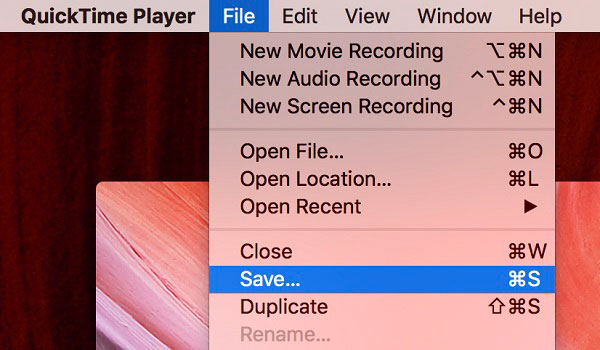 Note: If your QuickTime Player is freezing when recording screen, you have to force quit it. Go to the Apple menu, choose Force Quit, find and select QuickTime on the popup dialog, and click the Force Quit button. Remember that this way cannot save your screen recording.
2. Best Alternative When QuickTime Screen Recording Cannot Stop PC
Some users reported that QuickTime neither stops screen recording nor save videos successfully. In such cases, you'd better try an alternative to record your screen. Fonelab Screen Recorder is the best option since you can get more useful features that are easy to use.
Basic Features of the Best Alternative to QuickTime
Record full screen, a window or custom area in one click.
Enhance video and audio quality using advanced technology.
Support a wide range of custom options and presets.
How to Start and Stop Screen Recording with Alternative to QuickTime
Install the alternative to QuickTime
The best alternative to QuickTime offers two versions, one for Windows 10/8/7 and the other for Mac. Install the right version to your machine and launch it. Choose Video Recorder to open the main interface. To customize options, click the Gear icon and you will find them on the Preferences dialog.

Start recording screen
Turn on the Display option in the main interface and set the recording area, such as Full screen or Custom region. Enable System Sound and adjust the volume until you are satisfied. If you want to add your face and voice to the screen recording, enable Webcam and Microphone; otherwise, disable them. Click the REC button to start screen recording in the alternative of QuickTime. Now, you can add text and paintings to the recording with the Edit icon or take screenshots using the Camera icon on the toolbar.
Stop screen recording
When you wish to stop screen recording, click the Stop button to enter the preview window. Here you can check the screen recording and remove unwanted frames with the Clip tool. Finally, click the Save button and export the screen recording to your hard drive.
3. FAQs of Stopping QuickTime Screen Recording
Does QuickTime screen recording capture audio?
QuickTime creates muted recording is a normal phenomenon, because QuickTime does not feature capturing screen with the sound coming from your computer by default. However, you can select the built-in or external microphone and capture sound.
Can screen recording be detected?
Most screen recording software is running from the desktop that the user is on. Generally speaking, it is difficult to detect if there is capture software is running. Someone, for example, is screen recording your post on social media. You cannot detect it at all.
Why I cannot screen record on my iPhone?
Firstly, not all apps are supported by screen recording features on iPhone. For instance, only mobile games supported by ReplayKit is available. Moreover, copyrighted content cannot be recorded, like movies on Netflix.
Conclusion
This article has told you how to stop screen recording in QuickTime Player. Firstly, you have two ways to do it, the stop button in the menu bar and the button combination. If they are not available to your QuickTime, you have to force quit it. In fact, QuickTime is not the only way to record your screen. Fonelab Screen Recorder is more stable and flexible. More problems? Please write them down below.
Related Articles:

Leave your comment and join our discussion