Convert Video Now
convert MPG/MPEG to MP4 with fast speed and high output image/sound quality.
Rotate Video on Windows - 2022 Methods to Rotate a Video
I took a video with a camera in landscape mode, and I want to rotate it on computer as it looks uncomfortable on my computer. I have tried some online tools, but they are too complicated to use. Anyone can help?

People might rotate cameras or smartphones to get better view when capturing videos. After that, it is necessary to rotate videos between portrait and landscape in order to correct the recorded orientation on Windows.
This post will show you how to rotate videos on Windows in 4 proven methods.
1. Rotate Video with FoneLab Video Converter Ultimate
First of all, FoneLab Video Converter Ultimate will be strongly recommended to you. As the name showed, it is a video converter tool on computer. In addition, it is also a video editor to add video subtitles, rotate video, split video file and more according to your needs.
It supports various video formats, including MP4, MKV, AVI, MOV, MP3, OGG and more. No matter which video format your video is, you can choose FoneLab Video Converter Ultimate to help you do what you want to do.
Both Windows and Mac versions are supported.
It supported different video formats.
It is more than a tool to rotate video files on computer, it also helps you convert video format, add video subtitles and more.
It has free-trial version.
You can use it to add audio to video or extract audio from video.
Easy and convenient to use.
It won't save or modify your data.
It is easy to use even for people who aren't familiar with computer operations. Below are the instructions.
Step 1Download and install the program on computer from below official link, and then it will automatically be launched. If not, double-click to launch it.
Step 2Drag and drop the video to program with simple clicks. You can also click Add File button on the upper-left corner to select video from local folder and click Open.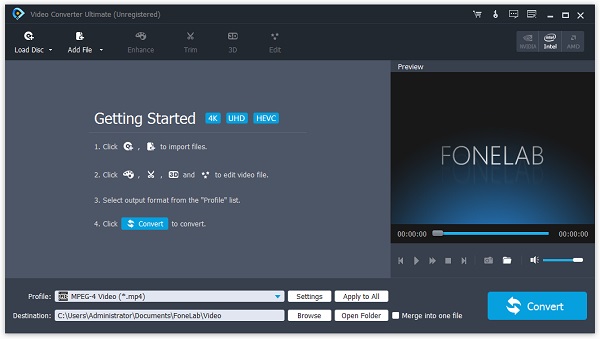 Step 3After loading the video on the software, click Edit button on the top.
Step 4There are different button on the right panel, click Rotate 90 clockwise or Rotate 90 counterclockwise. You can preview the video on the bottom window. Click Apply when you are done.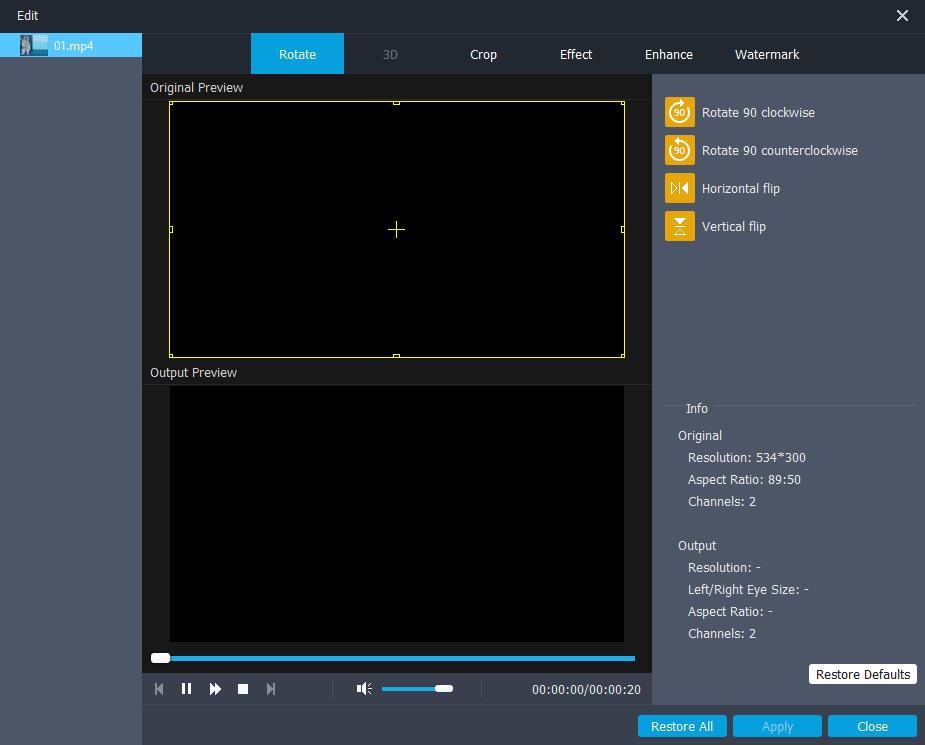 Step 5Click Convert button to save the rotated video file to local folder.
As you can see, it is much more than a Video Converter Software on computer. It enables users to compress a video file, merge video files, etc.
2. How to Rotate a Video in Windows Media Player
We always use Windows Media Player to watch movie, songs, and others on computer. It is conceivable that it plays an important role in our life.
As you might know, the latest Windows Media Player 12 was released on October 22, 2009 and it is not be updated for Windows 8, Windows 10 anymore.
Therefore, you can move to part 3 to get another option.
3. How to Rotate Video Windows Movie Maker
If you have no hand, you can't make a fist. You still need to download Windows Movie Maker on computer firstly. Then follow below demonstration.
Step 1Double-click to open Windows Movie Maker, then drag and drop video file to it.
Step 2Click Rotate left or Rotate right on the upper-right corner, then save it to computer.movie-maker-rotate.png
Effective as FoneLab Video Converter is, its inconvenience of downloading and installing are no means satisfaction.
4. Rotate Video on Windows Online
On no account can we ignore the online options to rotate videos on Windows.
Below are the 3 online video rotators you can try on computer with internet connection.
You are enabled to upload video directly or paste a video URL to rotate video files with it. And MP4, WebM, AVI, MPEG, FLV, MOV, 3GP and other video files are supported.
If you don't know how to use it, you can go to the page and click to open the video on the bottom to learn how to rotate videos. Firstly, click Pick Video to select video file and then choose rotate direction on the left panel. You are allowed to change ratio, bands color with it easily.
Option 3. https://videorotate.com
It has a simple interface, you can easily drag and drop your video file to the page or click Upload your movie to select your video file, then click Rotate left, Rotate right, Flip horizontally, Flip vertically to rotate your video. Finally, click Transform Video button.
After seeing these online tools, you might notice that it pays to use FoneLab Video Converter Ultimate to rotate video with hesitation. Why now download and have a try now!