How to Remove Contact from Favorites on iPhone Phone App

Posted by
Lisa Ou
/ Jan 04, 2021 09:00
There are thousands of contacts on my iPhone and I have added some of them to favorite list so that I can find these people who I contact frequently without hassle. But there are more and more contacts in the favorite list as time goes on. How can I remove some contacts from favorite? And how can I manage my favorites in the phone app? Please help, thanks!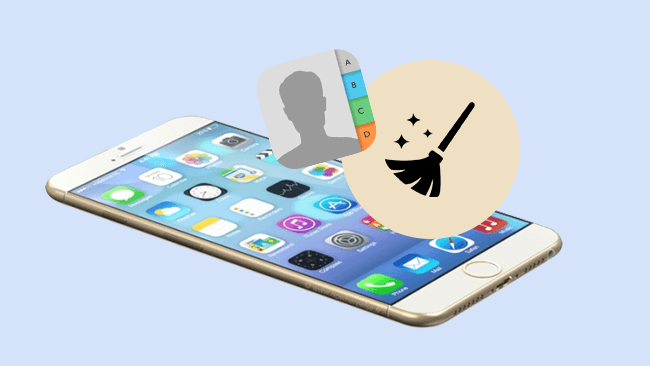 1. How to Set a Contact as a Phone Favorite on iPhone
Favorites in phone app give you the easy access to phone numbers you call most often, then you don't have to find a contact name card from thousands of contacts difficultly. It is easy to add a contact as a phone favorite on iPhone.
Step 1Tap the Phone app on your home screen to launch it.
Step 2Tap Favorites in the bottom left corner.
Step 3Tap the + icon in the top right.
Step 4Then you need to select the contacts you want to add to the favorites list and tap on the name.
Step 5Choose the information you wish to favorite.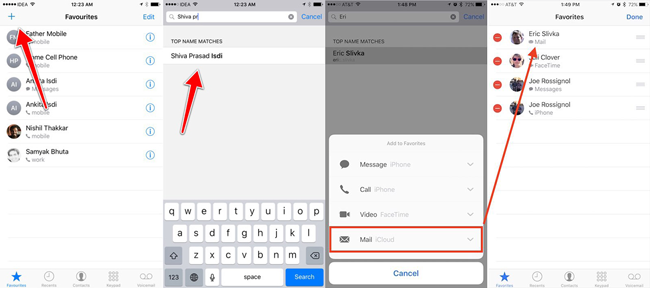 2. How to Remove Favorites on iPhone Phone App
If you don't want one contact stays in your Favorites list anymore, you can delete it from your phone app favorite. But it won't be removed from your contact list. Below is the details demonstration.
Step 1Launch the Phone app on your iPhone.
Step 2Tap the Favorites at the bottom navigation.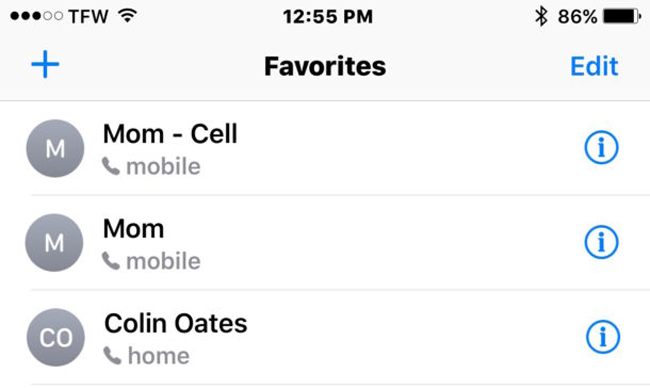 Step 3Tap Edit in the top right corner.
Step 4Tap the red delete icon in front of the contact you want to remove, then tap the red Delete icon in front of the contact you want to delete, then the Delete option appears.
Step 5Tap the Delete.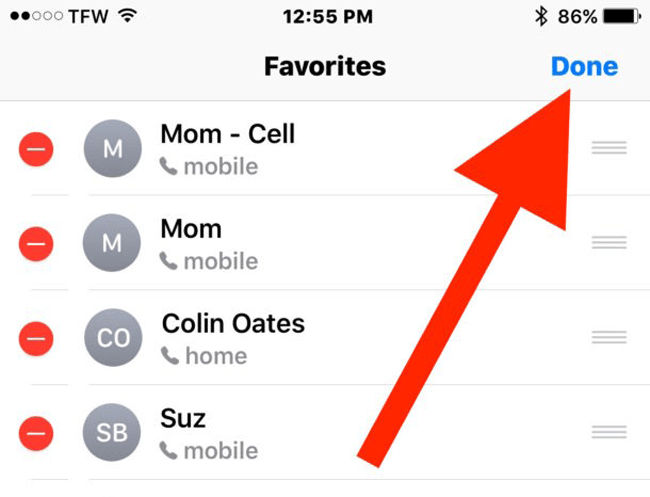 3. How to Wipe All Favorite Contacts on iPhone with FoneEraser for iOS
Manage contacts is a headache task for iPhone users, so here we will introduce how to clear contacts on iPhone at once. First of all, you might need an iPhone data eraser to help you. A professional erasing tool ensures that you deleted data can not be recovered. FoneEraser for iOS is recommended to you. It is a powerful tool which enables you to clean cache data, junk files and other unwanted settings and contents from iPhone thoroughly and completely. There are below features of this program.
Delete apps, files, settings, documents, and other unwanted content easily.
It fully supports iPhone, iPad and iPod touch.
There are High Level, Medium Level and Low Level for options.
It is easy and safe to use.
Its security standard guarantees your deleted data can not be recovered.

FoneEraser for iOS
FoneEraser for iOS is the best iOS data cleaner which can easily erase all contents and settings on iPhone, iPad or iPod completely and permanently.
Clean unwanted data from iPhone, iPad or iPod touch.
Erase data quickly with one-time overwriting, which can save you time for plenty of data files.
If you can't wait to know how to use it, please keep reading below introduction.
Step 1Download the right version of the program and then install it on your computer. And then it usually will be launched automatically. If not, please double click the program icon to open it.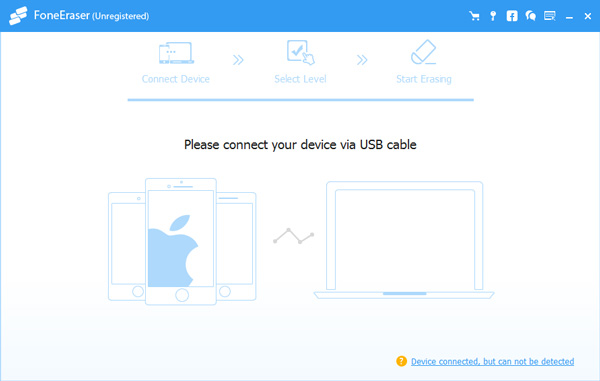 Step 2Plug your iPhone with USB connection cable. Then tap Trust for connection.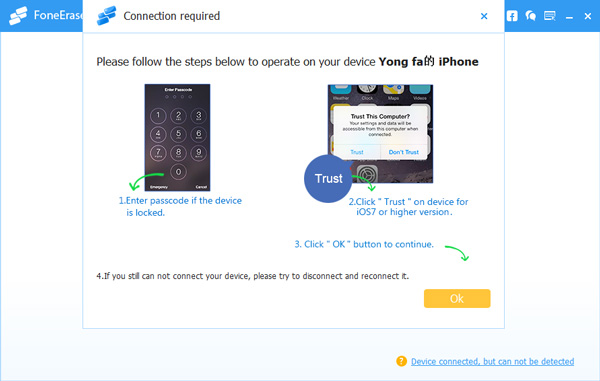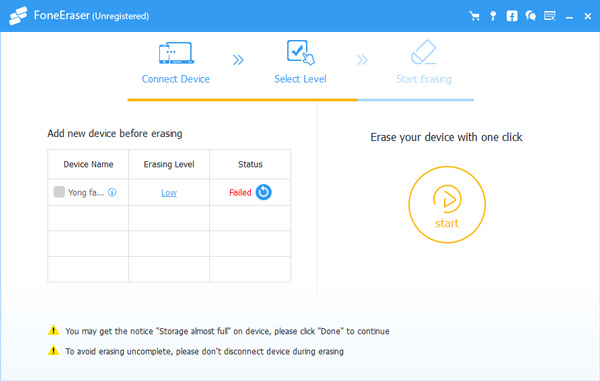 Step 3Choose erasing level according to your needs. Choose High Level if you have backed up all your important data on computer.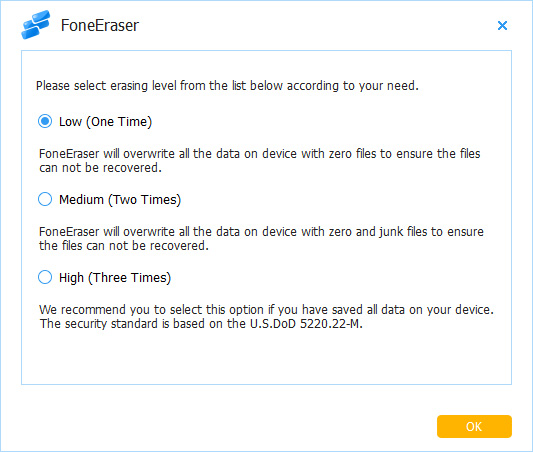 Step 4Click Start to take action.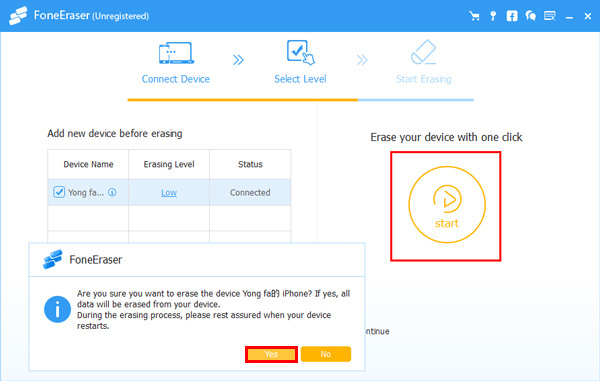 Step 5Click Yes to confirm again.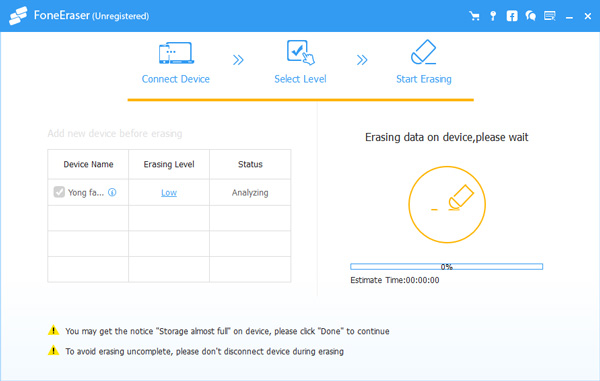 4. How to Manage Your Contacts in Favorites
Deleting contacts isn't the only thing you want to do for the favorites. There are more and more contacts in it, then you would like to learn how to manage the contacts in it according to your needs. Please follow below steps to change the order of your favorite list.
Step 1Open the Phone app and go to the Favorites list.
Step 2Tap Edit in the top right corner.
Step 3Press and hold the contacts you want to move, then it hovers above the list.
Step 4The contact is movable now, you can drag the contact to the position of list you want and drop it there.
Step 5Tap Done in the top right corner when your rearrangement is done.
You can try FoneTrans for iOS if you want to manage your contacts on iPhone easily. And it also enables you to move various of data like photos, videos, WhatsApp History and more between computer and iOS device.