Transfer iOS Data Now
Transfer your data from iPhone to computer easily.
Transfer Photos from Computer to iPhone Using Notable Ways
Do you need to transfer photos from computer to iPhone? You can get several advantages when you share your photos using different methods. For instance, if you want to send pictures to your friends or family on your social media account, having them on your iPhone is much easier. You don't need to wait for your computer to open, and you don't need to browse for your files in your computer folders. If you have the pictures on your iPhone, you can directly send them using your social media apps without the lengthy process on a computer.
Another advantage is that your photos are more accessible on iPhone. Viewing them is more effortless since you can open your iPhone whenever and wherever. Let this article keep you posted on the most functional transfer tools today. From built-in features to third-party programs, the following parts below will offer various methods that will surely work regardless of your device. Uncover the processes below with detailed steps to begin the photo transfer from your computer to your iPhone.

Part 1. Transfer Photos from Computer to iPhone with FoneTrans for iOS
Presenting one of the most reliable transfer programs, FoneTrans for iOS is a third-party tool that allows you to move data conveniently. Like photos, messages, videos, music files, contacts, documents, etc., you can transfer almost any data type with this method. And no worries about your files, as this program won't delete your data before or after the transfer. Your photos and other data will be safe and secured, so you can trust not to encounter data loss. In addition, unlike other programs that take up too much of your computer storage, FoneTrans for iOS only takes a little space to run.
Below are the exemplary steps to transfer photos from a computer to iPhone with FoneTrans for iOS:
Step 1Acquire a FoneTrans for iOS installer file copy with the Free Download tab on the tool's official page. The button contains a Windows logo, but if you are a macOS user, click the Go to Mac Version first to view the one with the Apple logo. Once you save and open the file, let it make changes to your device for the installation, then run it on your computer.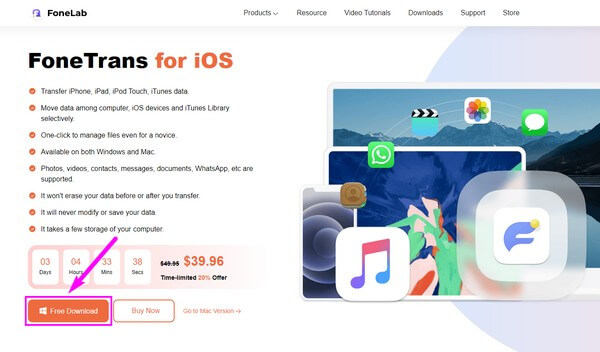 Step 2The transfer program's main interface will require you to link your iPhone with a lightning cord to your computer. Attach your device correctly with the guide of the instructions on the interface. Afterward, utilize the top drop-down bar to set your computer as the source or sender in the transfer process.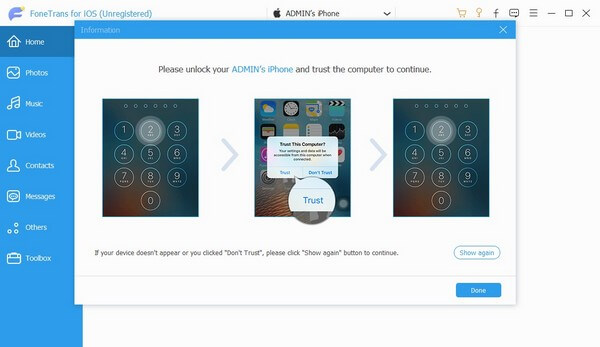 Step 3Once set, click the Photos option on the interface's left list. Folders of the photos stored in your iPhone will then be revealed in the next column. Choose the folder where the pictures you ought to transfer are saved. When they display on the screen, click the ones you need individually, or select them all by selecting the Check All box.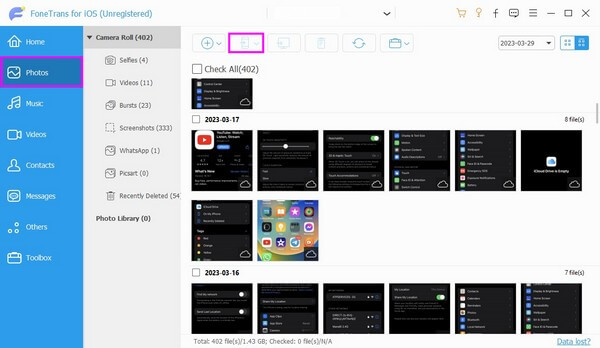 Step 4Finally, hit the button on the upper part with the phone icon. Choose your iPhone once the list of connected devices is presented to successfully transfer your computer photos to your iPhone.
Part 2. Transfer Photos from Computer to iPhone Using iTunes
Whether you use Mac or Windows, iTunes effectively transfers your photos to your iPhone. But this program is now only available in Windows and earlier macOS versions. Alternatively, you can use Finder if you run the latest macOS version, as they have almost all the same steps.
Act following the simple guidelines underneath to transfer photos from computer to iPhone with iTunes:
Step 1Ensure the latest iTunes version is installed on your computer, then launch it. For the transfer process to start, attach your iPhone using a cable. Then click the device icon once it shows on the iTunes interface.
Step 2Next, proceed to the Photos section and check the Sync Photos option at the top of the screen. Below that, choose the location of your desired photos on the Copy photos from: tab.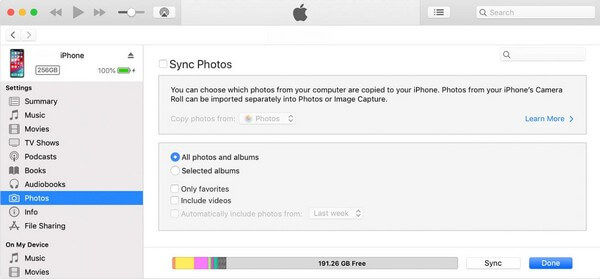 Step 3Choose to transfer all or selected photos and albums in the following section. After that, hit Sync at the bottom right to copy the selected images to your iPhone.
Part 3. Transfer Photos from Computer to iPhone with AirDrop
If you prefer to use your device's built-in feature to transfer, try AirDrop. This method is available for Apple devices, including iPhone and Mac. However, you may want to proceed to the other techniques in this article if you are using non-Apple devices.
Go along with the untroubled instructions underneath to transfer photos from Mac to iPhone using AirDrop:
Step 1Enable the Wi-Fi, Bluetooth, and AirDrop on your iPhone and Mac. Navigate to the AirDrop section and open another folder where your photos are stored.
Step 2Your Mac will scan the active devices nearby. Once it detects your iPhone, select the images in your folder. Afterward, drag them on your iPhone's icon on the AirDrop screen. The photos will then be shared with your iPhone shortly.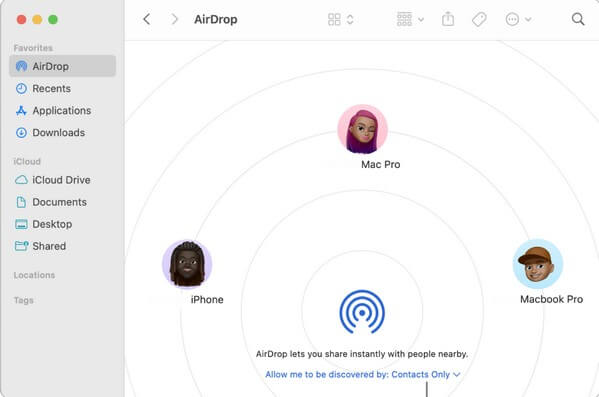 Part 4. Transfer Photos from Computer to iPhone via Email
Meanwhile, you can also transfer files via Email. Using your Gmail account on your computer's web will make sending photos to your iPhone's mail app easy. But the attachment size for sending emails is limited to 25 MB. Thus, you might need to send multiple emails if you have several images to send.
Bear in mind the comfortable directions below to transfer photos from computer to iPhone via Email:
Step 1Open the web and go directly to your Gmail account. Click Compose, then type the email account logged in on your iPhone's Mail app.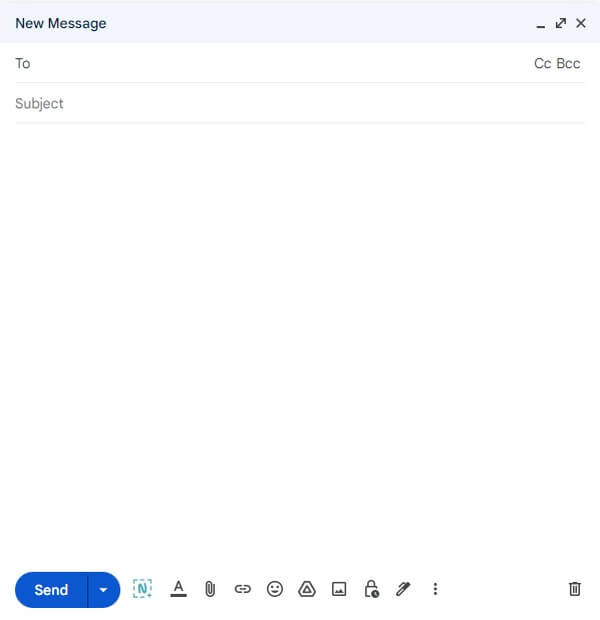 Step 2Hit the clip icon at the bottom and choose the pictures you wish to send once your files folder pops up. Next, click Send to transfer them to your iPhone.
Step 3Stand by until the pictures get successfully delivered. Then on your iPhone, run the Mail app and see the emails with photos you have received.
Part 5. FAQs about Transferring Photos from Computer to iPhone
That's it for the most notable methods for photo transfer from your iPhone to your computer. Solutions regarding other concerns and problems on your device are also available on the FoneTrans for iOS webpage. Visit anytime.