Convert Video Now
convert MPG/MPEG to MP4 with fast speed and high output image/sound quality.
Convert MP3 to OGG Using Trouble-free Methods with Guide
I need to present a song in front of the class. However, the MP3 files I downloaded are not supported. Is there an easy way to convert MP3 to OGG?
The MP3 format is the most widespread audio all over the world. Nearly everyone uses this audio format, which is compatible with almost all devices. And besides its compatibility, its small size is also one of its advantages. However, no matter how well-accepted this format is, it still has some disadvantages. One of them is a "lossy" audio format. This means the MP3's original data are removed when compressed, resulting in low quality. On the other hand, OGG is known to be high in quality yet small in size. Thus, many people say OGG is the better pick if your device supports this format.

If you compare MP3 to OGG, both audio formats have their own advantages and disadvantages. But if you need quality and size more than compatibility, the best thing you can do is convert your MP3 files to OGG. The only problem is you need an effective converter to do that. Unfortunately, not all effective ones are easy to use. Hence, you might get lost in the converters' interfaces, especially if you are new to converting. Thankfully, you just stumbled upon the perfect article to provide you with the easiest conversion methods. We prepared third-party and online tools below to help you solve this matter.
Part 1. Convert MP3 to OGG with FoneLab Video Converter Ultimate
FoneLab Video Converter Ultimate is an influential converter used by professionals and beginners. This program can effortlessly convert your MP3 to OGG in only a few moments. Even if you are new to audio converting, you won't have a hard time maneuvering this tool because of its user-friendly interface. You can expect efficient work, especially due to its high success rate, yet it doesn't require advanced or technical knowledge. If you install the FoneLab Video Converter Ultimate on your computer, you can start operating it with only simple steps. And if we talk about its features, it's one of the most well-rounded programs you will find. Aside from being an audio and video converter, you can also use it as an video editor, recorder, video player, and more. Enjoy this program's features once you install it on your computer.
Bear in mind the unchallenging steps below to obtain knowledge on how to convert MP3 to OGG with FoneLab Video Converter Ultimate:
Step 1Get FoneLab Video Converter Ultimate on the program's official site by selecting the Free Download tab. Once you open the file, you will be required to authorize the program to make changes to your device. After that, start the installation procedure, which will last for more or less than one minute. The program window will then show up with the Start Now button. Click it to use the converter on your computer.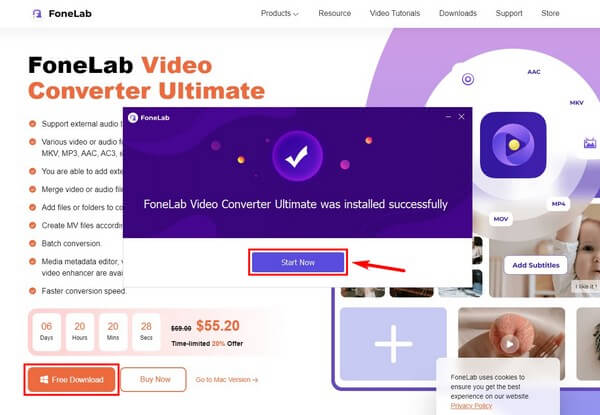 Step 2When the primary interface launches, you have 3 options to import your file into the program. First, click the "+" symbol at the center and open the MP3 file from the popup folder. Second, click the Add Files tab with the plus symbol on the top-left corner, then choose the audio from the folder. Lastly, open your file folder, select the MP3 file, then drag it into the box at the center of the interface.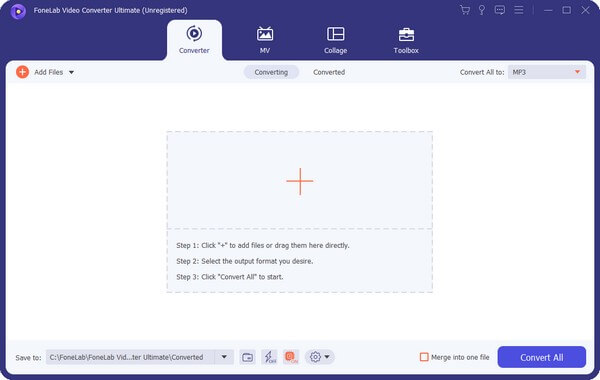 Step 3After you upload the file, click the Convert All to: pull down bar for the available formats to appear. If the video formats automatically display, click the Audio tab. On the left list, scroll down until you see and select the OGG format. You can also type it in the search box to find it more easily. The other audio options will be displayed on the left portion of the interface. Modify them according to your audio preference.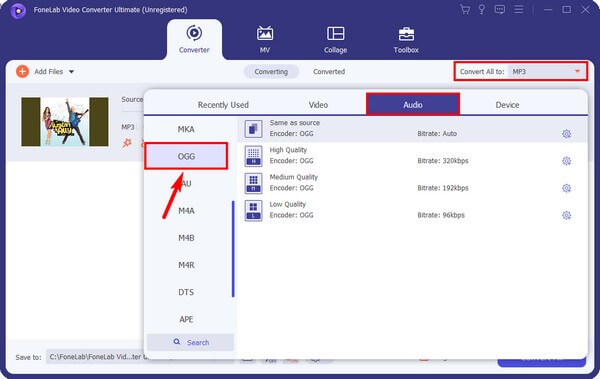 Step 4Afterward, try the other options displayed on the interface. For instance, click the scissor icon below the file details to use the cut feature. You only need to set the start and end of the audio, then click Save to apply the changes.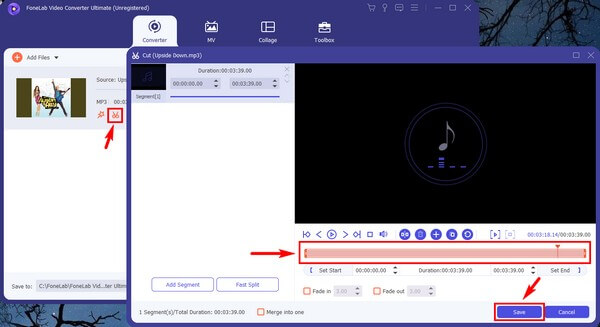 Step 5Later, click the Save to: drop-down list to choose the audio output's designated folder. Finally, select the Convert All tab to process the conversion. Trust that it won't take long before the converted OGG file is saved on your computer.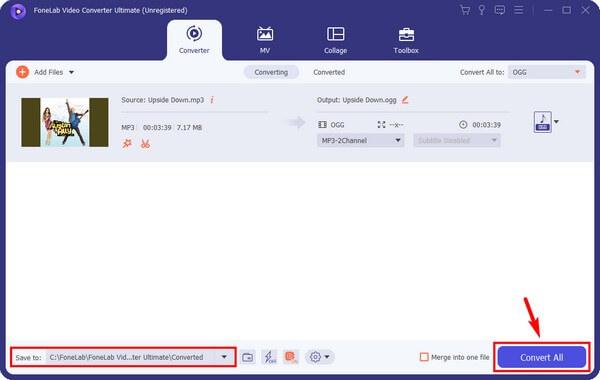 Part 2. Convert MP3 to OGG Online
Various online tools have been tested several times, but only a few actually proved their worth. And one of them is Evano Audio Converter. This online program allows you to convert your MP3 files to OGG if they don't exceed 100 MB. You can trust Evano Audio Converter to give high-quality audio outputs by performing only a few clicks. However, you should still anticipate that not everything is perfect with this tool. It also has some disadvantages you should be aware of. An example is its slow conversion process. Reports say this program converts large files for much more than 3 minutes. Hence, you can go back to the method above if you need to convert at a faster speed.
Bear in mind the unchallenging steps below to convert MP3 to OGG with the online tool Evano Audio Converter:
Step 1Search and enter Evano's MP3 to OGG Converter website. The interface is simple, so you only need to click the Choose File tab at the center to upload your MP3 file into the program.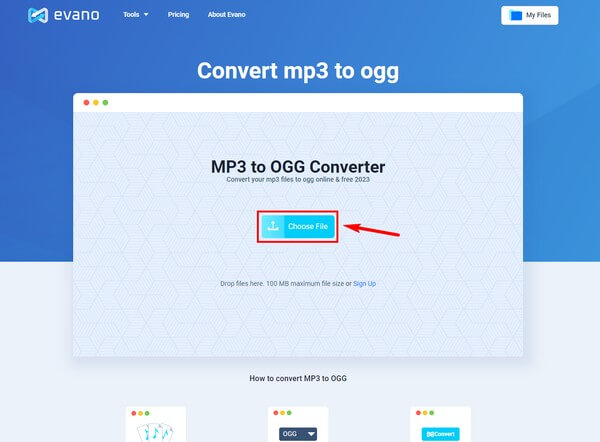 Step 2You can add more files to convert if you want. If you don't, click the Select button and choose OGG from the list of appearing audio formats.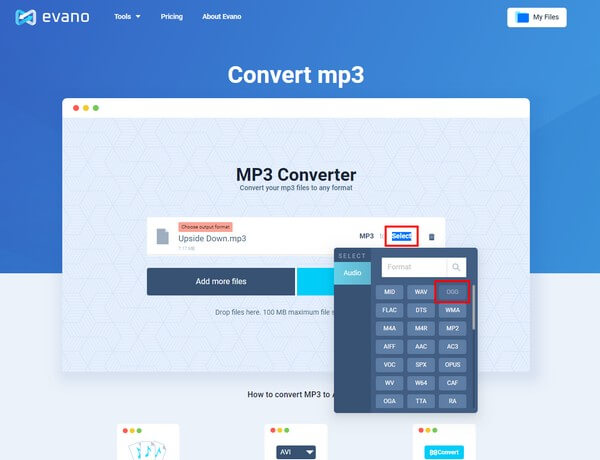 Step 3Finally, hit the Convert tab beside the Add more files tab for the conversion process to start. When done, you can download the converted file and save it on your device.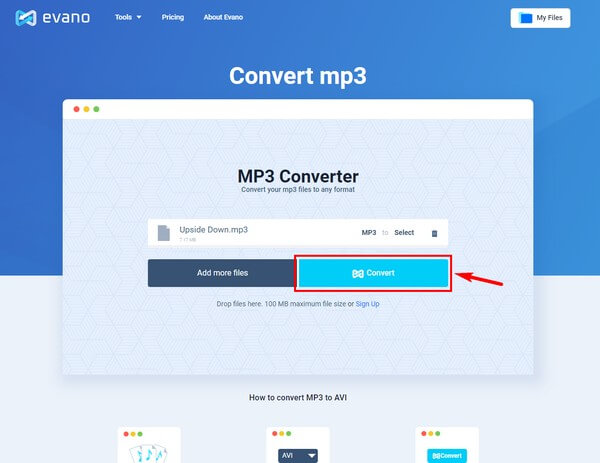 Part 3. FAQs about MP3 to OGG Converters
Thank you for your effort to read this article until the end. Hopefully, you were able to convert your files successfully with the provided methods above.