Convert Video Now
convert MPG/MPEG to MP4 with fast speed and high output image/sound quality.
Convert AAX Files to MP3 Using The Top Methods with Guide
I want to listen to an audiobook offline, so I downloaded one on my phone. The problem is, whenever I try to play it, it says it is not supported. It turns out my devices cannot play audiobooks from Audible. Can someone help me find a way to convert AAX to MP3?
AAX is an audio format developed by the podcast and audiobook online service, Audible. If you install this service on your mobile phone or computer, you will be able to listen to almost unlimited audiobooks online. However, listening on Audible is not free. It has a monthly subscription and only allows you to save audiobooks offline if you pay for Audible Plus and Audible Premium Plus subscriptions. Hence, many listeners prefer downloading audiobooks to listening to them offline for free. Unfortunately, Audible's exclusive AAX format is not supported by many devices. Thus, you need a conversion to play them on your device.
Fortunately, you can discover a variety of programs online to assist with AAX video conversion. The top 3 programs to turn them into MP3 files are listed below. You can finally listen to audiobooks on several devices by checking them out. It makes perfect sense if you are unaware of the converting process. In light of this, detailed guides will be available below to assist you. So proceed below to start the convenient operation.
Part 1. Convert AAX to MP3 with FoneLab Video Converter Ultimate
When talking about audio converting, many people believe that FoneLab Video Converter Ultimate tops the list of solutions. This tool is popular for its high-quality audio outputs and fast conversion speed. It also has a high success rate, which is why many rely on it whenever they need an effective converter. It may seem like a professional program requiring advanced knowledge because of this, but that is not the case. Even if you are new to converting, this tool's user-friendly interface will make you understand how it works easily. Aside from that, FoneLab Video Converter Ultimate offers various features that give you numerous options for enhancing your files.
Abide by the hassle-free instructions below to convert AAX files to MP3 with FoneLab Video Converter Ultimate:
Step 1Get the installer file of FoneLab Video Converter Ultimate for free on its website by clicking the Free Download tab. The installation will only begin once you allow the program to make changes to your device. And as the installation process goes on, its features will preview on the window for a few seconds. Run the converter on your computer after that.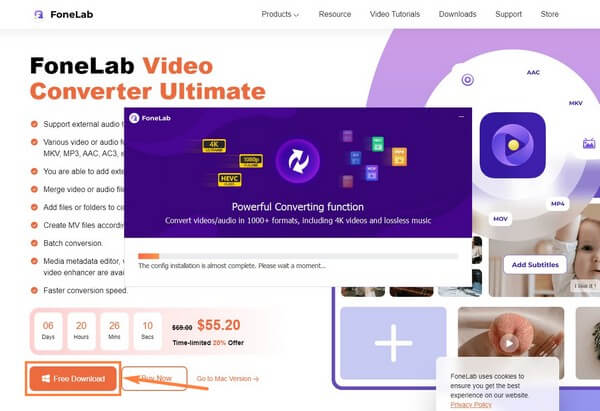 Step 2Click the plus symbol at the center of the box on the main interface. When your File Explorer pops up, find the AAX file and open it to import it into the program. Alternatively, you may also drag it on the box.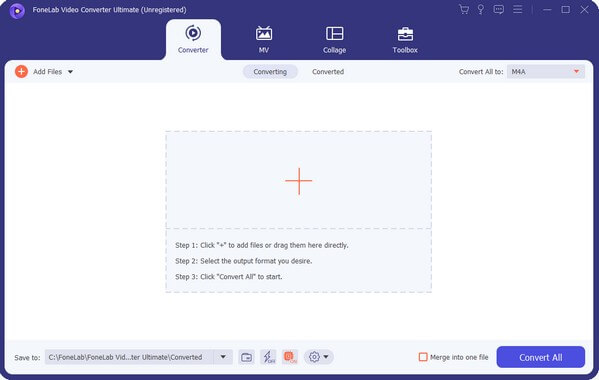 Step 3Select the menu bar on the top-right of the interface to display the supported file formats. You will see the video formats first, so click the Audio option to see the MP3 format. Then choose your preferred audio quality.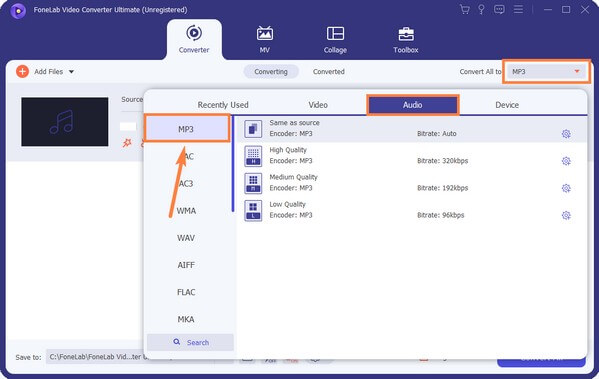 Step 4Other features are available to enhance the audio, such as the trimming and editing functions. When you're done, pick the destination folder for the audio output. Then click Convert All to convert the file to MP3.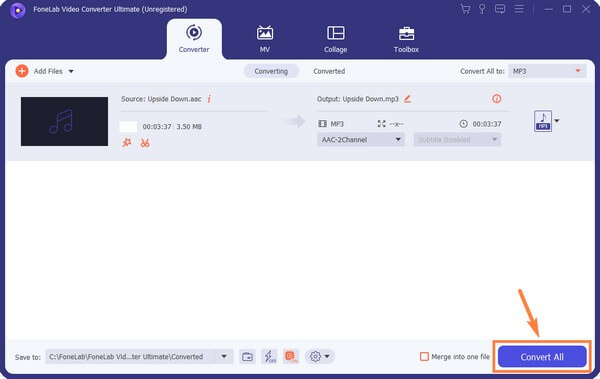 Part 2. Convert AAX to MP3 via Google Drive
When converting audio using an online tool, many people use whatever they find on the web. Little did they know it is possible to perform conversion directly on Google Drive. This method works by using the suggested apps on the service. However, this technique needs support from third-party tools like CloudConvert. Moreover, the features and supported formats might be limited depending on your chosen tool. The success rate will still be higher if you install an exclusive converting tool.
Abide by the following instructions below to convert AAX to MP3 for free via Google Drive:
Step 1Open your Google Drive and ensure the audio you want to convert is there. If it's not, upload it quickly to proceed. Make sure to upload it to a folder where you can quickly locate it.
Step 2When the file is already on Google Drive, right-click it. Choose the Open with option from the popup list, and click a converter from the Suggested apps. The most common tool that appears is the CloudConvert.
Step 3From there, perform the following instructions from your chosen tool to successfully convert the file to MP3.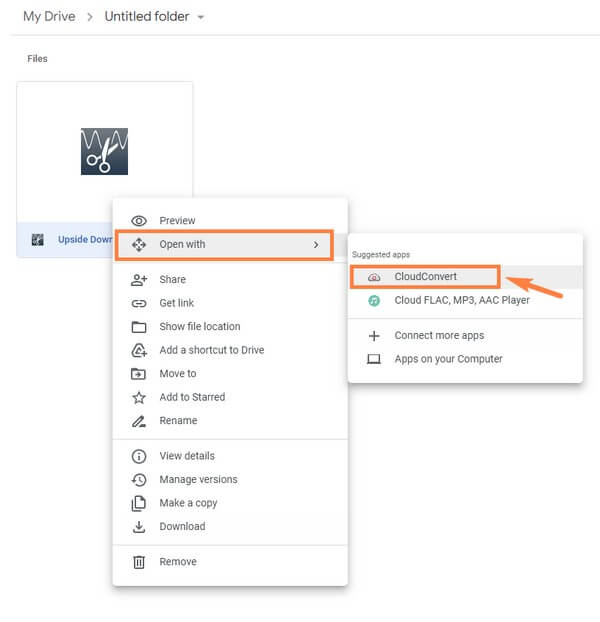 Part 3. Convert AAX to MP3 Online
Similar to many devices' cases, several online tools are incompatible with converting AAX files. Thus, the easiest way to find a converter that works with this format is to search for a tool specializing in converting AAX. Luckily, we found AAX Converter Online. It is what you need to convert your audio to MP3. But since this tool is exclusively for AAX to MP3, you cannot use it to convert your other audio. Furthermore, it is a plain converter that doesn't contain bonus features that can help you improve the audio output quality.
Abide by the following instructions below to convert AAX to MP3 online with the program AAX Converter Online:
Step 1Access audibleconvert.com to see AAX Converter Online's homepage. On the left center of the screen, click the orange Choose file tab. Open the AAX audio from the file folder to upload it to the online program.
Step 2Once the audiobook is uploaded on the page, click the orange Convert button next to the Choose file tab in the right center. Depending on the internet connection, the conversion will be done in 2-3 minutes.
Step 3When finished, click the audiobook title under the Choose file and Convert buttons. The converted file will then be automatically downloaded and saved on your computer.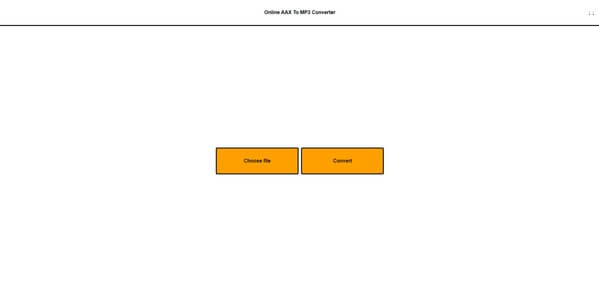 Part 4. FAQs about AAX to MP3 Converters
That's the end of the discussion for converting AAX files to MP3. If you have more audio format concerns, you can trust and install the FoneLab Video Converter Ultimate whenever you need.