What You Can Do to Fix Bandicam Audio Not Working Successfully
There are many complaints about Bandicam audio not working. To be more specific, the problem can be divided into before, during and after parts.
For example, you may encounter Bandicam fails to start audio capture. No matter how many times you try, the Bandicam not recording problem still exists. Or you cannot record the internal and external audio at the same time. Don't worry about that. You can fix or bypass Bandicam with no audio problem here.
1. Bandicam Alternative – Record Internal and External Audio
If you want to try something easier for screen recording, you can take a look at FoneLab Screen Recorder. The user interface is friendly to beginners. Compared with the Bandicam interface, you can quickly access audio recording and settings options. It is easy to control the input audio source.
You can trim the audio recording file to extract what you need before export. After that, you can save or share the recorded audio file freely. In a word, you can record, edit and download audio on your computer in one stop.
Record audio from computer, microphone and other sources.
No time limits. Or you can set a scheduled task to record sound automatically.
Use a built-in audio trimmer to pre-listen and delete unwanted clips.
Save your audio recording file to MP3, M4A, AAC or WMA format.
Safe, clean and easy to use.
2. How to Fix Bandicam Audio Not Working
When Bandicam audio recording does not work properly, you can do it as the following show. These are workable ways to find out why Bandicam audio not recording and how to solve the problem. Just read and check.
Way 1: Bandicam Won't Record Sound – Check Bandicam Audio Recording Settings
After installing Bandicam, you need to go to Bandicam Settings to check the details. Sometimes you need to add sound to Bandicam manually.
Open Bandicam. Choose the Video menu in the left panel.
Click the Settings icon. Then locate the Sound tab.
Under the Primary Sound Device section, choose Default Sound Device.
If you want to record screen video with voice, you can set microphone as the Secondary Sound Device option.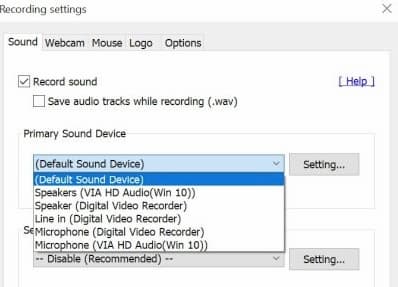 Way 2: No Audio in the Captured Bandicam Video – Select the Correct Primary Sound Device
After checking the primary and secondary sound device options, you can adjust the volume to have a try. The Bandicam audio problem can be solved in this way.
Go to the system tray. Choose the Playback devices option.
Set Speaker or Headphone as Default Device based on your need. You can get this option from the right-click menu.
Choose Open volume mixer and volume up all applications. It is suggested to increase the volume up to 70 to 90 to fix Bandicam audio not working.
Way 3: Bandicam Audio Not Working – Check Your Input Audio Source
If the Bandicam audio recording settings are correct, you need to check whether the audio device is used by other programs.
Close other programs that may use audio. Force quit and reopen Bandicam.
Start recording audio with Bandicam to see if the Bandicam audio not working problem exists or not.
You can uninstall and reinstall the latest sound card driver to have a try.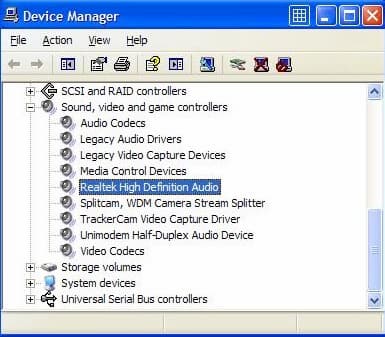 3. FAQs of Bandicam Audio Not Working
Can you record a game and voice at the same time with Bandicam?
Yes. You can record in-game audio and your voice over simultaneously by using Bandicam. Just set the correct input audio source.
How to record voice with Bandicam?
Go to the Bandicam General section. Choose Advanced and go to Others. Click Video Record Settings. In the Sound section, enable your secondary sound device as microphone. Later, you can record voice with the microphone input via Bandicam.
What to do if I can't open Bandicam to record audio?
Uninstall Nvidia GPU driver first. Then restart your computer to delete glitches. If the Bandicam audio not working or recording problem still exists, you can uninstall Visual C++ redistributable packages. After Bandicam records audio normally, you can install the GPU driver manually again.
That's all of available Bandicam audio not working solutions. You can use small tricks and check Bandicam recording settings to solve the problem. Or you can run FoneLab Screen Recorder to bypass the Bandicam audio capture failure. If you still have questions about Bandicam not recording, you can leave messages in the comments below.
Related Articles:

Leave your comment and join our discussion