4K Recorder Free Download – 6 Best Methods to Capture Screen Videos with High Quality
To capture screen videos with the original quality, especially when you want to capture gameplay videos, what are the best 4K recorders you should take into consideration? The 4K recording enables you to capture videos up to the resolution of 3840x2160. Just learn more about the special features from the 4K-screen recorder review and choose the desired one accordingly.

1. 6 Best 4K Screen Recorders to Capture High-Quality Videos
Top 1: FoneLab Screen Recorder
FoneLab Screen Recorder is a versatile 4K recorder to capture all onscreen activities, such as screen videos, system audio, microphone voice, webcam footage and snapshots. Moreover, you can also tweak the video and audio settings, add annotations/shapes/watermark, or even manage the recorded videos with ease.
Record screen videos, system audio, microphone voice, and webcam.
Tweak the frame rate, FPS, video quality, audio format, photo format, etc.
Add annotation, shapes, watermark, callouts, lines, and other elements.
Manage the recorded video, such as play, delete, and share with others.
Top 2: Bandicam
Bandicam is another 4K screen recorder for gameplay videos, which enables you to record 4K videos in high quality with excellent speeds, as well as great compression rates with ease.
Record the OpenGL/DirectX gameplay videos with 720P/1080P/4K files.
Advanced video settings to take full control to record 4K videos with audio.
Simple settings and user interface get complete control for 4K recording.
Choose YouTube presets for changing the resolution and optimizing video.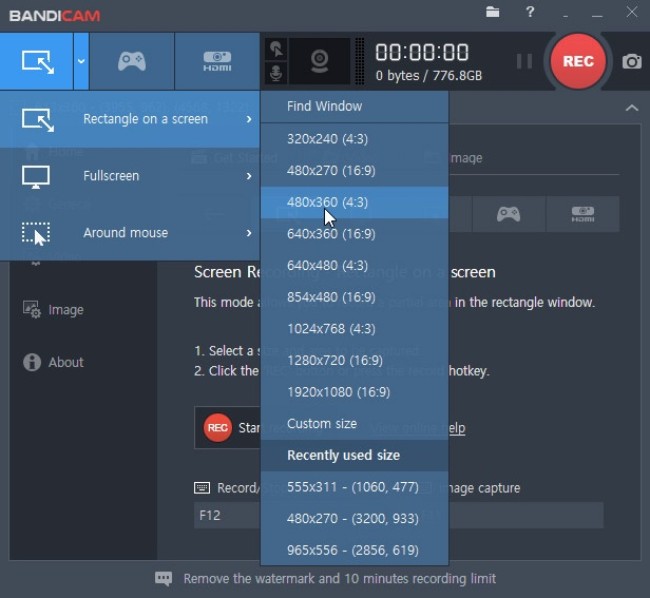 Top 3: ShadowPlay
If you have a computer with NVIDIA GeForce, you can use ShadowPlay as the default 4K recorder. It will not impact the performance when you leave it running in the background.
Provide two modes for 4k recording, Manual mode and Shadow mode.
Record videos with good quality by recording 4k videos at 130 mbps speed.
 Capture high-quality gameplay videos, screenshots, and livestreams.
Upload the videos via GeForce Experience Overlay to Facebook or Google.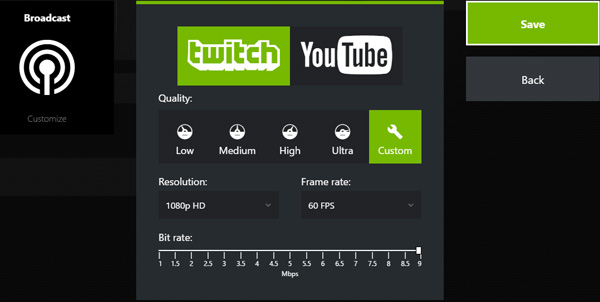 Top 4: OBS Studio
When you want to record 4K screen videos and gameplay for free, OBS Studio is the desired 4K recorder that offers several advanced features to record the high definition videos with few clicks.
Enable you to record 4K quality videos in all types of devices easily.
Provide high performance with relatively minimal load on the CPU.
Edit the recorded 4K videos with some stunning filters and effects.
Enhance the audio quality of the captured 4K videos with audio filters.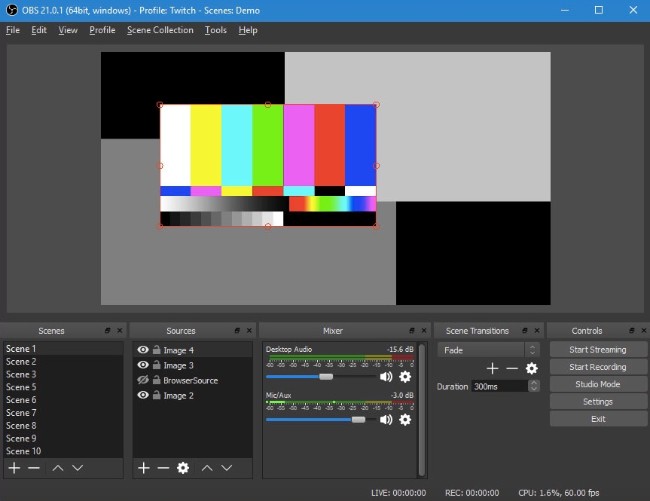 Top 5: Dxtory
Dxtory is a 4K recorder that has an incredible number of configuration options that capture screen video files up to 120FPS. It is also featured to record multiple audio sources at the same time.
Capture and save 4K video quality screencasts in different file formats.
Record video with frames per second up to 120FPS with high quality.
Add comments for the recorded video, such as annotation and texts.
Allow you to start the recording of your gameplay videos automatically.
Top 6: Action
Action screen recorder is another recommended 4K recorder that captures smooth HD game recording up to 120FPS. It provides the best recording performance and low CPU usage.
Up to 20 times smaller for the video recording of the 4K file resolution.
Add microphone audio commentary as well as the webcam footage easily.
Enable you to control the video recording process with your smartphone.
Provide excellent live streaming to Twitch.tv, YouTube, Ustream and more.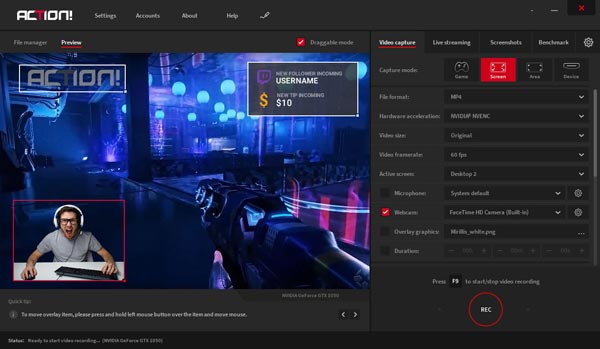 2. FAQs about 4K Screen Recorders You Should Know
1. What is 4K Video Resolution?
4K video resolution is high-definition video that has four times the resolution of 1080P HD video. The Digital Cinema Initiatives standard for 4K resolution in the film and video production industry is 4096x2160 while the standard for television and monitors is 3840x2160.
2. Should I Use 4K Screen Recording for YouTube?
When you capture 4K videos with 4K recorders for YouTube, you might find YouTube not showing 4K-video quality. The most common reason is that your device doesn't support 4K-resolution. Moreover, the power saving mode and the Safari browser is not able to play 4K videos.
3. The Differences between 1080P V.S. 4K Video?
As for the 4K video files, by comparison the 1080P resolution is composed of over 2 million active pixels. It means that the 4K-technology offers four times the resolution of standard 1080p resolution, which takes a larger space than the 1080P videos.
Conclusion
When you need to capture the 4K videos, you can learn more about the 6 best 4K screen recorders from the article. Just choose the desired one according to your requirements. If you want to capture the 4K videos for YouTube and other social media sites, you can choose the FoneLab Screen Recorder as the default one.
Related Articles:

Leave your comment and join our discussion