Where Do Screenshots Go on Windows or Mac [2021 Solved]
It is common that people take a screenshot on Windows or Mac via various ways to keep copies of what they saw on the screen or other files easily and frequently. You have various choices to take a screenshot, but you should learn more knowledge about them, like where do screenshots go, before you move on.
1. Where Do My Screenshots Go
This topic might be familiar to you as taking screenshots is an essential part when you are using a computer. In the following part, we will talk about where screenshots saved on Windows or Mac.
Where Are Screenshots Saved on Windows
If you have selected a method like PrintScreen button to screenshot on Windows, you are unable to find your screenshots anywhere as they have been saved to clipboard. You need to paste it to somewhere like Paint app, then save it wherever you want.
As for people who have tried Windows key + Print Screen keyboard combination to take a screenshot, the screenshots will be saved to computer folder automatically. You can find them through C:\Users\<username>\Pictures\Screenshots.

Game bar enables you to save screenshots to C:\Users\<username>\Videos\Captures, and Windows + Alt + PrtScn keyboard shortcut will save screenshots to the same location as well.
Snipping tool is another option to help you screenshot on Windows. You can find its screenshots through C:\Users\<username>\Pictures if you have not changed its default location. Otherwise, you can find the folder you used to save images on computer before.

Where Do I Find My Screenshots on A Mac
"Where to find screenshots on Mac?" What if you are a Mac user?
You should know that the screenshots are usually saved as a file on Mac desktop or clipboard, depending on which shortcut you used to take a screenshot.
If the screenshots are not available on clipboard, then you can find screenshots saved as a PNG file rather than a wide-used JPG format on your Mac desktop. And you can find them with the name "Screen Shot [date] at [time].png".
However, if you are used to screenshot on Mac with Grab, you can find your screenshots that were saved as Untitled on your Document folder.
2. How to Find Screenshots
Now, let's move to how to find screenshots.
How to Find Screenshots on Mac
You can search all images on Mac or just find them one by one as below.
Option 1. Click Finder > Find, enter screen shot in the box. Then click Image menu and choose PNG here. Then you can see all screenshots on the list.
Option 2. Just go to Mac desktop to find the screenshot you want.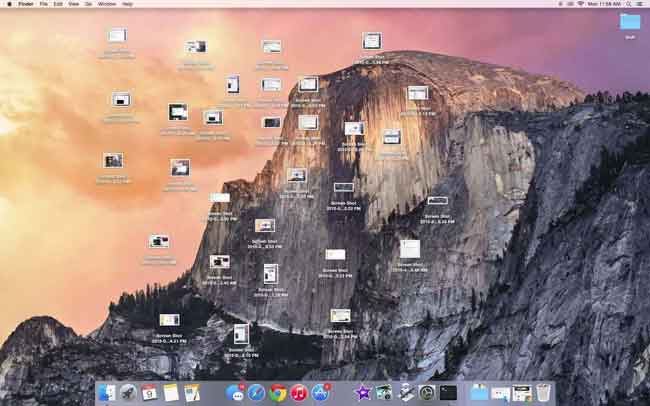 How to Find Screenshots on Windows
You can try to find them in default folder by inputting C:\Users\<username>\Pictures\Screenshots or C:\Users\<username>\Videos\Captures in Windows search bar, then select it from the list. The folder will be opened after that.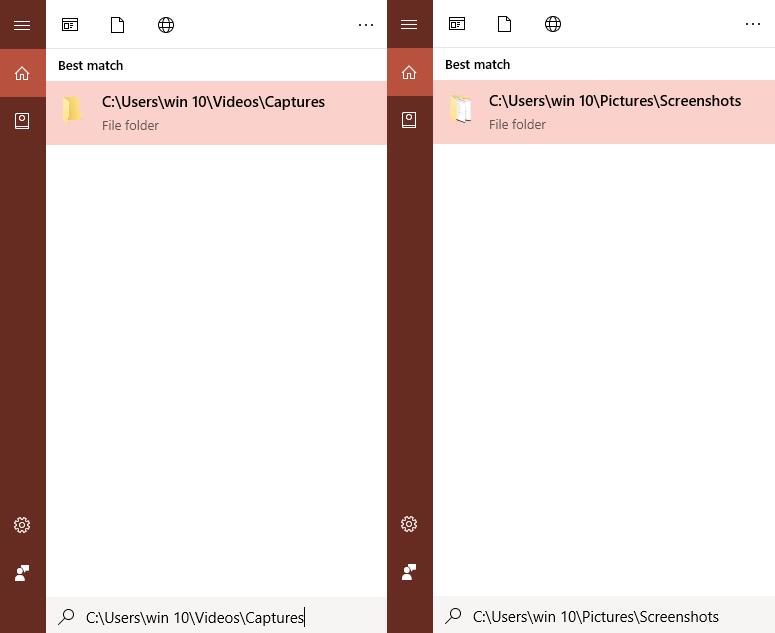 Or you can launch Explorer through Windows key + e, and then select Pictures > Screenshots.
Otherwise, you can take another screenshot and try to save it, then you can find where your last screenshot was saved.
3. How to Change Where Screenshots Are Saved
Not like the third-party screenshot program on computer, most of them are specialized in personal settings so you can easily change its default location through clicking Preferences or other buttons. For example, if you downloaded FoneLab free snipping tool on computer, you can use it to snapshot computer screen with ease and change screenshots location in Preferences section.
As most users prefer to choose built-in tools on computer, we will introduce how to change screenshots location on Windows or Mac in this part as clear as we can.
How to Change Where Screenshots Are Saved Windows 10 or 8.1
In Windows 10 and 8.1, the screenshots you take without third-party program will be saved to the same default folder.
Step 1Go to C:\Users\<username>\Pictures, right-click Screenshots and select Properties.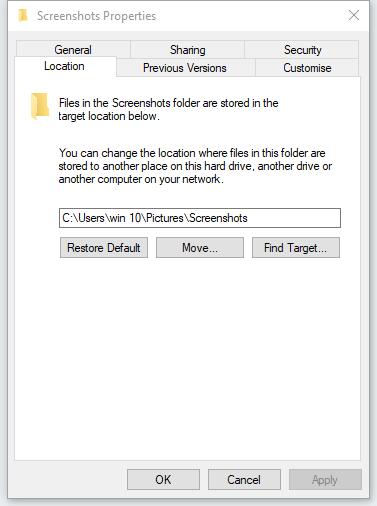 Step 2Click Move, select a new location and click Select Folder.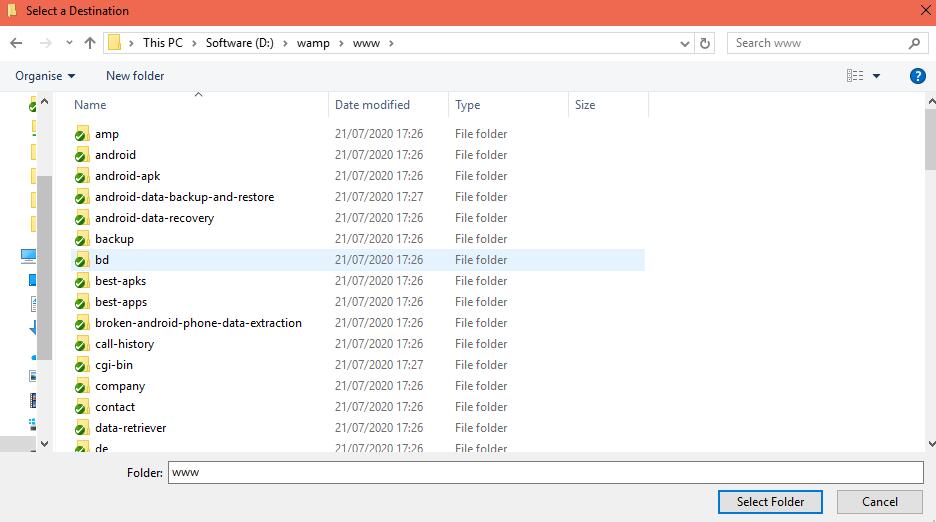 Step 3Choose No to prevent you cannot redirect the folder later.

Step 4Go back to Screenshots Properties window, click OK > Yes. You are also enabled to restore default folder if you want.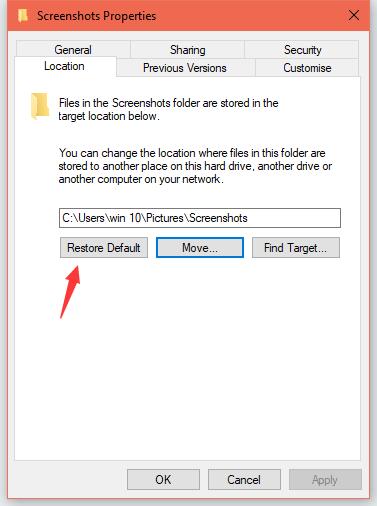 How to Change Where Screenshots Are Saved Mac
Steps to change default screenshots folder location are different, depending on which macOS you are having. You can check the below demonstrations accordingly.
How to Change Where Screenshots are Saved in macOS Mojave Or Later
The new macOS has simplified operations to change where screenshots are saved. Below is the tutorial.
Step 1Press Command + Shift + 5 to open Screenshot app.

Step 2Click Option and choose Save to. Then you can see 7 options, including Desktop, Documents, Clipboard, Mail, Messages, Preview and Other Location. You should select Other Location here and select a folder you prefer to save screenshots on Mac.
How to Change the Default Screenshot Save Location in macOS High Sierra or Earlier
Before we begin, it is recommended that you can update macOS to the latest one if you are still using macOS High Sierra or earlier versions. Because using the above-mentioned way to change default screenshots location is much easier than the following method on macOS High Sierra on earlier.
You can follow below detailed instructions if you are ready to move on.
Step 1Click Utilities > Terminal.
Step 2Type defaults write com.apple.screencapture location in the pop-up window and add a space after that.
Step 3Drag the folder to Terminal command box and press Enter on keyboard.

Step 4Type killall SystemUIServer and press Enter button again.
That's all about where do screenshots go on Mac or Windows. If you have more queries about it, please leave comments below.