How to Fix the Issue that OBS Captures Black Screen When Recording Game
OBS Studio is an open-source broadcasting program. It lets users record screen and gameplay for free on Windows and Mac. Moreover, users are able to live stream screen to YouTube and Twitch directly. However, it is not a perfect program and sometimes OBS may work abnormally. Some users reported OBS black screen when capturing game. Fortunately, this problem can be fixed and this article will share six solutions to get rid of the issue easily.

Let's begin.
1. 5 Solutions to Fix OBS Window Capture Black
Solution 1: Run OBS as Administrator
When you only get black screen capturing game in OBS, the first thing you should do is to run it as administrator.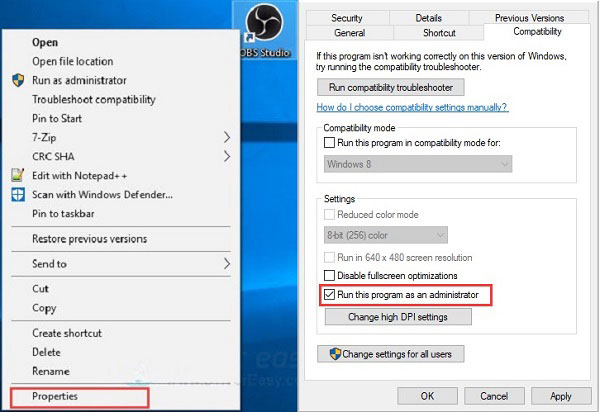 Go to your desktop, right-click on OBS and choose Properties.
Switch to the Compatibility tab and check the box next to Run this program as an administrator.
Click OK and restart your computer. Now, OBS should work normally.
Solution 2: Enable Compatibility Mode
The OBS black screen capture issue may be caused by the wrong compatibility settings, but you can correct it easily.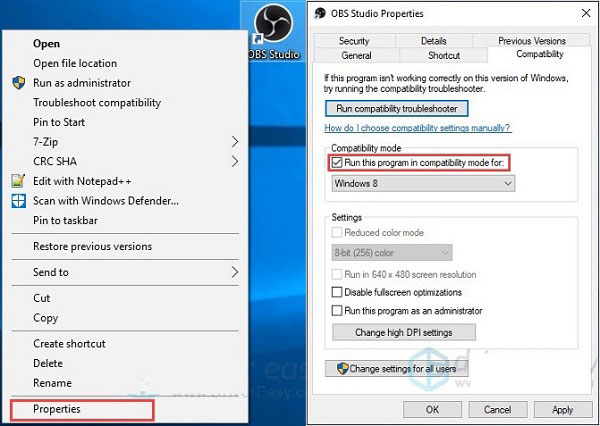 Open the OBS Properties dialog and also go to the Compatibility tab.
Tick the checkbox next to Run this program in compatibility mode for. Then choose the system you wish to compatible with from the drop-down list.
Click Apply and OK. Reopen OBS to check if the problem disappears.
Solution 3: Set OBS GPU Correctly
If OBS window captures black when you are using two graphic cards and one is NVIDIA, follow the steps below to fix it.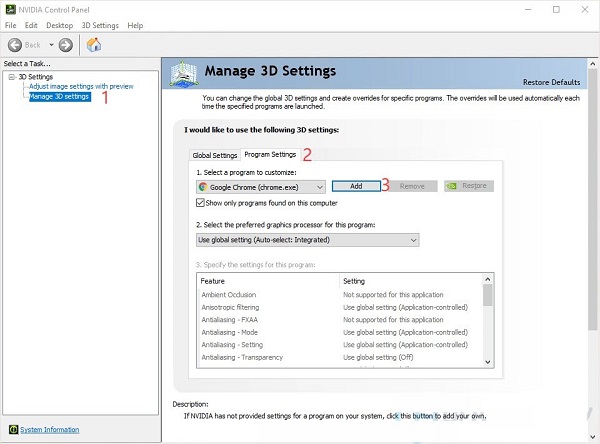 Open NVIDIA control panel and select Manage 3D Settings from the left side.
Go to the Program Settings tab on the right side, and click the Add button. Click the Browse button and find OBS.exe file to add it.
Next, choose High-performance NVIDIA processor, and click Apply. Now, your OBS game capture should work as usual.
Solution 4: Disable Game Mode
Windows 10 has built-in a Game mode to improve performance. However, it may lead to OBS capture black screen issue.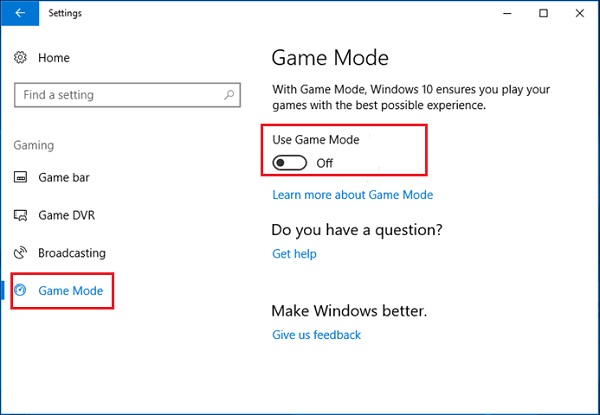 Go to Start menu at the bottom left corner, and click Settings to open the Settings dialog.
Head to the Game Mode tab from the left side, and toggle off the switch under Use Game Mode.
Solution 5: Turn off Hardware Acceleration in Chrome
Sometimes, the black screen error occurs when OBS captures Chrome. It is partly because of the hardware acceleration feature. Fortunately, Chrome allows you to disable it.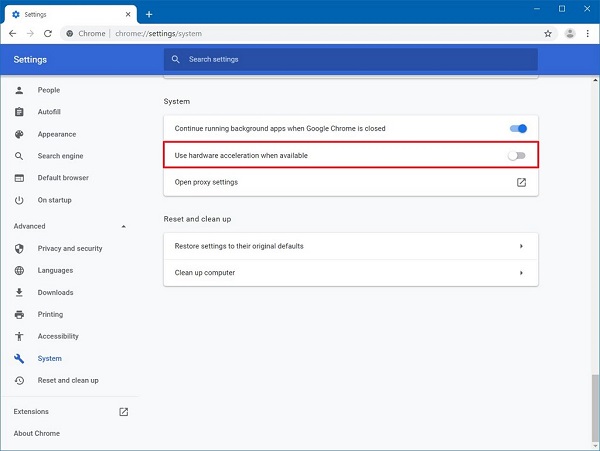 Open your Chrome, click the Menu button with a three-dot icon, and choose Settings.
Go to Advanced and System, and find the Use hardware acceleration when available option. Toggle off the switch.
Now, open OBS and try to record Chrome again. The black screen issue should be resolved.
2. Best Alternative to OBS PC
If you have tried the solutions above but OBS captures black screen issue still persists, it may be the time to look for an alternative solution. FoneLab Screen Recorder, for example, is a powerful screen recorder and more stable than OBS.
Main Features of the Best Alternative to OBS
Record screen, video and gameplay along with audio easily.
Enhance video and audio quality automatically.
Preview screen recording with the built-in media player.
How to Record Screen when OBS Black Screen Occurs
Set up Screen Recorder
Launch the best alternative to OBS once you install it on your PC. There is another version for Mac. Pick Video Recorder to open the main interface. If you just want to record audio, choose Audio Recorder instead. Advanced users can find custom options on Preferences dialog, which can be opened by hitting the Gear icon.

Record your screen
There are four sections in the main interface, Display, Webcam, System Sound and Microphone. The different combinations can perform various tasks. To record gameplay, for example, turn on Display and set the recording area, enable System Sound while disabling Webcam and Microphone. If you want to add your reactions to the recording, enable four sections. Once you are ready, click the REC button to begin recording screen with the alternative to OBS.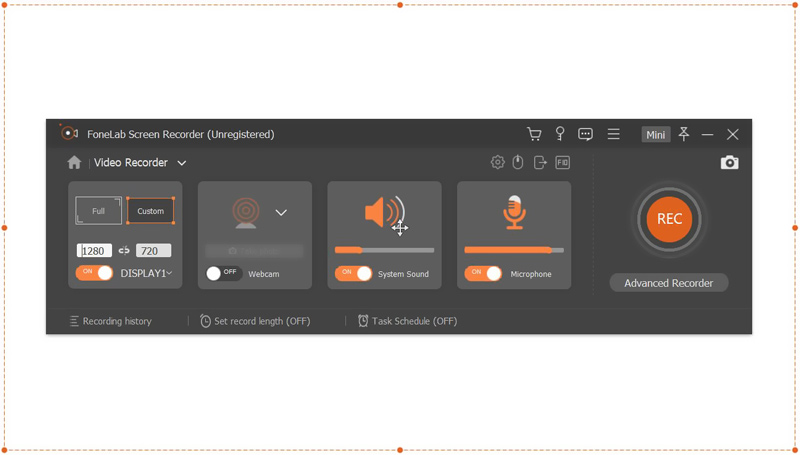 Preview and save screen recording
During recording, you can add paintings and text to the recording with the Edit icon or takes screenshots using Camera icon. Click the Stop button when screen recording is done. Now, play the recording on the preview window and remove unwanted frames. Finally, hit the Save button to export the recording to your computer.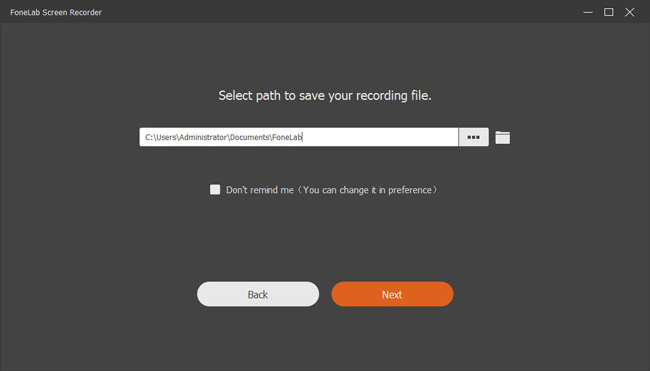 3. FAQs of OBS Black Screen Capture Issue
How do I capture a specific window in OBS?
Locate the bottom of your OBS, click the Plus icon in the Sources panel, and select Window Capture.
Leave a name for the source and click OK. Then you can select the desired window, mouse display and other options.
Why is OBS game capture not working?
A lot of factors can lead to OBS game capture not working, such as improper configuration, outdated software, and more. Moreover, some games maybe not supported by OBS. In such moment, you'd better try an alternative game recorder, such as Windows 10 Game Bar.
What is display capture?
Display capture, also known as screen capture, is an image of the visual items on your display, monitor or screen. It can be generated by third-party tools, shortcuts and built-in utility on PC and Mac.
Conclusion
This post has told you five common solutions to fix the problem that StreamLabs OBS's black screen issue when capturing screen or gameplay. We hope that you have solved this problem. If not, you can simply use FoneLab Screen Recorder as an alternative screen recorder. It is more stable and records screen without lag. If you encounter other problems related to OBS, please feel free to leave a message below this post and we will reply it as soon as possible.
Related Articles:

Leave your comment and join our discussion