Convert Video Now
convert MPG/MPEG to MP4 with fast speed and high output image/sound quality.
Best Video Rotator on Mac - How to Rotate Videos on Mac Easily
I want to rotate a video, which is in landscape mode to the portrait mode. I know some programs, but some of them are not suitable for Mac. Anyone help?
Some people want to rotate a video because of various reasons. Maybe they need to adjust the degrees as they took a video with the wrong mode. Some of them might need to make something customized through the degrees.
No matter what, this post will show you proper methods to rotate videos on Mac.
1. Rotate Video on Mac with FoneLab Video Converter Ultimate
The first tool you should try is FoneLab Video Converter Ultimate, which is much more than a video rotator for you. It helps you not only rotate a video with ease, but also convert video file, flip videos, enhance video quality and more.
It is a professional program to rotate video.
It helps you add subtitles to video, merge videos, split videos and more.
It is easy to use.
It has both Windows and Mac versions.
You are enabled to add audio to video.
It supports various video and audio formats.
Rotate Video on Mac
Below is the demonstration.
Step 1Download and install FoneLab Video Converter Ultimate on computer, then it will be launched automatically.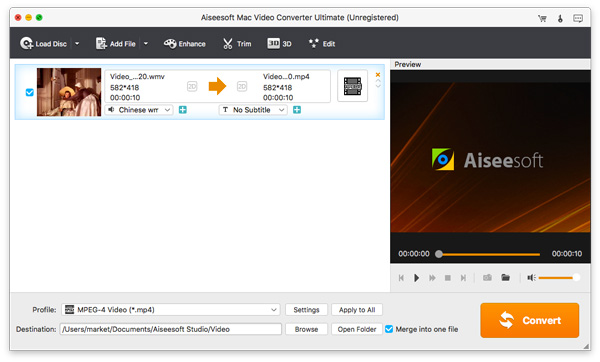 Step 2Click Edit > Rotate, then adjust the degree, click Apply.
Step 3Click Convert button.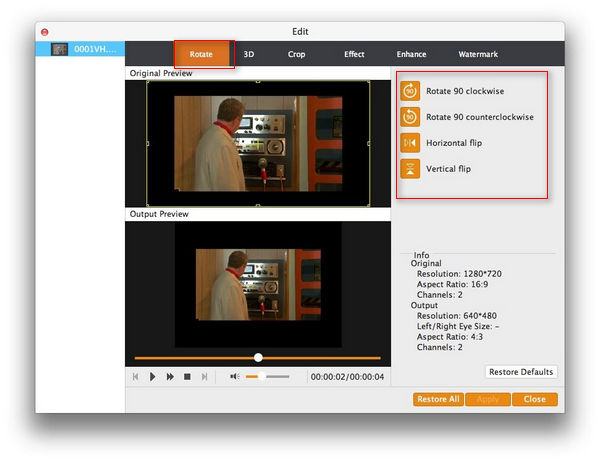 If the same way, you can use it to rotate a video on Windows with simple clicks.
Some people might want more from FoneLab Video Converter Ultimate, like flip the video files. You can follow below clear instructions.
Flip Screen on Mac
Step 1Import the video and click Edit button.
Step 2Choose Rotate and click Horizontal flip or Vertical flip according to your needs.
Step 3Click Convert button.
You might know other video rotators from the internet, such as VLC, Handbrake and more.
2. Use VLC to Rotate Video on Mac
VLC is an open-source media player and it is available for desktop and mobile versions. In this case, you should download the program on computer then follow below steps.
Step 1Click Media > Open File, select the video you want to rotate.
Step 2Click Tools > Effects and Filters > Adjustments and Effects > Geometry> Video Effect.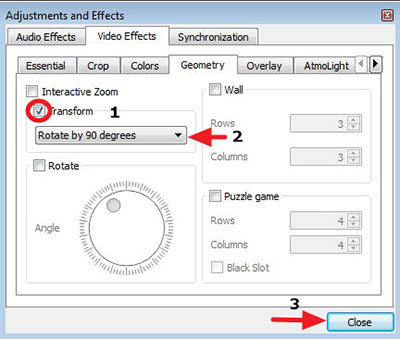 Step 3Select Transform. Then you can choose the degree to rotate your video.
Another popular software to edit video files using iMovie on Mac.
3. How to Rotate a Video on Mac with iMovie
iMovie is a program specialized in solving the problem of editing video files on iPhone or Mac. You can download iMovie on Mac firstly, then follow below tutorial.
Step 1Launch iMovie, click File > Import > Movies, then choose your video.
Step 2Choose your video and click Crop, click the rotate buttons to rotate the video, then click Done.
Step 3Click File > Export.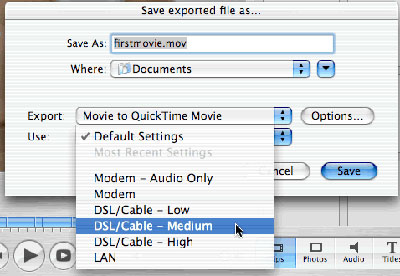 Well, something like above-mentioned video editors might remind QuickTime, which is a built-in app on Mac to you. So, can it rotate a video on Mac?
4. How to Rotate a QuickTime Video
Of course it can. Below is how.
Step 1Launch QuickTime, then open the video.
Step 2Click Video > Show Clips, choose the clip.
Step 3Click Edit, choose rotate to left or right.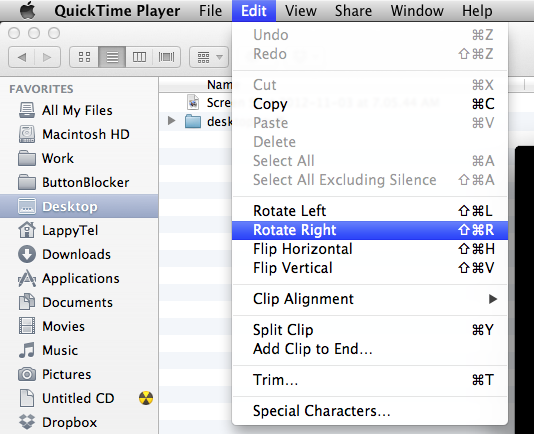 Step 4Click Done.
All roads lead to Rome. If you don't want to install any software on your computer, you should get some online video rotators.
5. How to Rotate a Video Online on Mac
You just need to open the web page, import the video file directly, then rotate and download then video on your computer.
Option 1. https://clideo.com/rotate-video
It is compatible with any format, so you can rotate video with any format if you want. And when you upload files, the high-level encryption ensures you are the only one to access the file. So you can easily upload the file to the web page and then follow the instructions to rotate your video files on Mac without downloading software.
Option 2. https://www.rotatevideo.org/
You can click to upload the video directly, or enter a URL instead. Then you will be asked to choose the output format from MP4, M4V and MKV. It enables you to choose degree and encoding. Finally, click blue Start button.
Option 3. https://ezgif.com/rotate-video
It also allows you to enter URL or upload a video file as you want. And you can rotate MP4, WebM, AVI, MPEG, FLV, MOV, 3GP and other video files. Its limitation is the max file size is 100MB. Its website has various features, like resizing video, reverse video, cut videos and more.
Option 4. https://www.kapwing.com/tools/rotate-video
This is a surprising web page because it allows you to rotate video, images and GIFs easily online. It allows you to upload it or drop files to it, of course paste URL are also available. You can check its sample below.
Option 5. https://videorotate.com
This a site allows you to drop the files, click to upload from local folder. or upload from Dropbox, Google Drive and OneDrive. Its convenience makes user feel more effective and easier to finish what they want.
That's all about how to rotate videos on Mac. If you have more questions about it, please leave comments below.