How to Remove Songs or Movies from iPhone
"I like to watch movies so much, I have downloaded number of movies and TVs on my iPhone. I found that my iPhone is out of storage space and it runs slowly recently. I have saved all of them to my computer and want to remove them now to free up my iPhone storage. How can I delete these movies or TVs from iPhone?"
In order to meet the needs of mobile phone users, Apple Inc. release more and more powerful new products successively. iPhone is convenient for its small size and its new display is 25 percent brighter and supports wide color gamut for richer, true-to-life colors which brings better user experience. So, most of them use iPhone to watch movies, play games and more. You can find out your limited storage space is almost overloaded and your device begins to run slowly. So how can you clear iPhone or iPad space to free up your device when the iPhone storage is full? How to remove music from iPhone or how to delete movies from iPad?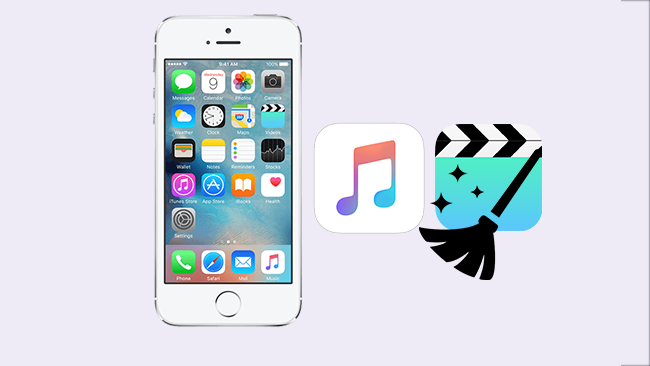 1. Delete Songs or Movies from Music or Video App
For Music
Step 1. Find the Music App.
Step 2. Get the items you want to delete, firmly press an item and hold it.
Step 3. Tap Delete from Library.
Step 4. Hit Delete Song.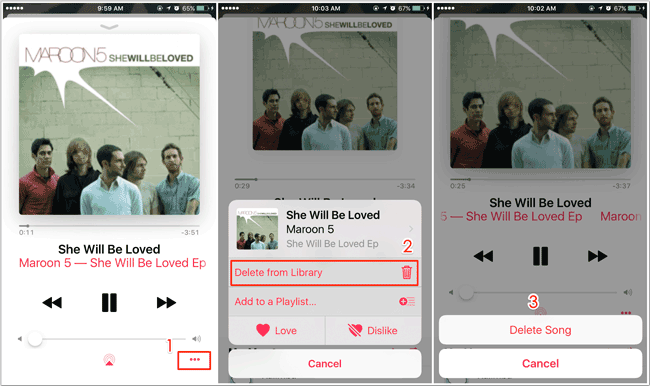 For Video
Step 1. Go to the Video App.
Step 2. Tap the Edit in the upper-right corner until the Delete icon in the upper-corner of the video.
Step 3. Tap the Trashcan icon to delete the items.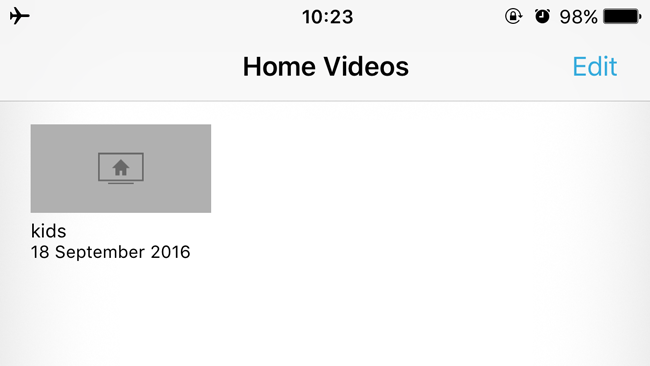 2. Remove Music or Movie from Device Settings
Step 1. Go to Settings > General > Storage & iCloud Usage.
Step 2. Tap Manage Storage to find Music or Video app.
Step 3. Tap Edit in the top right corner, and then tap the red deleting icon to delete the items.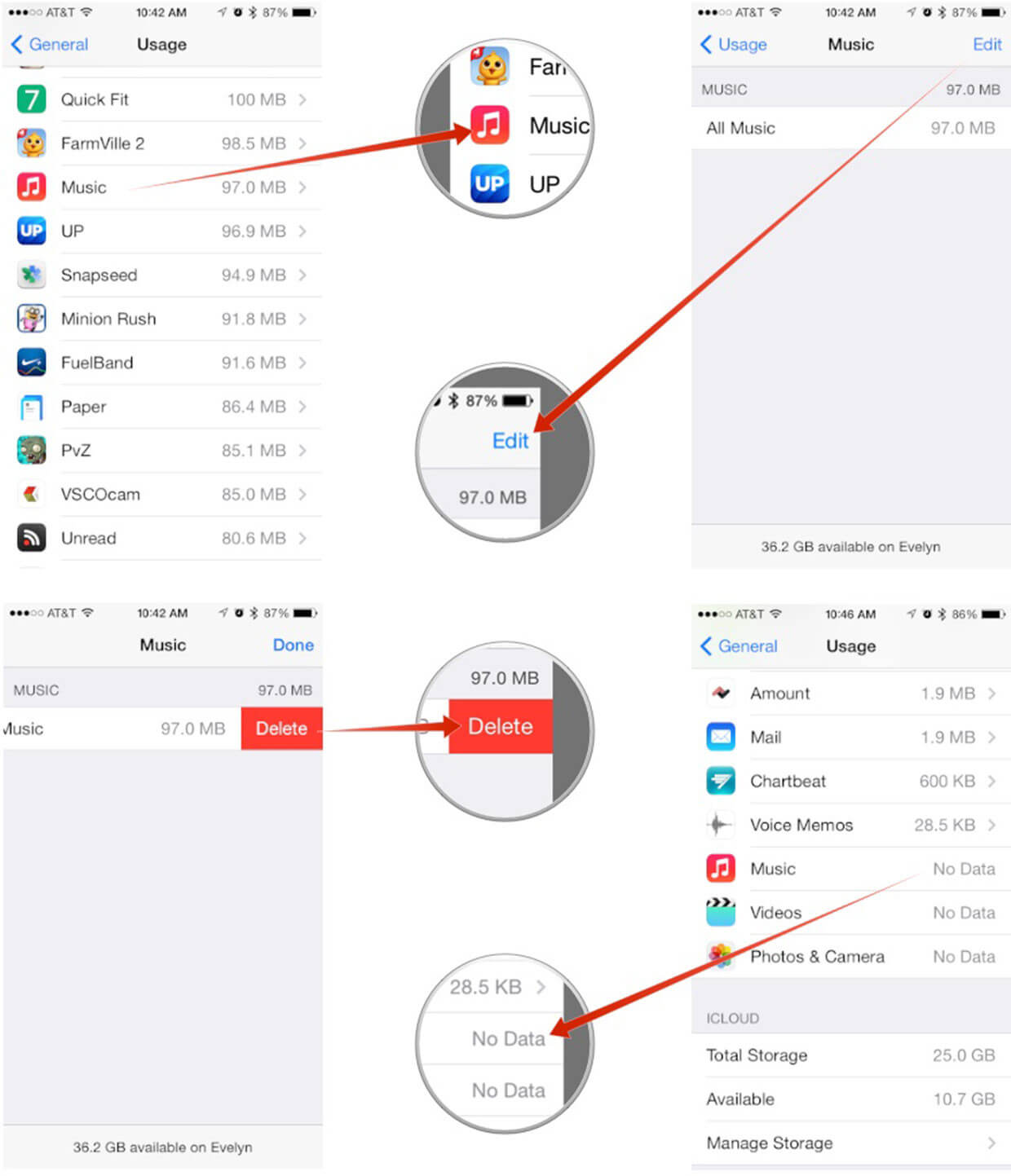 3. Clean All Songs or Movies from iPhone, iPad or iPod touch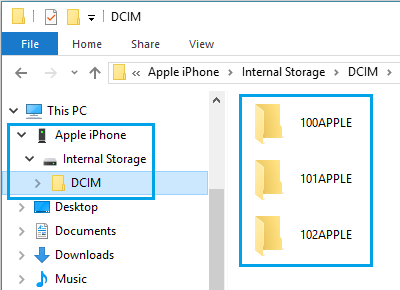 Deleted iPhone data are invisible for users but they are still stored on your device and can be recovered by some professional iPhone Photos Recover, iPad Messages Recovery and more. If you have backed up these files on the computer and want to erase all these data on your iPhone, iPad or iPod touch thoroughly for recycling or donating, you have to choose a guaranteed software to clear data and ensure that the data cannot be recovered. FoneEraser for iOS is strongly recommended to you here because of its convenience and efficiency.
Step 1: Download and install software from the official site and launch it after it is done.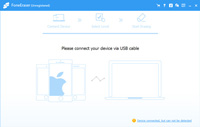 iPhone Data Eraser
FoneLab - iPhone Data Eraser - the best iOS data cleaner which can easily erase all contents and settings on iPhone, iPad or iPod completely and permanently.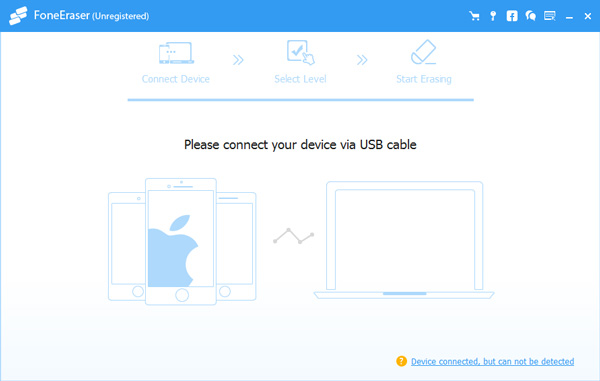 Step 2: Connect your iPhone, iPad or iPod touch to the computer with USB cable.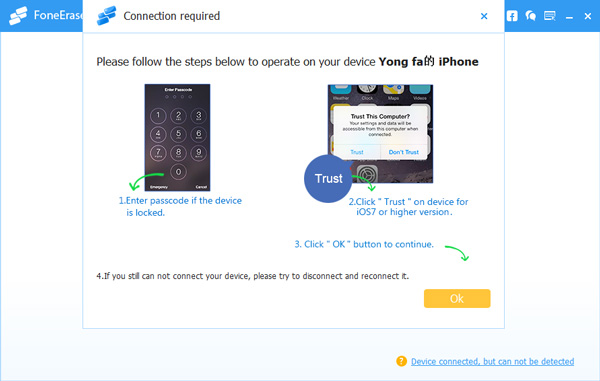 Step 3: Tap Trust on your iPhone screen if it pops up to finish the connection.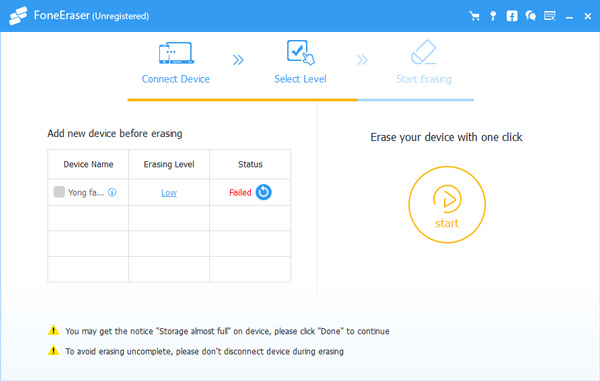 Step 4: Choose one erasing level from three options. High Level, Medium Level and Low Level all meet the standard to protect your data from being recovered. Here we will recommend you to choose the High Level which erases your data thoroughly and completely.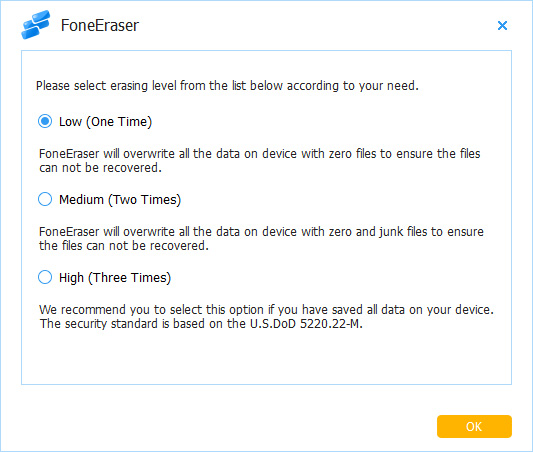 Step 5: Click the big Start icon to begin the procedure. All songs and videos will be removed from your iPhone or iPad.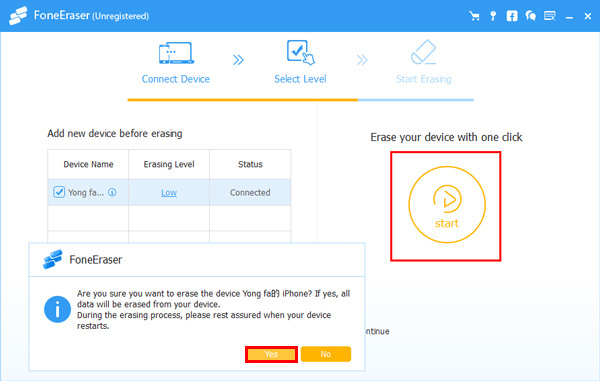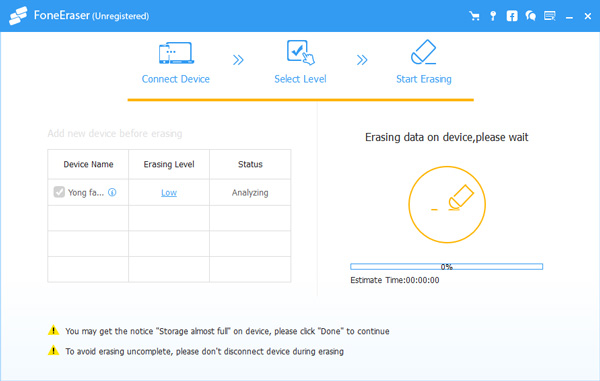 FoneEraser for iOS helps you to erase various types of data, such as photos, videos, contacts, messages, safari history, ringtones, voice memos, etc. It also enables you to clear all apps, documents, security and general settings, cache data, junk files, cookies and more. If you want to delete all data on the device and free up your iPhone storage space, FoneEraser for iOS will be the best choice for you.
Related Articles: