How to Permanently Delete Facebook Messages on Messenger
Facebook has become a more and more popular app among other instant chat apps, and its messenger app for iOS enables you to keep in touch with your friends, your family or customers.
It is convenient to send text messages and media files and allows you to send a public post. The more powerful Facebook is, the bigger space it takes. So if you want to free up the storage of your iPhone, you have to learn more about how to delete messages on Facebook Messenger that you don't need anymore.
There are several options to wipe your Facebook messages on iPhone, you can delete one conversation which you don't wish to see it, or delete all Facebook messages.
You can even clear all Facebook data by removing the app from your iPhone. You should pay attention that the deletion of Facebook doesn't remove the messages from the recipient's inbox, but it removes the copy of the messages from your iPhone inbox only to prevent the data disclosure from the criminals.
Here we will introduce how to delete Facebook messages from iPhone.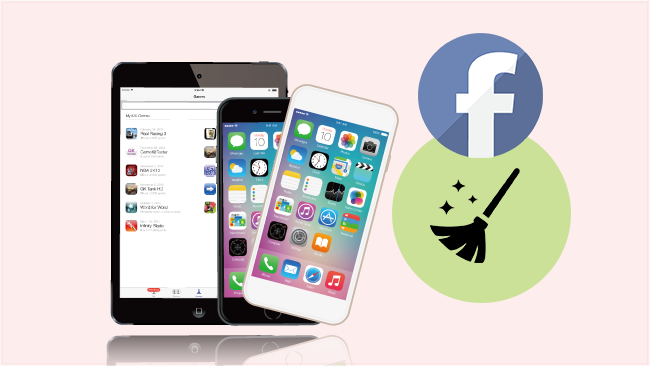 1. How to Delete a Single Facebook Message from Messenger on iPhone
You will send thousands of messages to your Facebook contacts, such as your friends, your cousin or colleague. So if you don't want to see one message anymore, how can you wipe it from the Facebook Messenger?
Run the Facebook Messenger app on your iPhone.
Tap on the app icon and open it.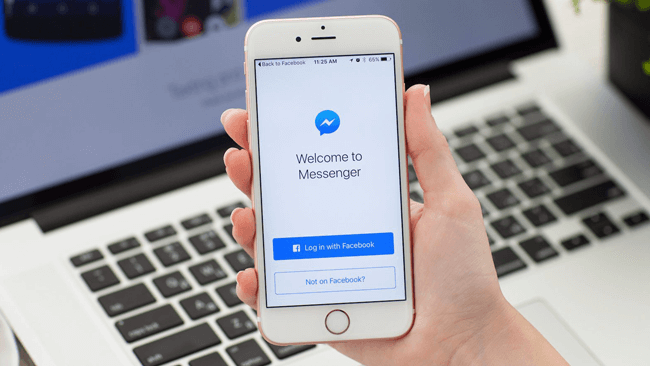 Select the message which you want to delete.
Open the conversation which the message in and find its where it is.
Delete the message.
Press and hold the message till the menu appears. Then tap Delete to erase the message.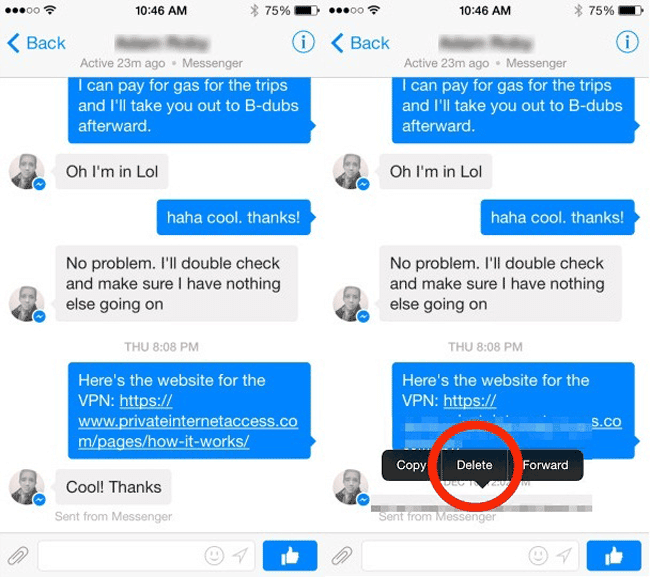 2. Remove a Facebook Conversation from iPhone Messenger
You can delete a Facebook conversation with one movement if you want to wipe the conversation with the people you don't like or finish a simple consultation with a stranger. Below are the steps.
Open the Facebook Messenger app on your iPhone.
Find the conversation you want to delete from the list.
Wipe the conversation from right to left. Then you can see the options.
Tap the Delete button to clean it on your iPhone Facebook Messenger app.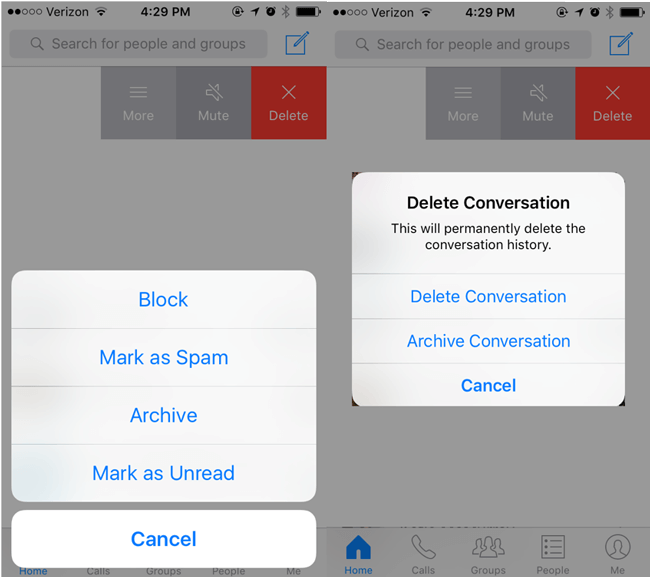 3. Get Facebook Messenger App off iPhone
iPhone runs slower as there are more and more apps on your device to take up the storage space. So how can you clear the Facebook Messenger app to free up the iPhone space?
Go the Facebook Messenger app on your iPhone screen.
Tap and hold it till it jiggles.
Tap the x icon on the top left corner to remove the app from iPhone.
4. Clean Facebook Messenger from iPhone with FoneEraser for iOS
Some data are still stored on iPhone after simple deletion. They are invisible but can be recovered with some professional iPhone data recovery tool. If you worried about data leaked out, you should use an iPhone data eraser to permanently delete Facebook Messenger and all data with sensitive photos, messages, videos and more.
Here we will recommend FoneEraser for iOS, which is a safe and powerful tool to protect your privacy by thorough deletion to you.
Delete text content, media files, documents, apps and settings from the iOS device.
Fully supports iPhone, iPad and iPod touch.
There are three erasing options to choose, including High Level, Medium Level and Low Level.
Ensures your deleted data are unrecoverable.
It is simple and safe to use.
Below are the full tutorial for how to delete Facebook Messenger app and other data from iPhone completely.
Download and install the software on your computer and then double click to open it.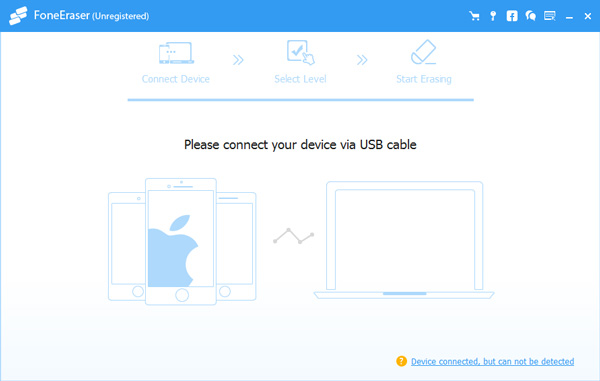 Connect your iPhone to the computer with USB cable and tap Trust on your iPhone screen if it pops up.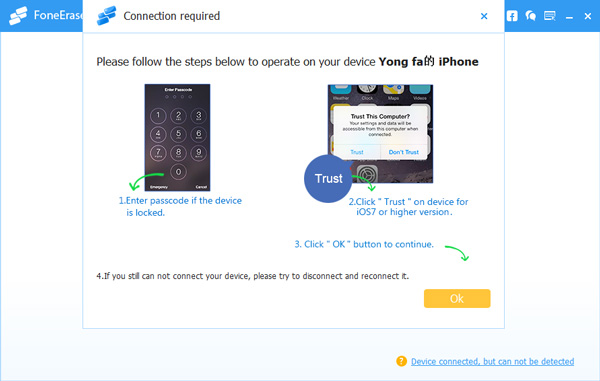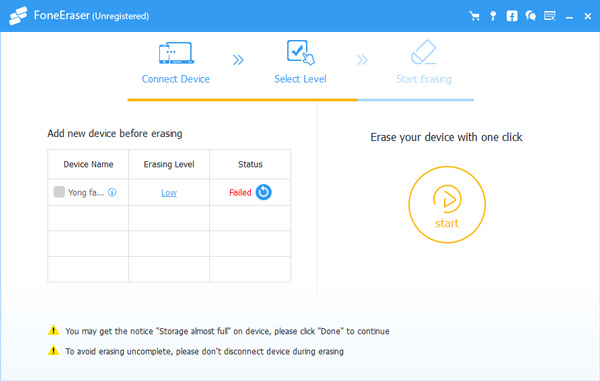 Choose the erasing level after successful connection, the High Level is recommended to you.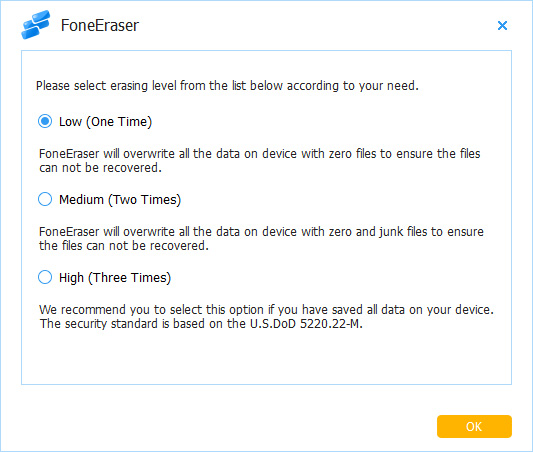 Click Start on the right and click Yes to confirm.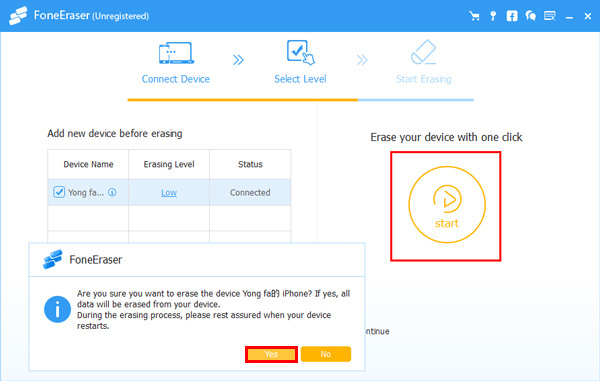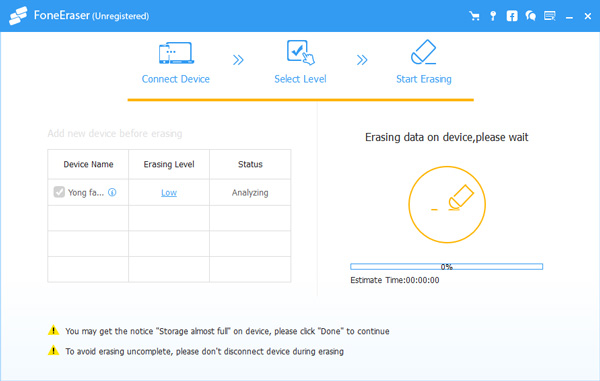 That's all. As you see, the erasing procedure with FoneEraser for iOS is easy and efficient. It allows you to delete photos from iPad, remove contact from Favorites or clean iPhone cache data. Download and have a try now!
Related Articles: