Convert Video Now
convert MPG/MPEG to MP4 with fast speed and high output image/sound quality.
Remarkable Methods to Compress AVI File with The Best Guide
My friend has a video file he wants to transfer for me to edit. However, my phone has insufficient storage, as it is too large. It's in AVI format, and I don't know how to make it smaller. Please help me find out the best video compressor for AVI files.
Are you having trouble with the size of your video file? If its format is AVI, worry not, as it is normal for that format to be significant in size. AVI, or Audio Video Interleave, is a multimedia container format created by Microsoft in the year of 1992. Similar to MPEG and MOV, this format is normally larger than other video formats. This is because AVI files use a reduced level of compression or none at all. It is also often larger than MP4, which is the most used format because of its accessibility in general. Despite that, AVI files still have advantages because they are better quality.

That being said, it's safe to say that AVI files are better for video editing since they are in raw form. The only problem is how to make these video files smaller. Well, worry no more, as this article will provide you with the most outstanding tools and methods to compress your AVI files. This way, you will be able to save storage space and, at the same time, keep the quality of the AVI video format. We will also lay out effective yet easy guides in each part to make the process hassle-free. Kindly read ahead to begin the compression.
Part 1. Compress AVI File with FoneLab Video Converter Ultimate
If you want to successfully compress AVI files, watch out for the FoneLab Video Converter Ultimate. It is currently on the run to be the best video compressor, converter, and editor, all at the same time. It lets you improve your AVI files most impressively, like the quality outputs it produces. In addition, this tool is cost-effective and has a straightforward interface. You can utilize its features even at first use because it only takes a few clicks to master its incredible functions. And the best part is, FoneLab does not only cater to video files. It can also compress and convert audio and images with several available formats. You will have knowledge about more of its features when you install the tool on your device.
Be guided by the hassle-free instructions below to gain an understanding of the remarkable AVI video compressor, FoneLab Video Converter Ultimate:
Step 1Download the FoneLab Video Converter Ultimate installer file on your computer by accessing its homepage. After downloading, click the file and permit it to make changes to your device. When a window appears, you can begin the installation process. Some of the program features will preview while it is ongoing. Start running it on your computer once done.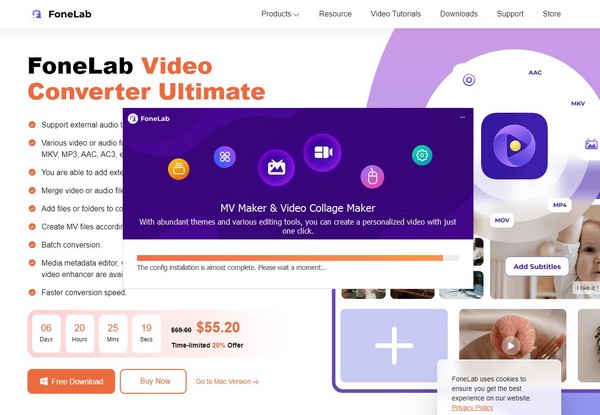 Step 2The converting feature of FoneLab Video Converter Ultimate will be the one to welcome you to the main interface. But there are 4 options on the upper part: MV, Collage, and Toolbox, including the Converter. Pick the Toolbox for this situation.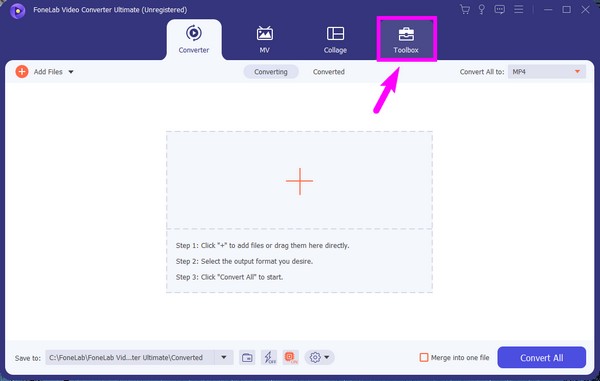 Step 3Once you are in the Toolbox section, you will see the Video Compressor feature on the upper portion at the center. Click it to compress your AVI files to the appropriate file size you want to achieve.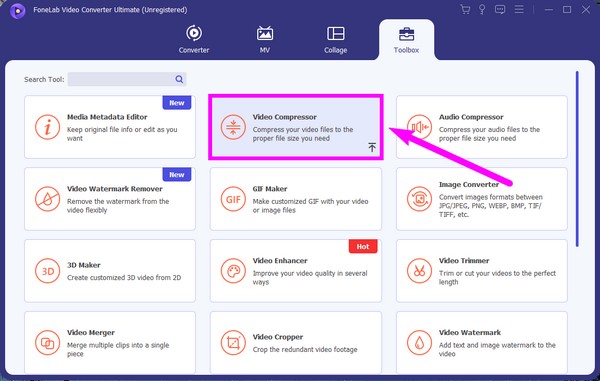 Step 4An interface with a big box at the center will show up. It comes with a plus symbol as an indication to add files. Press it and select the AVI file you want to convert from the popup folder.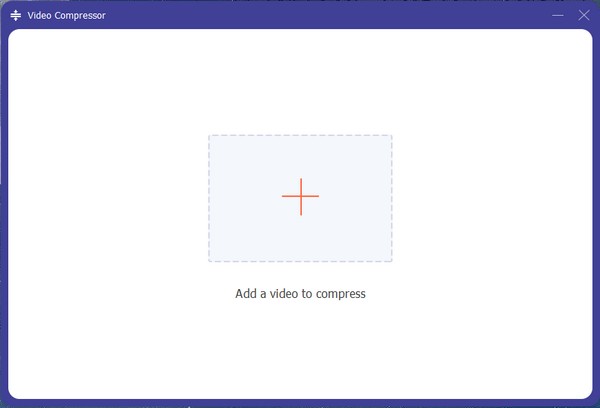 Step 5Once imported, the next interface will display the information of the file. You can adjust the slider that aligns with the size option to choose your preferred video output size. You may also change the format and resolution according to your liking. Afterward, click the Compress button to compress the AVI file.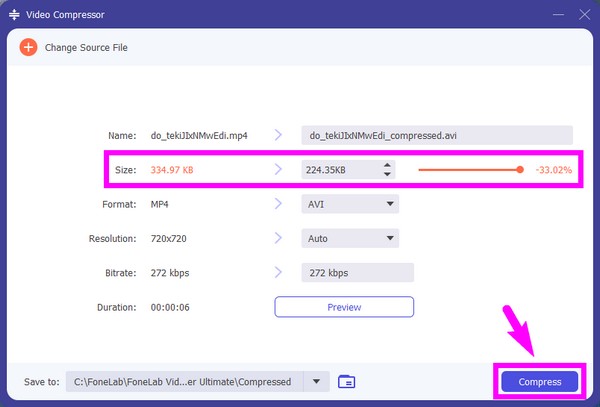 Part 2. Compress AVI File Online
While searching for online compressors, we stumbled upon FlexClip. It is a free online tool that can help you compress your AVI and other formats. It is trouble-free to use, but the disadvantage is that the compression can take a while to process.
Be guided by the simple instructions below to compress video AVI online with FlexClip:
Step 1Access the official site of FlexClip, then click the Browse Video tab at the center of the page. Then select the AVI file from your file folder that will show up.
Step 2Choose your desired compressed quality and resolution from the dropdowns on the Compress Settings. Then click Compress Now.
Step 3Wait for the compression process to complete. Afterward, download the compressed file to save it on your computer.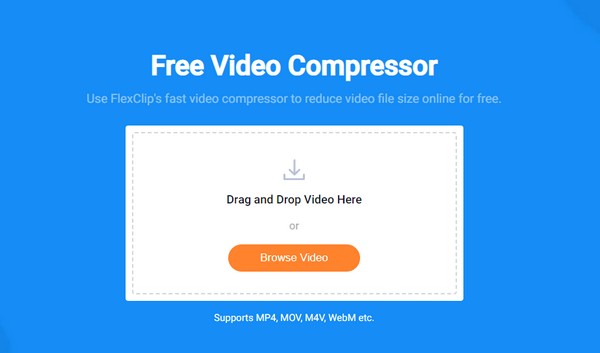 Part 3. Right-click to Compress AVI File on PC
The easiest way to compress an AVI file on your computer is to right-click the video. Choose the Send to tab from the list of options. Then select the Compressed (zipped) folder, and that's it. It's very easy, but then you need to extract the video first every time you want to play it on your device. It's still better to compress the video itself using compressor tools.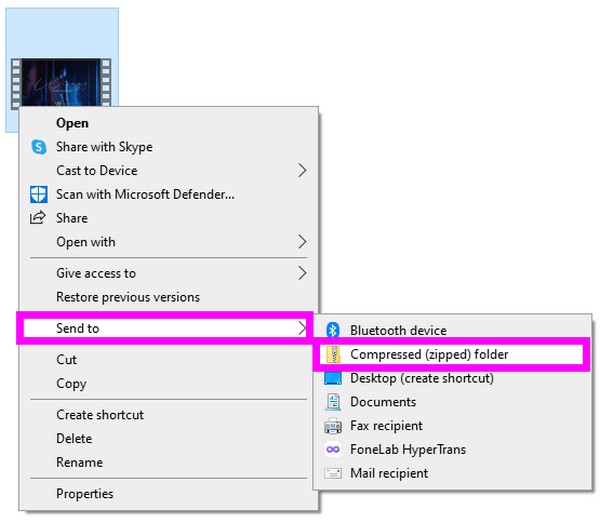 Part 4. Compress AVI File with QuickTime on Mac
QuickTime can compress your AVI files If you are using Mac. However, this method is only available on Mac, and you can't execute it on other operating systems. Plus, it doesn't have many size and resolution options like the other compressors.
Be guided by the simple instructions below to compress AVI file with QuickTime on Mac:
Step 1Launch QuickTime from the Applications folder. Select File, then Open File to open the AVI video file.
Step 2After accessing the video, click File, then choose the Export as tab from the drop-down options. Select the resolution that will make the size of your video smaller to compress it.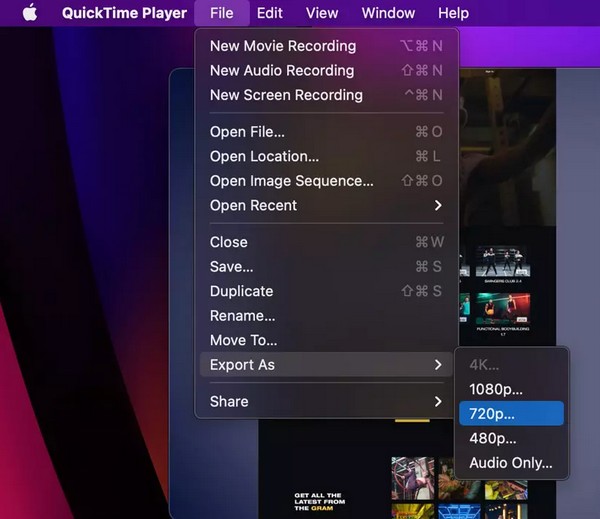 Part 5. FAQs about AVI File Compressors
Large file sizes can be challenging to handle when your device storage is limited. Thankfully, you can compress them using the most trusted compressors like the FoneLab Video Converter Ultimate. Install it now to save space.