What You Should Do When Your Audacity Is Not Recording
"I want to digitalize my music tapes and my friend suggested me to use Audacity for free, but it does not work after I click the Record button, how to fix this problem?"

As an open-source audio recording project, Audacity is as powerful as some professional software. However, it is not perfect and the most common bug is that Audacity is not recording. This post will identify and share verified solutions to fix the problem easily.
1. 5 Fixes You Can Perform When Audacity Not Recording
A lot of factors can lead to the problem that Audacity is not recording. You can perform the five fixes one by one to resolve it.
Fix 1: Allow Audacity to Access Microphone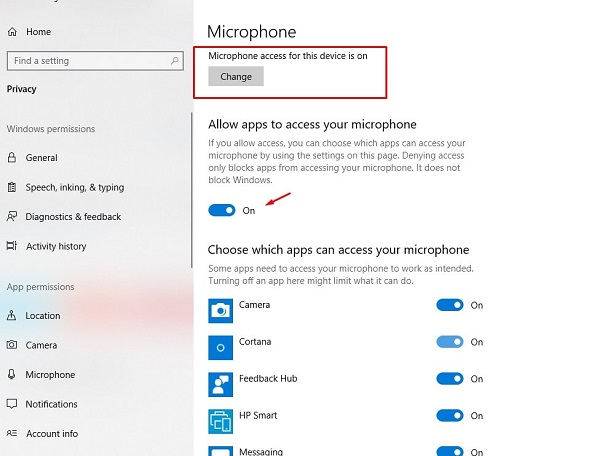 Open the Start menu at the bottom left corner, go to Settings and choose Privacy.
Choose Microphone under App permissions on the left sidebar. Then toggle on the switch under Allow apps to access your microphone.
Find Audacity under Choose which apps can access your microphone, and toggle it on. Now, the Audacity not recording issue may disappear.
Fix 2: Check for Disabled Devices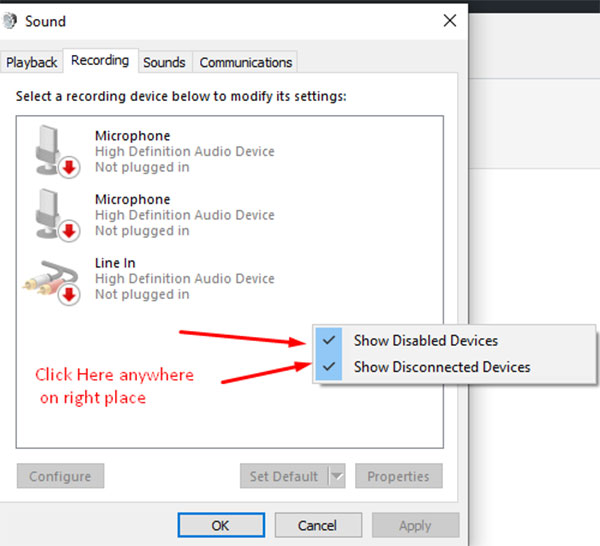 Close your Audacity if it is not recording, go to Start menu and open Control Panel.
Open the Sound option and head to the Recording tab. Right-click on an empty area on the popup dialog and select Show Disabled Devices.
If a device is displayed, right-click on it and choose Properties, and then select Use this device option in Device usage drop-down. Click OK and try Audacity again.
Fix 3: Configure Audacity Properly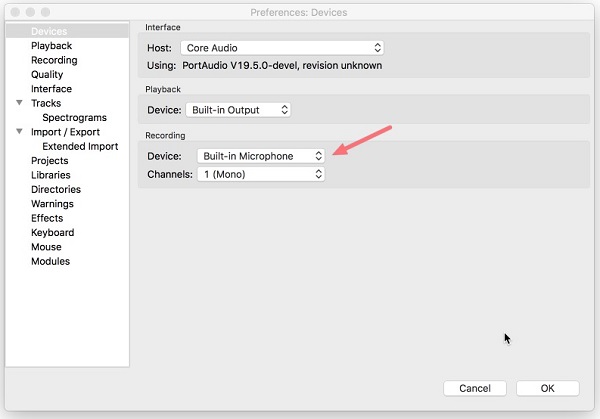 If Audacity is not recording on Mac due to incorrect settings, go to the Edit menu and choose Preferences option.
Click the Devices section and check the settings under Recording.
Make sure to select the proper microphone from Device option and set Channel to 2 or relative value. Click OK to confirm it and try recording again.
Fix 4: Set Audio Host to MME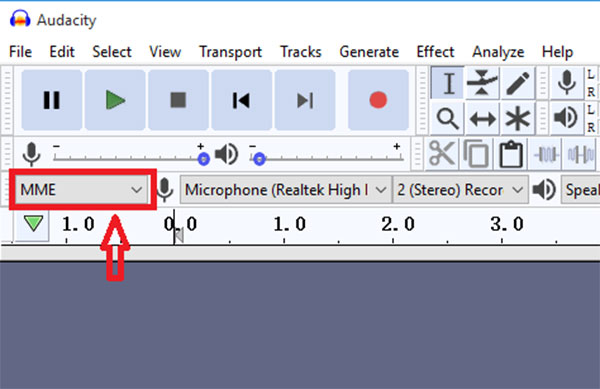 By default, Audacity uses MME as the audio host to record any sources on your computer. However, sometimes it may be altered. Therefore, when Audacity recording is not working, check the audio host at the upper-left side of the interface, which is under the record bar. If it has been changed to Windows WASAPI or Windows DirectSound, reset it to MME.
Fix 5: Correct Sample Rate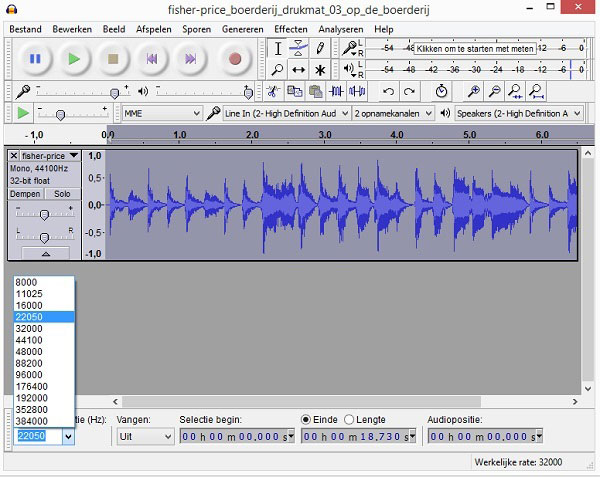 When your Audacity is not recording, go to the bottom left side.
Click the sample rate option and choose 44100 Hz or 48000 Hz. They are two most commonly used sample rates and supported by most sound cards.
2. Use an Alternative to Audacity for Recording Audio PC
If you have tried the fixes above but the Audacity still stops recording, it is the time to look for an alternative. In fact, Audacity is not the only way to record audio from your computer and microphone. Fonelab Screen Recorder, for example, is as powerful as Audacity and offers extensive bonus functionalities.
Basic Features of the Best Alternative to Audacity
Record audio from system and/or microphone.
Work smoothly using hardware acceleration.
Optimize audio quality with advanced technology.
In brief, it is the easiest alternative solution when Audacity is not recording on your computer.
How to Record Audio with the Best Alternative to Audacity
Install the best audio recorder
There are two versions of the best alternative to Audacity, one for Windows 10/8/7 and the other for Mac. Then launch it and choose Audio Recorder to enter the main interface. If you want to record screen along with audio, select Video Recorder instead.

Tip: To change output format, destination folder and other options, click the Gear icon and you will find them on the Preferences dialog. By default, the program will optimize all options based on your hardware and software.
Record sound
There are two sections in the main interface, System Sound and Microphone. The former is used to capture any sound from your computer and the latter can record your voice through microphone. Turn on or off each one based on your need. Click the REC button to begin recording audio when Audacity is not recording.

Tip: One useful feature of the audio recorder is to make a schedule and record sound automatically. You can click the Take Schedule button and set it up.
Save audio recording
When audio recording is done, click the Stop button to enter the preview window. Now, listen to the audio recording with the built-in media player and remove unwanted parts with the Clip tool. Finally, hit the Save button to save the recording to your hard drive.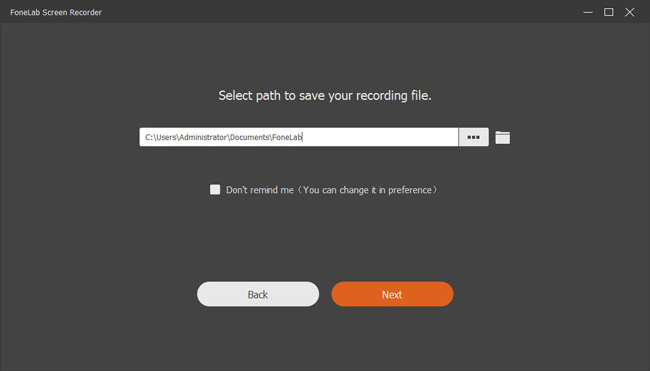 3. FAQs of Audacity Not Recording
Why is my Audacity not recording?
Audacity is not recording due to various factors, such as incorrect configuration, your microphone has been disabled, and more. You can follow our guide to fix the problem.
How do I adjust microphone delay in Audacity?
Go to the Edit menu in Audacity and select Preferences.
Head to the Recording tab, check Overdub and uncheck Software Playthrough. Set 0 for Latency correction and click OK.
Now, the microphone should work well.
Why cannot I hear my recording in Audacity?
You cannot automatically play records through the computer speaker unless you are recording, because the turntable has been designed primarily as a recording turntable. To hear your recording in Audacity while recording, make sure software playthrough is enabled on the Audio I/O tab of Preferences.
Conclusion
This piece of troubleshooting has shared five common solutions to fix the problem that Audacity is not recording. If you are using Audacity as default audio recorder on your computer, you'd better master them. Sometimes, you cannot get rid of the bug even though you have performed fixes. In such a case, use another audio recorder directly, like Fonelab Screen Recorder. More questions or suggestions? Please write them down below this post.
Related Articles:

Leave your comment and join our discussion