Recover iOS Data Now
Recover your data from iPhone to computer easily.
4 Easy Ways to Restore Reminders from iCloud on iPad
All reminders on my iPad were deleted by my daughter. I need them back in urgent, especially for these important reminder events about work. I have a backup in iCloud, but I want to find a way to restore reminders from iCloud without resetting my iPad.
Reminders app has always been great to keep track of important events such as the meeting schedule, the working plan, the to-do tasks and more. With such a convenient function, more iPad users tend to use this app to facilitate the daily life and work. This app is especially useful for people who are busy and forgetful.
As a result, losing reminder events suddenly will make people at a loss what to do. However, sometimes you may lose reminders due to various reasons such as system failure and human error.

It is an unfortunate situation to be in, but one that is easily rectified if you know how to recover lost reminders on iPad.
Thankfully,
Apple provides a feature known as iCloud service to help users back up and store data on iPad, giving users a chance to restore their losing data.
Here, I will introduce 4 ways at length on how to recover reminders with iCloud.
1. How to Recover Deleted Reminders on iPad from Files Synced Before
With the Reminders Using iCloud function on, any edit in Reminders app will be updated to iCloud because of the auto sync feature.
See what is Reminders Using iCloud function:
Go to Settings > [ your name ] > iCloud, find the Reminders option under Apps Using iCloud and see if the switch next to Reminders is on.
Actually, in the offline state or with this function off, changing reminders on iPad will not affect reminders on iCloud.
Thus, you can try this method first when your reminders are lost for any unknown reasons. It won't cause you any additional loss.
Step 1 Visit icloud.com.
Step 2 Enter your iCloud account and password.
Step 3 In the main iCloud menu, click on the Reminders icon.
Step 4 See if your deleted reminders are still kept here.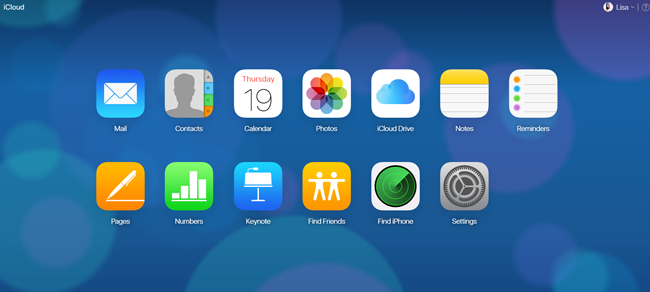 Maybe you still haven't found what you want. Now you can continue to try the next method on the webpage you opened.
Please read on…
2. How to Recover Reminders on iPad from iCloud Website
Apple archives reminders, calendars, contacts and files to iCloud regularly and automatically, which can be restored to iOS device at any time.
Step 1 Click Settings icon in the main iCloud menu.
Step 2 Scroll down to the Advanced section and click Restore Calendars and Reminders option.
Step 3 It will bring up a list of reminder backup files that have been made within the last 30 days.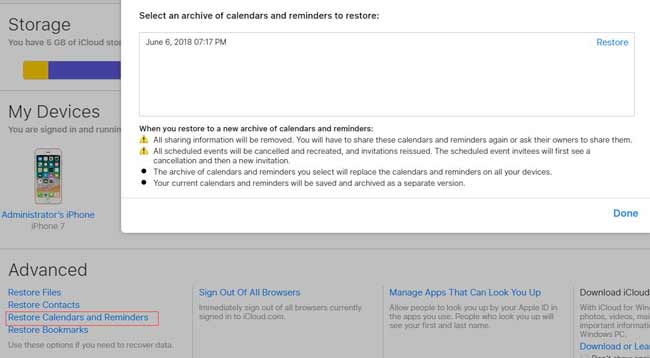 Step 4Click Restore next to the backup data.
Step 5Click Restore again to confirm.
The backup you chose will replace the reminders currently on all your iOS device, while the current reminders will be archived here. If you choose a wrong backup, you can try this way again and again until finding your required reminders.
3. How to Recover Reminders from iCloud on iPad
For safety sake, it is necessary to back up your iPad often. If you have made a backup before the reminders were deleted, your deleted reminders are very likely contained in the iCloud backup file.
Perhaps you are not sure if your deleted reminders are stored in an iCloud backup. You can use the next method to preview the content in advance.
Now, let's dive into this way in detailed steps.
Step 1Tap Settings > General > Reset > Erase All Content and Settings on iPad.
Step 2 A prompt dialog box will pop up to ask for your confirm. Once you tap Erase again, the iPad will restart automatically.
Step 3 Set up the data, language, etc until reaching the Apps & Data interface.
Step 4 Choose Restore from iCloud backup option and sign in your iCloud account.
Step 5 Pick the most relevant one from all the listed backup files and click Restore.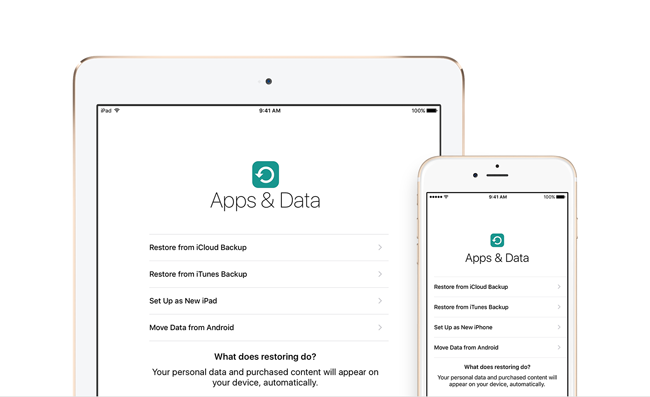 Using this way, you can't restore only reminders, but all the data on your iPad.
If you want to extract individual data from the iCloud backup, please keep reading and the next method can do this.
You can also learn how to check iCloud backup online.
4. How to Extract iPad Reminders from iCloud with FoneLab
The best solution is to let you preview the content and recover the data selectively.
FoneLab – iPhone Data Recovery can get access to iCloud backup and display the content to you.
This software is able to extract only the reminders from an iCloud backup without changing other data on your iPad.
Step 1 At first, you need to download and install the software on your PC or Mac.
Step 2 Launch this software, then select iPhone Data Recovery > Recover from iCloud Backup File.
Step 3 Log in your iCloud account.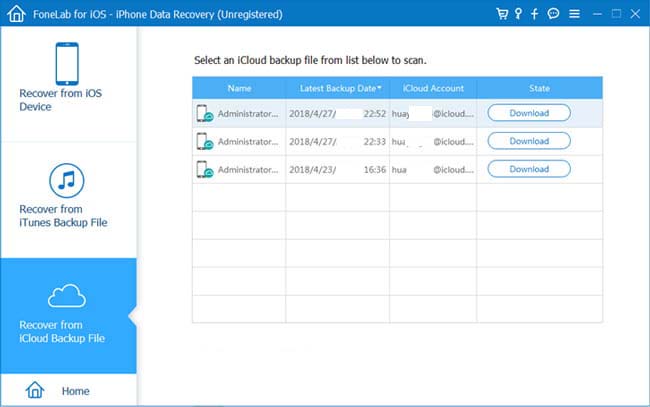 Step 4 Download one from the list of the backup history and click Scan.
Step 5 The software will catalog the data types. Click Reminders on the left sidebar to preview the details. Then select the items to recover.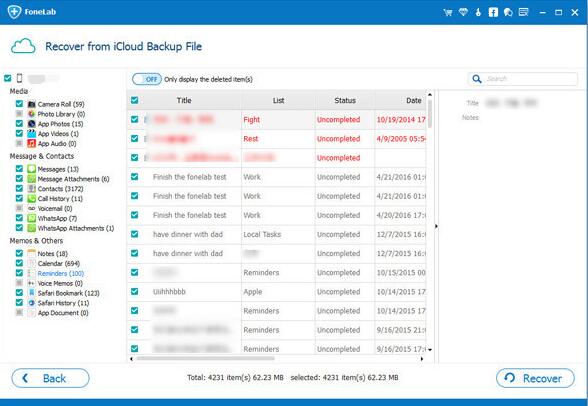 It also provides options for recovering reminders from iPad device directly or from iTunes backup.
More than that,
Other data like calendars, photos, notes, and more included in iCloud backup can be accessed, too. It empowers users to restore data from iPhone, iPod or other iOS devices.
Just click the below links to free download it and get a 30-day trial.