Record Screen Now
Capture video, audio, online tutorial, etc on Windows/Mac, and you can easily customize size, edit the video or audio, and more.
Snapchat Private Story – How to Create One with 4 Simple Steps

Updated by
Szeki
/ Oct 22, 2021 14:20
Snapchat story is a feature that allows users to narrate about their entire day or maybe just the highlights of their days through photos or videos. Furthermore, a Snapchat story is a collection of photographs that play in the sequence in which they were taken and is viewable to you and your friends throughout 24 hours. Stories are popular since they aren't permanent, you don't even have to worry about the content appearing on your profile indefinitely.

Part 1: What is the Difference in the Snapchat Private Story
Snapchat Private Stories are different from other kinds of Snapchat stories because of their confidentiality features. To easily understand the difference, you must first know that there are three different types of Snapchat Stories, which you should be aware of to prevent sharing your stories with the wrong audience.
Three Kinds of Custom Snapchat Stories
Snapchat My Story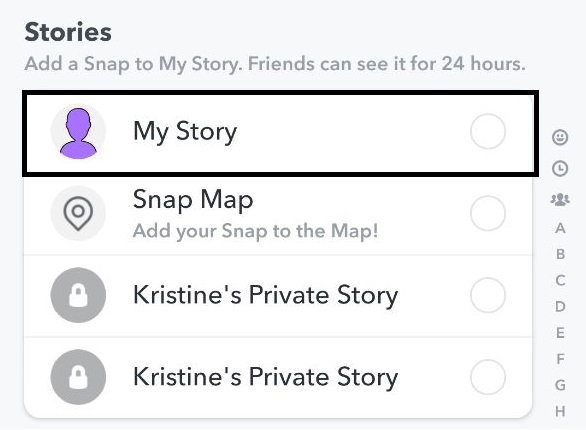 These are the stories that have been created by default when you use the Story button on your main screen to add your snaps. Only your Snapchat friends will then be able to see all of these.
Snapchat Public Story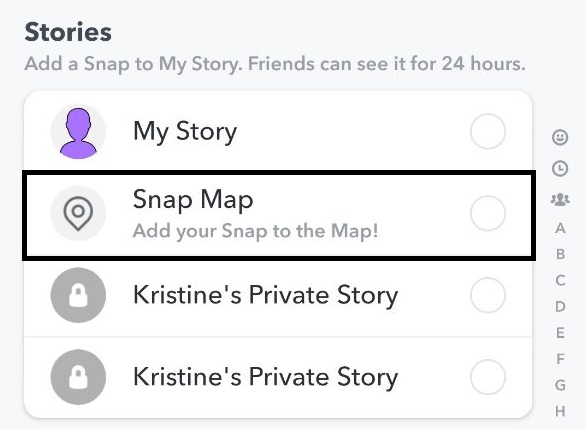 These are the stories that appear when Snapchat users select a location on the Snap Map where you uploaded the story. In the Snapchat settings, you can make all of your stories public.
Snapchat Private Story
Only the Snapchat friends you manually and deliberately chose will be able to see the stories you add or upload. Your private stories are completely inaccessible to the rest of your friends as well as other Snapchat users. Only you can determine which of your friends can even see it.
Private Stories are represented by the padlock icon. For friends out there that have access to your Private Story, those Snaps will be mixed in with your My Story. While Private Stories and My Stories may appear independently on Android devices.
Part 2: Why Would You Have to Make a Snapchat Private Story
Before you learn how to make private story on Snapchat, you should know first why you would have to do this. Social media is an excellent platform for expanding our community and extending our circle of friends. As well as to communicate with people from any background or lifestyle. However, it is not always a good thing because there are aspects of our lives that we want to share with our friends but not with everyone else.
Fortunately, Snapchat allows you to control who sees your stories. You can create a Snapchat private story and control who may have access to your stories. Nobody else can add content to your Snapchat private story except you, and those you don't give access to won't even be aware of the existence of your Snapchat private story.
Why Do You Need to Create a Snapchat Private Story? Simply because you want to control who can see the content you upload. Some contents you would not want a specific person to see, whereas there are others we only want a specific person to see. Not everything is for everyone, and not everyone must see everything.
Part 3: How to Make A Private Story on Snapchat
There are two ways on how to create a private story on Snapchat, from the main Snap tab, and your profile. Either way, it is not complicated at all and can be done quickly. But before anything else, make sure the Snapchat application is downloaded on your phone and your account is logged in.
Steps on how to make a private story on Snapchat from your profile
Step 1First, launch the Snapchat app on your phone and go to your profile.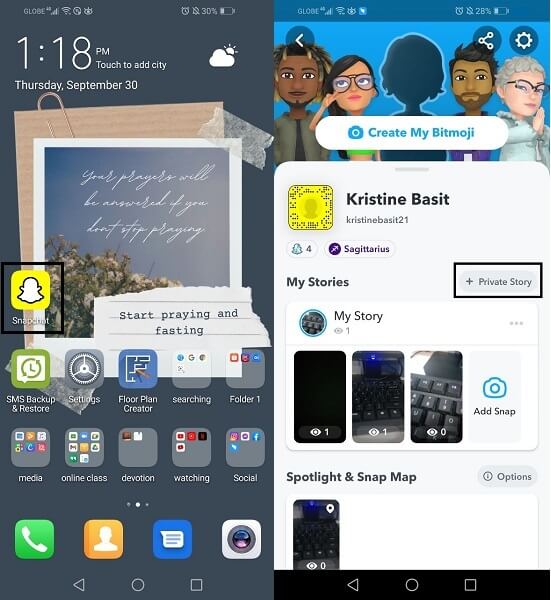 Step 2Next, tap + Private Story and scroll through your list of Best Friends, Recents, Groups, and Friends to find the people with whom you want to share your Private Story. After you've already finished adding people, tap Create Story, type the name of your private story, and afterward tap Save.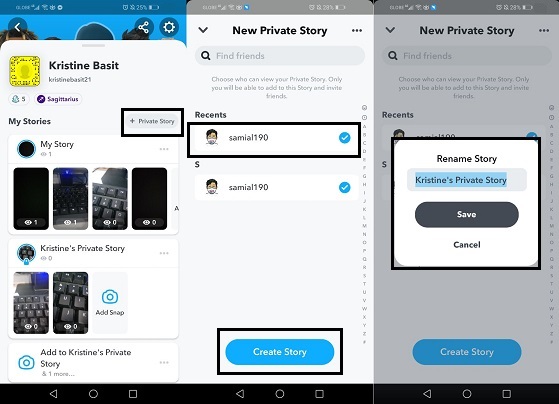 Step 3You can also add more photos or videos to your private story if you want to. Simply tap Add to (Name of your Private Story), then snap or upload what you want.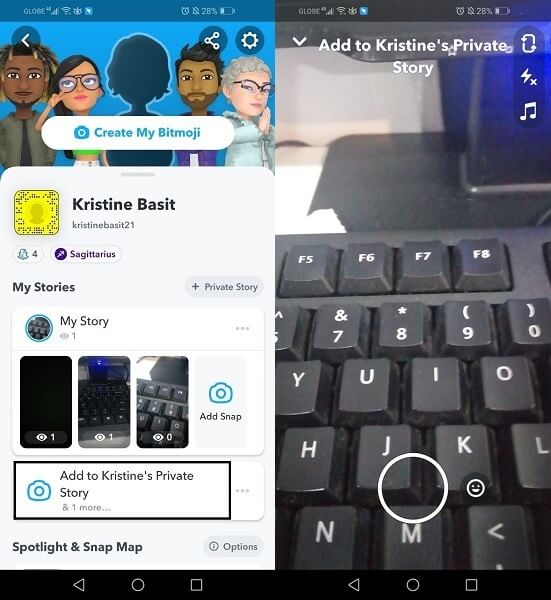 Step 4You can also just tap the three vertical dots beside the name of your private story, and after that tap Add to Story.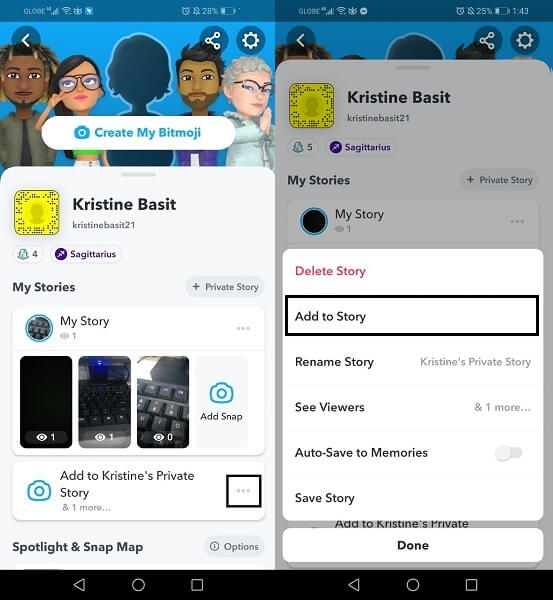 Steps on how to make a private story on Snapchat from the Snap Tab
Step 1Open the Snapchat app on your phone and take a photo or record a video in the Snap tab. Upload a photo or video alternatively. Then, in the bottom-right corner of your screen, tap Send to.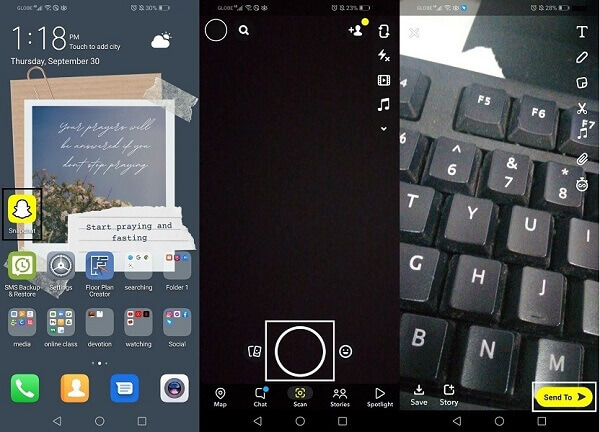 Step 2Select New Private Story from the pop-up menu after tapping + New Story.
Step 3You will be shown a list of your Best Friends, Recents, Groups, and Friends, just like in the previous method. Choose which contacts should have access to your Private Story.
Step 4Click the checkmark to post your Private Story. Private Stories are distinguished from My Stories by a padlock icon.
Part 4: How to Edit Snapchat Private Story
Furthermore, please keep in mind that you are free to edit or drastically change your private story. You can do this by tapping the three vertical dots beside the name of your private story only in your profile panel. You can then either delete the private story, change the story settings, toggle the auto-save option on and off, and manually save the story to Memories if the auto-save is turned off.three-dots.jpg
Part 5: FAQs About Snapchat Private Story
Can someone see if they are the only ones in a private story?
No. They would not know they are the only ones allowed to see a private story because there will be no notifications received or sent out about it. Your private story will rather look just like any other story for them.
Can you remove yourself from a private story?
Yes, you can. A Private Snapchat story is shared between specific people. You can easily remove yourself from it as if you are leaving a group.
Why did my private story disappear?
There are two possible reasons why your Snapchat private story is lost or seems to be lost.
There could be an app-wide problem that caused thousands of users to lose even their posts as well.
This could also be largely attributable to the subject matter of your story. For example, someone may have flagged your story's subject matter as inappropriate, causing Snapchat to consider removing it.
Now that you've seen how to create a Snapchat private story. You must have realized how easy and quick the process is. Enjoy sharing snippets of your day with your loved ones and with those you want to share them dearly without reservations and worries.