How to Manage iPhone or iPad Passcode
IPhone or iPad passcode is important for users, it protects your personal information on your iPhone and prevents the criminals accessing your device without your permission. You can set up an iPhone passcode so that you will be asked the passcode when you want to unlock your device, make a payment, download apps or others. Below is a simple demonstration.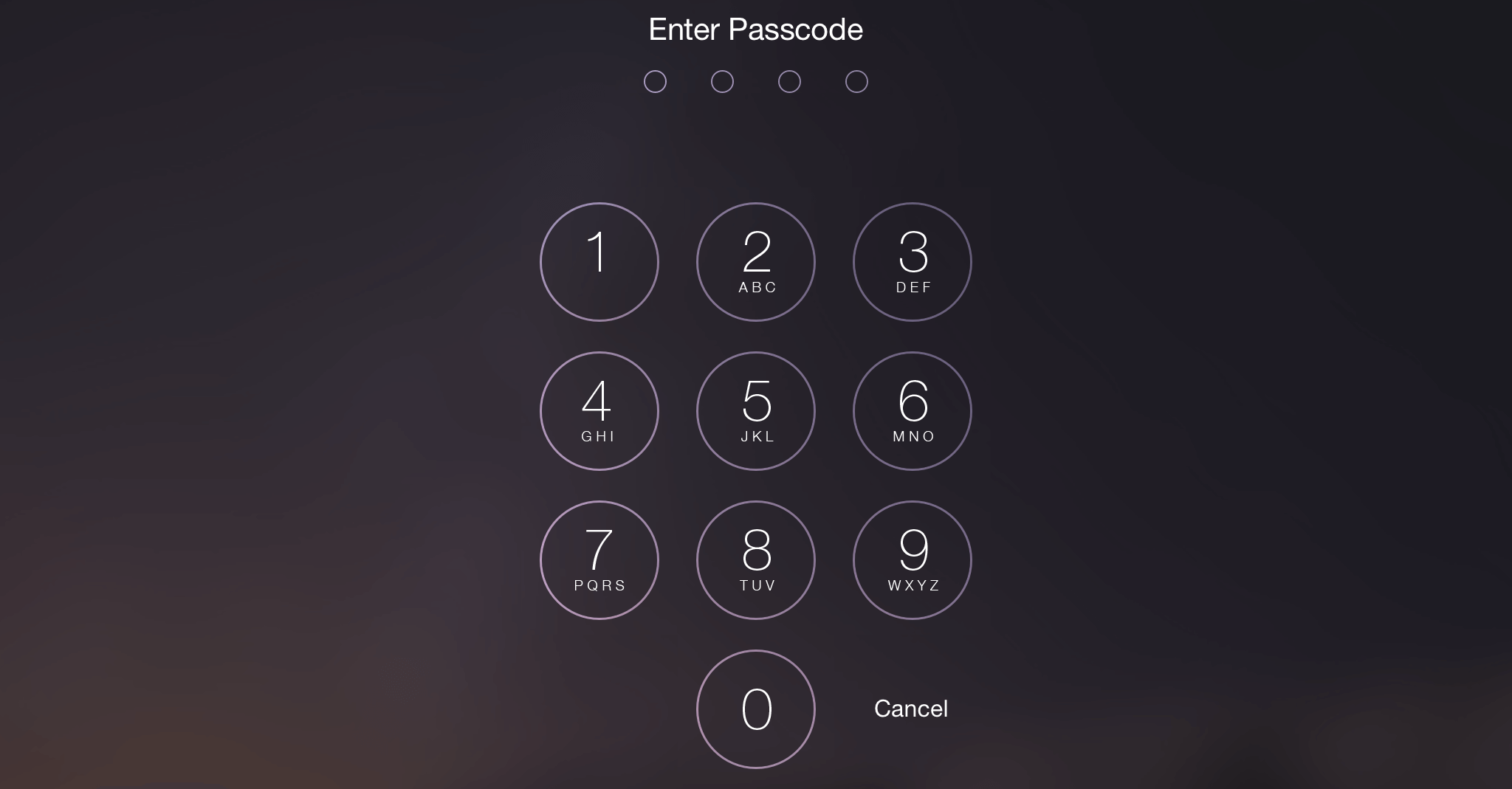 1. How to Set Up the iPhone Passcode
Option 1. Set Up A Numeric or Alphanumeric passcode
Go to Settings on your iPhone or iPad Home screen.
Scroll down to find the Touch ID & Passcode and tap on it.
Tap Turn Passcode on.
Enter a six-digit passcode or tap Passcode Options to switch to a four-digit numeric code, a custom numeric code or a custom alphanumeric code.
Enter your passcode again to confirm and activate it.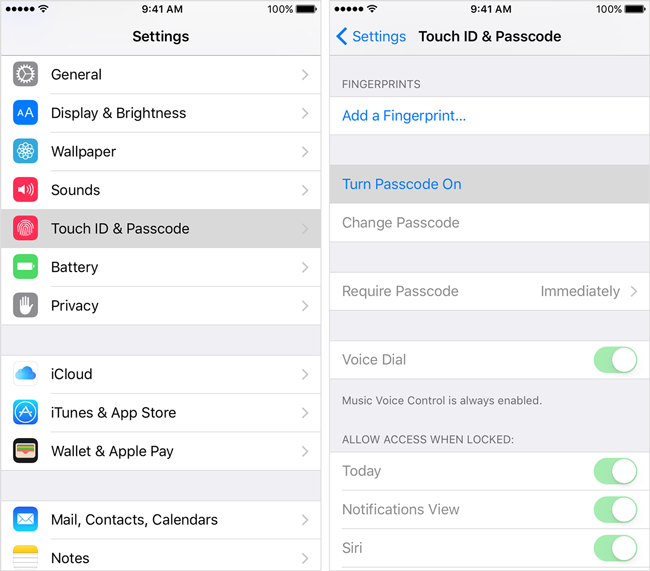 Option 2. Set Up A Touch ID
Ahead to Settings > Touch ID & Passcode.
Enter your passcode.
Tap Add a Fingerprint.
Touch the Home button with the finger which you want its print as the Touch ID on your device, hold it there until you feel a vibration or you are asked to lift your finger.
Repeat to lift and reset your finger slowly, you can make small adjustments to the position of your finger till the next instruction pops up on your phone screen.
Touch the Home button with the outer areas of your fingertip, instead of the center portion that you scanned first.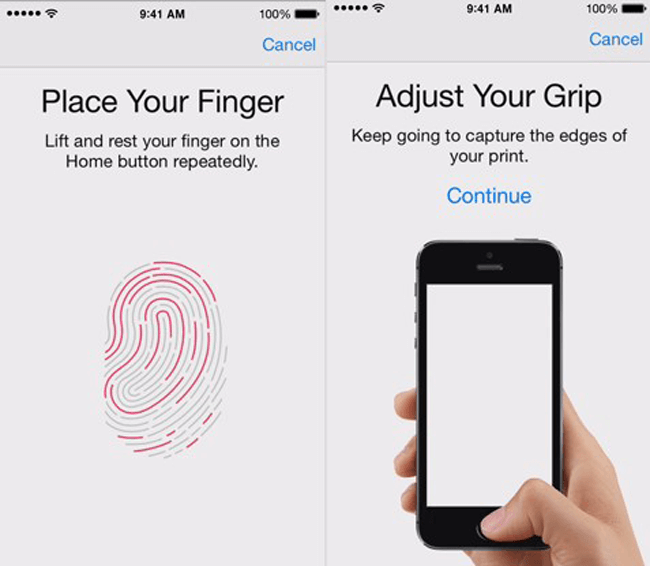 2. How to Reset the iPhone Passcode
Sometimes you might think your passcode is too complicated to enter each time or too simple to protect your privacy, then you need to reset your iPhone Passcode.
Open Settings, tap Touch ID & Passcode and enter your passcode.
Find Change Passcode option and enter your passcode again.
Enter your new passcode twice.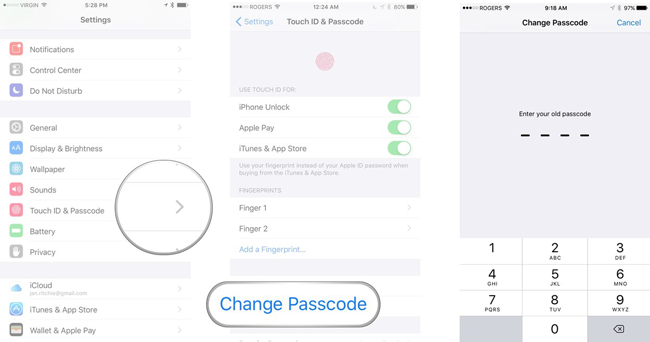 3. How to Remove A Fingerprint from iPhone Passcode List
If you want to change or add another fingerprint except the 5 before, you might need to learn below steps to delete a fingerprint from your iPhone.
Option 1
Tap the fingerprint you want to delete.
Tap Delete Fingerprint.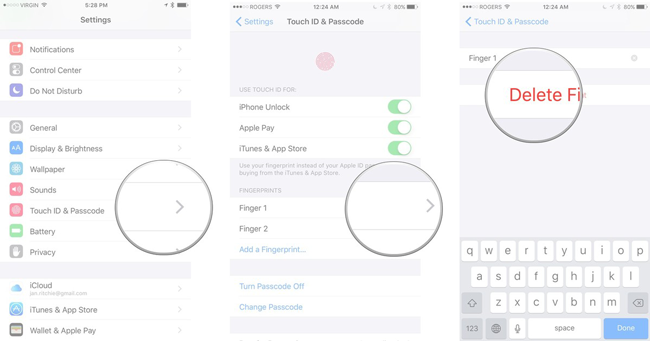 Option 2
Swipe the fingerprint form left to right.
Tap Delete from the appeared button.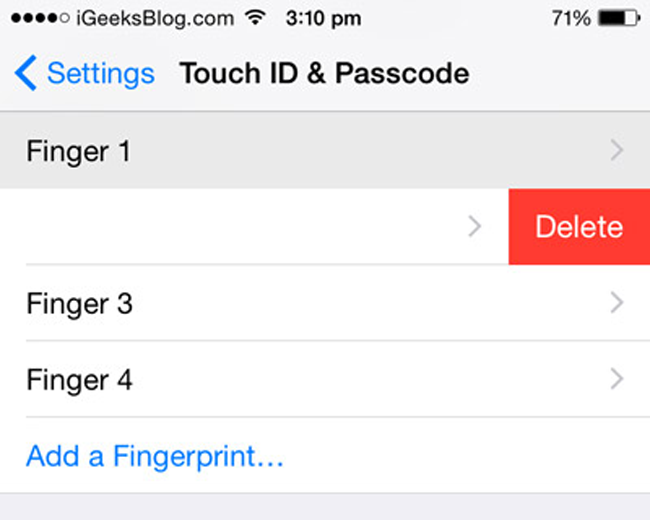 4. How to Turn Off the iPhone Passcode
Maybe you are sick of entering the passcode each time you turn on or restart your device, update your software, erase your device, view or change passcode settings or install iOS configuration profiles. If allows you to turn off your iPhone passcode by following below steps.
From the Home screen, navigate Settings > Passcode.
Tap Turn Passcode Off.
Enter your passcode.
5. How to Restore Your iPhone with iTunes
Apple has its own official method to restore your iPhone with iTunes if you want to clear all data on your device. No matter how much data or settings on your iPhone or iPad, you can remove them from your device completely with below easy steps.
Launch the iTunes on your computer which you used to back up your device.
Connect your iPhone to the computer with USB cable, then tap the Trust on your device screen.
Select your device, click Summary on the left panel.
Click Restore Backup in the Backups section.
Choose the most relevant backup file.<
Click Restore and wait for it to finish.
Please note that you should keep your device connected after it restarts and wait for it to sync with your computer. You can disconnect after the sync finishes.
6. How to Delete All Settings on iPhone with FoneEraser for iOS
After using an iPhone for years, you might find its running speed become slower and slower as the time goes on. So you might need to learn about how to delete all settings on iPhone to make it as a new device. Then you can use it like the beginning. If you are planning to pass your iPhone or iPad to a stranger for donating or recycling, simple deletion on iPhone it not enough to protect your personal information safety. The deleted data are still stored on your device but they are invisible for users. FoneEraser for iOS is recommended for you to delete all these data, app, documents and guarantee these deleted data are unrecoverable. Below is the instruction.
Downloading and installation.
The software can be downloaded from below link and then installed on your computer. If it won't be launched automatically, double click to open it.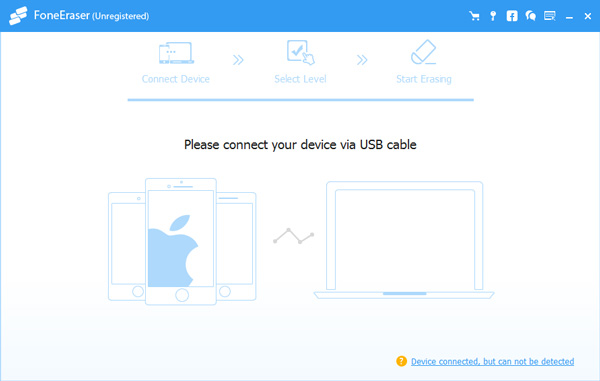 Connect device and computer.
Plug your iPhone with USB cable and then connect it to your computer. Your device will be asked to be trusted, tap Trust on your device screen.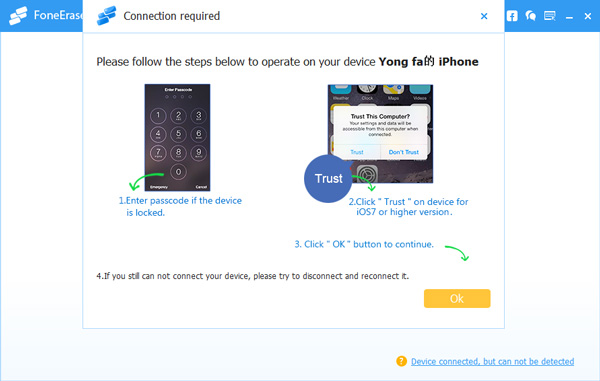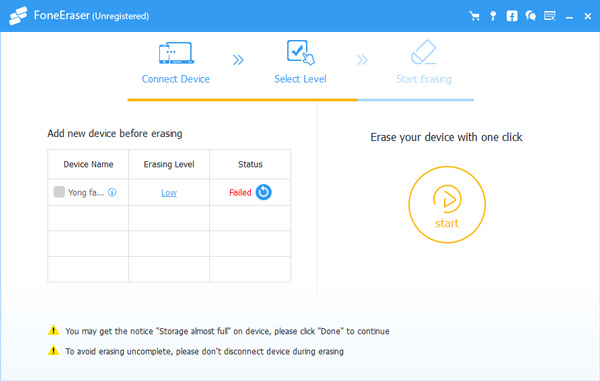 Choose the erasing level.
There are three levels for options, High Level, Medium Level and Low Level. Each level guarantees your data security, so you can choose one according to your situations.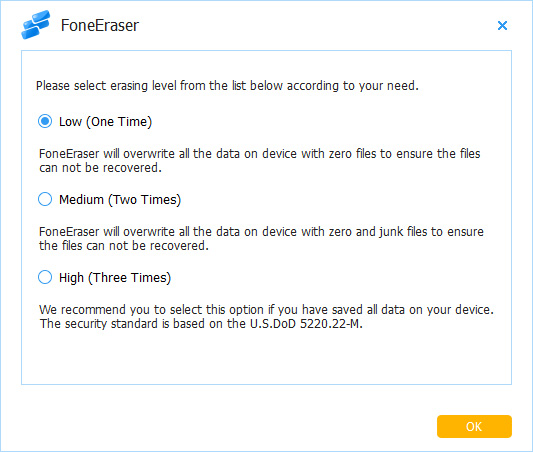 Click the Start icon on the right.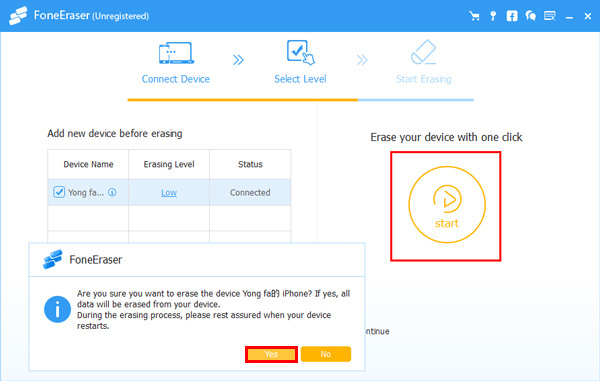 Click Yes on the pop-up window to confirm you want to delete all data on your iPhone.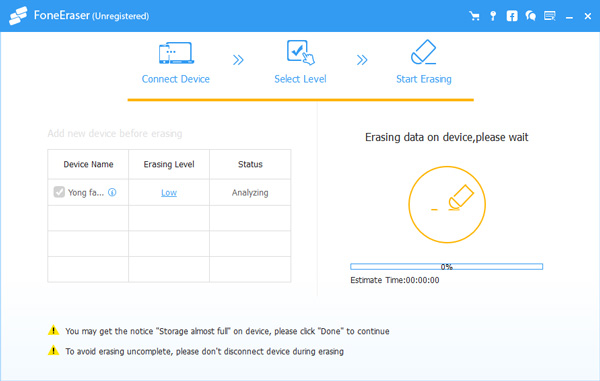 As you see, there are different ways to wipe data on iPhone FoneEraser for iOS enables you to wipe iPhone photos or clear junk files thoroughly easily and safely, you can choose the suitable one according to your circumstance.
Related Articles: