How to Remove Credit Card from iPhone Quickly and Thoroughly
"Using Apple pay with credit card to make payments on iPhone is a convenient and easy way to pay for apps, movies, music and more. But I think it is not safe enough to save these information on my iPhone. How can I remove credit card information from my iPhone? And how to remove cards from Apple pay? Thanks!"
You might have tied a credit card to your iPhone or iPad so that you can make the payments easier. No matter that which way you are using for, your credit card information are stored on your device already.
Credit card information is one of the most important data you try to protect and prevent from identity thieves and malware threats. So you might need to learn about how to remove credit card information from iPhone. Here we will introduce different ways below.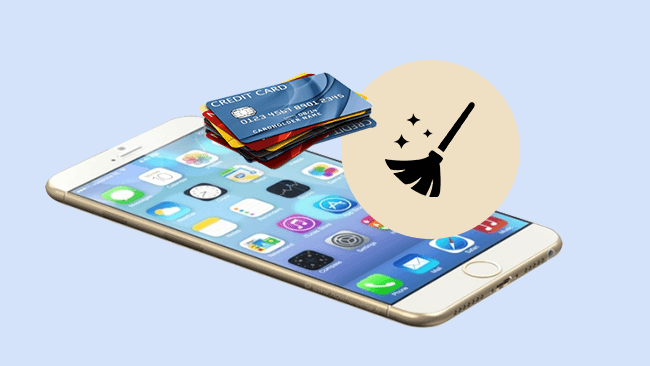 Apple Inc. offers a mobile payment and digital wallet service, which is called Apple Pay. It lets user make payment using iPhone, Apple Watch, iPad or Mac. Some users still have a conscience about moving them from your tech. Below is a simple tutorial about it.
Step 1. Launch the Settings on the Home screen, then scroll down to tap the Wallet & Apple ID.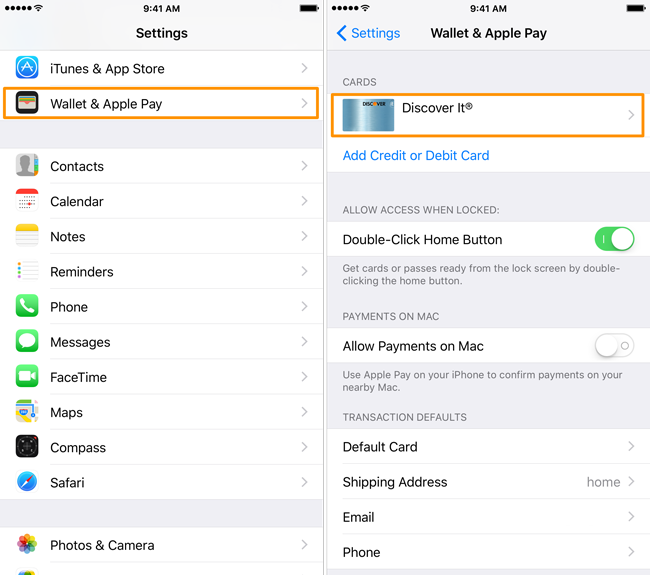 Step 2. Tap the card which you want to remove form the CRADS section.
Step 3. Scroll down to tap the Remove Card.
Step 4. Tap on the red Remove button in the pop-up prompt.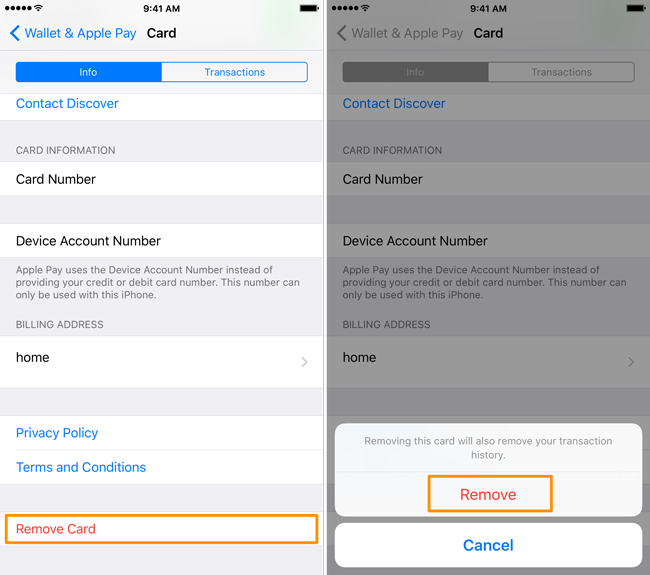 After following above steps, you credit card information is removed from your Apple pay now.
The most common place to use with your iPhone is your Apple ID settings. You can use your credit card to make the payment quickly when you want to buy apps, in-app purchase, movies, music and more from Apple's digital content stores. Please follow below steps to remove an associated credit card if you want.
Step 1. Open App Store.
Step 2. Scroll down to find the Apple ID and tap on it.
Step 3. Choose View Apple ID on the pop-up window.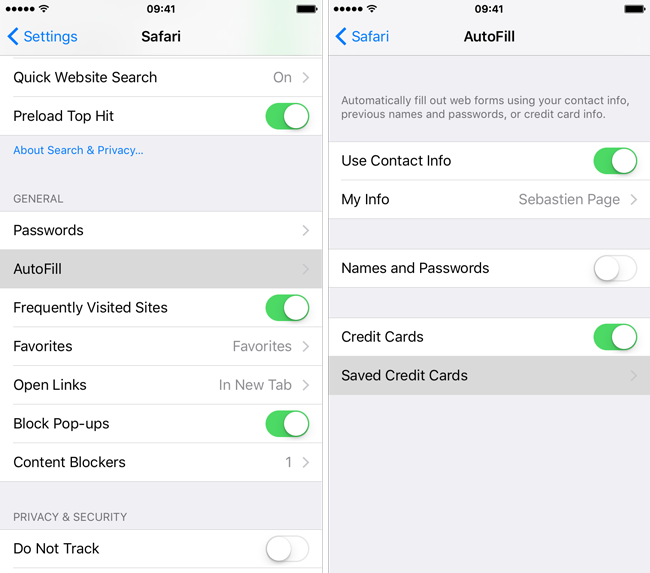 Step 4. Enter your passcode or Touch ID for Apple Store.
Step 5. Tap the Payment Information in the Account Settings section.
Step 6. Choose None under the PAYMENT TYPE.
Step 7. Tap the blue Done button at the top right corner of the app.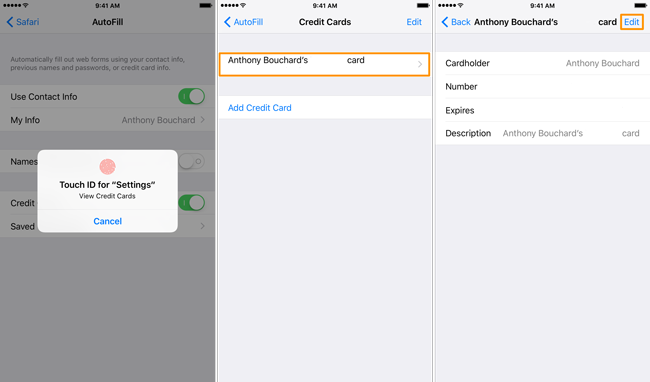 That's all about how to delete credit card from Apple ID, then the card you wish to delete from your Apple ID is gone.
Some of the iPhone users use the Safari to make the payment with credit card in daily life. So there is a simple way to remove the credit card information from your Safari AutoFill as below.
Step 1. Go to Settings app and move to Safari.
Step 2. Choose AutoFill under the section.
Step 3. Tap Saved Credit Cards at the bottom.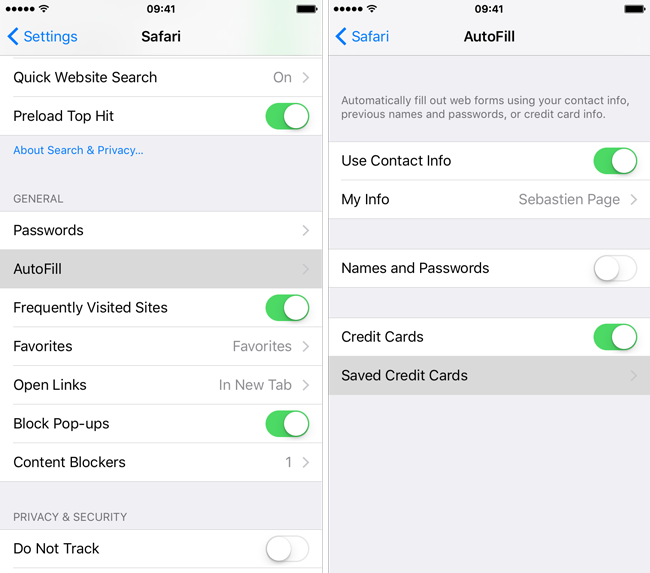 Step 4. Authenticate with Touch ID to
view Credit Cards
.
Step 5. Select the credit card you wish to remove from settings.
Step 6. Tap on the blue
Edit
on the top right corner.
Step 7. Tap
Delete Credit Card
.
Step 8. Tap the pop-up
Delete button
.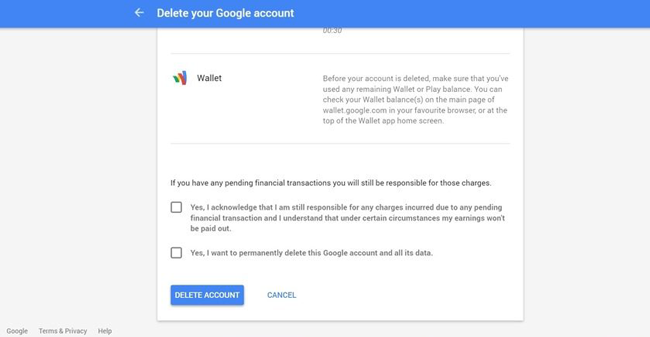 It will be done immediately, then your saved credit card information is wiped from your Safari AutoFill. So you have to enter the detailed information again if you use this card to make a payment with Safari.
Some deleted data are still be stored on your iPhone but invisible for users, so they can be recovered by some professional iPhone data recovery tool.
If you don't want other person to get your private information, you should need to an iPhone data eraser to clear all data on your iPhone, iPad or iPod touch. It has three erasing levels for options, you can choose one from them. And each option ensures your deleted with this program are unrecoverable.
Below are the steps to clear data on iPhone.
Step 1. Download and install the software on your computer. If the software doesn't open automatically, please double click the program icon to launch it.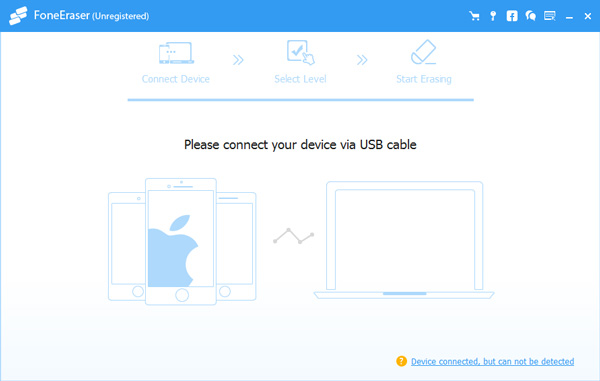 Step 2. Finish the connection between iPhone and the computer with USB cable. You will be asked to simply tap Trust once you see the Trust This Computer.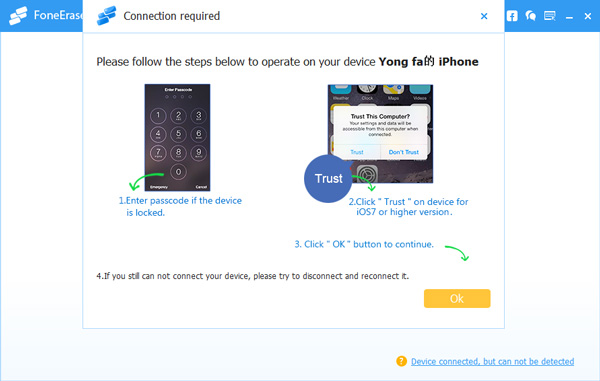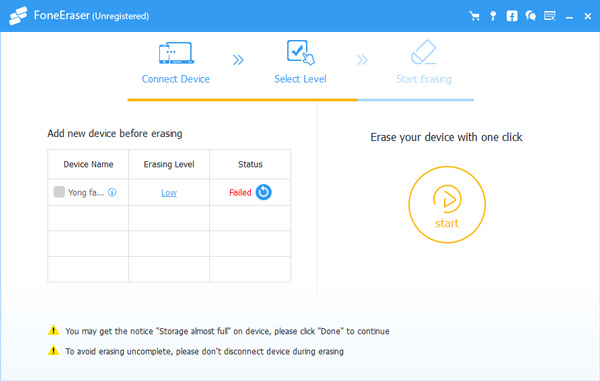 Step 3. Choose one erasing level from the options. The High Level is recommended to you.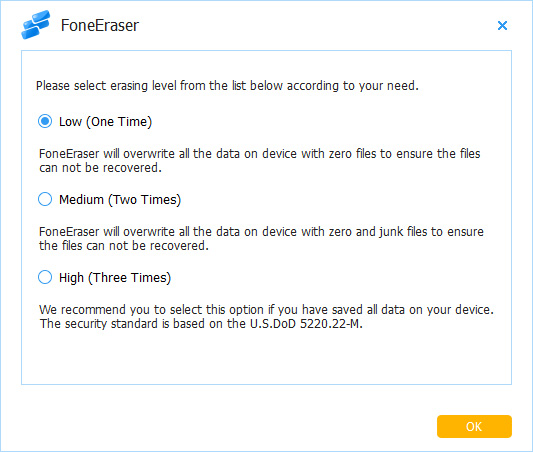 Step 4. Click the Start button.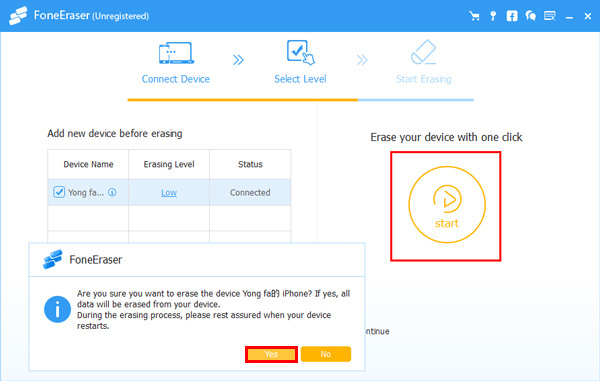 Step 5. Click Yes to confirm you want to erase your iPhone data one more time.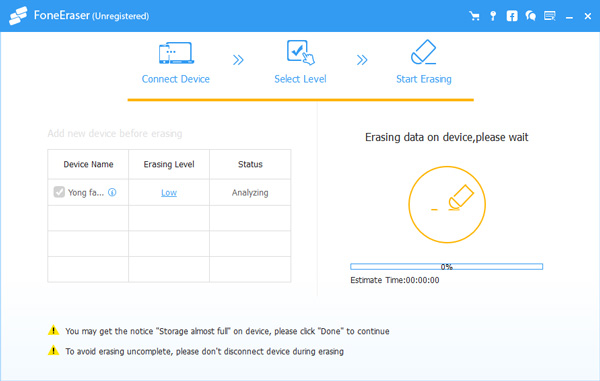 It is necessary to clear data on your iPhone, iPad or iPod touch to celebrate your device running speed or protect your privacy. FoneEraser for iOS is recommended for you to clear iPhone cache data, delete junk files, remove apps, remove contact from Favorites or clean all photos on iPhone. Download and have a try now!
Free Download
Related Articles: