[Proven] Delete Bookmarks and Favorites in Safari from iPad or iPhone
"I like to use Safari app a lot, so I have saved different bookmarks and favorites in it to visit them without searching them again. But I want to remove them now, how can I remove bookmarks and favorites on iPhone Safari app? Thanks!"
WhatsApp becomes a popular app in daily life for iPhone users. Most of them use it to send WhatsApp message, make WhatsApp call, receive WhatsApp video and more online activities.
So you can find there are an amount of community text contents, images and videos stored on iPhone. You can delete WhatsApp messages on iPhone the free up the iPhone storage space.

Safari is a popular browser app on iPhone for most of the users, and you might have saved some bookmarks or favorites in Safari, so that you can visit them easily rather than search them by surfing the internet again.
So how do you delete bookmarks or favorites on iPhone if you want to remove the unwanted items or prevent someone else viewing your safari history?
1. Delete iPhone Bookmarks in Safari App
If you stop reading an e-book and want to continue to read this page next time, you can add this site to the bookmark list in your Safari app. So how do you delete bookmarks on iPhone easily? There is an easy way to do it.
Tap the Safari icon to open the app.
Tap the Bookmarks icon at the top of the navigation.
Choose Edit in the bottom right corner when the bookmarks list appears.
Tap the red delete icon in the front of the bookmark which you want to remove from the list.
Tap the Delete button when it appears.
Tap Done in the bottom right corner.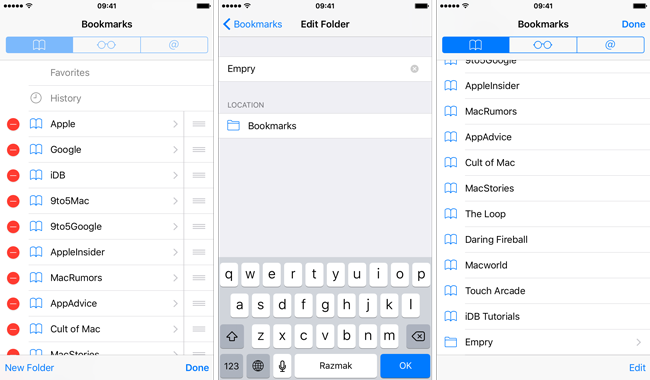 2. Delete iPhone Favorites on Safari App
Favorites have been a great feature in Safari for a long time. If you have some website you visit frequently or important for you, you can save them in your Safari Favorites.
It is your personal list in Safari to make your user experience more convenient and efficient.
How to do when you want to delete these favorite sites as you don't like them anymore or just want to wipe them to clear the cache data?
Open the Safari app.
Tap the Bookmarks icon at the top.
Find the Favorites and tap on it.
Then you can see the list of favorite, tap the Edit in the bottom right.
Tap the red icon and then the Delete button when it appears.
3. How to Remove iPhone Safari Browsing History
The browsing history will be stored in your Safari app, so if you want to donate or recycle your iPhone or iPad, you should learn how to clear the Safari history on your iPhone to prevent someone else viewing your private information.
Option 1. Clear iPhone Safari History through Settings
Run the Safari app on your iPhone.
Select the Bookmarks icon in the upper left corner.
Make sure that you have returned to the top-level menu and then choose History menu.
Tap Clear on the bottom-right corner. There are four options of how much history you would like to clear, choose All time if you want to wipe all browsing history in Safari.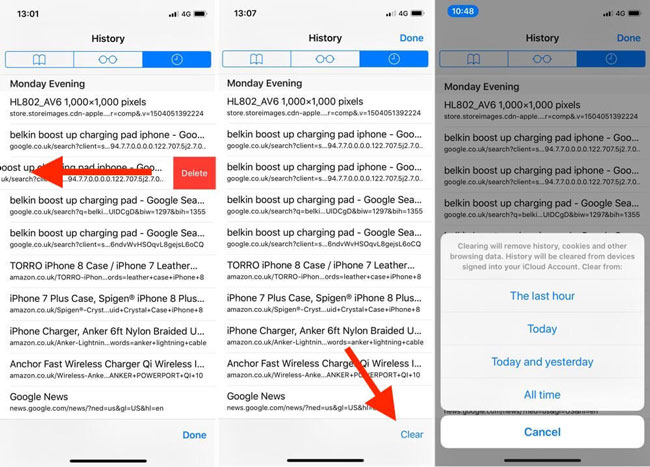 Option 2. Clear iPhone Safari History through Safari App
Go to Settings > Safari > Clear History and Webstie Data.
Tap Clear History and Webstie Data in the pop-up windows again to confirm.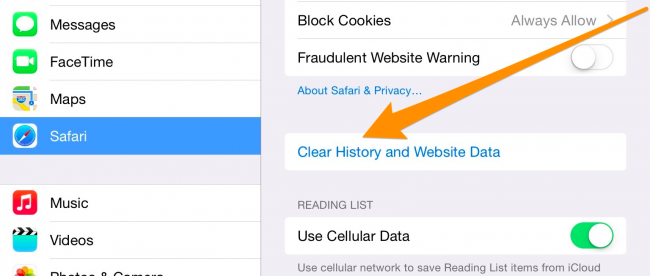 4. Clear Bookmarks and Favorites on iPhone with FoneEraser
Do you think it is so complicated to clear safari bookmarks, favorites and history individually?
If so, you can try a third-party tool called FoneEraser for iOS to try its efficiency and security. it fully supports iPhone, iPad and iPod touch, so you can delete photos, messages and other unwanted data from iOS device easily and thoroughly.
And it allows you to choose the erasing level according to your needs.
Download and install the software on your computer, then the program will be launched automatically. If not, please click the program icon on your computer desktop to open it.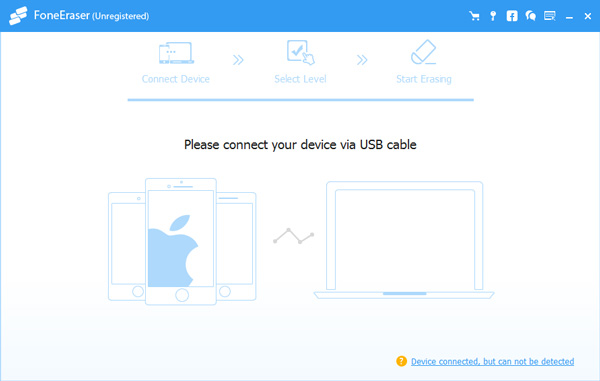 Connect your iPhone or iPad to computer, then tap Trust on your device screen for connection. If the connection failed, please click the retry icon to connect again.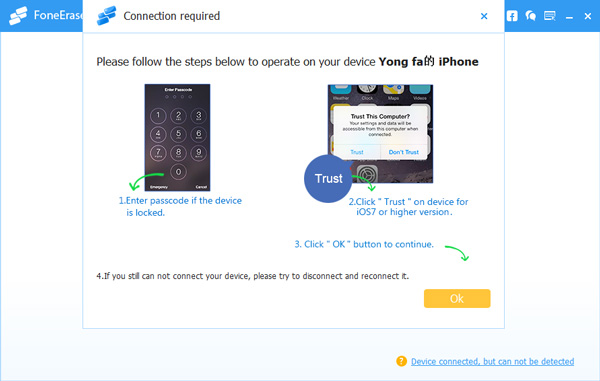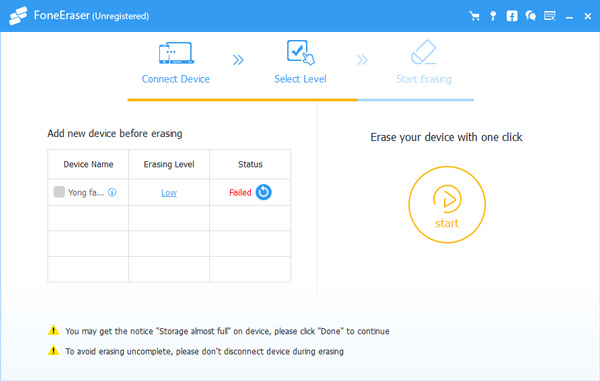 Choose on erasing level from the three levels. There are High Level, Medium Level and Low Level. The High Level is recommended to you here.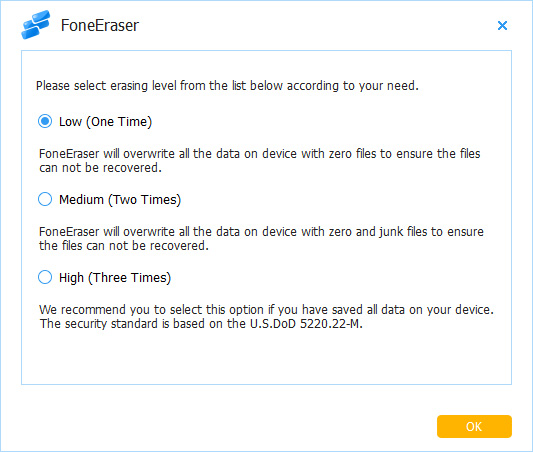 Click Start if you think it is ready to erase all your iPhone or iPad data.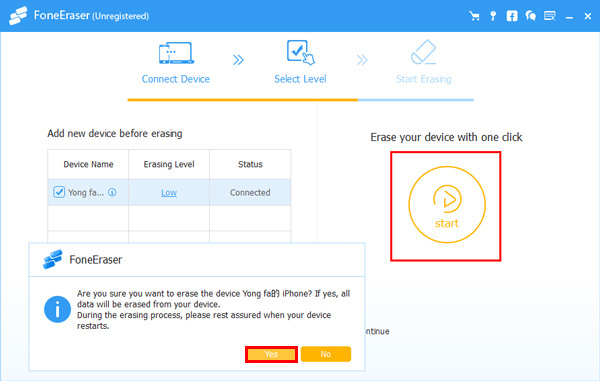 Click Yes to confirm again you want to erase them.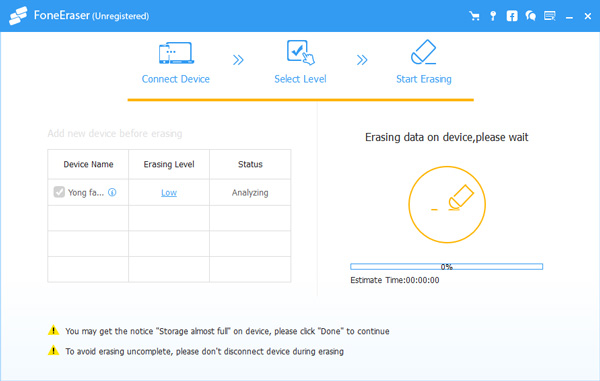 FoneEraser for iOS is a professional and powerful tool to wipe all data on your iPhone, iPad or iPod touch thoroughly. It helps you to clear junk files, remove credit cards, clear facebook search history, cache data or cookies to free up your iPhone storage.
Download and have a try now!
Related Articles: