Convert Video Now
convert MPG/MPEG to MP4 with fast speed and high output image/sound quality.
Convert M4R to MP3 Using Matchless Methods Effortlessly
M4R is a ringtone format customized for iPhones. In most cases, people create this format by purchasing a song from iTunes or Apple Music and making it their ringtones. But it is also possible if you want the other way around. MP3 is a long-established audio format worldwide, and most people know it is compatible with almost all devices. Perhaps, you want to convert M4R to MP3 to be able to play iPhone ringtones on your other devices. Or you purchased a song on iTunes in M4R format but can't listen to it on your Android phone. They are some reasons why you want to convert it to MP3. Converting is indeed the solution to play your M4R files on many devices.

These situations are only some of the matters you can solve if you know how to convert your M4R files to MP3. But the question is, how are you going to learn that? Luckily, the answer is already right in front of you. This article will spare you from experiencing trouble finding an appropriate method to convert your file. After converting audio using several tools and methods, we have finally provided the leading and most effective ones in this post. All you need now is to relax and carry out the easy guidelines that will assist you through the converting process. Kindly devour the knowledge written below to start the conversion.
Part 1. Convert M4R to MP3 with FoneLab Video Converter Ultimate
On the top of our list is FoneLab Video Converter Ultimate. As the program's name suggests, this converter is the ultimate and can prove to be the epitome of a great converting tool. It can easily transform your M4R file or iPhone ringtone into an MP3 file. And it can be done with just a few clicks. This is because of its clean interface, which makes every part of the process easy to understand. This program is also applauded for its high success rate, so you can expect a trouble-free conversion. In addition, it allows you to choose your preferred quality and bitrate for your audio output. Explore the program once you install it to see more features.
Bear in mind the straightforward directions below to convert M4R to MP3 with FoneLab Video Converter Ultimate:
Step 1Explore FoneLab Video Converter Ultimate's homepage. Once you see the Free Download tab, click it to save the software file. Open the file and perform the installation process. You can select the language you prefer to be more comfortable. When the Start Now button pops up, hit it for the program to run on your computer.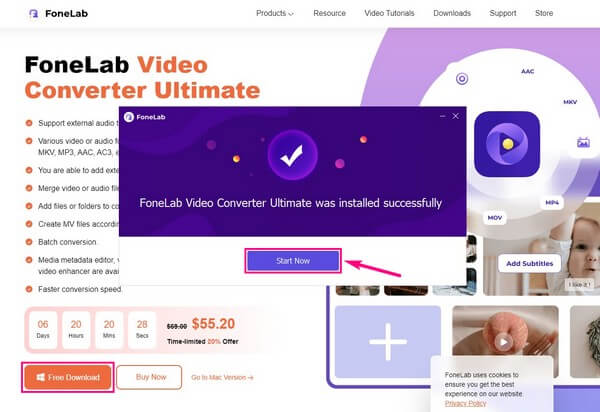 Step 2The first thing you will see when the tool launches are its converting features. Click the "+" symbol at the center of the box to view the File Explorer. Select the M4A file from there to import it into the program. You can also add more if you want.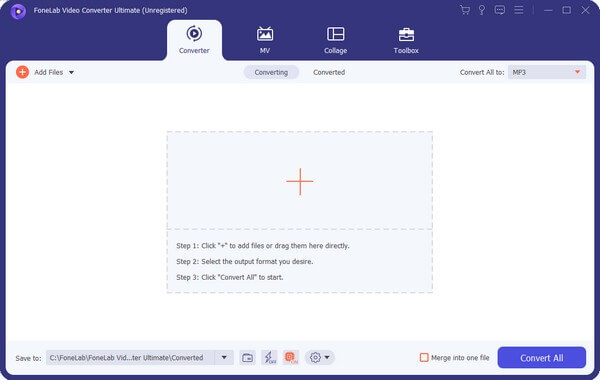 Step 3Once uploaded, click the Convert All to: bar on the top-right corner of the interface. The video formats will then show up. Click the Audio tab next to the Video to display the Audio formats. Then pick MP3 from the list of formats on the left pane. After that, you can adjust the options for your audio in the right area of the interface.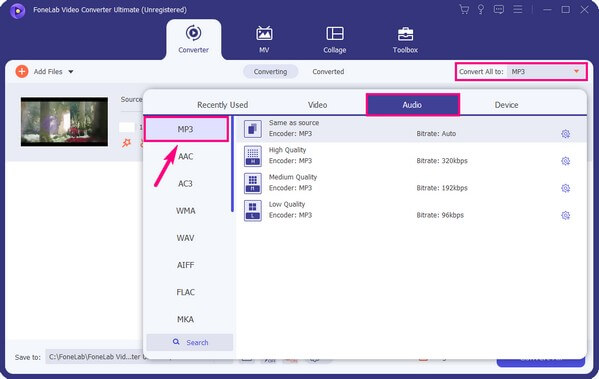 Step 4You have the option to cut, rename, etc., the file if you want. When satisfied, select your desired destination folder on the Save to: pulldown bar at the bottom-left corner. Finally, press the Convert All tab on the bottom-right area of the interface and save the converted MP3 file on your computer.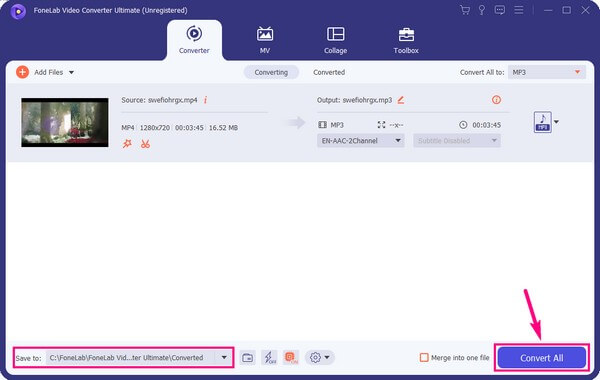 Part 2. Convert M4R to MP3 via iTunes
If you are an iTunes user, you probably know it can convert several audio formats to M4R or iPhone ringtones. Hence, you can convert MP3 to M4R on iTunes. But you might not know that it can also do the other way around, converting M4R files to other formats, like MP3. Unfortunately, Apple has decided to replace it with other independent apps, like Apple Music, on the latest macOS versions. It still exists today but is only available on Windows and other Mac operating systems. Hence, if you are using macOS Catalina and other latest versions, iTunes will no longer be available on your computer.
Bear in mind the straightforward directions below to convert your M4R file to MP4 via iTunes:
Step 1Run the latest iTunes version on your computer. Select the Show in Windows Explorer and choose the M4R file from that folder that will show up. Change the extension of the file to.
Step 2Import it into the program's interface to add to the library as a music file. Then click the Edit tab to open Preferences on the drop-down menu. On the General tab, select Import Settings, then MP3 Encoder. Afterward, click OK.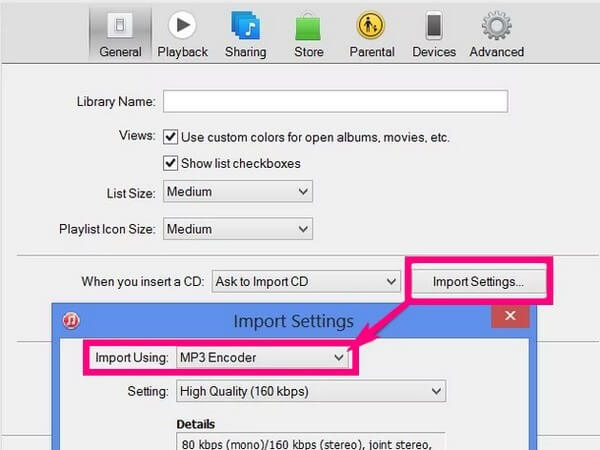 Step 3Later, right-click the file in your iTunes library and select Create MP3 Version from the list of options that will appear on the screen.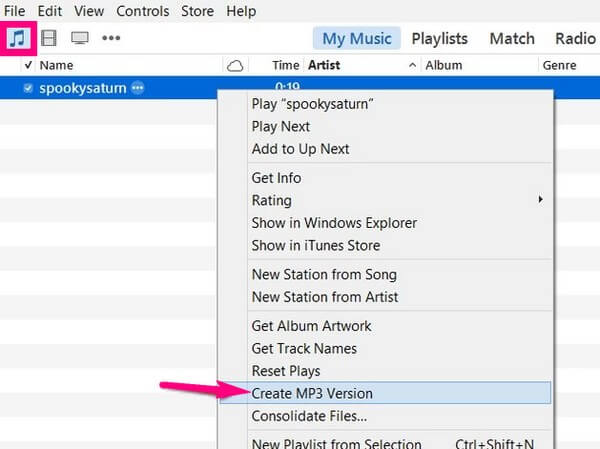 Part 3. Convert M4R to MP3 Using Apple Music on Mac
Apple Music is a media streaming service created by Apple Inc. in 2015. Despite being a newcomer, it managed to attract 88 million subscribers as of 2022. Hence, there must be a reason why it achieved that success over a few years. And one of them is its ability to convert audio file formats, like M4R to MP3. However, note that you must purchase a subscription to use this method. Apple Music requires a monthly payment, and its free trial only offers limited features.
Bear in mind the straightforward directions below to convert M4R to MP3 using Apple Music on Mac:
Step 1Launch the Music program on your Mac and click Music in the menu bar. On the Preferences option, click Files. Following that, select Import Settings.
Step 2When the Import Using screen appears, choose the MP3 from the available formats to which you can convert your song. Then choose the M4R file you want to convert in your music library.
Step 3Finally, click Convert, then select Create MP3 version.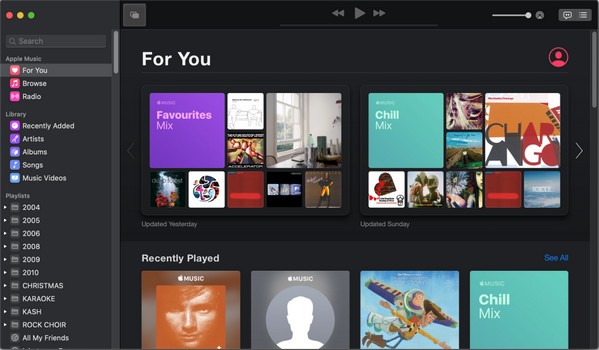 Part 4. FAQs about M4R to MP3 Converters
You can leave comments below if you need more assistance with converting matters. Or you can also browse FoneLab Video Converter Ultimate's official site to enjoy more powerful tools and solutions.