Say Goodbye to Galaxy Note 7 and Hello to Xiaomi Mi Note 2
We have been guessing the release date of the Xiaomi Mi Note 2 for a long time, but our guesswork was ended by October 25th, the day before yesterday when Xiaomi announced two impressive smart phones Mi Note 2 and Mi Mix at an extravagant launch event in China. These two new smart phones bring us so much surprise for their appearance and features. The Mi Note 2 is even regarded as the replacement of the now-defunct Samsung Galaxy Note 7 for its looking is suspiciously similar while probably posing less of a fire risk. Mi Note 2 offers high-end internals in the form of a flexible Oled 5.7-inch QHD dual curved display while other phones in same size like iPhone 7 Plus can only reach maximum 5.5-inch display. And it looks most gorgeous of all Xiaomi phones with no exaggeration for its two-side curved design and 3D glass body.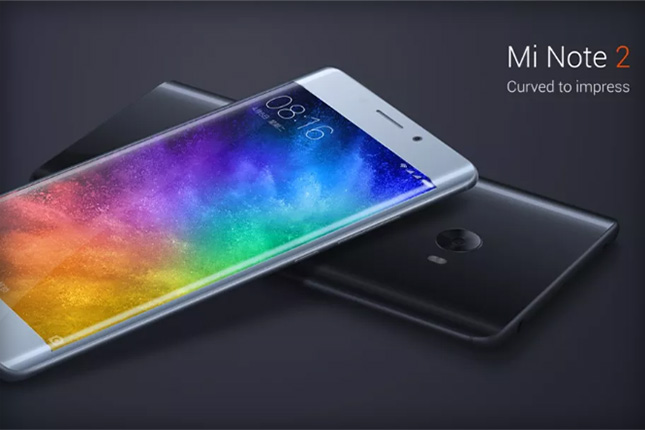 After showing off the Mi Note 2, the company unveiled a concept phone which they call it Mi Mix. The Mi Mix surpasses all of that with its 6.4-inch edge-to-edge 1080p LCD display that gives the phone boasting a 91.3 percent screen to body ratio. You will find that the earpiece, infrared proximity sensor and front camera have been removed from the top making a cleaner look on the device's top edge and the biggest screen smart phone in the world. These features are replaced by a cantilevered piezoelectric actuator behind the glass to produce audible sound for phone calls and a ultrasonic distance sensor for proximity sensing. The front camera is placed in the lower-right corner of the phone instead. And of course, as the flagship phone it has flagship specs. The CEO Lei Jun claimed that holding the Xiaomi Mi Mix as if you are holding the entire world.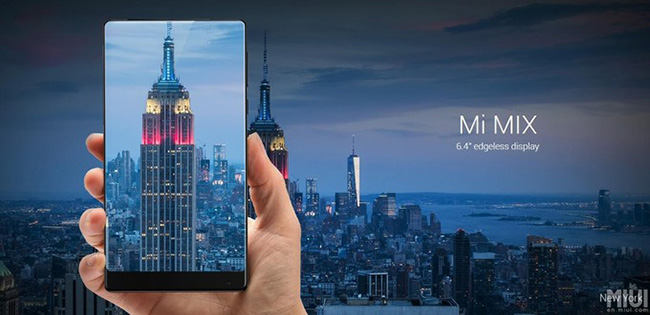 Unfortunately, the company has announced that it will not launch either phone outside of China in the near future as Xiaomi is targeting the enthusiast segment in China. This news may disappoint the biggest XiaoMi fan India where Xiaomi has previously shied away from releasing its most powerful smart phones such as last year's Mi Note, Mi Note Pro or even this year's Mi 5, which took a while to arrive. However, Xiaomi gives Mi Note 2 global LTE support this time, making the phone compatible with carriers around the globe. Therefore, although the phone won't be sold outside China by now, it does come with plenty of international connectivity options. So if you decide to import one from China it should work on your network.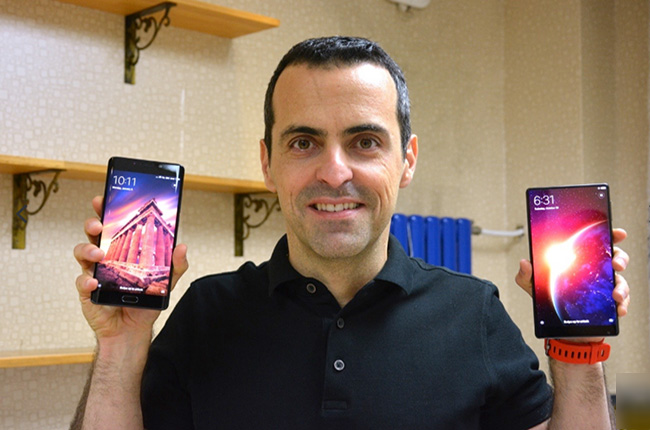 Configurations for Mi Note 2
After the Google Pixel and Pixel XL, the Xiaomi Mi Note 2 is the third smart phone to use the fastest current Qualcomm Snapdragon 821 processor and it comes in two configurations: 64GB storage + 4GB RAM, and 128GB storage + 6GB RAM. As far as the cameras are concerned, the Xiaomi Mi Note 2 packs a 22.56-megapixel rear camera with a Sony IMX318 Exmor RS sensor, and an 8-megapixel Sony IMX268 Exmor RS sensor.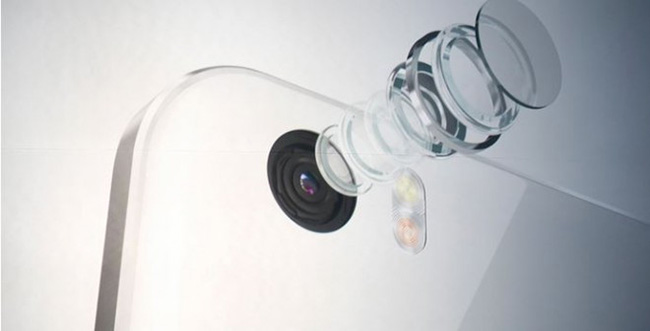 The Android 6.0 Marshmallow-based Xiaomi Mi Note 2 bears a 4070mAh battery weighing only 166 grams and Quick Charge 3.0 fast-charging technology, along with a fingerprint sensor on the home button.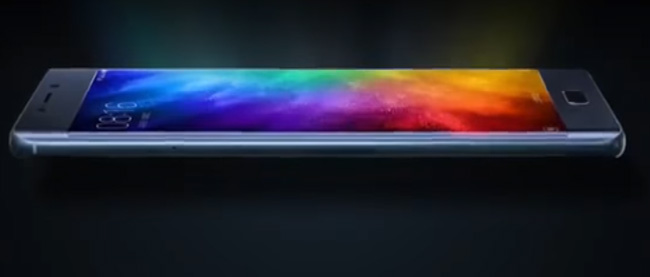 The Mi Note 2 is a dual SIM (GSM and GSM) smart phone that accepts Nano-SIM. Connectivity options include Wi-Fi, GPS, Bluetooth, NFC, Infrared, 3G and 4G (with support for Band 40 used by some LTE networks in India). Sensors on the phone include Compass Magnetometer, Proximity sensor, Accelerometer, Ambient light sensor, Gyroscope and Barometer. And also on board is the AQSTIC audio processor, with 192kHz/24-bit Hi-Fi sound quality.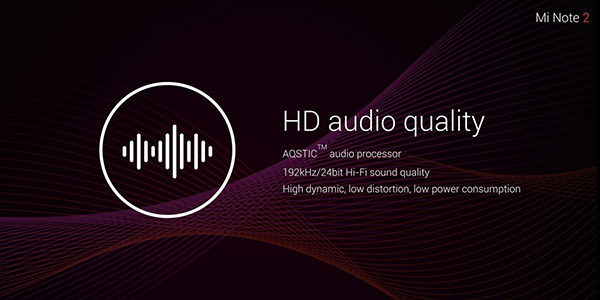 Price for Mi Note 2
The phone will be available in three prices: a 4GB RAM/64GB storage model priced at CNY 2,199, a 6GB RAM/128GB storage model priced at CNY 3,299, and the Global Edition 6GB RAM/128GB storage model priced at CNY 3,499. The last model supports for up to 37 global LTE bands. Mi Note 2 will be available for two colors Piano Black and Glacial Silver. It is now for pre-orders in China, and goes on sale from November 1st.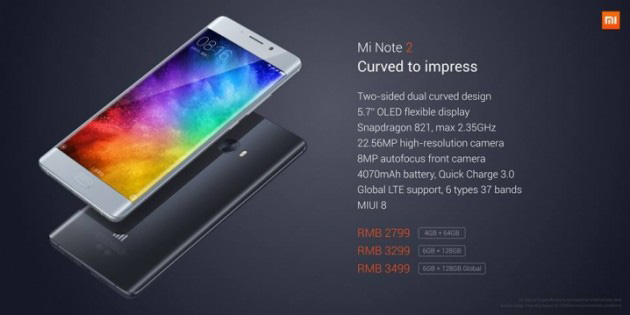 Configurations for Mi Mix
On the other hand, the Mi MAX is a concept smart phone that will be sold in limited quantities in China. It is the world's first edgeless phone with 6.4-inch display that gives it a 91.3 percent screen-to-body ratio; along with that, the smart phone has a splendid ceramic body and piezoelectric acoustic ceramic earpiece speaker.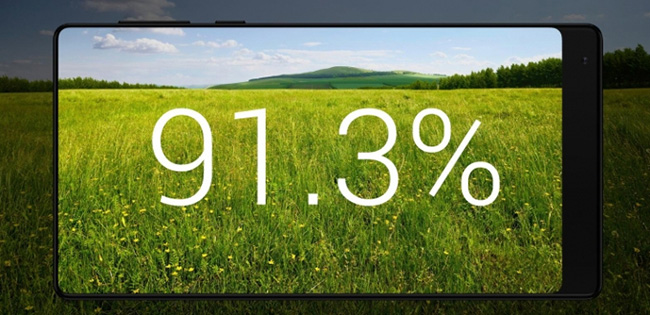 The Xiaomi device is powered by a 2.35GHz quad-core Snapdragon 821 SoC, coupled with 4GB or 6GB of RAM, 128GB or 256GB of inbuilt storage and packs a massive 4400mAh battery with Quick Charge 3.0 support, a fingerprint reader, NFC, HD audio playback, a 16-megapixel main camera and a tiny custom-made 5-megapixel selfie camera (the module is half the size of conventional ones). Mi Mix also supports LTE Cat 11 with download speeds of up to 600Mbps.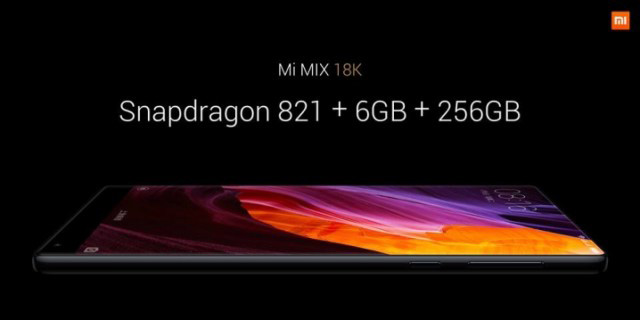 Price for Mi Mix
The Mi Mix phone will be available in China on November 4th. The base model costs CNY 3,499, while the top-end model which supports 18-karat gold rims around the main camera and fingerprint reader is priced at CYN 3,999. Even though the two phones have high price tag compared to other Xiaomi products, it is likely the company isn't making any profit on the handset. Xiaomi rolled out a ceramic version of the Mi 5 earlier this year and sold in limited quantities, the company ended up losing money on each unit sold. The phones will probably indeed sell well in China for the unique design, specs and reasonable price.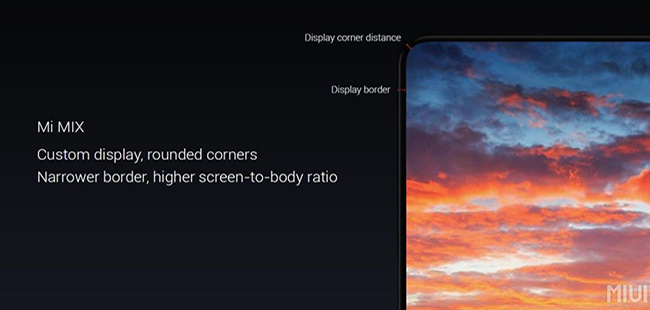 Although the Mi Note 2 and Mi Mix will be limited to China, they probably will pop up on third-part sellers like GearBest or HonorBuy. So even if you won't be able to buy the products officially, you can get them imported. But the downside of doing so is the lack of support when it comes to software updates. That's the cost to pay for cutting-edge tech.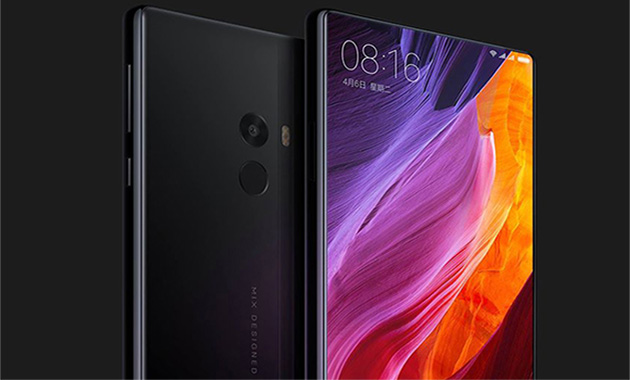 Related Articles: