Fix Abnormal iPhone Now
Recover your data from iPhone to computer easily.
What You can Do When Your iPad Pro/Air/Mini/5/4 Won't Turn off
Yesterday, I found my iPad refusing to turn off, it spins the progress wheel endlessly after I tap the turn-off switch, how to fix this issue?" If you encounter the same problem, do not panic, your iPad may be fine and just have has iOS or app crash. In this post, we will share the effective solutions to help you fix iPad that won't turn off.

1. Why My iPad Won't Turn off
As mentioned previously, the most common reason why iPad won't turn off is the software issue. It does not allow the system to shut down when you turn off your device as usual.
Another reason why you won't turn off an iPad is the hardware issue, such as your Power button is broken. According to our research, this is very rare.
2. How to Fix My iPad Won't Turn off
The most likely reason that iPad won't power off is a software issue. You can fix this problem with several solutions.
Solution 1: Reboot iPad
How do I turn off my iPad? Besides the Power button, you can get it in the Settings app as well.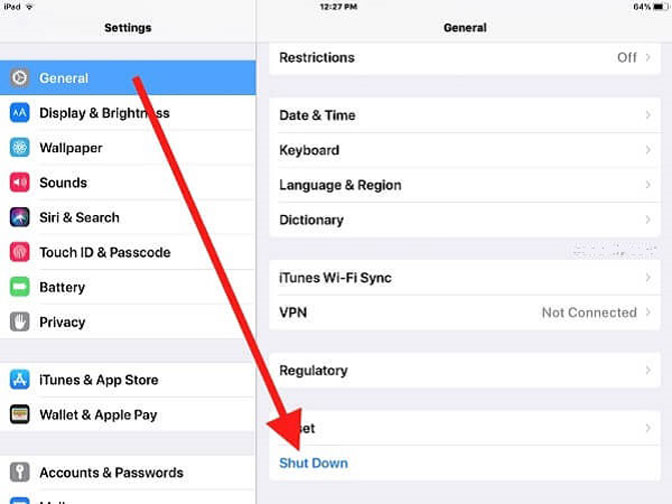 Step 1Open the Settings app from your iPad home screen, tap on your name.
Step 2Tap General > Shut Down and you will be presented the power-off screen.
Step 3Move the slider to turn off the device.
Solution 2: Hard Reset iPad
Hard-reset is always an efficient piece of troubleshooting for iPad that won't turn off or not responsive. It is able to clear junk files, close crashed apps and repair software automatically.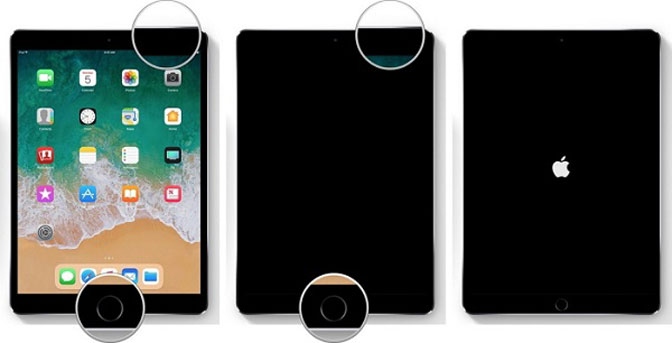 For iPad with Home button:
Hold down both the Home and Power button at the same time. Your iPad screen will turn black. Let the buttons go until you see the Apple logo on the screen.
For iPad without Home button:
Quickly hit and release the Volume Up button and quickly press and release the Volume Down button. Then hold down the Power button until the Apple logo appears on your screen.
Once you hard reset your iPad, you should try and turn it off again.
Solution 3: Factory Reset iPad
Faulty apps, conflicting settings or software issue can lead to iPad won't turn off. These problems can be solved by factory reset simply. The easiest way to perform factory reset is the Settings app.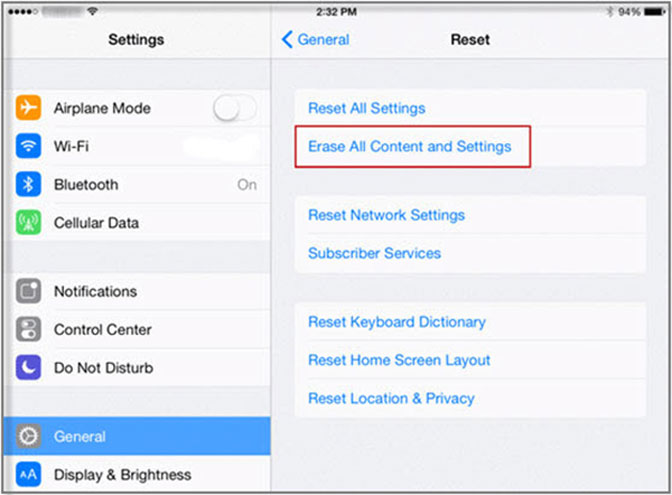 Step 1Tap on your name in the Settings app, and head to General > Reset.
Step 2Press Erase All Content and Settings, and enter your password if prompted.
Step 3When it finishes, your iPad will power back on as a new device. Now, it can be turned off normally.
Note: Factory reset will clean all personal files and settings on your iPad. If you perform it without backup, it will cause data loss. In the case that your iPad screen stops responsive you can restore iPad to factory status with iTunes.
Solution 4: iPad Recovery Mode
The Recovery mode is designed by Apple for users to update iOS, restore iPad, and troubleshooting, including fix iPad won't turn off.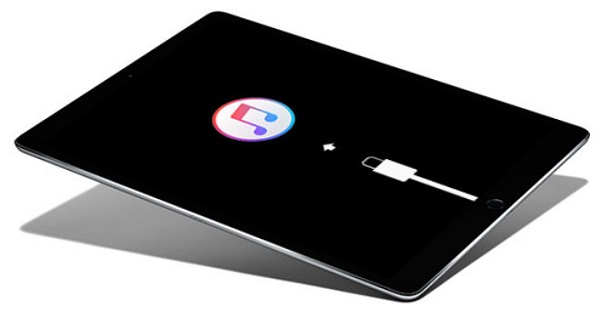 Step 1Run iTunes and update it to the latest version. Next, hold down the Home button and connect your iPad to your computer with a USB cable.
Step 2When you see the message tells you to plug into iTunes, let the Home button go.
Tip: For iPad Pro 2018 and later, connect it to your PC, hit and release the Volume Up button, do the same on Volume Down button, and press the Side button.
Step 3A pop-up window will appear in iTunes said iTunes Has Detected an iPad in Recovery Mode.
Step 4Click OK button on the pop-up window to start fixing iPad won't turn off issue. After that, your iOS will update to the newest version available.
Note: Though the Recovery mode is able to troubleshoot effectively, your files on iPad will be erased.
Solution 5: iPad DFU Mode
DFU mode is a more drastic solution of troubleshooting. It is able to get the latest firmware for your iPad when it won't turn off.

Step 1Also, connect your iPad to the latest version of iTunes with a USB cable.
Step 2Press the Power button for 3 seconds, then keep pressing it and hold down the Home button. Press the Volume Down + Power buttons for iPad Pro 2018 and 2019.
Step 3After 10 seconds, release the Power button but hold down another button for another 5 seconds. Then your iPad will be put into the DFU mode.
Step 4Now, follow the iTunes instructions to update or restore your iPad.
Note: Similar to the Recovery mode, your files and settings on iPad will be overwritten after the process.
Solution 6: FoneLab iOS System Recovery
If you have tried the solutions above but iPad still won't turn off, FoneLab iOS System Recovery can help you.
Fix various software problems including iPad won't turn off.
Troubleshoot in Recovery mode or DFU mode based on your need.
Protect all your data and files on iPad during troubleshooting.
Available to all iPad models, such as iPad 5/Pro/Air/Mini.
How to Fix iPad Won't Turn off Quickly
Step 1Connect iPad to iOS recovery tool
Launch iOS System Recovery after you installed it on your computer.
Next, hook up your iPad to the computer with the lightning cable came with your device. Then the program will detect your iPad.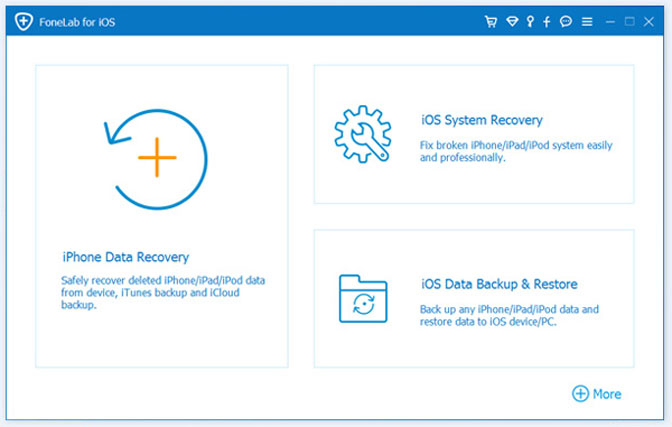 Step 2Repair iPad won't turn off in one click
Choose iOS System Recovery in the main interface, and click the Start button. Follow the onscreen instructions and click Repair button if the information of your iPad is right. If not, correct them. Then all you need to do is to wait for the program to complete the troubleshooting.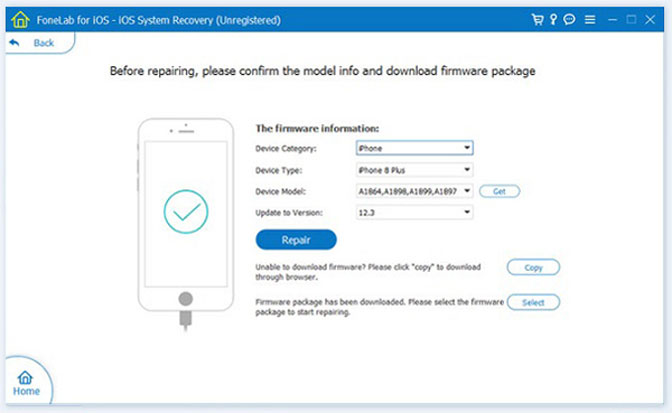 Conclusion
When your iPad won't turn off no matter how you press the Power button, try FoneLab iOS System Recovery. It will not put you at risk of data loss during the process.
Everything on your iPad will keep in the original condition. Moreover, it only takes a few minutes to fix iPad won't turn off.