Fix Abnormal iPhone Now
Recover your data from iPhone to computer easily.
[SOLVED] iPad Can't Slide to Unlock, Here is The Fix
I've had my iPad mini for two weeks now. I am having an issue with the lock screen. My iPad won't unlock when I try to slide the unlock bar. I have done a hard reset but it does not help and my iPad is frozen completely. Anyone has the same experience as mine and help me out there? Thank you iPad lovers!
We have been asked this question many times recently. It's not an uncommon issue that the slide to unlock feature does not work on iPad or iPhone. People who use iPad/iPhone like the users of all other smartphones and tablets, take the risk of suffering tons of different problems.

One of the most common problems they faced is one where the iPad locked up and wouldn't slide to unlock. What reasons that cause the iPad does not respond to unlock? Even after a hard restart, iPad freezes on the lock screen still.
1. Reasons for Unresponsive Lock Screen of iPad
In fact, many reasons can cause an unresponsive lock screen of iPad, which also called iPad touch scree not working. Check below details and each solution against them.
Reason 1
After leaving your iPad locked for an extended period, you may find that the swipe to unlock function doesn't work as expected.
Reason 2
It may happen if it is not the lastest iOS running on your iPad somehow.
Reason 3
If your iPad screen has debris or dirt on it, it will sometimes make your multi-touch screen stop working correctly.
2. How to Fix Lock Screen of iPad
1. Reboot iPad
In some cases, you can try to force a shut down by pressing and holding both the Home and Power buttons at least 10 seconds until the iPad is turned off. After that, press the Power button to turn it on and try to unlock the lock screen again.
If you are using other devices, you can learn how to restart an iOS device.
iPad Pro: Press and quickly release the Volume Up button, and then the Volume Down button. And then press and hold the Power button until it retarts.
iPhone 8 and later: Press and quickly release the Volume Up button, and then the Volume Down button. And then press and hold the Side button until you see the Apple logo.
iPhone 7 or iPhone 7 Plus: Press and hold both the Power and Volume Down buttons for at least 10 seconds, until you see the Apple logo.
iPhone 6s and earlier, iPad, or iPod touch: Press and hold both the Home and the Power buttons for at least 10 seconds, until you see the Apple logo.

2. Update iPhone with iTunes
Updating the iOS software simply by connecting deivce to computer with iTunes and if there is an update, please update your device.
Step 1Choose device icon > Summary > Update after connected.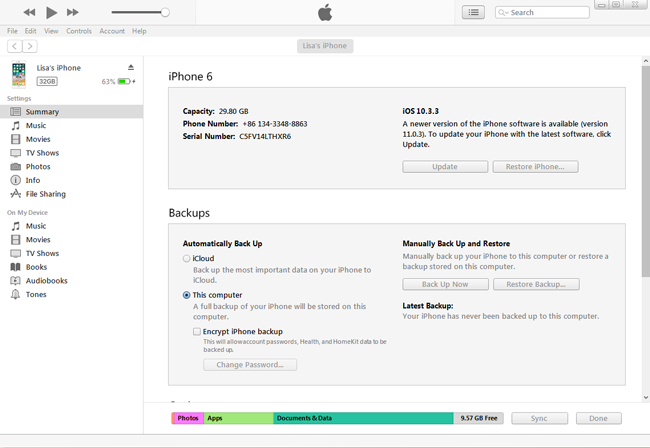 Step 1Confirm in the pop-up windows and wait.
You can also try to connect your iPad with iTunes and then Restore from iTunes Backup file. Or restore iPad from an iCloud backup if you have a backup file after that. Please remember to back up your device before restoring.
3. Restore iPhone to Fix iPad Unlock Not Working
Restore iPhone is one of the proven ways to fix iPhone issues, but it can remove all data on iOS device. You should backup data before restoration.
There are different methods to restore iPhone, please check below demonstrations.
Option 1. Using iTunes
Step 1Launch the latest iTunes on computer, and then connect iPhone to computer with USb cable.
Step 2Click device icon > Summary > Restore iPhone.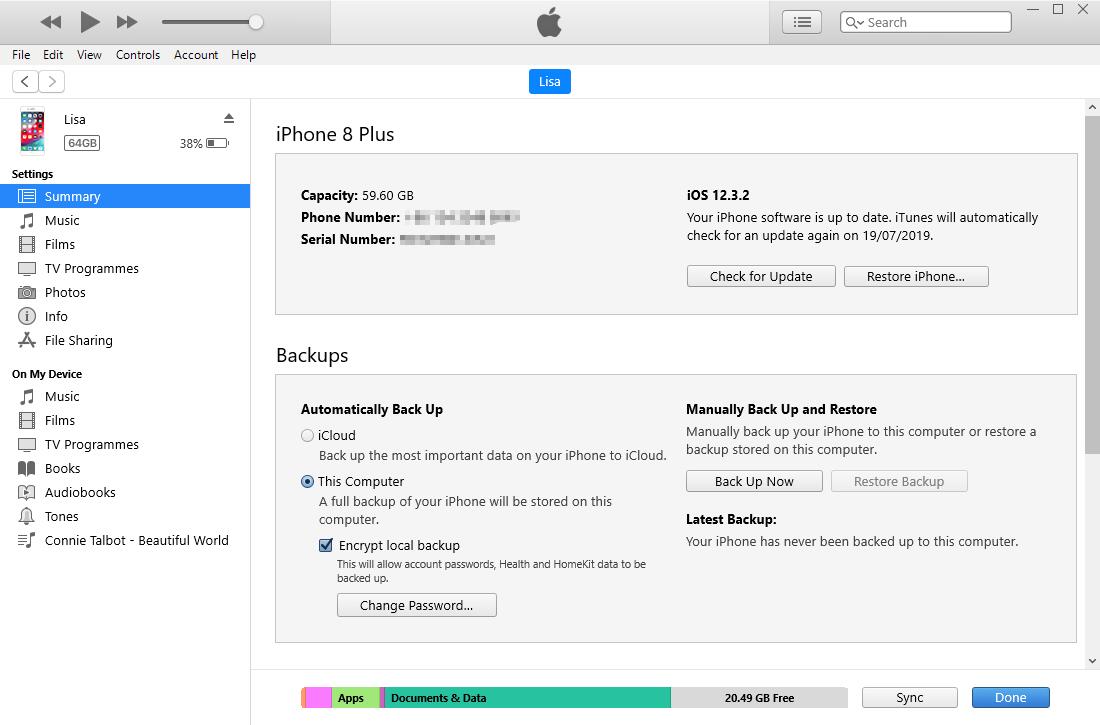 Step 3Confirm the restoration and follow the instruction to complete it.
Option 2. Using iCloud
Step 1Login iCloud account on iCloud.com webpage.
Step 2Select Find iPhone and choose the device you want to restore.
Step 3Click Erase iPhone.
4. Fix iPad Unlock Not Working with FoneLab iOS System Recovery
If the above solutions can't help you solve the problem, I highly recommend you to apply a third-party tool, FoneLab iOS System Recovery, which can fix with various iOS system issues.
For instance, iPad/iPhone/iPod can't get out of recovery mode or DFU mode, the iOS device won't slide to unlock or slide to power off, iPod/iPhone/iPad white sceen, red screen or black screen, etc.
More importantly, this software only fixes problem in order to bring your iOS device back to normal, no data loss at all during the whole recovery procedure.
Step 1This software works for all models of iPhone, iPad and iPod Touch and it provides both Windows and Mac versions. Choose the right link above to download and install the FoneLab iOS System Recovery program on your computer. Launch it once finished and connect your iPad to the computer with USB cable.
Step 2Choose iOS System Recovery on the right-hand side of the interface.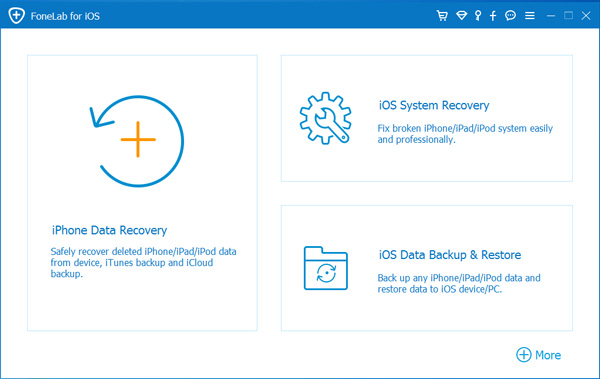 Step 3The software will automatically detect your device in an abnormal state. Click the Start button to begin the repair process.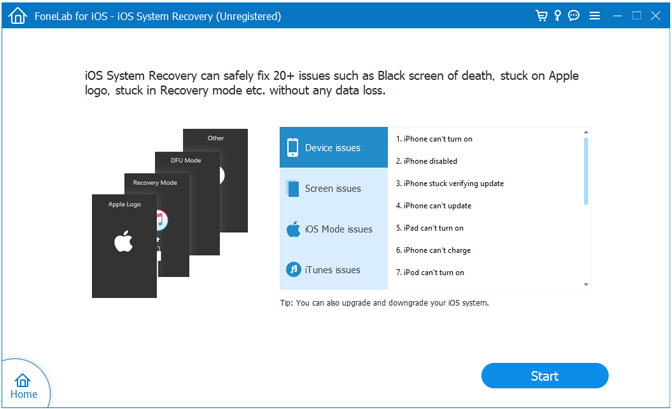 Step 4The software will ask you to check the information of the detected device. Make sure the information is correct and click Repair to start the fixing process. It will take some time to download the plug-in, please do not disconnect or operate your device during the process.
FoneLab iOS System Recovery is easy to use for fresh hands. Intuitive interface, simple but very clear step-by-step guide, makes users can do it all by themselves.
Besides, this software not only can fix the unlocking problem, but also when your iPod stucks in recovery mode, iPhone stucks in DFU mode, iPad stucks on Apple screen, iPad white screen or is in the loop of restarting and other abnormal situations, the software can help you repair it to normal.
5. Fix iPad Unlock Not Working with FoneLab iOS Unlocker
Once you lose your important data accidentally, don't worry, FoneLab for iOS can help you out. It is a powerful iPhone data recovery tool which is able to recover WhatsApp messages and other files like notes, reminders, contacts, call logs, and so on. You can learn how to use it as below.
Step 1Download iOS Unlocker on computer and then install it. Launch it after that. Connect iPhone to computer via USB cable.
Step 2Choose Wipe Passcode on the interface and confirm device information from the form and click Start button.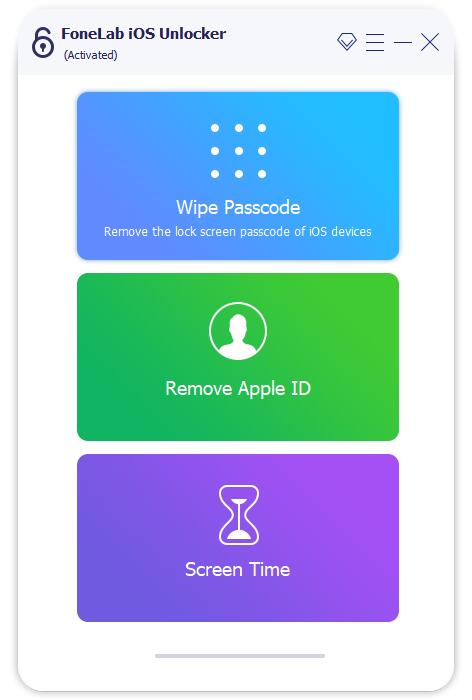 Step 3It will download your iPhone firmware. Then click Unlock button when it pops up on the window.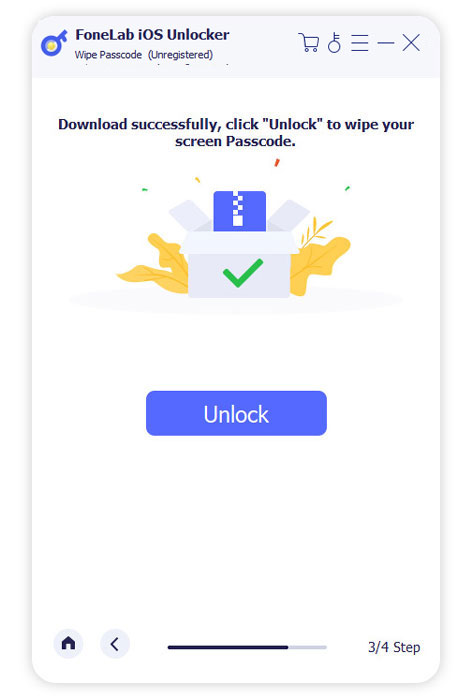 Step 4Enter 0000 in the box to confirm unlocking.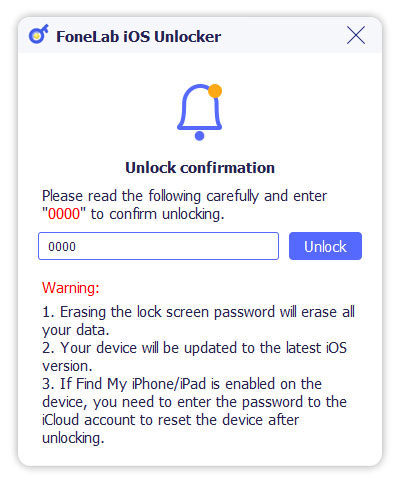 If you just forgot iPad passcode, you can try iOS Unlocker to unlock iPad without passcode.
5. Clean Screen
You can clean your screen and try again afterward in this situation.
Tha's all about how to fix iPad can't slide to unlock. If you have more questions about it, please leave comments below.