How to Get Photos from iPhoto to iPhone
Hello guys, I hadn't done this for a while but now I can't find the solution as before. Here is the thing. I built a photo album in iPhoto and I want to upload it to my iPhone 6. I used to select sync and it would do it, but that's not an option anymore, or at least I don't see it. How to transfer photos from iPhoto to iPhone? Thanks very much!
iPhoto is a digital photograph manipulation software application developed by Apple Inc for users to manage photos. It lets you do more than you ever thought possible with your photos.
For example, you can organize your pictures using Faces, Places, and Events, instantly edit your pictures by adding dramatic effects, share photos with your friends without having to leave iPhoto, and create gorgeous photo books, cards, calendars and prints. In the other hand, the iPhone features a Photos application which allows you to view and organize pictures on your iPhone. Since the iPhoto app is fully compatible with the Photos app on your iPhone, so you are able to transfer photos from iPhoto to iPhone through the iTunes sync process.
But if you worry about the process will erase your existing data on the phone, I strongly recommend to use an iPhoto transfer tool called FoneTrans for iOS. This software is easy to use and enables you to move photos from iPhoto to iPhone and transfer photos from iPhone to PC. I would like to show you how to import photos from iPhoto to iPhone in two ways.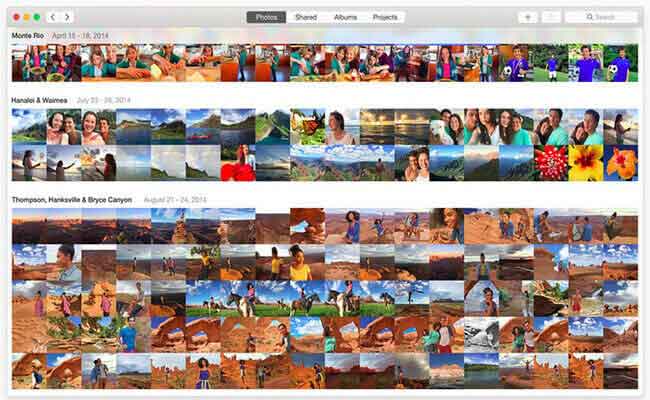 Way 1: Transfer iPhoto Pictures to iPhone via iTunes
Plug your iPhone into your Mac with a USB cable.
Open iTunes if it doesn't open automatically.
Click on the iPhone icon on the interface of iTunes. Then click on the Photos tab in the left-hand side.
Check the box beside Sync Photos and select iPhoto in the Copy photos from option. You can choose to sync all photos or only selected photos as you like. Finally, click the Apply button at the right bottom.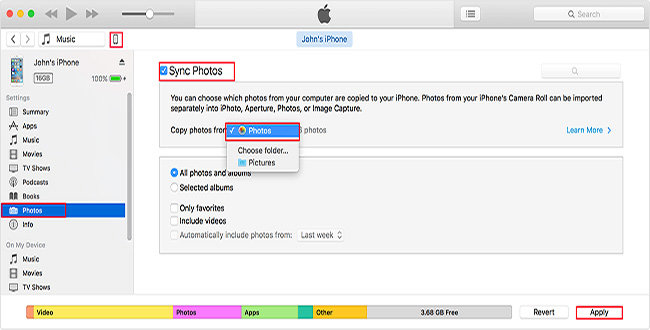 Way 2: Import Photos from iPhoto to iPhone with FoneTrans
First of all, free download and install the software with the above right link on your Mac. When the installation is complete, it will automatically open. Connect your iPhone with the computer via a USB cable, then you will get: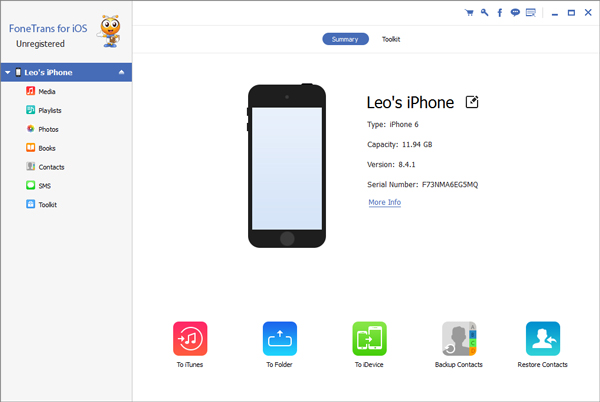 You will see contents like Media, Playlists, Photos, Books, Contacts and SMS listed in a column on the left-hand side. Click Photos from the list. Then you will see many albums existing on your iPhone, such as Camera Roll, Photo Library, Videos, etc. You can add a new album to save your iPhoto photos if you like by right-click the Photos tab. Click Add Item in the middle or the Add icon on the top and then select the photos from your iPhoto, you will find all the photos added in a new album on the Photos app on your iPhone once it is finished.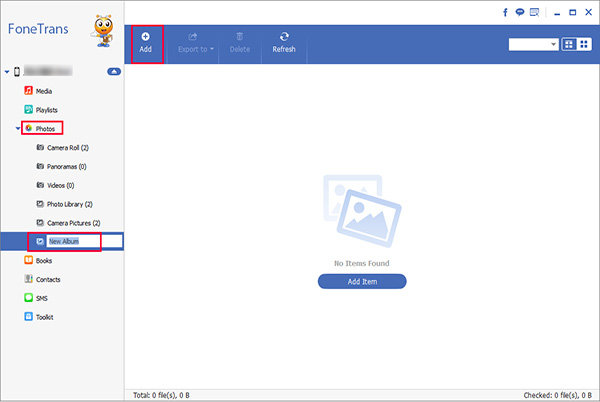 FoneTrans for iOS can not only help you manage your photos, but also other files like contacts, messages, videos, music, ringtones, iTunes U and more. It offers both Mac and Windows version.
Related Articles